Twenty-five years ago I published my first cricket novel A Tale Of Ten Wickets, describing a cricket match between an English village and a travelling social team. I tell the stories behind each visiting player. But by far the most important character, and the one with the most dramatic personal history is the visiting scorer.
My book is a fantasy and I hope it is entertaining one. But I was dead serious about the scorer. He or she is always a VIP in any cricket match and deserves to be pampered and waited on. The state of scoring is a mirror to the state of cricket itself in any place, and a well-kept, detailed book is a tribute to all the cricketers it records.
The earliest cricket scoring method was to cut notches in sticks. The game and its English precursors were quite simple – aiming a ball underarm at a target, knocking it away with some kind of bat, far enough to allow the batter (yes, there were women too in early English cricket) to run a distance of 22 yards. (Despite all the developments in the game, including over-arm bowlers such as Shoaib Akhtar, who could propel the hard ball at 100 mph, a cricket pitch is still based on the mediæval distance of one chain, a sixtieth of a mile.) All that was needed from scorers was a count of the runs by each side, in general much fewer than today's.
Sticks and notches persisted for a long time even when cricket and scoring became more complex. The poet Lord Byron boasted of playing for Harrow against Eton in 1805 (the first of these celebrated school matches to be played at Lord's ground) and scoring 11 "notches" in the first innings and 7 in the second. Like many players since he boosted his performance: he actually scored 7 and 2. But by then sticks and notches for scoring were yielding to paper and pen.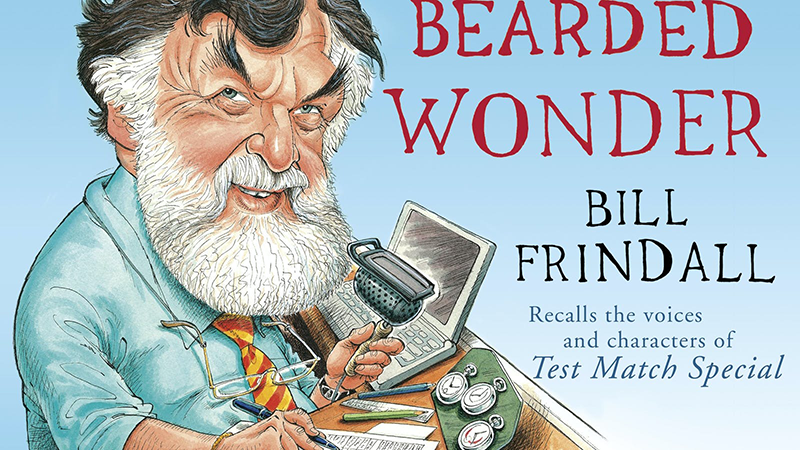 The year 1744 produced two great milestones in cricket history, and for connected reasons. One was the first written Code of Laws. The other was the first great match where the full details of personal batting and bowling performances has been preserved: Kent versus All England on the Artillery Ground. Both things were done largely at the behest of the eighteenth century noble patrons of English cricket (and one Royal one, Frederick, Prince of Wales, oldest son of George II, whose early death might well have been brought on by a cricket injury.) The Laws enabled them to settle bets on the outcome of matches, by imposing a degree of uniformity and resolving disputes about their conduct.
Detailed scoring with pen and ink allowed the patrons not only to admire their own performances but also to identify the best players and induce them to play for their sides in their next fixtures. It is not so different today for the patrons of Super League T20 teams, except that they no longer pick themselves.
The entire history of cricket scoring can be seen as a response to demands for detail. As more and more organized cricket is played in different countries, and English cricket becomes more professional, there is a demand for averages and reliable comparators between players.
With the advent of mass media, there is a demand for scorecards which capture more individual details in the game, which is why media scorers (with for example "wagon wheels" for batters' scoring areas and their performance against each opposing bowler) have generally been ahead of official ones.
Richie Benaud's 2005 book My Spin On Cricket pays a handsome and deserved tribute to all the scorers who helped him become such a great commentator. He gives a fascinating account of a gentleman called John Atkinson Pendlington, who, in 1893, devised the first method of showing the result of every ball bowled in a cricket match (Mr C I Thornton's XI versus the Australians at Scarborough: match drawn).
From a tour of India in the 1990s I still have a Indian scorebook with spaces to record some unusual details, especially "Dropped Catches" and "Unlucky Bowler." This type of book would be very popular with bowlers, but I am glad that it never caught on in England. In this context I am pretty sure I am more sinner than sinned against and would be strongly in deficit.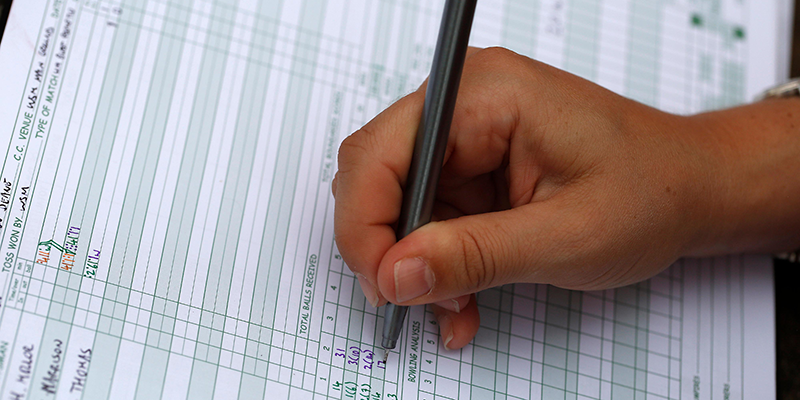 T20 has created a new gluttony for statistics and a new profession of data analyst, to apply them not only to player selection and purchase but to individual in-match decisions, including what fields to set and which bowlers to match against which batters. All this gives an immense task to the scorers, even with the aid of modern technology. Even an ordinary social game demands huge concentration and I am glad that my bad handwriting usually gets me out of the job.
At least scorers' efforts can be corrected (or even amended on demand, so to say.) A celebrated example came in 1932 when Yorkshire's opening batsmen, Percy Holmes and Herbert Sutcliffe, were thought to have scored 555 to set a new record first-wicket stand. Sutcliffe then got out with a casual stroke (for 313) and his captain declared. There was consternation when the scorers did a new addition and came up with 554, only equalling the record. With the connivance of the Essex captain, a "missing" no-ball was added back to the Yorkshire total.
Apart from their role in describing individual matches, scorecards are a huge source not just of a country's cricket history but also its social, economic, cultural and political development. This is especially true of South Africa. In recent months, I have had the pleasure of two long conversations with the great historian, André Odendaal.
He described eloquently how racial segregation was enforced in South African cricket from its earliest days, largely at the behest of Cecil Rhodes, with the connivance of the MCC and the white establishment across the cricket world – and white statisticians and official historians. The achievements of countless black, mixed-race and Asian-origin cricketers were simply wiped out of the records, even in Wisden. He has made it almost his life's work to restore them to their true worth, including retrospective first-class or List A status for matches which would have earned such status but for racial segregation. This work has led him and his associates to find and preserve hundreds of old scorecards which have built a picture of thousands of unjustly forgotten players.
Pakistan, happily, has no legacy of apartheid in cricket to overcome. But it still has many motives to find and preserve all the scorecards which it can. From these on their own one can trace great themes in its cricket and national history. Before Partition, one can see in scorecards the gradual takeover of cricket by local people from the English colonial rulers who brought it to India. One can see its spread into Muslim communities and institutions and the development of talented players who would become the nucleus of cricket in independent Pakistan.
After independence, one can trace its spread to outlying provinces and communities from Pakistan's big cities, and its adoption by less favoured groups, including girls and women. One can trace in scorecards the response of Pakistan cricket to economic change and especially the influence of commercial sponsorship. One can also find dozens of individual human interest stories – for example, not just of Hanif Mohammad scoring triple centuries as a schoolboy but of the young players who had to bowl to him.
Pakistan's scorers for generations have done sterling, largely unsung service to its cricket. May I (as a friendly outsider) politely urge Pakistan to redouble its efforts to trace all the scorecards, especially of schools and colleges, which are still on paper alone and to back them up electronically? This investment would be richly rewarding for later generations.