COVID … Cancellation … Cracking Cricket…New Champion
The PSL 6 was finally completed. Finally! . It was one minute on and next minute off. The league was hit by Covid for the second year running. It was the play-offs that were put off last year and were completed eight months later.
This year Covid breaches during PSL 6 had almost damaged, vitiated and devalued the brand that Pakistan Cricket Board, franchises, players and media had made over the last six years or so. It needed a huge effort from the PCB to complete the event in Abu Dhabi. That it was completed against all odds on June 24 with a new champion Multan Sultans to boost, deserves special praise and proved the point that 'when there is a will, there is a PSL.'
Firstly, the situation should not have come to this stage. The minor breaches were allowed to spread in Karachi and when they were blown out of proportion with seven positive Covid cases, the event had to be suspended on March 4.  It was a blow to the event, a big one.
A fact-finding committee of two medical experts were formed which investigated the breaches but only the medical officer of Pakistan Cricket Board Dr Sohail Salim was made scapegoat. None of the players — there were quite a few offenders — were not fined or punished. Not that we know of had they been reprimanded or punished. PCB chairman refused to make the report public or hand it to any of the franchises for the fear of it getting leaked.
That validated and gave courage to the players that they are above board, only those who were guards of the protocols were punished. Those who breached, got away.
Now the clamour to reschedule the event. When the PCB set out to reschedule the event they realised that the challenges are myriad and, more notably, stiffer. The bloated international schedule would hamper the availability of the players and if you don't get top-profile players, the sheen is taken off.
When the Karachi leg was played the league boasted of players like Chris Gayle, Dale Steyn, Dan Christian, Alex Hales, Joe Clarke, Ben Cutting, Mohammad Nabi and a few others, but when plans were made to reschedule the event it not only clashed with the Vitality Blats in UK but also with several other international fixtures. Still, the likes of Faf du Plessis, Colin Munro, Martin Guptill, Rashid Khan etc were good catches and the re-draft raised hopes the glamour and glitz will not be taken off.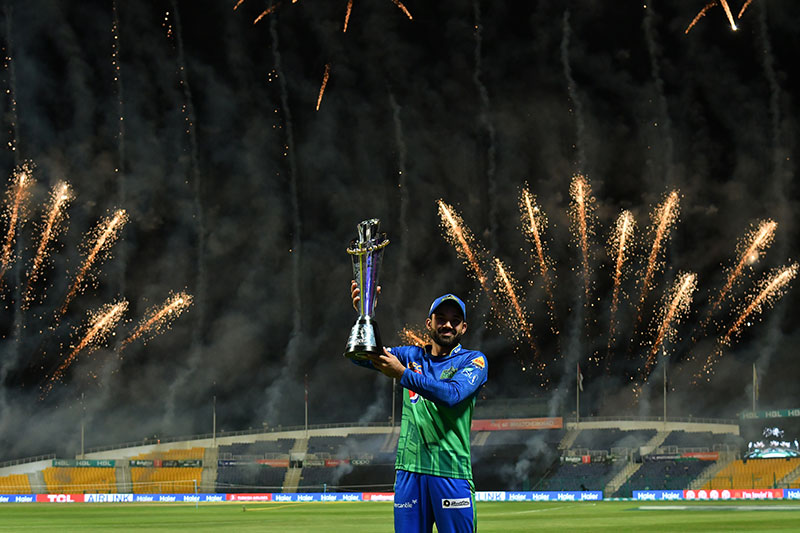 Now it came down to the venue where the rescheduled 20 matches were to be played. Here the Pakistan Cricket Board's top hierarchy fell short of showing leadership from the front. Both the chairman Ehsan Mani and CEO Wasim Khan were working from home in the UK rather than taking the challenge. A group of lesser souls from the PCB tried to convince the National Co-ordination Committee (NCOC) to hold part II in Karachi.
The Committee was already at loggerheads with the Sindh government as the cases were on a spike, so they very angrily snubbed the PCB team. "People are dying with COVID and you are talking of cricket," was a terse reply. Had Mani spoken to the NCOC chief Asad Umar or directly to PM Imran Khan a way could have been found or at least they should have waited until after EID to decide and kept UAE as an alternate venue.
But the NCOC snub forced the PCB to shift their focus to Abu Dhabi, with a thinking that the UAE capital had stricter protocols and better arrangement. It would also stop some franchises from having their whims in Dubai but little did they realise that the same tough protocols will be tough to extricate.  Uncertainty increased over the event with each passing day as the visa process was haphazard and on May 19th it looked like the event will not be held at all. The group making arrangements were seemingly not fastidious as one after another discrepancy emerged. Finally, Wasim Khan came into his own and requested the franchises to give him 24 hours and there will be a breakthrough. It came the next day and the event was confirmed.
But as they say, 'there's many a slip between the cup and lip," another roadblock when the clearance previously granted to Indian camera crew was revoked by Abu Dhabi health authorities and they were directed to leave the city. The crew was in isolation for two days when the health authorities suddenly objected to their clearance. It caused another stir, forcing the PCB to delay the announcement of the schedule.
However, on June 4 all hurdles were cleared. PCB's efforts came to fruition. England and Wales Cricket Board were also courteous to allow the Pakistan team to delay their arrival in the UK by two days. A final schedule of PSL part-II was announced, with six double headers from June 9 with the final on 24.
The hoopla could have been avoided had PCB chairman taken the initiative by taking the challenge, sat in Abu Dhabi, met with the high government officials and settled the matter. But it was not to be. His work from home had left the event high and dry.
The next challenge was the oppressive heat of UAE. The temperatures were due to run between 38-42 degree Celsius but everybody had hoped that once the action starts, the focus will be on the game, and not on heat. Teams used ice jackets and fast bowlers were advised to keep themselves hydrated with coconut water as a remedy.
It was all well that ended well, acknowledged by Wasim Khan.
"There was a consensus between the PCB and the franchises that it was imperative to complete the remaining matches in 2021 so that we have a clean 2022 for HBL PSL 7. Now, after overcoming all obstacles through due diligence and careful planning, I believe we have collectively achieved the desired objective that was set in March following the postponement."
Multan top of the Pops, Lahore top of the flops:
Action finally began on June 9 with a match between Islamabad United and Lahore Qalandars — the two teams who had played one game less than the other four teams in the Karachi leg. It not only set the ball rolling but raised hopes that the until-now also-ran Lahore team may lift the elusive title.
But it was not to be. From eight points in the first six games, Lahore managed to shoot themselves by losing their last four matches in a Lahore-like style. They seemed to have inculcated the same own-enemy approach, mostly losing their games while chasing — by 28, 18, seven and 80 runs. That scotched their campaign and everyone felt for them. Their big 80-run defeat against the eventual champions threw their net run-rate in the depths of despair. A -0.589 net run-rate and ten points proved Lahore failed to qualify for the play-offs for five out of six editions. They were runners-up last year which had raised hopes of a one position better this season but in the end they had themselves to blame.
"Though we had few changes from the last year, we still have some valuable replacements," said Lahore's head coach Aaqib Javed. "We had three of the best Twenty20 international bowlers like Shaheen Shah Afridi, Haris Rauf and, above all, Rashid Khan. We had the momentum but the biggest regret is that we had the best team in the PSL history and still we could not make it to the play-offs."
Long discarded Australian all-rounder James Faulkner and Singaporean hard-hitting batsman Tim David were excellent inclusion in Lahore team. Faulkner finished with 13 wickets in six games while David impressed with his hard-hitting batting. His average of 45 and strike rate of 166 was exemplary. But he failed to repeat what he did against Peshawar Zalmi in the two Lahore wins in Abu Dhabi. David knocked a match-turning 36-ball 64 with five sixes that lifted Lahore from the depths of despair — 25-4 in the eighth over to reach 170-8.
It was David and Rashid who lifted Lahore from 122-5 to chase down a target of 144 in the win over Islamabad, with the Afghan player hitting three boundaries in the last over.
Although Shaheen Shah fetched 16 wickets, he and Rauf failed to stop the flow of runs. Haris's figures of 1-51 were one of the reasons why Multan toppled Lahore in the crunch last league game. He was carted for 24 runs by veteran Sohail Tanvir that lifted Multan to a fighting total of 169 before Lahore were rocked by newcomer Shahnawaz Dahani (4-5 in 3.1 overs) and veteran Imran Khan Junior (3-24).
That dealt a death blow to Lahore's campaign that promised so much mid-way through the tournament but in the end delivered disappointment.
Rashid did his bit, taking 11 wickets at a paltry economy of 5.46. His 5-20 helped rout Peshawar by 10 runs but in the end his side's batting never complimented the bowlers.
Aaqib blamed his batsmen. "We lost all our last four games while chasing. We were relying on our skipper Sohail Akhtar for whom this ground is very lucky but he did not come up to expectations. Then Fakhar Zaman, who is one of the best after Babar Azam, but he, Mohammad Hafeez and Ben Dunk could not do it."
Fakhar's form deserted him in Abu Dhabi. He had knocked both his fifties — in his 287 runs in ten games — in Karachi and had a highest of just 44 in the six games in the desert venue. That made the top order clumsy and ineffective. Sohail too was lacking energy and in the crunch game against Multan was demoted from his position in the crunch must-win game against Multan. An abysmal 149 runs in ten games sums up his failure.
Quetta Fails to quench:
But Lahore Qalandars were not the wooden spoons of PSL 6. That award went to Quetta Gladiators, led by Sarfaraz Ahmed and coached by astute and a fighter coach Moin Khan.
One of the most successful sides in the first four editions of the league, Quetta Gladiators had lost their fighting qualities in the fifth edition when they finished fifth. It followed their title triumph in 2019. But the biggest and costliest mistake they made was disembarking South African Rilee Rossouw who was the backbone of their middle order. That was a warning of the events to come and their batting fell apart.
When the Abu Dhabi leg commenced Quetta had a do-or-die situation with just one win from five matches. All they managed was just one more win, that was at a time when they already had one foot out of the league. It was an 18-run win over Lahore but the biggest defeat in the history of PSL — 110 annihilation by Multan — put paid to their campaign as they finished sixth and last, a rung lower than last year.
A disappointed Sarfaraz blamed the lack of foreign players in PSL 6.
"We had serious problems with our foreign players, they came and went and then did not get proper time to adjust," said Sarfaraz whose West Indian star Andre Russell and South African Faf du Plessis suffered concussion during the Abu Dhabi leg and could not return.
Russell managed just 13 runs in the only match he played while Du Plessis had a miserable 76 runs in four innings. Quetta's hard-hitting youngster Azam Khan also disappointed, managing just 174 runs in ten innings with a highest of 47. Despite breaking into the Pakistan team a week before the Abu Dhabi leg — which raised eyebrows — Azam was not up to the mark and left his franchise in the lurch, often putting pressure on his father coach.
Safaraz was the top scorer with 321 but only one of his three half centuries came in the second leg. His on-field scolding of team-mates also left a bad taste in mouth and sort of agitated his players.
Sarfaraz was unequivocal in his reasoning. "It is true that overall, we did not play good cricket throughout the tournament," he said. "I think the most significant problem for us was that we never had a settled team combination, largely because no foreign players stayed with us throughout the tournament.
"In the first phase, players like Tom Banton, Ben Cutting, Chris Gayle and Dale Steyn played without any practice matches. Then in the second half, the likes of Andre Russell and Faf du Plessis got injured and left. We never really had our full strength in the competition."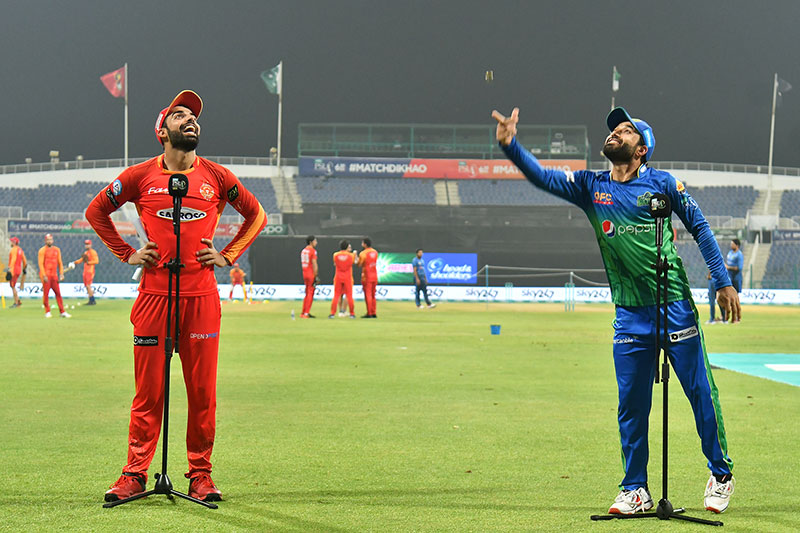 Karachi Kings Lacking Flair:
Title-holders Karachi Kings were on top when the Karachi leg was suspended. It seemed Abu Dhabi was not auspicious for them nor was the brilliant signing of New Zealand master blaster Martin Guptill.
Karachi lost the first three games in Abu Dhabi, losing to eventual play-off teams Multan Sultan (by 12 runs), Islamabad United (eight wickets) and Peshawar Zalmi (six wickets) and that left them with a poor negative net run-rate. They needed to win their last two games and also wished Lahore or Multan would get derailed. They got their wish, winning their last two games while Lahore paved their way for the play-offs by losing all their last four games.
Karachi's perennial problem was relying heavily on ace T20 batsman Babar Azam. When Babar scored, Karachi Kings managed to put decent totals on the board but when Babar failed, they were short on a good winning total. That was amply proved in the two contrasting results against Peshawar Zalmi in the league phase. Babar scored 77 not out when Karachi had the better of Zalmi in Karachi by six wickets but tables were turned when the ace opener fell for nought in Abu Dhabi.
Guptill also failed, scoring just 69 runs with a best of 43.
The dashing New Zealand opener looked tentative in his stroke-play and looked a shadow of a batsmen who has hit the most sixes — 147 — in Twenty20 international cricket. Sharjeel Khan was also short on devastation that he is required to cause in opponent's ranks.
Karachi Kings looked to have a strong bowling attack but that image vanished in Abu Dhabi. When a team's spearhead — Mohammad Amir in Karachi's case – managed just one wicket in the last seven games you can't expect to run through the opponent's batting.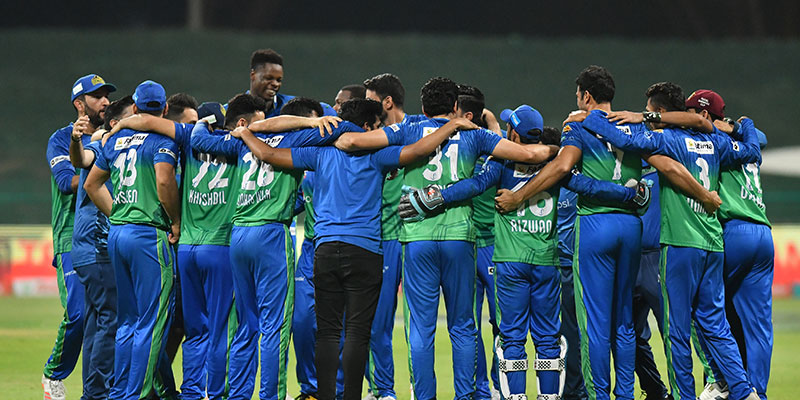 Skipper Imad Wasim also looked short on leading the side from the front, leaving 12 overs short of his quota of bowling. He did not open the bowling, apparently avoiding left-handers but that cost his team dearly. Once he started to attack right from the outset and included teenage Afghan spinner Noor Ahmad his side looked a different unit altogether.
By getting the better of Quetta, who not only crashed out of the league but also took Lahore with them, Karachi Kings scrapped through to the last four — sixth time in a row which is only matched by Peshawar.
It was a thrilling last over finish and mishaps in the field that saw Karachi Kings losing to Peshawar in the first eliminator. Needing seven in the last over, Peshawar's West Indian batsman Sherfaine Rutherford was dropped off the first ball by Danish Aziz and then off the fifth ball by Thisara Perera.
Unlucky Islamabad United:
This was an edition for Islamabad United to lose. They had the best combination with an astute and knowledgeable backroom staff. From the despair of finishing last in PSL 5 they came with a new vigour and planning. Befittingly, they topped the group stage with 16 points from ten games. They had lost just one of their four games in the Karachi leg and after losing to Lahore in the resumption of the league, they were unstoppable, winning five matches on the trot.
Next game, they recovered with a thumping ten wicket over a hapless Quetta, reaching the target of 134 in just ten overs. That created a PSL record of most overs to spare in a win, with Colin Munro smashing 36-ball 90 not out.
The previous instance of team winning by ten wickets was by Peshawar who beat the Lahore Qalandars after bowling them out for 100 in 2018. This was the 51st time a team has won by 10 wickets after bowling out the opposition.
Islamabad knocked a record 97 runs in the six over power-play – the highest in the powerplay in the PSL history. The previous highest was 77 by the United against Kings in the Karachi leg, so Islamabad were clearly on a rampage.
Most of the opinions and analysis suggested that Islamabad were favourites by a long distance. They had peaked at the right time but bad days were yet to come and cruelly they came when it all mattered, losing to Multan Sultans in the Qualifier and then to Peshawar in the second eliminator.
The two-time champions had the best batting and bowling combination. Australian Usman Khawaja, so elated to be part of his native Islamabad, was a revelation. He is not regarded as a Twenty20 basher but scored a punishing hundred against Peshawar Zalmi to help Islamabad score the highest total of 247-2 in the history of PSL. Although Zalmi put up a spirited reply in their chase by reaching 232, but Shadab Khan and his men held their nerves to win by 15 runs.
A match total of 479 runs aggregated by United and Zalmi in this match were 52 runs more than any other game in the history of the PSL. United and Lahore Qalandars had collectively scored 427 runs at Karachi in 2019, the previous highest aggregate in a PSL match.
Then they had New Zealander Munro who trumped Guptill as he anchored a few wins for Islamabad. Together with Khawaja, he gave robust starts to their team. They were followed by the discarded Pakistan national team trio of Iftikhar Ahmed, Mohammad Asif and Hussain Talat.
All three had their days, helping Islamabad in the middle and slog overs. Even at the tail end players like Faheem Ashraf, Hasan Ali and Mohammad Wasim scored runs at a brisk pace. Hasan was brilliant in the second eliminator against Peshawar, lifting his team from 110-8 to a fighting 174-9 with a blistering 16-ball 45 with three sixes and five boundaries.
They then ran into a rampaging Hazratullah Zazai who smacked 44-ball 66 and newcomer Jonathan Wells who made 43-ball 55 that saw the Zalmi through. Islamabad had their moment when wicket-keeper Akhlaq dropped Zazai off Hasan in the third over and skipper Shadab admitted that could have been the turning point.
"It was tough, and we couldn't utilise," said Shadab whose own form with the bat and ball was concerning for the franchise. He scored just 94 in nine innings and nine wickets with the best of 2-24 were well below what his talent promised.
"Hasan's innings brought us back into the match. But small mistakes you can say, if Zazai was caught early then the game could've gone another way.
"We didn't get the momentum with the batting in both our last matches. We didn't do well in pressure situations. Nerves need to be managed. We won 8 league matches, but in the two pressure games we couldn't perform how we should've.
"Sorry to our fans. We'll try to be champions next season," promised Shadab.
Peshawar Zalmi – fell in last hurdle
Other than Karachi Kings, Peshawar Zalmi is the only other side to have reached the last four stages in all six editions of the PSL. It shows their remarkable approach and consistency. They played a fourth final here and in addition to their 2017 title finish they are the second best team in PSL history behind Islamabad United.
After the first leg, Zalmi lost the services of their best bowler Saqib Mahmood of England who was then the top wicket-taker in the league and was shouldering the pace attack. But they still had the firepower in skipper Wahab Riaz, the ageing and short on fitness Mohammad Irfan, Umaid Asif and fast-rising emerging player Mohammad Imran.
They lacked quality spinners ever since losing Fabian Allen who left to join the West Indies team for a home Twenty20 series against South Africa. Mystery spinner Abrar Ahmed did sparkle against his former team Karachi Kings, taking 3-14 in their win but then ran into a rampaging Usman Khawaja and Islamabad United. He was clobbered for 48 runs with four sixes. He didn't get another chance, a questionable stance by Peshawar.
Sans a spinner, Peshawar's attack looked one dimensional. Before the final they lost pacer Umaid Asif and promising batsman Haider Ali – both confessing to the bio-secure bubble in the team's hotel.
Peshawar had a power-packed top order and middle order, with Afghan opener Hazratullah Zazai at his blistering best against Karachi Kings in both the games but was left frustrated by a lack of strike in the final. Kamran Akmal blew hot and sold, maybe because he has lost motivation of regaining his place in the Pakistan team. Haider was also well short of the promise he showed last year, managing just 166 runs in nine games.
Veteran Shoaib Malik was the best Peshawar batsman with 354 runs, scored at a healthy strike rate of 150. His form and fitness suggested he is still capable of delivering the goods at international level. The hard hitting West Indian duo of Sherfaine Rutherford and Rovman Powell were useful in slog overs. Rutherord who won crucial matches for Karachi in the last season, held his nerves in the eliminator against Karachi to score seven runs in the last over after being dropped off the very first ball.
Wahab impressed with his canny bowling and shrewd captaincy. His consoling Abrar when the young spinner so passionately and emotionally wanted a review was the "moment to savour." Wahab let off steam during his bowling but was expensive in the final, conceding a big 52 runs.
Magnificent Multan Sultan:
Multan Sultan proved how meticulous planning and its execution can work in a game like cricket which is played on instinct. They were the last franchise to join the PSL set up and had their problems after the first edition. They finished one better than last in their maiden appearance in 2018.
Then a new management with Ali Tareen and Alamgir Tareen and in the able guidance of Azhar Haider, a knowledgeable professional who knows the nous of management and execution, worked tirelessly and innovatively. They roped in Julian Woods to help bolster the power hitting of their batsmen.
To sow the seeds of success, former England head coach Andy Flower and England's data analyst Nathan Leamon were hired. Leamon, the holder of a Maths degree and then director of coaching at Eton College, furthered the idea of using data with traditional coaching.
After finishing fifth once again in 2019, Multan showed great improvement in 2020 and were favourites to win the title. They were perched top of the table when PSL 5 was suspended on fears of Covid spread in March. A big gap of some eight months broke the momentum as they lost both the qualifiers to finish third.
Barely a week from the start of the 2021 edition, Multan Sultans changed their captain.
Mohammad Rizwan replaced Shan Masood, a decision not surprising as the diminutive Rizwan had shown great acumen as a wicket-keeper batsman and led Pakistan admirably on the tour of New Zealand after regular skipper Babar Azam got injured.
The decision seemed to have backfired during the Karachi leg as Multan managed just one win from their five games. This time too, a Covid outbreak led to the suspension of the league.
However, Multan's fortunes changed contrastingly this time once the league resumed in Abu Dhabi. They won five of their six games, upstaging title favourites Islamabad United in the Qualifier to reach their maiden final.
Multan had a balanced combination in both batting and bowling. In fact, they had the best spin attack of all the teams with old fox Imran Tahir in the forefront, Shahid Afridi (who missed the Abu Dhabi leg due to a back problem) and Usman Qadir (mostly warmed the bench with Tahir on a wicket taking spree).
Sohaib Maqsood and Shahnawaz Dahani were the stand out performers for Multan Sultans. Widely criticized for his low body language which cost him a place in the national team, Sohaib showed huge lift in his overall game. He finished as the third highest run-getter with 428 at a fast strike rate of 156.77 to anchor the power hitting for Multan. Such was Sohaib's impact in the team's title triumph that he was declared "best batsman" as well as "player of the tournament."
Rizwan was second top run scorer with 500 but most of his runs were accumulated in the first leg. Still, he was instrumental in leading the team and never got nervous in tough times.
But the story of PSL 6 is that of a young pacer from a remote village in Larkana who proved to be the "revelation" of the league, Shahnawaz Dahani. The youngster heralded his arrival in the Karachi leg and with his wicket-taking ability left a huge mark on PSL 6. Dahani finished with 20 wickets but more than his wickets, his celebration – style of picking a mobile phone after taking a wicket — was dubbed as 'Selfie Breathing',
Test specialist Imran Khan Junior, Imran Tahir and Sohail Tanvir also supplemented the attack. The wily Imran Tahir proved why he is the "bowler to go' for Multan by taking wickets when needed. Such was his impact that Multan was forced to keep Pakistan spinner Usman Qadir on the bench for all but four matches.
All those bowlers were ably handled by bowling coach Azhar Mahmood, himself a master of the craft in Twenty20 cricket, and Mushtaq Ahmed, who was one of top three bowlers.
Flower was effusive in his praise for the team.
"I'm very proud of our boys and all of them performed sensationally," said Flower, himself a great batsman in his heydays for Zimbabwe.  "I think the best thing about winning this trophy is that we came back from nowhere. We lost four out of five [matches] in Karachi and most people then had written us off," Flower said during the post-final interview. "But importantly no one in our dressing room had written us off. So to come back from that [dismal start in the competition] and inch up the table and finish among the top is really important for your chance to make the final.
"We did that straightaway. And then I thought the boys performed outstandingly under pressure tonight because that ball swung, moved around and bounced a bit upfront during Multan's innings. So you know why Zalmi put us in [at the toss].
"And then at the backend, even when Shoaib Malik and [Sherfane] Rutherford made a burst towards the target and [our] guys were under pressure but they dealt with it brilliantly, brilliantly. I'm really proud of [Mohammad] Rizwan as captain and also Shan Masood who reacted like a true champion and carried himself splendidly after losing the captaincy at the end of last PSL.
"I'm very proud of everyone involved, especially all the players, old and young, because it's just been a brilliant experience for all of us to come from behind and win the title.
"We had nothing to lose coming into the final by playing aggressive cricket, I would though the makeup of our side is such that we don't' any all-rounders [to speak of] other than Sohail Tanvir at seven who has played a couple of really important innings during the tournament. So, our batsmen had to do the job because there was no one backing them in lower order, and they did manfully."
FINAL:
Multan Sultans started as favourites while Peshawar Zalmi was tipped to be "party spoiler," as they did to Islamabad and Karachi. It was a close affair although Peshawar seriously erred by not playing a single spinner, leaving their bowling attack one dimensional.
Peshawar had won six of their seven games by chasing, so when Wahab won the toss, he instantly announced his team will "bowl first." That sort of played into Multan's hands as they were comfortable batting first, having won four of their last six games that way.
Multan mustered 206 on the back of 35-ball 65 from Sohaib Maqsood. That sort of a celebration for Maqsood's inclusion in the Pakistan squad at the expense of Haider. Sohaib and Rilee Rossouw, 50 off just 21 balls, added 98 for the third wicket. Wahab once again erred by not bowling a single over from veteran Shoaib Malik. Had they broken the stand early, Multan would not have got that impetus given by the duo.
Then when Peshawar started the chase, Zazai did not get a proper strike. He was the batsman who could have changed the match or at least set Peshawar on course for a chase. Kamran Akmal did bat rapidly but Zazai getting just three balls to play in the first five overs undone their chase. A frustrated Zazai hit a six and then fell off the fifth ball he faced.
Shoaib Malik did play a fighting hand but once he fell for a 28-ball 48, Rizwan brought Imran Tahir who wrapped up the innings with three wickets, including that of Rutherford, in the 17th over.
That sealed the final as well as a maiden title for Multan Sultans.
Rizwan said the triumph was a "complete team effort."
"Credit to our coaches, who've made it so comfortable for us during this second leg," said Rizwan who was declared best wicketkeeper of the league with 18 catches and two stumpings. "Finals are pressure games – you can't avoid that in the final. We discussed that and brought it down to two things – it would either be pressure of batting first or batting second. So, it began like that, the pressure of playing out the new ball, and then we took it from there. When you go for the win, you need to ignore the noise. With Maqsood we felt he wasn't getting enough of a hit and then we decided to push him up and it paid off. And our bowlers have been fantastic throughout."
No Young batsman, but bowlers aplenty:
The PSL 6 once again showed a dearth of quality batsmen. Last year, Haider came to the fore and promised a lot but PSL 6 failed to throw a good quality batsman. A lot was expected of Azam Khan, son of Moin Khan, but the hard-hitting batsman failed to justify his selection in the England and West Indies bound squad.
Pacers, as always, were found in good numbers. Islamabad United's Mohammad Wasim Junior, Karachi Kings' Arshad Iqbal, Ilyas Khan and Asif Afridi Peshawar's Mohammad Imran and Multan's Dahani and Mohammad Umar are promising bowlers who can go places.