The challenge was "who rules the world" and Pakistan ultimately ruled the world from nowhere.
Pakistan's build-up was chaotic in which they lost Waqar Younis, one of their key bowlers.
The start was disappointing. Pakistan had won only one of their first five games, with three losses and one match rained off. It was a story of under-achievers and curtains were about to fall on their campaign.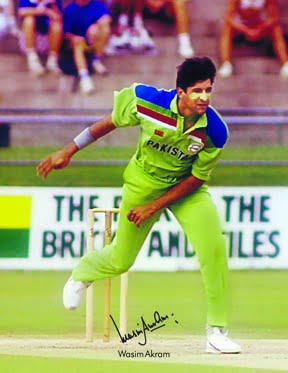 But suddenly fortunes changed. To say that "Lady luck smiled on Pakistan" was an understatement. Pakistan won their last three matches, including one against an in-form New Zealand and there was no looking back. They lifted the Cup by beating the inventors of the game, England, before a packed MCG on March 25.
One of the key performers of that triumph was Wasim Akram. The best left-arm paceman ever to have played the game, Wasim took 18 wickets and was the player of the tournament. Here is how he remembers the 1992 World Cup triumph.
Q: Wasim how you remember the 1992 World Cup win?
Wasim: It's still fresh in my memory as if it happened yesterday. It was a great win, something we achieved against all odds, after the poorest of starts but we did that with great self belief. That self belief was instilled in us by our captain Imran Khan. That World Cup was best remembered by that "cornered tiger" spirit given to the team by Imran and it paid off. It was one of the greatest victories in the history of Pakistan cricket. Pakistan will win more and more trophies but that first victory was historic and anything which comes first is very hard to be matched.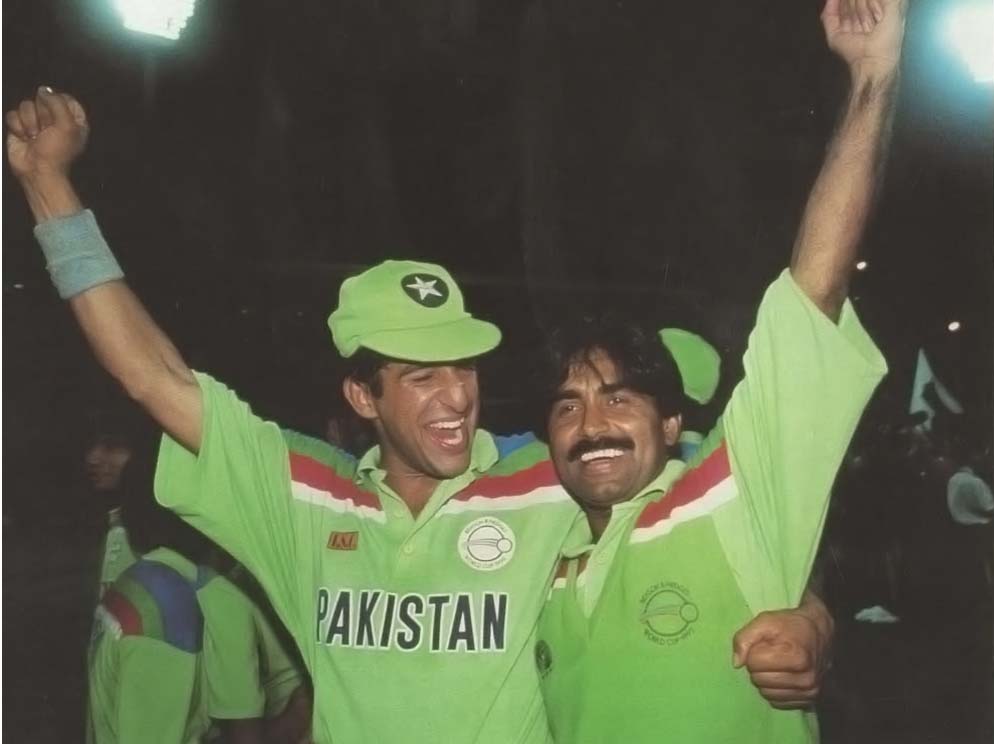 Q: The build-up was very chaotic. We lost Waqar Younis, your bowling partner. Then the poor start. How do you remember that build up?
Wasim: We were a good one-day side and a few years before the World Cup we had won the Nehru Cup in India. That was a good win. Then we won the Australia-Asia Cup, so we had the confidence to win a major event. Imran took us to Australia well in advance because Australia is a tough place and you need to acclimatize. We successfully did that but from the warm-up games our form was poor.
Of course, losing Waqar was a great jolt. At that time he was the fastest bowler in the world and we had matured as a deadly pair. Waqar complained of a back problem so unfortunately he had to withdraw from the tournament. We also had some problems with Javed Miandad who had had back problems. We had come to Australia without Miandad.



The tournament started and we had Miandad rushed back from Pakistan as he had recovered to a great extent. Our first match was with the West Indies and we lost. We had not scored a big total. West Indies crushed us. After beating Zimbabwe we lost to India and South Africa and in between we had that lucky escape against England. Had we lost that match we would have been returning home early but nature helped us and the match ended without a result.
I remember one incident from that match. Our last pair was playing and there were signs of rain so we urged them to stay on, bat longer so that rain comes. It came only after England started batting but we were damn lucky to escape. Then came a situation where we had to win all our remaining three matches and we won all three. That was remarkable and without a doubt millions were praying for us in the month of Ramazan and that's why Almighty Allah listened to those prayers.
Q: After beating Sri Lanka and Australia, Pakistan had to play the in-form New Zealand. What was the feeling in the camp because New Zealand were playing at home and beating opponents' right, left and center?
Wasim: Yes, New Zealand were on a roll, having won all seven of their league matches. Their eighth match was against us. This is where my confidence shot up further as I picked up four wickets, including the likes of Andrew Jones and the very dangerous Martin Crowe. We pulled off the much-needed win, with Ramiz Raja hitting a hundred.
Q: But Pakistan also needed Australia to beat the West Indie so that they could sneak through. Were all the boys praying for a West Indian defeat?
Wasim: Yes, we were. We watched the WI vs Australia match in the hotel room and prayed to God. With us the whole nation was praying. When Australia beat the West Indies we celebrated as if we had won the World Cup. We were through to the semis and everyone was delighted and I remember that Imran's conviction grew and he used to say that "no one can now stop us from winning the World Cup".
"We were a good one-day side and a few years before the World Cup we had won the Nehru Cup in India. That was a good win. Then we won the Australia-Asia Cup, so we had the confidence to win a major event"
Q: How did you plan for the semi-final against New Zealand?
Wasim: If you talk about Auckland, it was a tough ground to play with peculiar dimensions. The fine leg was in front of the leg umpire so to counter that we had a meeting before the match.
Imran asked Ramiz to draw a map and Ramiz came with a round map. Everybody was laughing at that map but it helped us a great deal.
With our confidence on a high, we knew that we could chase down 260. Javed Miandad was there till the last ball and he was there in most of the matches. The night before the match Inzamam got fever, so he went to Imran and told him that he could not play. But Imran was Imran, and he said to him: "Don't think anything other than playing."
New Zealand batted very well and scored 260. Martin Crowe showed why he was regarded as the world's best by scoring a big half century. Martin was great, he played some great shots, he was technically the greatest. But after New Zealand's batting, Martin got injured and it proved good for us. Wright captained when we were batting. Inzi batted with grit, Miandad was professional and responsible and batted till the last run was scored. Moin batted as a free soul. When he hit a six off Chris Harris, everybody was looking at the other way and the ball went the other way.
Q: So Imran effected that turnaround. Why was he so confident?
Wasim: Imran was always a leader of men. His conviction was unmatchable and he knew how to back his players. How he introduced that "cornered tigers" theme was remarkable and it invigorated the whole team. He knew how to lift his players and the kind of backing he gave his players, like what he did to Inzamam despite him failing in the first few matches. He took a great decision by promoting himself up the order in the semi-final and final. He was a great captain.
Before the Perth game I was not able to control the white ball. I was bowling too many no balls and wides. But Imran always backed me. One day I saw a newspaper; it had Iman's interview. He had said that "Wasim should not care about the wides and no balls", so I bowled fast and those words changed the whole thing.
Q: So March 25 approached. How were those days between the semi and the final?
Wasim: We were like flying. We were like world champions before the final was played. I can still recall those three days. At the back of our minds we knew that England were an experienced one-day side with loads of experience from English seasons. They used to play too many one-dayers and had quality players in Gooch, Stewart, Neil Fairbrother, Lamb, Hick, Pringle, DeFrietas and, above all, Botham. They were all experienced but the confidence was with us.
It was unbelievable to play the final. It was mainly because of the belief of the captain and people from back home gave us that belief.
"We scored 249 but we knew they will fight because they were experienced. They had quite a few all-rounders and that gave them depth in their batting. While I was batting I felt cramps and that gave me a scare. But I pumped myself up"
We had controlled aggression and Imran wore a t-shirt and told us about cornered tigers. When you corner a tiger he attacks, so our plan was to bat first because our strength was bowling.
His conviction to bat at number three paid off; he scored 70 odd. We had planned not to lose wickets in the first 35 overs. Inzamam and I hit out in slog overs. Inzamam did so well, his late cuts, fine-leg shots were too good. I was pumped up so I batted well and I was talking to myself and when I hit a four I got more pumped up.
We scored 249 but we knew they will fight because they were experienced. They had quite a few all-rounders and that gave them depth in their batting. While I was batting I felt cramps and that gave me a scare. But I pumped myself up. I went around the wicket and got Botham. He was out as we — Moin and I — heard the sound but he was not happy but the umpire gave the decision. MCG was buzzing with 90,000 people there.
Then Aqib, he was so young and he bowled so well with swing and bowled with accuracy. Mushtaq bowled a googly and got Hick. We were getting them. The belief was increasing with every wicket. Aqib was not a very good fielder but he held a beautiful catch. We got Gooch.
Then they had a good partnership with Lamb and Fairbrother. After 34 overs there was a break. Imran told me that the ball was reversing. So he asked me to take a wicket and I had to bowl an out-swinger. Usually it's a rarity that you bowl someone from round the wicket. It went out of my hand and took the off stump.
We were told that 18,000 Australians were supporting us at MCG. Before the next ball I had a discussion with Imran. He told me that Lewis would be expecting an out-swinger so I visualised and exactly that happened and with an inside edge his off stump went up. That was it, we won. We had won. We were on cloud nine.
Imran Khan lifted the Cup, for which everyone had prayed. Our dreams were fulfilled, prayers of a nation were answered. We could not sleep that night! It was only when we landed in Lahore did the whole achievement sink in. The journey from Lahore airport to the hotel was memorable. There was crowd everywhere and they showered flowers at us.