Pakistan's cricket in the 1950s and the players, from nearly the beginning, most of them had become part of the folklore. Pakistan's cricket became brighter largely due to AH Kardar, Hanif Mohammad, Fazal Mahmood and Imtiaz Ahmad. Waqar Hassan and Maqsood Ahmad or Khan Mohammad and Mahmood Hussein, they added the flair, it made the team brighter. As if to represent the passing of cricket's old order, the deaths occurred in 2016 of Hanif Mohammad and Imtiaz Ahmad, one the classic hero , thought of tenderly as the 'Little Master' of Pakistan cricket; the other well sculpted player, simple straightforward humble and equally impactful, Imtiaz Ahmad.
Few things were more profoundly ingrained in the collective imagination of the Pakistanis, it stimulated a quixotic illusion about the pastoral way of life it suggested a peaceful and static order in an age of perplexing instability. In fact, not all the Pakistanis were mesmerized by their heritage. Cricket played by Hanif Mohammad, Imtiaz Ahmad, Fazal Mahmood, AH Kardar or others in the 1950s was mythical product of a vision of social order in which large sections of the population were attracted to international matches, feeling part of it if not direct, at least indirectly. To them Hanif's batting was a poetry. There were good reasons for this. Cricket's obsession with the past, its status as something of a national relic, its association with the top players like Hanif Mohammad or a Fazal Mahmood or Imtiaz Ahmad was not accidental but incidental, Pakistan cricket boasted a longer history in the country or equal to field hockey but there was more to it than that. Cricket was what it was because of its origin with all its Pakistaniness in a particular time and place. From this point of origin, everything flowed.
Hanif Mohammad, Imtiaz Ahmad, AH Kardar, Fazal Mahmood, Amir Elahi, Khan Mohammad, Waqar Hassan, Israr Ali, Anwar Hussein, Mahmood Hussein Nazar Muhammad et al were the pioneers, the advent of cricket deserved the appellation revolutionary because nothing less than an innovatory process could have bridged the gap between what cricket was and what it became.
Hanif's batting or Fazal Mahmood's bowling, Imtiaz Ahmad sweeping on one knee or pulling powerfully seemed a refuge from the grim reality of economic and political struggle. However, there were conflicts and these drew historians, against their will, even deeper into Pakistan's cricket in the 1950s. Cricket was, exactly, insular, and that was part of their charm. Cricket, of course became fashionable first the interest trickled down to all tiers of Pakistan's evolving social structure. AH Kardar was a strong captain and he didn't really listen to the BCCP, he did what he wanted to and despite not really Hanif's fan as a teammate he shrewdly acknowledged his indispensability.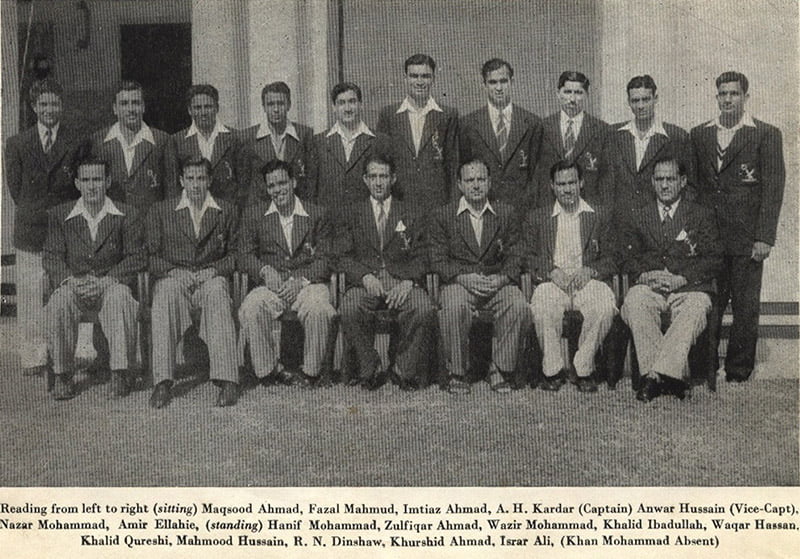 In the 1950s, the inclusiveness of cricket, which gave its claim to be Pakistani was strictly limited to AH Kardar taking decisions within a restricted social space, within the space of cricket field, under absolutely controlled conditions, his dominance being unquestioned. AH Kardar brought successes to Pakistan nonetheless the BCCP management didn't realize being either too meek or intoxicated by team's wins and impacted by his aura, the team was run as personal property, and cricketers were skilled workers, retaining the mentality of workers dependent on noble patrons. For all their inventive spirit, the Pakistanis unlike their counterparts in India didn't really clear the decks of feudal rubbish by BCCP not taking control.
AH Kardar's personality was amazing, he was educated the Oxford University, belonged to a white collared class, was genuinely erudite, his personality developed first playing for India in England in 1946 and under the influence of his Club President at Warwickshire Cyril Hastilow whose daughter he eventually married. Hastilow groomed Kardar so typically in a mould of what Douglas Jardine was to English cricket. Kardar could dictate, he was a highbrow, hardnosed and peculiarly arrogant, he could drive things even if not within the scope of the rules still he could manage to infer logically and definitely was conspicuous with his administrative abilities, his leadership and man management.  Nonetheless, while AH Kardar was the captain no system could be developed and the BCCP was often run as dictated, costing them much in the pedestrian 1960s and early 1970s.
Hanif Mohammad, Fazal Mahmood and Imtiaz Ahmad despite their high credentials were often left at the disposal of their captain, they weren't really independent. Fazal in particular, Hanif and Imtiaz they were certainly Pakistan's match winners. Pakistan cricket's big four AH Kardar, Hanif Mohammad, Fazal Mahmood and Imtiaz Ahmad's pioneering role made cricket in the 1950s captive of their achievements. When AH Kardar retired Hanif, Fazal and Imtiaz still had years of proficiency left in them, Hanif being the youngest, as Pakistan's mainstay, even during this period of transition though timely but huge in magnitude, he still had a foot in both the past and the present. Hanif Mohammad well established and their hero, the way his legacy of the old endured within the new, Saeed Ahmad becoming his apprentice accounted for the fascination of Pakistan cricket.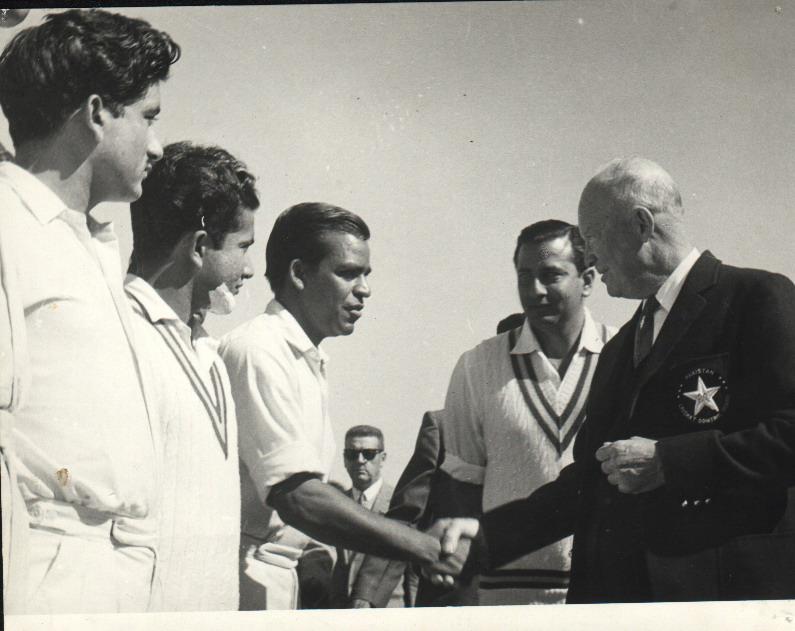 By the 1960s Crescent 'Hilal' on Mohammad Iqbal's 'Shaheen' its real meaning had started to dilute. It kept on diluting until the entire perspective was lost. Pakistani blazers were sold, the matches were fixed, balls were tampered, the systems were brazenly abused, player power, the AD Hoc Committees and their vulnerability to self possession, rebellions, players taking the PCB to court, corruption, stories of moral turpitude, the superstars, those household names, the role models being exposed, their realities revealed. Over commercialization, lack of structured first class cricket, the Chairman of PCB being termed as a 'Buffoon' and Pakistan cricket the 'Basket Case', furthermore two chairmen ending up in litigation destroyed everything. Inaptness, incompetence and an inability to keep pace with cricket's modernity, to structuralize cricket saw Pakistan slithering to bottom or middle of the table positions on ICC's Rankings gotten us smacked, heads flexed in shame.
Such has been the tenacity of handpicked chairmen they continued to run PCB, the worst being Mr. Ijaz Butt despite a terrorist attack on Sri Lanka on March 3, 2009 continued in office so much so that he stood up to allege England cricketers being involved in match fixing, it could only happen in Pakistan. Pakistan was deeply hurt completely alienated in world cricket.
Reportedly one of the Pakistan players had passed on the retrieved data from Salman Butt's cell phone (given to him to get it fixed in England) to Mazhar Mahmood of the News of the World, this becoming the base of a Sting Operation against those eventually caught and penalized. Waqar Younis' report was leaked by one of the high ups of the PCB. How could a team flourish with players and management alike having such a mentality?
Misbah Ul Haq became Pakistan's captain in 2010-11 and since then despite team's ranking constantly slithering down in T20I and One Day Internationals, as it could happen winning Tests at the UAE or at best in Sri Lanka kept masking the impending disaster, team was successful, their Executive Committee Head was constantly tweeting counting the successive wins, a drawn series in England and No: 1 position which was only a mirage left all the stakeholders swollen with pride. Mediocrity was acceptable.
As Pakistan plunged to a 3-0 defeat at the hands of Australia that had not been highly rated having been routed 3-0 in Sri Lanka Rangna Herath spinning them over and beaten by Faf du Plessis South Africa, the parallels between the malaise of Pakistan cricket and that of the country were often drawn without any resolve being proposed.
Comparing the hapless Misbah Ul Haq with the helpless PCB has become a commonplace. Failure in Australia has become more resonant because of the evident mischief and biased team selection, barring some of the self-styled journalists acknowledging with self deprecation the triviality of their peculiar 'Misbah Ul Haq' passion. It hasn't been about Pakistan losing but the way they have been losing. The sheer scale of defeats told only one part of the story. Pakistan's bowlers have been drubbed, their top leg spinner was not even once seen picking up wickets he was only mauled. Australia knocked up huge total after another.
This dreadful mortification, an embarrassment, visible degradation, though carrying a wicked quiver, undermines the exaggerated and imaginative aspects of Pakistan cricket, the flamboyance and flair that once were their heritage. No one will look back on Pakistan's fixated pedestrian performance in Australia, at best this team could be described as submissive, radiating non-commitment, misfielding, 'hoping not expecting', a group of self-centered, self seeking individuals each wanting to do well without common purpose. The Pakistan cricketers seemed bent down not just by the burden of losing, but even more by the weight of the international demands. The responses to Pakistan's failure in six successive Tests are surprisingly paradoxical. What grips me during this period of duress is the way the countless claims and counter-claims, often passionate and intense, hollow larger arguments over the plight of the PCB and the team. Pakistan cricket has driven into one of its intervallic turbulent sizeable stalking for scapegoats and saviours. The media, of course, is at the head of the pack.
As always, the first targets are the biggest and most visible- chairman of selectors Inzamam Ul Haq, team coach Micky Arthur and captain Misbah Ul Haq. None of the serious accomplices in this defeat like Chairman of the PCB and those driving the rotten policies have still been condemned. They would survive and the vicious cycle would continue.
Selection policy is derided as so often in recent Pakistan history, it has been contradictory, incoherent and panic driven, at times challenging the common intellectuality. Regrettably, selectors, as ever, would respond to the pressure of the public opinion, as orchestrated by the media. Would Misbah become a martyr in a popular crusade against the team and the PCB? What drives us wild is not merely the failure of the Pakistan team, but the refusal of any of the triumvirate to acknowledge or take responsibility for mistakes-a weird reflection of Shahrayar M. Khan's condescending remarks. Worst is that even Misbah couldn't really identify the ills and rectify despite his tenure, unlike his predecessors has not been interruptive or circuitous. I believe when he became the captain he surely raised his own game and led Pakistan to respectable performances mostly in Asia, the mindset he would leave, and the core values of self survival and performing in their respective comfort zones and not playing for a common cause, their grandeur often false drawn, it would now be up to the team to learn from their reality. Pakistan keeps losing and captain's reply is a comparison with the 1999 team that went to Australia, it was neither stupid nor elusive. It was simply that Misbah has been bewildered by failure.
Clearly this crisis requires more radical solutions than mere changes in personnel or a technical fix. But there is little agreement about what these should be. PCB under Shahrayar M. Khan and his retinue has come under fierce attack. It is seen as an abnormality of the out of control PCB. None would be held accountable for their actions. Nothing would change. This is Pakistan cricket's reality.