Virat Kohli, I first saw batting while he was representing the India U 19s in England in July 2006. It was the 1st Youth ODI at Derby, a day and night match. India U 19s batted first. I was there purely on the insistence of my late 'memorabilia collector' and a close friend Dr. Khadim Hussein Baloch. He had driven me to Derby in his bottle green BMW and seemed excited to watch youngsters in action. I must say, I had yawned a bit however, purely for Kim's happiness I had to be with him. India U 19s batted first and as I recall they had an impressive wicketkeeper/batsman Uday Kaul who was in the runs. His confidence was eye-catching, so was the technique and method. Dogged and developed in a typical opener's vain, he consumed about 100 balls to post a conspicuous 62. He had twice been tested by future England Test fast bowler Steven Finn.
Tall, Finn had him entangled negotiating short-rising deliveries. However, Uday a typical left-hander made amends and thumped a few outside the off-stump shots. He was a product of well-organized pathways. He had represented Punjab U 14s, stepping ahead to Punjab U 16s prior to being chosen on the India U 17s. Back to local cricket, he showed enormous potential while turning out for the Punjab U 19s and his performance saw him touring England with the India U 19s. That he also played for India A is true nonetheless, he failed representing his country in international cricket. There were quite a few impressive players I witnessed that fateful evening. Apart from Uday, I saw slightly chubby, innocent looking batsman from Delhi walking out to bat joining his captain Tanmay Srivastava, another delectable left-hander. The chubby boy soon left everyone startled. How he started with a straight drive and then cut one fiercely past backward point. He was something special. His was not a normal talent. His balance, bat speed and quickness of the eye caught our attention. I liked the bloke. Seeking more information, I was told he was from Delhi and his name was Virat Kohli. Tanmay left India at 181 for 4. Virat took the centre stage and ended up with 64 not out. I remember Ishant Sharma and Shahbaz Nadeem also played in the game and another cricketer of Indian descent Varun Chopra captaining England U 19s had been impressive with a fighting half-century.
We were fascinated and when Kim decided to take me to Cardiff, this time a train journey from London I didn't make faces. I was eager to see Virat bat again. To our dismay chasing a paltry total India U 19 openers had their day. Requiring 165 to win in 50 overs, they overhauled the target in about 29 overs with nine wickets to spare. Parvez Aziz, a left-hander from Assam 79 and Uday Kaul 58 not out put on 125 runs for the 1st wicket. Parvez was out off Moeen Ali, another star in the making from England. He had sealed the fate of the match with an enterprising and a whirlwind innings. Uday and Sumit Sharma took India home. Virat didn't come out to bat. We returned missing to see a mature 40 from Virat in the 3rd Youth ODI, also played at the same venue. He ended the triumphant tour with an overall average of 105.00 in the Youth ODIs and 49.00 in the three match U-19 Test series.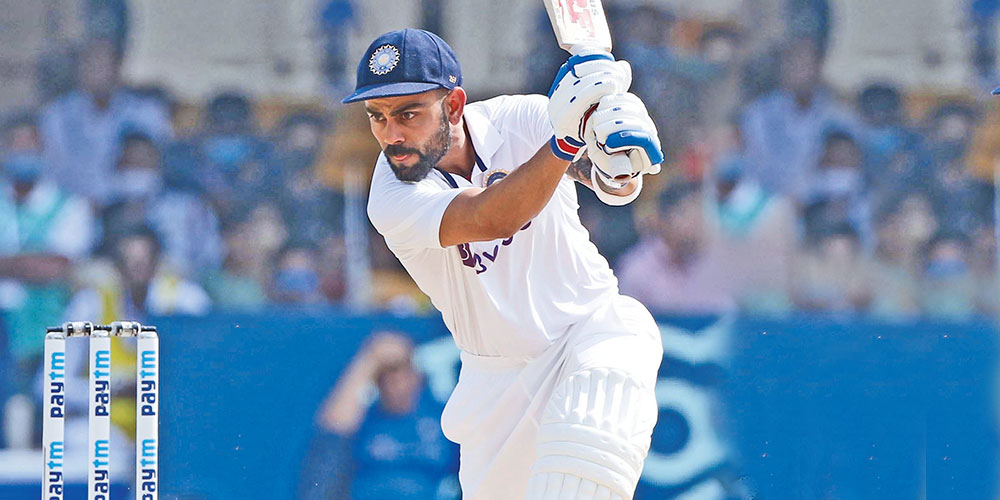 In September 2006, India U 19s toured Pakistan providing me an opportunity to see Virat even closer. I boast having his India U 19s shirt signed by the entire team. It is still part of my memorabilia collection. Interestingly, Uday Kaul was relegated to number three and a newcomer Cheteshwar Pujara technically apt and with a solid defence made an impression. The line-up also included Ravindra Jadeja, Shahbaz Nadeem, Piyush Chawla and Ishant Sharma all future India Test and International players. At Lahore, in the 1st Youth ODI, Virat didn't score, the innings was dominated by Uday Kaul 67 and Sumit Sharma 65. Kohli posted a cautious 45 at Sheikhupura which I didn't see. Back to Lahore for the 3rd Youth ODI, India Up 19s had a brilliant day out rattling an impregnable 298-9 in 50 overs. Losing Sunny Sohal and Uday Kaul early, Tanmay Srivastava (88) and Virat Kohli (80) batted munificently. By this time, I had fallen in love with Virat's masterly stroke play. He batted beyond his years and his mental strength was impregnable. It seemed he had an astounding international career beckoning. He was different from the other players on both the teams. Wristy and flamboyant, his balance was near perfect. He only required fine tuning before breaking into international cricket. He averaged 58.00 in the unofficial Tests and 41.66 in the Youth ODIs. In April 2007, he was brought to international cricket. He debuted in T20 Internationals. He launched himself, ready for big time cricket by capitalizing on India U 19s tour to Sri Lanka and in the triangular series (India-Sri Lanka-Bangladesh) and the two Unofficial Tests. Kohli as India U 19s captain spurred them to an emphatic ICC U 19 World Cup held in Malaysia in 2008. In the final versus New Zealand, Virat picked 2 wickets and scored 43 in the run-chase returning with man of the match award.
With 70 International centuries, Virat had become an icon. Supreme fitness, toughest nut to crack, mentally strong and someone who was a batsman with an unsurmountable talent. His skills, balance, timing, and ability to win matches single-handed turned him into a heartthrob. Someone who had scored 90 for Delhi asking the family to delay his father's funeral, Virat's professionalism, his personality, and the determination to change mindset of Indian players took him a long way to be termed as India history's most successful captain in Tests. Across all formats, Kohli captained India in 231 matches and his team won 40 out of 68 Tests under his aggressive and unforgiving captaincy. Such was his finesse, elegance, and appetite to dominate world cricket that having made his debut in Tests in 2011, a product of well-honed pathway, he became number 1 batsman on the ICC ODI Rankings in 2013.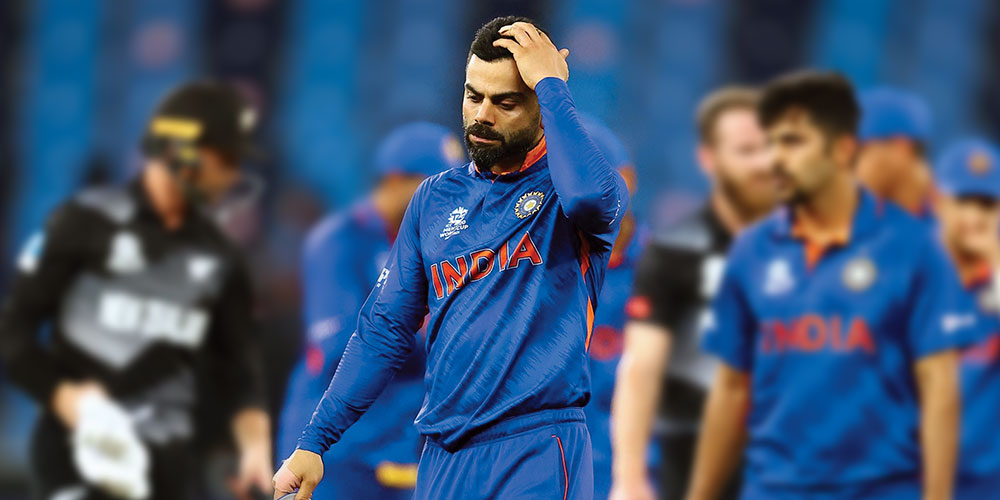 Twice, he was man of the tournament in ICC World T 20 cups (2014 & 2016) and was the fastest to 23000 International runs across all formats. He won the Sir Garfield Sobers Trophy (ICC Men's Cricketer of the Decade- 2011 to 2020), Sir Garfield Sobers Trophy (ICC Cricketer of the Year in 2017 & 2018), ICC Test Player of the Year (2018), ICC ODI Player of the Year (2012, 2017 & 2018) and Wisden Leading Cricketer in the World (2016, 2017 and 2018) besides picking up the Arjuna Award in 2013, the Padma Shri (Sports) in 2017 and the Rajiv Gandhi Khel Ratna Award in 2018. In 2016, he was nominated as one of world's most famous athletes by ESPN and one of the most valuable athletes' brands by Forbes. In 2018, Time magazine recognized him as one of the 100 most influential people globally. In 2020, he was 66th highest paid athlete in the world with estimated earnings of over USD 26 million.
Since 2019, he started to stutter and seemingly lost his medias touch. None could ever believe that he will struggle to score runs in international cricket. None could imagine Virat will continue without a century in Tests for almost three years. With the arrival of Sourav Ganguly as BCCI's President, he lost his captaincy in One Day Internationals while he resigned as India's T 20 and Test captain. Virat was slithering into darkness. From the top of the pyramid, he seemed tumbling down. The fall hasn't stopped. What could be the reasons? I won't be talking about numbers rather I will assess his slump in form and inability to regain his consistency from another angle. It must be dismaying for Virat though his exuberance, a real team man, his presence can't be challenged still his future hangs on the fringes.
It is also equally frustrating for us to see him hapless. Just imagine, a struggling Kohli in England must have not endorsed how he was dismissed in both the innings at Edgbaston in a losing cause. How he misjudged and dragged one in and consequently found that even the Gods didn't come to his rescue when Sam Billings dropped the catch only to be picked in the slips by Joe Root off a rebound in the second innings of the recently concluded 5th Test at Birmingham. He seemed losing his method, technique, and balance. Is he mentally saturated and caught in a vicious spell is a question that needs an answer? Has he lost all incentives having seen the world right from the top? It seems grey somnolence ridden clouds are hovering over his career.
I must acknowledge, it seems he hasn't stopped working hard. Practice, training, and full commitment still he is unable to unlock the door even on flattest of strips against manageable bowling. At least I could never contemplate Virat will be attempting to survive, wafting and seemingly vulnerable out there in the middle. The situation he has slipped into seems innocuous. He seems putting his head down and pondering, like concentrating to catch the fish after many failed attempts and fails again. I have seen Kohli inattentive, losing the sight and suddenly showing a philosophical state of mind, wistful. He needs to sit back and decide about what to do while it's happening to him. He may well cogitate and try getting the solutions. Has he had time to focus on himself rather than his cricket?
It isn't a moral issue. It is all about the waning dominance. His work ethics are unquestionable still there is a vacuous or an empty area that needs to be explored which neither falls in black or white not even in grey. The picture has darkened. His cricket has been more than skills or an undefinable talent. How should he proceed? He must return to basics and make his method simple. Is it about mental exhaustion? Is he demotivated or tired? His expressions, the body language is still contrary to his loss of form. He must seek answers about how he should solve the puzzle. It is quizzical still. He should introspect, without concern, the nature of, say courage or concentration or self-belief and he must be able to see everything that has gone wrong. It seems from one series to another, he has been carrying the burden, self-guilt of not contributing to his full potential for whatever reason, his show being nebulously inadequate and murky. It is also true that in adversity are the solutions to return to pre-eminence, the interconnected resolve surfaces, the first is that the quest to recreate virtue. It must be for now his only meaningful purpose in life.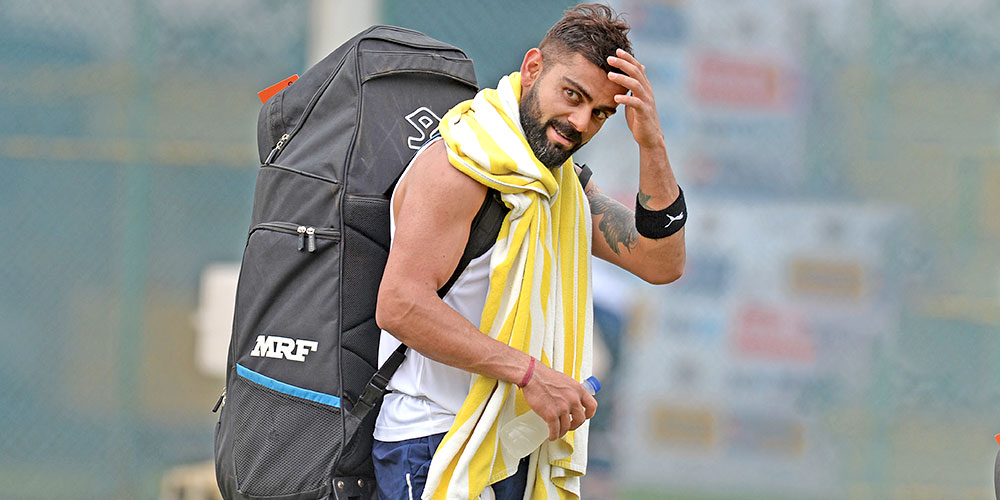 The second is that excellence is his trademark. Other things that may appear attractive – wealth, power, money – are deceptive. Living extravagantly on the field is the only way to joyousness Kohli has been habituated to. And the third is that introspection and the corrective measures taken. He must ask himself what's failing him? Is it the end of the road or is it a temporary phase which shall pass? He has been put on trial which he hasn't been accustomed to. He needs to break the shackles to spirit himself away or decide getting lost into oblivion. It's not a question about his reputation, the man he is and the iconic dimensions he has added to cricket. It is about a zillion people who dream to see him bat. He must do it for his fans, the real connoisseurs of cricket, orthodox, the unorthodox, experts, commentators, coaches, stakeholders and for all of us. He should take the challenge and try to get it back. He isn't the type to concede and it's ironic to see him struggle. He is a champion and not the one consuming the poisonous parsley and dying on his knees.
He must explore the unexplored avenues, and to find out what his strength is? Currently, he is seemingly making false attempts to notice a frail sleuth, an illusory reality. He created his own images and believed them to be true. He does it because it has given him unprecedented success and the real taste of seeing everything turning into gold. Failure was unknown to him. He has lived in a world he created by achieving the unachievable, the space of the flawless configurations and doubtless has an inexplicit reminiscence of how failures were enveloped to be interchangeable. Majority of the people are still sure their man Kohli would return to the avenues from where he really belongs. None is ready to stop believing in him. There are some resorting to mocks and acerbity. It's not an alluring view; the recluse disdainfully shouting from beyond the boundary.
So where does all this leave Virat Kohli, still perched in that world of the judgmental? The answers are interim. This contention isn't going to end. It's not everlasting, it will be decided in the next few months. Virat's real predicament is to match his own standards. He must return to excellence before he calls it a day. He has seen a full life as a world star, a hero, an icon and now going through times employing complications and unsuccessfulness. He must think through the options. He must make a choice. What he is? A batsman whose stroke play is still sight for the gods. Come to think of it, Virat won't die without getting it back.