The modern style of instant cricket such as T20s and The Hundred do provide a great degree of entertainment, but it is the format of Test cricket that requires real technique, talent and temperament and offers the most complex challenges to the batsmen especially when the task is to save the game from a difficult position. It is by no means an easy task to go out on day 4 or day 5, stay at the wicket for a considerably longer time on a deteriorating wicket and save the game for the team. Some of the finest aspects of the game such as the quality of bowling, the state of the pitch, the circumstances when the runs were scored and whether conditions make huge implications that cannot be found in the scorecard. These aspects can only be described in words. Here we look at the top 10 innings played by Pakistan's batsmen that helped their teams avoid almost certain defeat.
To have a more meaningful quantitative analysis concerning bowling quality, the top four bowlers' ICC ranking is taken into consideration at the start of the respective Test and the average is calculated. For example, Babar scored 196 against an Australian attack comprising of Pat Cummins, Mitchell Starc, Nathan Lyon and Mitchell Swepson. ICC ranking of these four bowlers at the start of the Test was 1, 16, 20 and 100 respectively. Taking a mathematical mean of these numbers 1, 16, 20 and 100 gives the average ranking of this attack as 34, which is a good indication of the quality of bowling Babar faced during his innings of 196.
Hanif Mohammad, 337 vs West Indies, Bridgetown 1957-58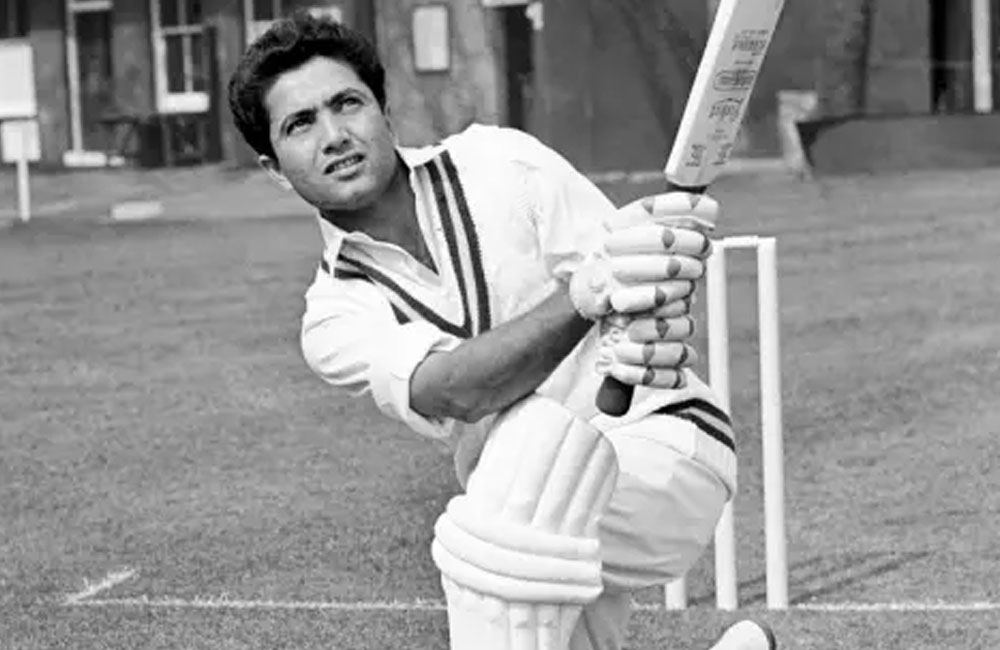 Pakistan and West Indies met for the first time in a five-match series in 1957-58. In the first Test at Bridgetown, West Indies rattled up a mammoth first innings total of 579-9 declared. In reply to this total, Pakistan was dismissed for just 106 in their first innings an hour after lunch on day 3. With a healthy first innings lead of 473, West Indies enforced the follow-on leaving Pakistan with a formidable task of saving the Test with over three days to go. Considering Pakistan's dismal performance in the first innings, a thumping victory for West Indies was considered a foregone outcome. However, Pakistan turned the table upside down in the second innings. In a remarkable display of patience, temperament and technique, Hanif Mohammad stayed at the wicket for 970 minutes which remains the longest innings in the entire history of Test cricket. Hanif put up century partnerships for each of the first four wickets; 152 for the first wicket with Imtiaz, 112 for the second wickets with Alimuddin, 154 for the third wicket with Saeed and 121 for the fourth wicket with his brother Wazir – a unique record that has not been repeated ever since. Although the record for the number of balls faced is not available for early Test matches but Hanif's innings of 337 is considered the longest innings in terms of balls faced. Hanif's 337 saved Pakistan from a certain defeat.
An interesting incident often narrated is about a spectator who was watching Hanif's innings on day three from a tree top outside of the ground. He accidentally fell from the tree and had to be admitted to a hospital. Two days later when he was fit enough to walk, he came to know Hanif was still at the crease. He climbed back on the same tree to resume his free viewing of this record-breaking innings by Hanif Mohammad!
Asif Iqbal, 152* vs Australia, Adelaide 1976-77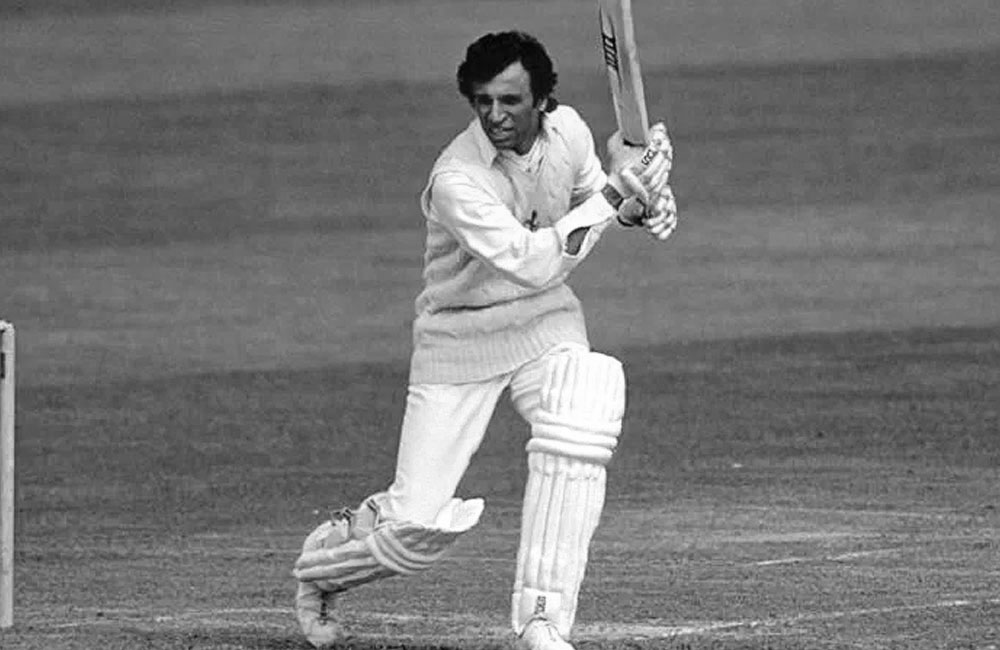 1976-77 twin tour to Australia and West indies is regarded as one the most demanding tour Pakistan ever had where Pakistan played high quality non-stop cricket against the best bowling attacks of modern cricket. The first Test against Australia at Adelaide produced very pulsating cricket where fortune changed on daily basis. Batting first, Pakistan got dismissed for 272 on day one with Zaheer scoring a classic 85 studded with some exquisite cover drive boundaries. In reply, Australia posted 454 with centuries from Ian Davis and Doug Walters. With 182 runs in arrears, Pakistan started their second innings in a much more resounding manner with all top order making a useful contribution. By the close of day 3, Pakistan had posted 140 for the loss of both openers Majid and Mudassar. The next morning, Zaheer continued with his first innings form, but he was dismissed by Dennis Lillee soon after completing his century. Asif, who failed to score in the first innings, joined Miandad at 236-4. Miandad departed with a gritty knock of 54 followed by Imran Khan (5). At 298-6, with a slender lead of 116 and only tailenders to support the last recognized batsmen, Asif had a formidable task at his disposal to bat long enough and give a challenging target to Australia in the fourth innings. Asif found a reliable partner in Salem Altaf as both took the score to 368 putting valuable 70 runs for the seventh wicket before Saleem Altaf was dismissed for 21. The next two batsmen, Wasim Bari and Sarfraz Nawaz went without scoring. At 379-9 with a lead of 197 and almost four sessions still to go, the match appears all in favor of Australia. Asif continued with his fighting innings, ensuring the last batsman and debutant Iqbal Qasim is not over-exposed to the bowling and completed his fighting hundred during the last session of the day. By the close of day four, Pakistan had reached 439-9 with Asif batting on 124. On the last day, Asif kept moving the score towards the safety zone. Finally, when Iqbal Qasim's wicket fell at 466, Pakistan's lead was already 285 with Asif remaining unbeaten at 152. The last wicket produced 87 runs at an almost runs-a-minute scoring rate. Asif's never-give-in approach and meticulously protecting lower order yet scoring runs at every possible opportunity helped Pakistan to set up a good target to chase on the last day of the Test. Chasing 285, Australia was well placed at 201-3 but Iqbal Qasim took three successive wickets within a short period reducing Australia to 228-6. The seventh wicket pair of Marsh and Gilmour did not find scoring runs easy, hence decided to go for a draw ending Australia's innings just 24 runs short of the victory target.
Majid Khan, 167 vs West Indies, Georgetown 1976-77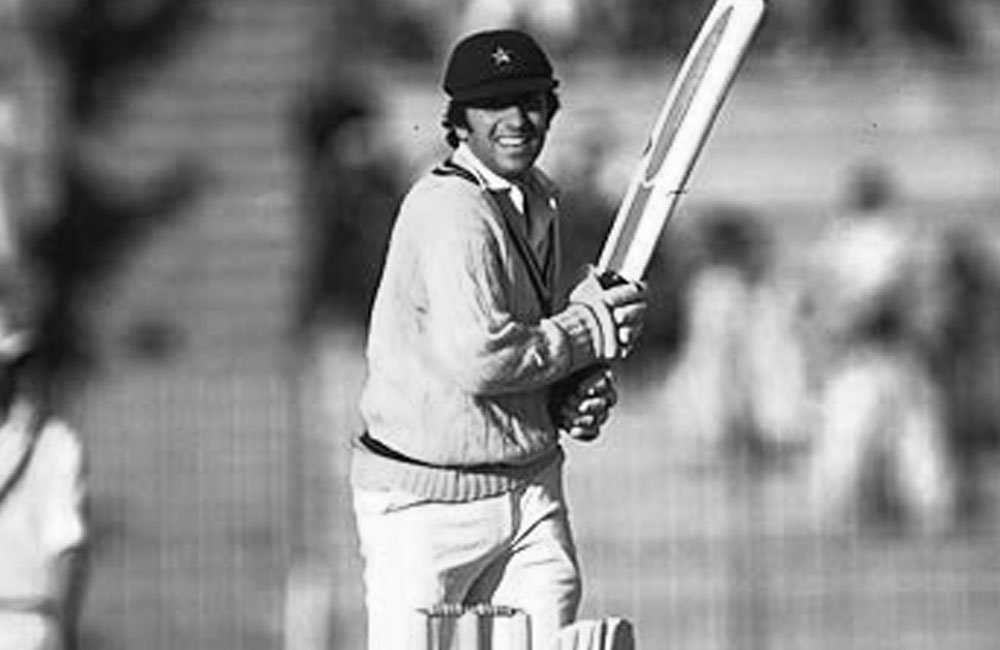 During the second leg of the 1976-77 twin tour, Pakistan batsmen continued to show their brilliance against West Indies' ferocious bowling attack. On the opening day of the third Test of the five-match series at Georgetown, Pakistan was dismissed by the West Indian pace battery of Robert, Croft and Garner for only 194. West Indies made a strong reply of 448, gaining a first innings lead of 254. Facing the formidable task of saving the match, Pakistan openers started on an aggressive note, particularly Majid who decided to unleash his aggressive instincts on Colin Croft hitting him for four boundaries in his first over. Majid and Sadiq added 60 runs before Sadiq got retired hurt with his score on 22. Zaheer Joined Majid and they put on another 159 runs before Pakistan lost their first wicket at 219. Majid's reached his hundred with 17 unstoppable cover drives and pull shots. He finally departed with his score of 167 ensuring Pakistan do not become an easy target for the West Indian fast bowlers. Pakistan finished their second innings at 540 thereby not leaving enough time for West Indies to go for the target in the 4th innings. All the three quicks who destroyed Pakistan in the first innings conceded over 100 runs in the second innings with especially Roberts who leaked 174 runs in the second innings got a good hammering by Majid and Zaheer. Majid occupied the wicket for approximately 6 hours and scored his career-best 167 with 25 boundaries, which is probably one of the best innings ever played by any Pakistani opener against one of the lethal pace attacks and that too without any modern-day protective gears like the helmet and various guards all around the body.
Javed Miandad, 102 vs West Indies, Port of Spain 1987-88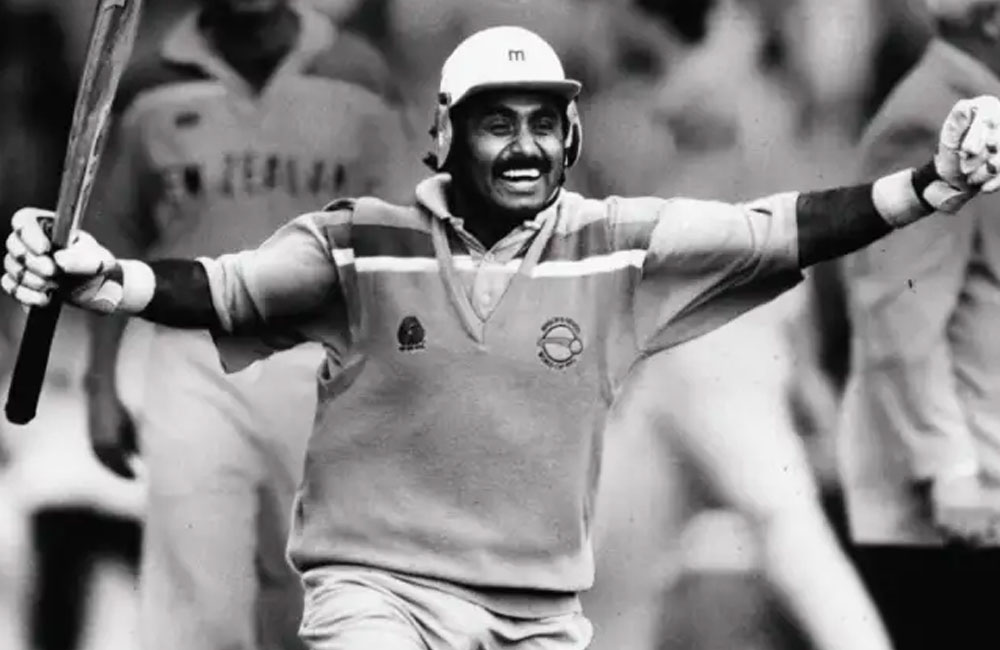 Even after almost a decade into Test cricket, Javed Miandad often faced a serious question regarding his ability to score runs against top-quality pace bowling under alien conditions. The tour to the Caribbeans in 1987-88 eventually proved Miandad is one of the best against any attack under any conditions all around the globe.
His scintillating century in the first Test of the series at Georgetown against the fearsome West Indies four-pronged pace attack of Walsh, Ambrose Patterson and Benjamin helped Pakistan win the test by nine wickets. In the second Test at Port of Spain, he played yet another top-class innings that saved Pakistan from a certain defeat. Marshall's return further boosted the West Indies' attack as they got out Pakistan for 194 in the first innings. With centuries from Viv Richards and Jeff Dujon, West Indies set a target of 372 to win in the last innings. Pakistan started badly and soon found themselves reeling at 67-3. Miandad, with his never-say-die attitude, had two match-saving partnerships; first, he added 90 for the fourth wicket with Saleem Malik and 113 for the sixth wicket with Ijaz Ahmad that helped Pakistan secure a draw. He batted for almost 4 sessions, facing 265 balls for a defiance inning of 102 – arguably one of the best innings he ever played in any away Test during his entire international career. His consistency made him a very special and reliable batsman in the history of the game. Javed Miandad is one of the two players (England's Herbert Sutcliffe is the other one) whose average never dropped below 50 throughout his 17 years career.
Saleem Malik, 237 vs Australia, Rawalpindi 1994-95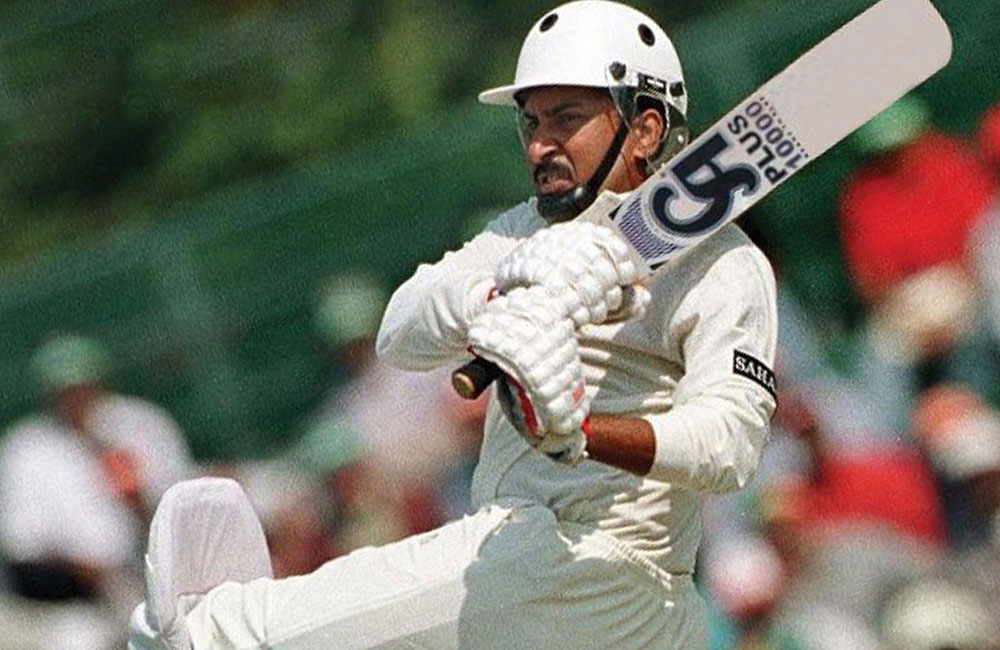 One of the best batsmen of the 1980s and 1990s, Saleem Malik started his Test career in an explosive style scoring a hundred on his debut at the age of 18. A highly dependable top-order batsman who rescued Pakistan on numerous occasions also had lots of controversies attached to his name. The home series against Australia in 1994-95 was the tipping point of his career when three Australian players alleged that Malik had tried to bribe them to underperform on the final day of the first Test. In the next Test, he played one of the best innings of his career rescuing his team from a hopeless position to a respectable draw. Australia piled up 521 in the first innings and skittled out Pakistan for 260. Going into the second innings after follow-on with 261 runs deficit, Malik launched a counterattack with his career-best 237. His first fifty came up in just 49 balls with ten boundaries. His innings – that included 34 hits to the fence – was one of the most courageous match-saving efforts after Pakistan had followed on. Interestingly, Malik was dropped by Mark Taylor – one of the most reliable slip fields – when he was at 20.
This is very unfortunate Saleem Malik is more often remembered for all his shady involvement in match-fixing off the field rather than all his heroic on the field. His involvement and accusation not only came from Australian players but also from many other sources that pushed his career into obscurity.
Ijaz Ahmad, 120* vs Australia, Karachi 1998-99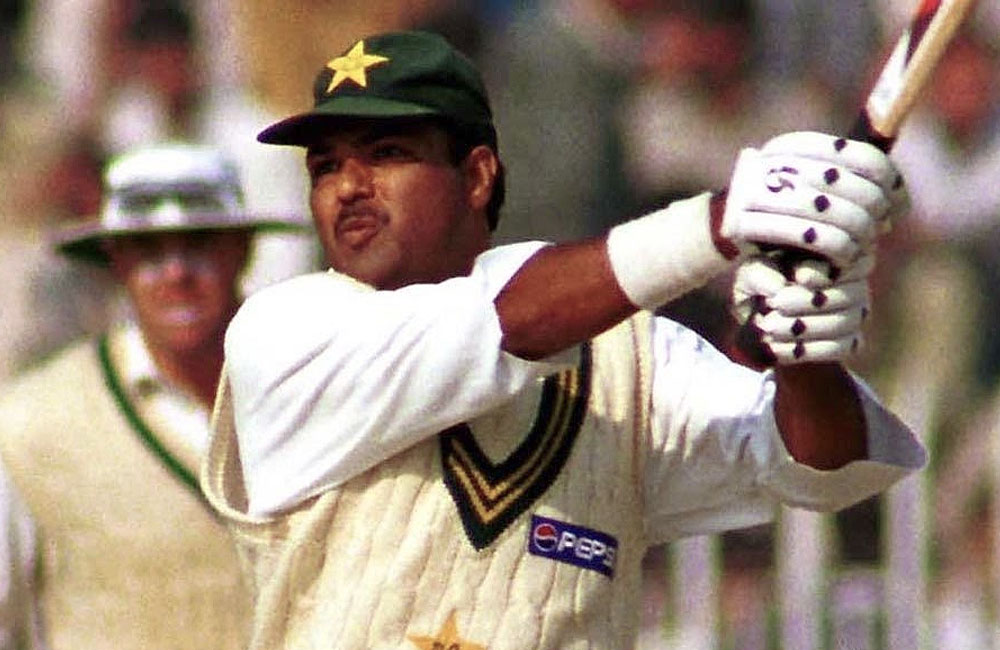 Ijaz Ahmad lacked the flamboyance of Majid, Inzamam or Babar, had a somewhat clumsy batting stance, yet his temperament and resilience made him a solid middle-order batsman of his generation. Remarkably, he reserved his best against the best bowling attack of his playing time. An interesting fact not commonly known is his ability to score runs against mighty Australians. Out of 12 test hundreds scored by Ijaz, six came against Australia!
In the third and final test of the 1998-99 tour by Australia to Pakistan, Australia set an imposing target of 419 on day 5 of the match. There were only two possible outcomes: a victory to Australia or Pakistan batsmen playing out the whole day to save the match. At 35-3 within the first hours of play on day 5, an Australian victory seems a logical conclusion. Mohammad Yousaf also departed just before lunch to make Australia firm favorites. Then Ijaz together with Moin Khan put on 153 runs partnership for the 5th wicket to secure a respectable draw. Ijaz reached his century from 211 balls. He remained unbeaten at 120 when the game was called off after over no. 8 of the 15 mandatory overs. His counter-attacking innings included 16 boundaries.
Kamran Akmal, 109 vs India, Mohali 2004-05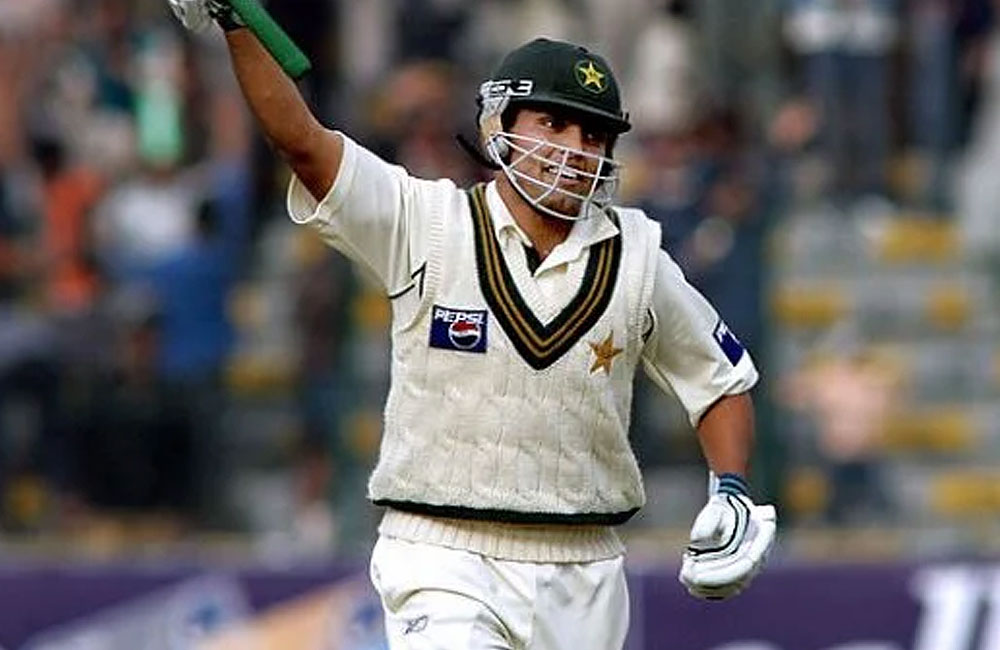 Kamran Akmal is mostly remembered for his numerous dropped catches at vital moments that often cost the game to Pakistan. However, he was an aggressive batsman who played many important innings that saved Pakistan from certain defeats. One of such innings was his chanceless 109 at Mohali in the first Test of the 2004-05 series. With 204 runs in arrears, Pakistan started their second innings in a miserable fashion losing the top three batsmen with just 10 runs on the board. When Kamran Akmal came to bat at number 7, Pakistan's lead was only 39 runs with four wickets in hand. Kamran and Razzaq dropped anchor and batted for more than two sessions on the final day. In the process, the duo added 184 runs for the seventh wicket in 56 overs with Kamran reaching his maiden test century. This partnership not only saved the game but eventually helped Pakistan draw the series 1-1. It would be fair to say this innings was one of the best played by any Pakistani batsmen on Indian soil.
Shoaib Malik, 148* vs Sri Lanka, Colombo 2005-06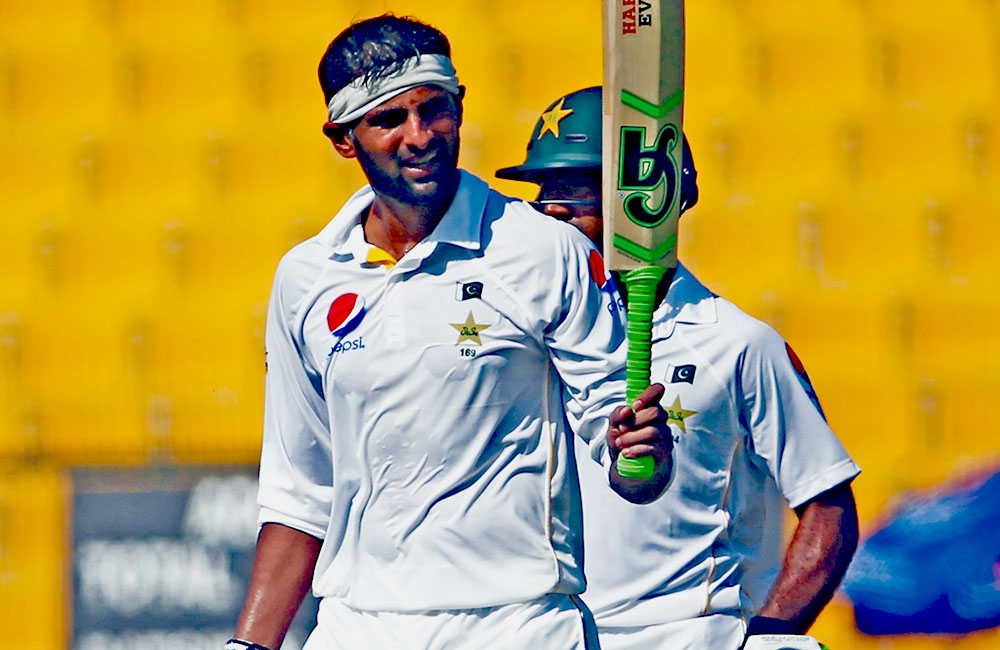 The opening Test of the 2005-06 series against Sri Lanka produced high-quality absorbing cricket. Both the teams got dismissed under 200 in the first innings. Sri Lanka came back strongly in their second innings declaring at 448-5 riding on a scintillating century from Kumara Sangakkara who hit a magnificent 185. Set to chase 458 in the fourth innings of the match, Pakistan's opening pair of Shoaib Malik and Imran Farhat made a slow but confident start putting on 59 in 27 overs. Shoaib Malik and Faisal Iqbal added 115 for the third wicket in almost 50 overs and another 84 for the fourth wicket with Inzamam that helped Pakistan save the game. Pakistan reached 337-4 in their second innings at stumps on the last day while chasing an improbable 458 runs target. Malik remained unbeaten at 148 from 369 balls and occupied the wicket for a little over eight hours to thwart Sri Lanka. His marathon innings was a classic reflection of temperament and endurance as he showed commendable foot movement against a very experienced Sri Lankan bowling attack.
Younis Khan, 131* vs South Africa, Dubai 2010-11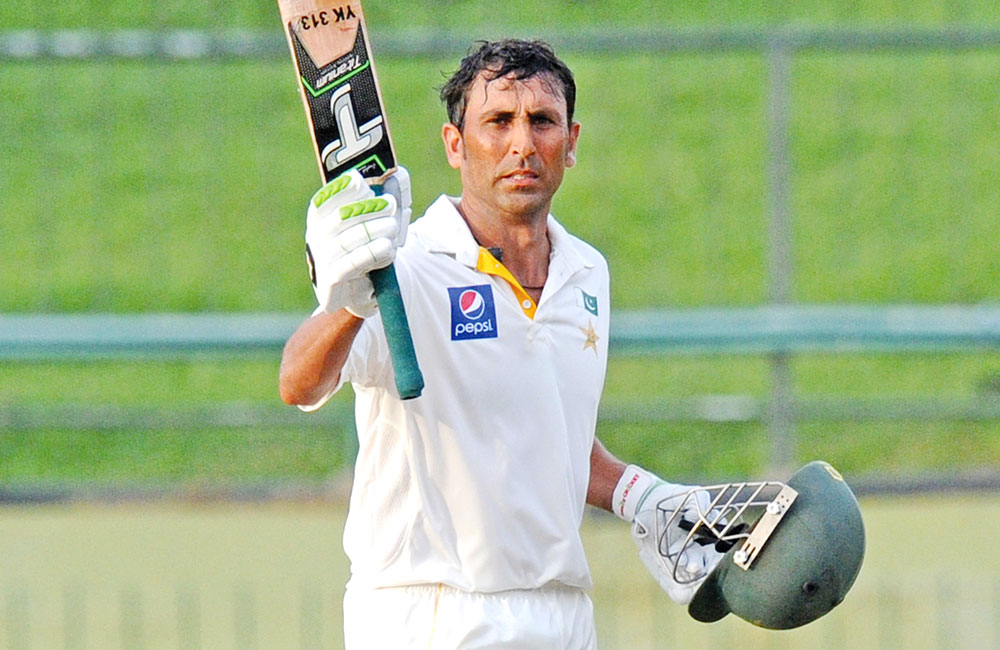 Whenever there is a discussion regarding top batsmen of the 21st century, Younis Khan's name is often forgotten. His statistics, however, reveal a completely different story. He was not only one of the best produced by Pakistan but surely he stands amongst the greats of modern time. Younis Khan is the only player in the history of the game who scored test centuries in 11 countries! On numerous occasions, his innings made major contributions to winning or saving the games for his country. One of those innings came in the first test against South Africa in Dubai. Set to score a mammoth target of 451 in the fourth innings, Younis controlled the last day's play striking 9 boundaries and 4 sixes to cruise to an unbeaten 131 to earn a respectable draw. Younis and Misbah added 186 for the fourth wicket unbroken partnership against one of the best bowling attacks of South Africa spearheaded by Steyn and Morkel. Younis Khan's record in the 4th innings is indeed very impressive. There are only five batsmen who average over 50 in the 4th innings (qualification: minimum 1000 runs) and Younis is among one of those.
Babar Azam, 196 vs Australia, Karachi 2021-22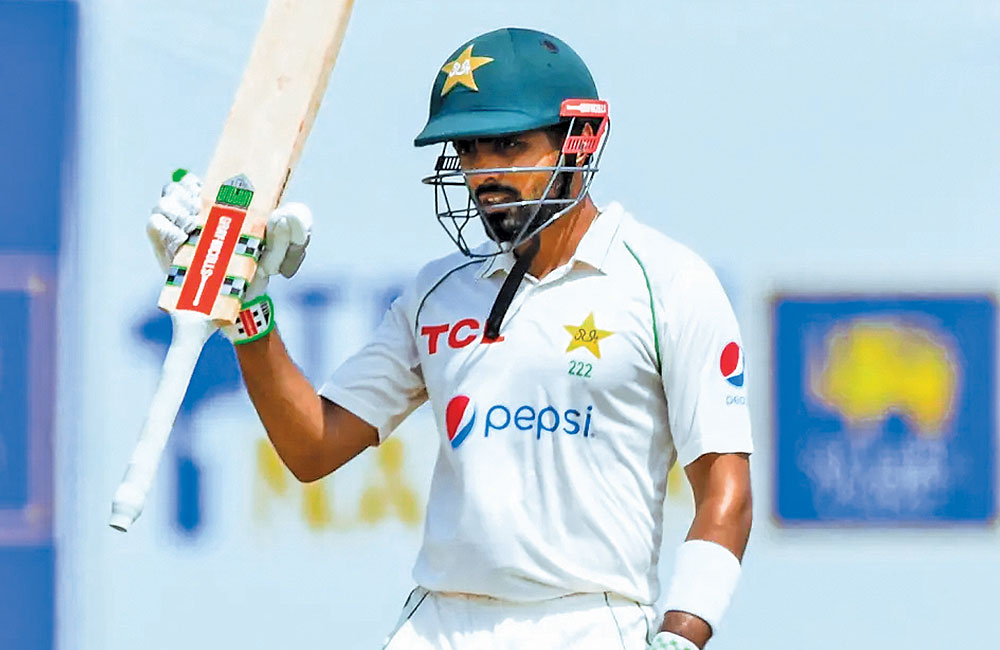 The tour of Australia to Pakistan in early 2022 witnessed some solid batting performance from both sides. In the second Test in Karachi, Australia set a mammoth 506 runs target. At 21-2 in the second innings and considering Pakistan's dismal show in the first innings, it was expected Pakistan will crumble again, but Babar Azam's heroic knock not only saved Pakistan from a certain defeat but he came very close to the unthinkable victory target of over 500 in the fourth innings.
The skipper played a true captain's knock of 196 to stage an astonishing fightback. His innings of 196 helped Pakistan occupy the wicket for almost 6 sessions. He batted for 603 minutes and faced 425 balls. This is the second longest knock in the fourth innings of a Test after England's Michael Atherton's 185 against South Africa in 1995 which lasted 643 minutes. Pakistan's innings consumed 171.4 overs. This is also the second best that a team survived more overs in the fourth innings to save a test match. The most is 218.2 overs by England against South Africa in the famous timeless Test in 1939. Pakistan finished their innings at 443-7 – just 63 runs short of the victory target. Babar got able support from Abdullah Shafiq (96) and Mohammad Rizwan (104). Interestingly, no other batsmen managed a double-digit score. He was given a standing ovation by the crowd and his teammates. The entire Australian team also applauded for his outstanding performance as he returned to the pavilion just four runs short of 200.