Sri Lanka, the island kingdom surrounded by the Indian Ocean. The smallest in size and population among the full members of the South Asian cricket fraternity. Yet it proudly holds a ICC trophies record which is perhaps second only to India in the neighborhood.  To achieve all this within a journey of 40 years since gaining full member status of the ICC in 1982 underlines the tremendous passion and outstanding talent for the game of cricket in this small nation.
Sri Lanka gained independence from the British in the year 1948 and carried over its colonial name of Ceylon and dominion status till 1972. Finally, in 1972 the country became a republic and got christened as Sri Lanka.
Till 1972 the cricketing activity was limited either to sporadic tours by sides using Sri Lanka as a pit stop while going over for longer tours of the nearby countries or Ceylonese sides traveling to India or Pakistan for unofficial 'Test" tours. A Pakistan squad on its way to the twin tour of Australia and New Zealand in late 1972, stopped over for one representative match in Colombo and that match initiated a series of events which culminated in Sri Lanka acquiring a full member status in less than a decade.

The two sides were led by Intikhab Alam and Michael Tissera. Pakistan batted first and were restricted to a modest 269 for eight by an honest attack led by Mevan Pieris. Only Majid Khan and Zaheer Abbas with 60 plus scores to their credit were able to salvage their reputations against an attack Pakistan was supposed to walk all over. Sri Lankan batting line up fared even worse and were clueless against skipper Intikhab Alam's leg spinners and googlies. They were bowled out for 133 with David Hyen remaining unbeaten with 49 and was largely responsible for the last five wickets adding exactly 100 runs. In a contest abbreviated by rain Pakistan declared early at 48 for three in a bid to bowl out Sri Lanka quickly giving their bowlers 50 plus overs to complete the task. However, this time around Duleep Mendis, a future Sri Lankan captain and batting star held firm in partnership with David Heyn to rescue the island nation and earn a respectable draw.
Based on this performance Sri Lankans were invited to make a full tour of Pakistan in spring of 1974 to play nine matches altogether, including two unofficial "Test" matches against Pakistan's national side. Whereas this tour provided a great opportunity for the fifteen men Sri Lankan squad led by batter Anura Tennekon in absence of their regular skipper Michael Tissera, it also gave Pakistanis a chance to check their bench strength ahead of their high-profile tour of England scheduled for the second half of English summer. Ten of these touring Sri Lankans went on to represent their country in the 1975 and 1979 World Cup competitions and five of the players Bandula Warnapura, Duleep Mendis. Somachandra DeSilva, Ajit DeSilva and Lalith Kaluperuma made their Test match debuts in Sri Lanka's inaugural Test match against England in February 1982. Warnapura had the distinction of leading Sri Lanka in that historical contest.
Sri Lanka started their tour of Pakistan on an encouraging note by defeating Sindh XI which was led by national captain Intikhab Alam and included Wasim Bari, Aftab Baloch and a 15-year boy wonder by the name of Javed Miandad. An all-round decent batting display and leggie Somachandra De Silva's ten wickets were highlights of a low scoring encounter. A strong Punjab side led by opener Aftab Gul and including test hopefuls like Wasim Raja, Ehteshamuddin and Sultan Rana were part of that line up. Sunil Wettimuny, elder brother of future opener Siddharth Wettimuny hit a high class hundred and followed it up with a match saving fifty in the second innings. From Punjab side Sultan Rana, younger brother of Shafqat Rana was in prime form hitting a second innings ton.
The first unofficial 'Test" was played at Lahore's Gaddafi Stadium, its first match since acquiring the new name. Pakistan was without their trio of batters Sadiq Mohammad, Mushtaq Mohammad and Asif Iqbal.

Batting first Pakistan made 302 runs before declaring. Wasim Raja top scored with a fluent innings of 94 before becoming one of six victims of tall Sri Lankan medium pacer Tony Opatha. Sri Lanka made a strong reply led by opening batter Warnapura and who else but Pakistan's old nemesis David Hyen. At one stage Sri Lanka was 187 for 1 but some penetrative leg spin by Intikhab Alam aided by stylish medium pacer Asif Masood restricted their first innings advantage to only 67 runs. Five of Pakistan's top six batters rattled up half centuries in the second innings with Aftab Baloch top scoring with a patient 94 as the match petered out into a draw with Sri Lankans enjoying a moral victory.
A rain affected fixture followed at Peshawar against the NWFP Governor's XI which gave ample chance to Shafiq Ahmed "Papa" to forward his credentials as a future batting prospect and underlined Sunil Wettimuny's rich vein of form, both hitting two fifties of contrasting styles. Interestingly the NWFP side was led by former Pakistan captain and wicket keeper Imtiaz Ahmed who had retired from international cricket long ago. A 35 eight-ball overs-a-side match at Rawalpindi saw Sri Lanka slump to their first defeat of the tour against some tricky left arm spin bowling of Abdul Wahab. A three-day match against the Combined Universities side followed. All-rounders Hasan Jamil and Pervez Mir (now a political analyst on electronic media) contributed half centuries in an otherwise disappointing batting display. Sri Lankans made exactly the same first innings total of 262 runs aided by the smiling wicket keeper batsman and vice-captain Ranjith Fernando. Opening batter Nadeem Ahmed made sure that match ended in a draw with a patient innings of 80 runs.
Sri Lankans recorded their second victory of the tour against a strong Pakistan Railways outfit. This victory was attributable to their spin twins Somachandra De Silva and Ajit De Silva who snared 17 Railways wickets between them in a relatively low scoring contest. Pakistan's leading off spinner Mohammad Nazir was unable to cast much of an impression over Sri Lankan batters who were again led by the indomitable David Heyn. The last side match was against the Pakistan Under-19 side which included future stars like Mudassar Nazar, Qasim Umar, Javed Miandad and Azhar Khan. A smashing hundred by Duleep Mendis gave Sri Lankans a handsome first innings lead but Karachi's stylish left hander Nasir Valika hit a memorable hundred to secure a draw for the colts.
Pakistan made three changes to the side which drew the Lahore match bringing in the Railways duo of Arif Butt and Mohammad Nazir in place of Saleem Altaf and Pervez Sajjad respectively whereas youngster Shafiq Ahmed "Papa" was blooded as a replacement for opening batter Aftab Gul.  Pakistani batting line flopped against the guiles of two de Silvas managing a meagre total of 216 runs with Zaheer Abbas top scoring with 74. Riding on an unbeaten 98 by Jayantha Senevirate and a solid 60 from in-form Duleep Mendis, Sri Lanka eked out a small but valuable lead of 49 runs. Pakistan did not fare any better in their second outing and again it was Zaheer Abbas who guided them to a disappointing 225 runs thus leaving Sri Lanka an apparently easy task of scoring 176 runs for a memorable series victory. Pakistani skipper Intikhab who made 49 runs in the second innings spun out the Sri Lankan top order claiming 6 of the eight wickets to leave them at 120 for eight still 56 runs short of the victory target. Pacer Tony Opatha raised Lankan hopes once again by wielding the long handle before pacer Asif Masood took him out to conclude Sri Lankan innings 17 runs short of a historic win.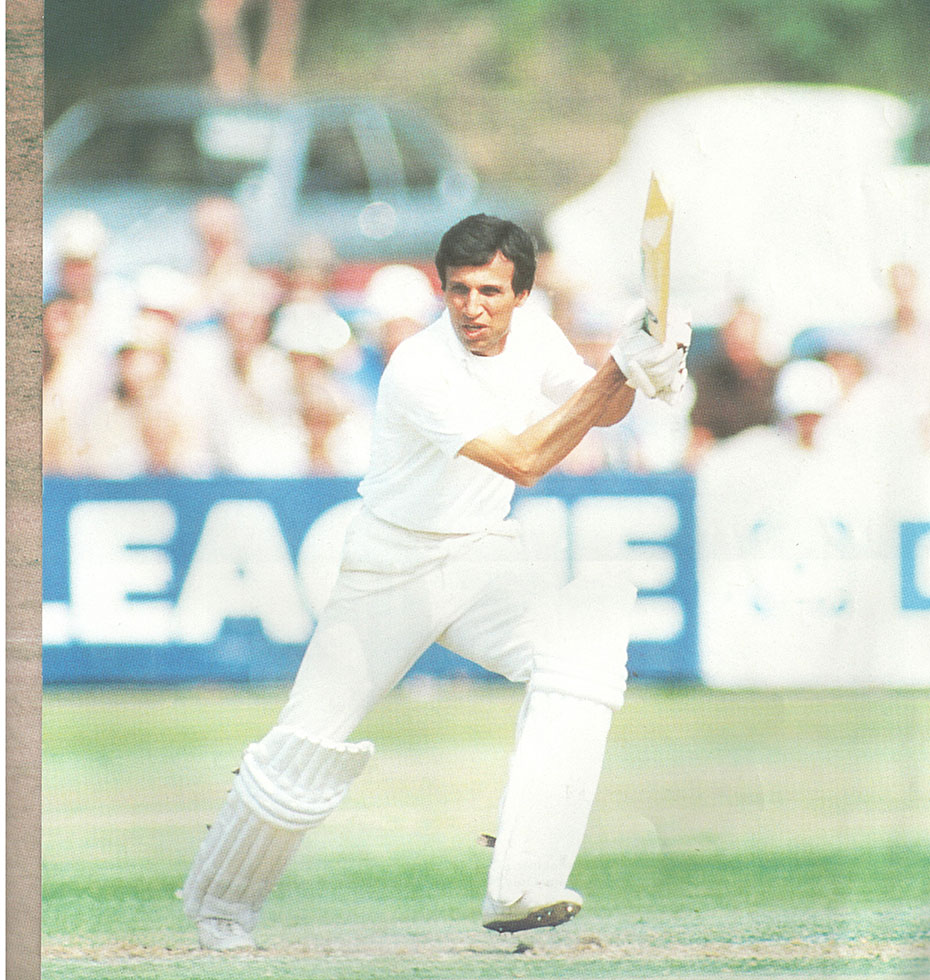 This performance on the Pakistan tour prompted BCCP's Head Abdul Hafeez Kardar to advocate Sri Lanka's case in the ICC and it was their courageous performance in the 1979 World Cup including a victory against a strong Indian side which decided the matter in their favor.