Anjum Niaz, who passed away on October 20, 2018 at New Jersey U.S.A was a brilliant journalist par excellence. She wrote on politics, social issues, entertainment, current affairs, culture, people and cricket. Born in 1948, Anjum passed her Senior Cambridge in first division from Convent of Jesus and Mary in March 1964, where she was the Vice-Captain of her discipline 'Courtesy'. After doing her graduation from the Kinnaird College Lahore, she went on to do her masters in English from the Punjab University and another masters in Journalism from the University of Karachi.
She taught at Karachi American School and Pakistan American Cultural Center. She then joined the Dawn group of newspapers in 1984, initially at the evening paper The Star and then moved to Dawn in 1987. She was a hard working and well read person who rose rapidly in her career and eventually became the editor of Dawn Magazine.
In 1993 she moved to Islamabad when her husband Jaweed Niaz was transferred by his company. There she covered the foreign office and wrote her column Creme de La Creme. In 1996 she moved to America. Her much awaited columns appeared in the Dawn and the Tribune Express on a variety of topics. She wrote in her own incomparable style and paid sedulous attention to detail. Her columns 'View from the U.S' were masterpieces of a wordsmith. She was the first Pakistani woman to qualify under U.S. Government Immigration rules as a permanent resident on the basis of possessing extra ordinary ability.
The other interest close to her heart was cricket. She was the youngest and only daughter of Syed and Begum Zeenat Fida Hassan. Her father Syed Fida Hassan H.Q.A, S.Pk, born on December 4, 1904 had been a well known first class cricketer of his time in India who played for the Muslims 1927-30 and had taken 5 wickets for 33 runs against the Punjab Governor's XI in the Lahore Tournament at the Gymkhana ground.
He captained the Punjab University 1928-29. Syed Fida Hassan appeared in the Ranji Trophy for North India Cricket Association and scored 169 runs against the United Provinces at Delhi in 1935-36. He then joined the Indian Civil Service. He played for the Lahore Gymkhana Cricket Club and served as the Commissioner of Lahore in 1947. He also was given the additional portfolio of Rehabilitation Commissioner to resettle millions of Muslim refugees from India. He was the Chief Secretary of the Punjab 1950-53.
He was made the Manager of the Pakistan cricket team on its inaugural and historic tour of England in 1954 by Mian Aminuddin, ex-officio Chairman of the BCCP. He also served as the Vice President of the Board of Control for Cricket of Pakistan (BCCP), President of Punjab Cricket Association, President Lahore Division Cricket Association 1959. He was President BCCP 1963-69.
He was also Adviser to the President of Pakistan 1967 and later became the Ambassador to India where he passed away on December 10, 1977. He was a polite elegant man and I remember seeing him wearing a solar hat in summer and driving his Chevrolet car wearing white gloves. Had he not joined the Indian civil service, he would have played test cricket for India. He was among the pioneers Mian Mohammed Saeed, Dr. Jahangir Khan, Justice A. R. Cornelius, Dr. Dilawar Hussain and Agha Ahmed Raza who laid the roots of cricket in Pakistan after the  partition in 1947.
Despite this privileged background Anjum Niaz was full of humility, courtesy, politeness, good manners, elegance, sophistication and was always down to earth.
The youngest traveller with Pakistan team in England 1954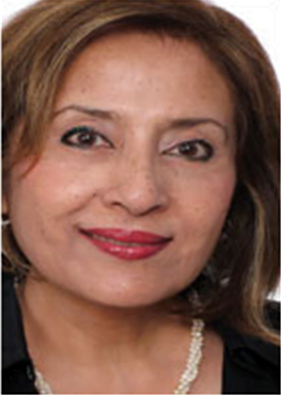 Anjum Niaz
She had inherited her love for cricket from her father and had accompanied  her family on tour of England with the Pakistan cricket team in 1954 as the youngest traveler. Although she was quite young then but her memories of the tour remained vivid and clear.
She was an eye witness to the most historic tour where no country before had won a Test in their first rubber in England. In the cricket history of Pakistan the date, Tuesday, August 17, 1954 can never be forgotten because Pakistan beat England at the Oval and became the only side in the world to win a test match on a maiden tour to England.
Pakistan team had traveled by a Polish ocean liner named SS Batory from Karachi to Southampton. On board the ship, her father arranged for the team to have net practice on a portion of the wooden deck. Travelling on the high seas for 20 days aboard the SS Batory, Anjum remembered those days as the best pastime for a precocious girl in her pre teens to observe fellow travellers.
On entering the Arabian Sea, the rough waves jerked the passengers around sending everyone in retreat to their cabins. The calm waters of the Mediterranean Sea brought them out on the decks including Pakistan cricketers. Imtiaz Ahmed the wicket keeper, kept good cheer and clean company along with M. E. Z. Ghazali, Khan Mohammed and Shujauddin. They stayed away from the bar and the 'happy hour' held every evening where the star would always be the handsome and dashing Fazal Mahmood. A bevy of beautiful women circled the blue eyed cricketing hero with a love lock carelessly placed on his forehead. Everyone was fascinated by him blowing smoke rings with his cigarette. He would always come around our sofa to exchange a few words with us. Every morning the players would be seen practicing away from the prying eyes. Imtiaz Ahmed was one of the four pillars of Pakistan's early cricket. The other three were Kardar, Fazal and Hanif.
In the very first match of the tour against Worcestershire, Pakistan beat the county convincingly and Fazal Mahmood actually qualified himself from this match for the coveted selection to be the Wisden Cricketer of the Year. Alimuddin and Maqsood Ahmed too scored brilliant centuries.
As a child witnessing the fourth test at the Oval she remembered the excitement in the air. "Oh, Johnny ,can you do it?" were the headlines of the newspapers on the last day of the match. England's all-rounder spin bowler Johnny Wardle was the last hope. He was a huge hitter who could hit the ball out of the ground quite frequently. England could not have imagined to face defeat at the hands of the "Babes" as the English called the Pakistan team.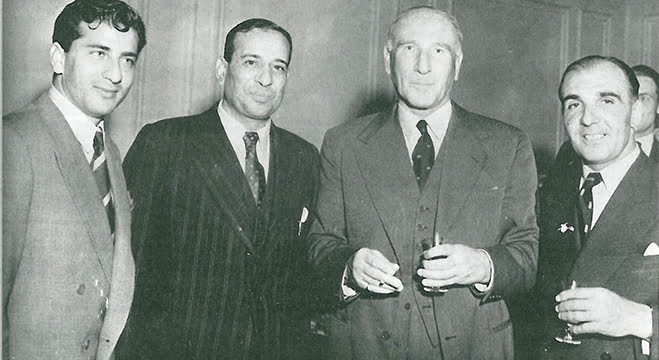 Anjum sharing her memories said that "Not many know that had Wazir Mohammed been dropped from the team at the Oval, it would have been difficult for Pakistan to win. Her brother Azmat (Azmat Hassan in his own right retired after serving Pakistan as an ambassador. He, Tariq Ali and I used to sit on the same bench in Professor Chawala's class at the Government College Lahore) who was a young boy himself shared his father's words  with her, " Skipper Kardar wanted Wazir dropped because he was a poor fielder."
Syed Fida Hassan as the Manager along with the Assistant Manager Salahuddin prevailed upon Kardar to include Wazir who had bravely and unflinchingly faced the fearsome fastest bowler of his era Frank Tyson in the match against Northamptonshire. Tyson was known to be bowling at a speed of 95 mph. Wazir's inclusion proved right and he scored a dashing match saving unbeaten 42 runs in Pakistan's second innings. Together with Zulfiqar Ahmed who made 36 valuable runs, Wazir played a dashing and a heroic innings.
Though Wazir dropped two important catches of Denis Compton off Fazal Mahmood but he made up the lapses with his responsible batting. Wazir Mohammed also told me and confirmed that Kardar only included him for the match on the insistence of Syed Fida Hassan who gave Kardar a chit with my name on it and said "Include this one choice of mine and take the other ten of your choice."
Another story Anjum remembered of the tour was that the Pakistan captain Kardar took off to Cairo, Egypt, after the Oval test to marry Helen the daughter of the President of the Warwickshire County. Kardar had met Helen during his days at Oxford. After the wedding Kardar returned to England and gave a reception for his friends and team mates in the hotel lounge but neither the manager Syed Fida Hassan nor his family were invited to the party which was rather hurtful and insulting. So the family just stayed in their room. This was the second marriage that Kardar contracted. He was already married to his team mate Zulfiqar Ahmed's sister in Pakistan.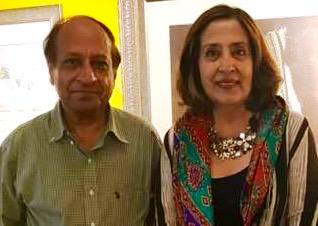 According to her Fazal Mahmood too was in tears at the hotel during the Oval test. He was unhappy and felt Kardar was under bowling him and felt depressed. Her father then brought Fazal in their room and pacified him to keep up his spirits as he was Pakistan's only hope.
She remembered the days when she watched cricket at the Gaddafi Stadium Lahore and it used to be like going to a fashion parade. Her favourite Pakistani actress was Shabnam in those days who too was present at the matches.
Among favourite cricketers then her poster boy was Ijaz Butt who was quite a looker then. Her father-in-law, the sports loving commissioner of Hyderabad, Niaz Ahmed was the moving spirit to build the Niaz Stadium in 1962 and first class cricket came to Hyderabad. in 1973 the first ever test match was staged at this ground and in 1984 when Pakistan played against New Zealand at this venue it marked the 1000th test match in test cricket.
She was keeping good health and was writing regularly and had worked to complete her father's Memoirs. I met her the last time during her visit to Pakistan on April 3, 2017 which turned out to be her last.  She visited the Lahore Gymkhana Cricket Museum in May that year and was pleased to sit on the bench that I had dedicated to her father. She appreciated the cricket museum and wanted to interview me about its history when she returned to Pakistan in the winter of 2017 but that was not to be. Soon after upon her return to the U.S., she was diagnosed with cancer and could not return to Pakistan. She got better with treatment and was planning to visit Pakistan in December 2018 but her end came suddenly and unexpectedly. Cricket was among her great passions. She wrote her last column on cricket "In Memoriam: The last of the cricketing greats", on February 5, 2017 on the death of Imtiaz Ahmed. She was planning to collaborate with me to write a book on the Pakistan cricket team's tour of England 1954. Her death came as a big shock to her family and friends. Journalism lost one of its gems and I was deprived of a priceless friend. May her soul rest in peace.