Whenever a list is compiled of leading selfless contributors to Pakistan cricket the name of Gul Hameed Bhatti will be somewhere near the top. Especially if the list is filtered for persons who never even played a single first-class cricket match, Bhatti will surely reside in the all-time top two or three. A matter-of-the-fact journalist, a world-class statistician and record keeper, a loving and resilience soul, a foodie with a killing sense of humor, a family man to the core, and a mentor of the highest order, GHB was a multi-faceted personality and yet a simpleton. Even ten plus years post his demise, GHB is still remembered fondly by friends and foes alike.
Bhatti's journalistic journey can be split in four distinct phases. This included two spells at The Cricketer, split by his brief expedition to Cricket Star and finally his long association with the Jang Group which encompassed a variety of roles.
GHB spent fifteen plus years at The Cricketer Pakistan broken for a year and a half in 1984-85 by his venture of Cricket Star. It was Abbas Kazim, Bhatti's friend and boyhood acquaintance from Lahore, who convinced Bhatti to part ways with The Cricketer Pakistan and launch a new cricket monthly. This magazine was christened as Cricket Star and was launched from Lahore. The venture fizzled out in just over a year and Bhatti returned to the fold of The Cricketer in early 1986 and remained there till the Jang Group lured him as the Sports Editor for their new English daily venture The News International. Subsequently, he became Editor of The News before moving onto his final role as the Group Sports Editor of the entire Jang Group publications.
Despite his unmatched cricketing know-how Bhatti had no pretensions to impose himself as a cricket expert. In actual fact, he disliked talking about cricket in public and was actually bored when someone asked him about his opinion on any ongoing cricket event and controversy. His expression conveyed that he couldn't care less. The only thing he was extremely serious about were the actual facts and figures related to cricket. He would never tolerate anyone twisting or misrepresenting facts. Once a gentleman named Habibullah Naz, while writing for another popular cricket monthly of Pakistan, made some blatantly false claims and actually wrote himself into Pakistan's national squad of the late 50s as a fast bowler. In the very next issue of the Urdu version of The Cricketer Pakistan, Bhatti took those fictitious claims apart from in a clinical and authoritative way citing all possible references to set the record straight. A rebuttal or countermeasure never came either from that person or the magazine, such was Bhatti's authority and unparalleled command on the facts and statistics of Pakistan cricket.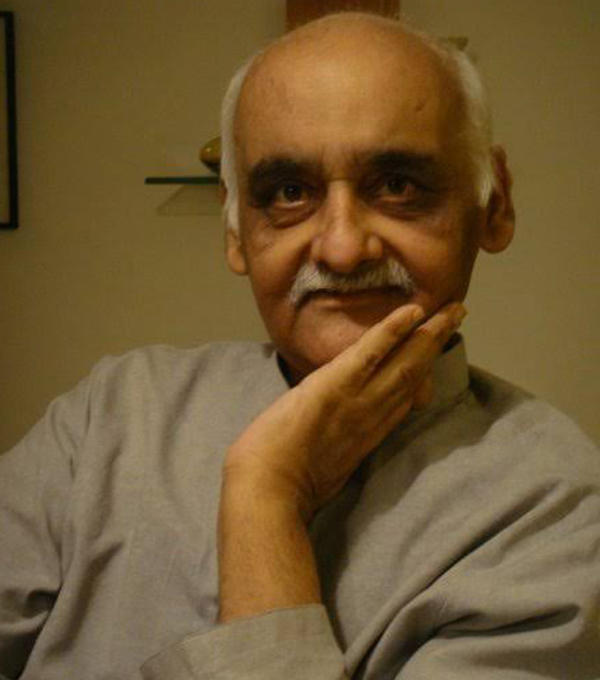 In the cricket scribes fraternity of Pakistan GHB was an undisputed leader. He was the doyen among statisticians. He was an imposing presence physically and academically. Pakistan's first-class cricket owes its collection of records and scorecards to a drive initiated by Bhatti. He was aided in this thankless task by two equally dedicated statisticians Abid Ali Kazi and Nauman Badar, Bhatti gathered and scrutinized domestic cricket's missing scorecards from the seventies and eighties and along with Abid Kazi did a great service which was acknowledged by cricketing authorities no less than the Wisden Cricket Almanack and Bill Frindall. Hours of patient scrutinizing and compilation of material gathered from diverse sources including the late tenacious Ghulam Mustafa Khan of BCCP who held many scorebooks close to his heart with no willingness to share them. This herculean effort spoke of a labor of love and yet remains relatively unknown in Pakistan because Bhatti never bragged about it.
It was an honor when his son Kamil invited me to his memorial get together and to speak at the occasion as Gul's eating partner at The Second Floor shortly after his death. Like the majority of Lahoris Bhatti was a foodie to the core. I recall ordering multiple lunches from nearby Burns Road as well as counting the number of "Firni Thooties" which we used to consume. When I visited him in Lahore at his ancestral home at McLeod Road, we extensively explored the delights Lakshmi Chowk and Abbott Road offered culminating in Kashmiri Tea again with "Firni Thooties".
In early eighties Bhatti used to commute around in what he referred as the world's only chauffeur-driven Suzuki Custom. His driver was a fellow named Jabbar who spoke rarely and relied mostly on his smile to communicate. In addition to driving him around, Jabbar used to carry Bhatti's typewriter and once famously partnered Bhatti in a Poori eating marathon at Tooso's in Bahadurabad. 17 was the score cited by Bhatti while describing an early morning joint effort of Poori elimination. Pictionary nights at his residence were always coupled with midnight Pizza surprises.
Once I shared with him the news that my parents are looking for a suitable girl for me and Bhatti's candid advice was to propose to the daughter of Karachi's the then Commissioner Karachi Mr. Usmani. When I asked him the reason Bhatti's reply was simple "Yaar khaana bohat shaandar mil jayega" (We will get excellent food on reception). A simple but rather unconvincing logic.
PACS (Pakistan Association of Cricket Statisticians) which later became PACSS (Pakistan Association of Cricket Scorers & Statisticians) was founded in the year 1984 by GHB.
He was its founder and President and its first meeting was held at Bhatti's residence at Gulnar Apartments on Chaudhry Khalique-uz-Zaman Road. That meeting was attended by PACS Secretary-General Abid Ali Kazi, its Treasurer late Masood Hamid of DAWN, Abdullah Kadwani, and me in the capacity of the Editor of PACS Quarterly Journal. In addition to cricket statistics, equal attention was given by all participants to the liberal servings of home-made Shami Kababs and French Toasts.
Bhatti also had a passion for watching movies. A true movie buff, in Bhatti's personal library at his Clifton Garden apartment, the number of cricket books in his huge library were matched only by the number of video movie cassettes he owned. So it came as no surprise when he briefly moved on the other side of the camera. Bhatti acted in a TV serial with legendry actress Babra Sharif. His role as Mateen Sahib in "Nadan Nadia" was his major adulthood flirtation on the TV screen and he acquitted himself pretty well against one of the most seasoned stars of the Pakistani film industry. It came to my knowledge much later that in addition to his television episode, Bhatti made brief acting appearances during his adolescence in Pakistani movies as well.
Bhatti was a great believer in the power of youth. He would always encourage young writers to have their fling. Many well-known names among cricket scribes of Pakistan started their freelancing or journalistic careers under the watchful eye and tutorship of GHB. Fareshteh (Gati) Aslam, Sohaib Alvi, Khalid H Khan, Khalid Mehmood and Zahid Zia Cheema are few of many names who were encouraged and guided by Bhatti in their respective early days as columnists. "Yaar tum nay angrezi kahan say parhi hai ?" was a polite question which he occasionally fired in my direction while editing my endeavors and my standard riposte was "Sir Ji, Peelay School say". The fact that Mansoor Ali Baig and Azfar always referred to me as "Bhatti ka Paana" (Like a chotu in car mechanic workshops) still remains a source of pride for me.
My first meeting with GHB happened in 1983 when I needed some first-class scorecards and called up The Cricketer Pakistan's office and requested Bhatti for photocopies. Despite me being a totally unknown person, he immediately agreed and told me to come at 5 in the evening to collect them. Thwarted by traffic of Karachi and sluggishness of 8A route bus, I reached Spencer's Building close to six. I was expecting to see a locked office but to my utter surprise, Bhatti was sitting there with photocopies waiting for me to appear. He earned a life-time fan on that very day and underlined the compassionate side of GHB.
Bhatti was immensely attached to his family. Be it his even more illustrious journalist spouse Razia Bhatti, the editor of Newsline magazine or his children Kamil and Sara. I vividly recall his joy when Kamil started his first job at the Sheraton. The unfortunately sudden demise of Razia was a major setback in his life and took a serious toll on Bhatti mentally and physically. Our last meeting occurred at Liaqat National Hospital where he was admitted during his last days. He was generally very quiet in those days. To cheer him up Abid Kazi and me shared a few Sikh jokes and the real Bhatti came out of his shell and immediately responded by sharing one with us. Like many other things, Bhatti's collection of jokes and anecdotes was rich and amazing. That was the last time when we witnessed that endearing and lively smile.