Kapil Dev. The name triggers a flood of memories from his deeds on the cricket field. From the debut against Pakistan at Faisalabad in 1978 to his final international match – One Day International – against the West Indies on home ground at Faridabad, he was a package of entertainment with the bat and the ball. He was a joy to watch even when he fielded the ball or caught it with incredible athleticism.
Was he a rebel? I think he was. To dream of becoming a fast bowler in a cricket nation that thrived on its inherent trend of encouraging spinners was nothing short of a rebellion. "I thought of nothing else," he emphasizes when reflecting on his love for the new ball. He was a natural. True, his action at Faisalabad was not the ideal advertisement for a fast bowler but with time he grew into a spectacle with the ball – his smooth run up, the final stride and the delivery with a classy follow up presented a beautiful sight.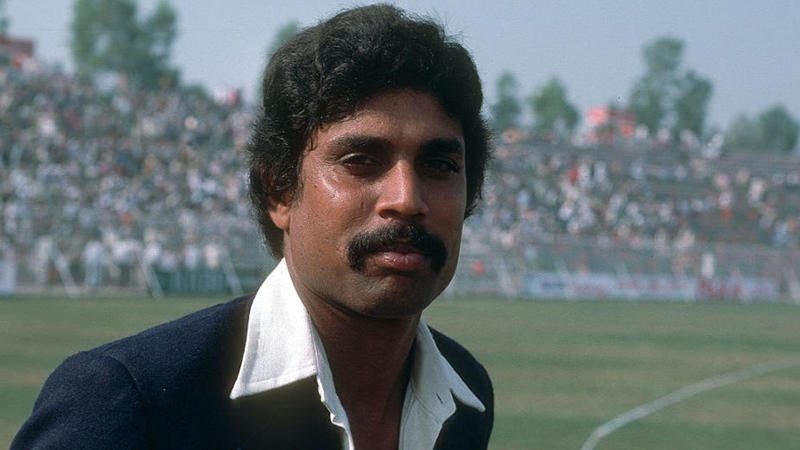 His strength and stamina was an extraordinary component of his talent. He could bowl endlessly, without ever complaining, on placid tracks in the sub-continent. "I was always ready for the team." The spirit he brought to the game was indeed laudable. He was adventurous in the sense he wanted to be in the thick of action, and understandably too, since he could command a place in the team with the bat or the ball.
What was the first impression when I saw Kapil on the field ? It was his amazing resilience to tackle any challenge and his awesome ability to deliver. "Abhi Kapil hai," we would say whenever India lost GR Viswanath or DilipVengsarkar early. If the opposition posted a huge score, the fan in us would pray for Kapil to knock their batsmen off, which he often did with enormous skills.
His teenage days had some interesting tales. How he hated "butter" on his paratha ! (It is another matter that he became a milk guzzler later). The "dressing down" from his father for returning home late one evening! In his autobiography, there is this anecdote where a cycle mechanic refers to Kapil as a "servant" even as sister Pinky looks aghast. Kapil had accompanied her to get the cycle fixed and earned Pinky's ire for presenting a shabby appearance. Compare it with the dashing look of Kapil in the recent video he posted to wish his fans "Happy Christmas."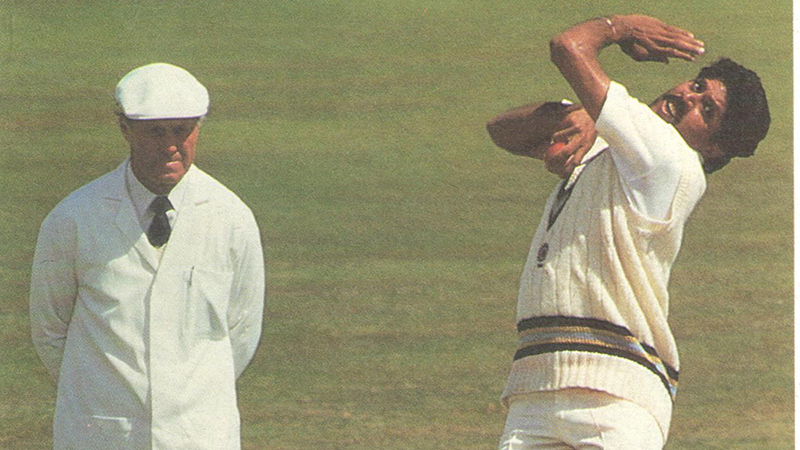 He talks of not getting the new ball when practicing in his school. The hurt of being ignored in the school XI and his ire of showing his talent – by breaking the jaw of one of the players selected with a vicious bouncer at the nets. A true fast bowler who made his point well enough to earn a place in the state schools' team within a year. A fast bowler was born that day in the nets as Kapil worked hard to improve and stake his claims through sheer merit and performance.
Among his earliest inspiring cricketers is Majid Khan. Kapil learns of how Majid can "hook" any fast bowler. Kapil writes about the grace that marks Majid's stance. The other name that stays with Kapil is Viswanath. "Stylish and different" remembers Kapil. He lovingly writes "While Viswanath ducks the ball, Majid hooks the ball." What coincidence that the first Test Kapil played had Majid Khan in the opposition.
His first tour to Pakistan brought the all-rounder to the fore. He was called "chuza" (fresh chicken) when he arrived at the crease in his debut Test. Kapil received a rough reception and was subjected to some choicest expletives, including from his hero Majid Khan. He obviously felt let down by the great opener but before the series was over Kapil came to love another great from the game – the majestic Zaheer Abbas.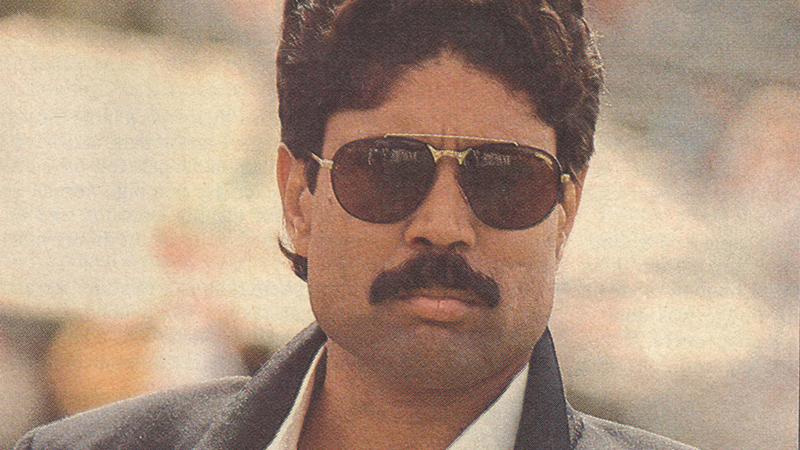 In his first Test, Kapil compelled Sadiq Mohammad to ask for a helmet after being subjected to a barrage of bouncers. This was a first for an Indian fast bowler – earning the respect of the rival batsmen facing him with a helmet. Sadiq was to be Kapil's first wicket in Tests.
Kapil learnt a lot from his first tour. He discovered the innate talent to absorb pressure and fight. I think his experience of attending an under-22 coaching camp at the Cricket Club of India in Mumbai, under the astute coach Hemu Adhikhari, laid the foundation for Kapil to speak his mind and we saw it when he gave it back to those who abused and sledged him on the field. It was acknowledged by no less than Mushtaq Mohammad, who led Pakistan in that 1978 series.
Two years later, his 11 wickets against Pakistan on a placid track at Chennai was one of his finest performances. As years passed, Kapil made friends from across the border and enjoyed mutual respect with stalwarts like Imran Khan, Javed Miandad and Ramiz Raja.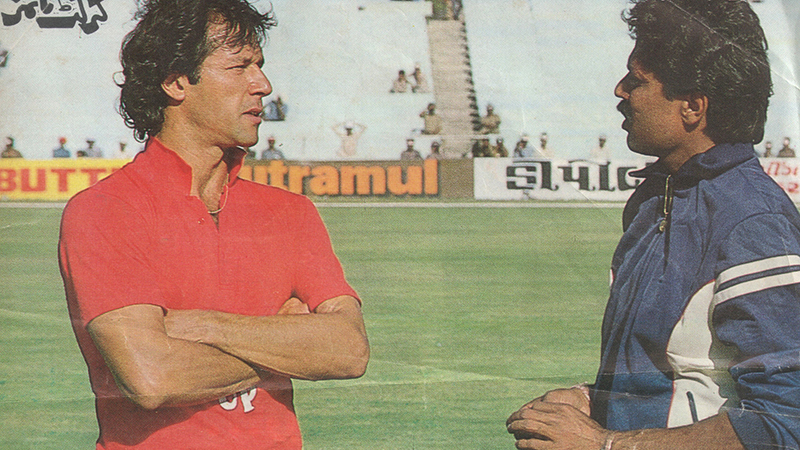 The camp at CCI saw the players being handed just two chapattis (rotis) at lunch. "Shocking it was" Kapil remembered. He protested, led a group to the administrator of the camp, a gentleman named Keki Tarapore. Tarapore was forced to withdraw the orders of two chapattis per player and Kapil also pleasantly proved him wrong for remarking "fast bowlers" in India was a "joke." Kapil had the last laugh as he finished with 434 Test wickets with fast bowling.
A few years before he retired, Kapil also made a resolve to himself. "Not to depend on anyone to run my home." It so happened that he once saw a former India captain waiting outside a room at the CCI to meet the BCCI Secretary, who was sleeping and could not be disturbed. "I was hurt and decided that day I won't put myself in that position. Waiting hours for an audience with the official sleeping." Kapil invested well and can be rated a successful businessman who has an office staff of 20-odd. He is most sought-after as a motivational speaker and media expert. "God has been kind," is his humble response.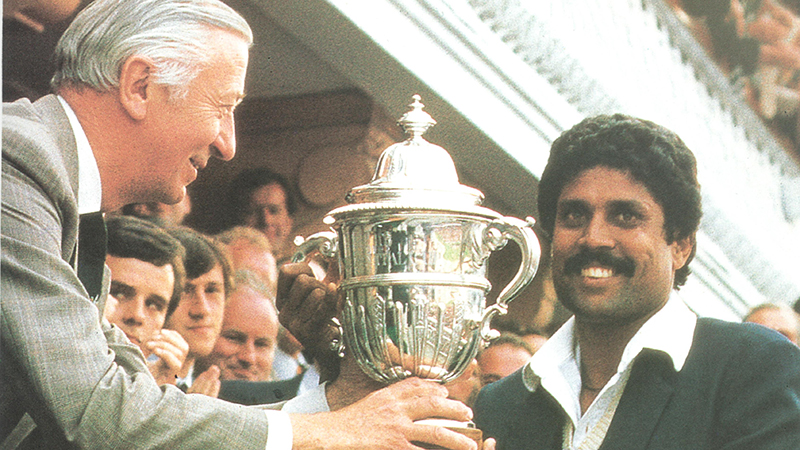 It has been difficult being Kapil Dev. He was supposed to win matches on his own. Make runs and take wickets in every match. The benchmarks he set were high and obviously challenged him every time he took the field. "Actually I challenged myself to always do better," was Kapil's philosophy. The 1983 World Cup changed the face of Indian cricket and he was the spirit behind that great feat.
His 175 not out against Zimbabwe is the turning point in India's cricket history. It propelled the team to an incredible win and led India to win the Prudential Trophy.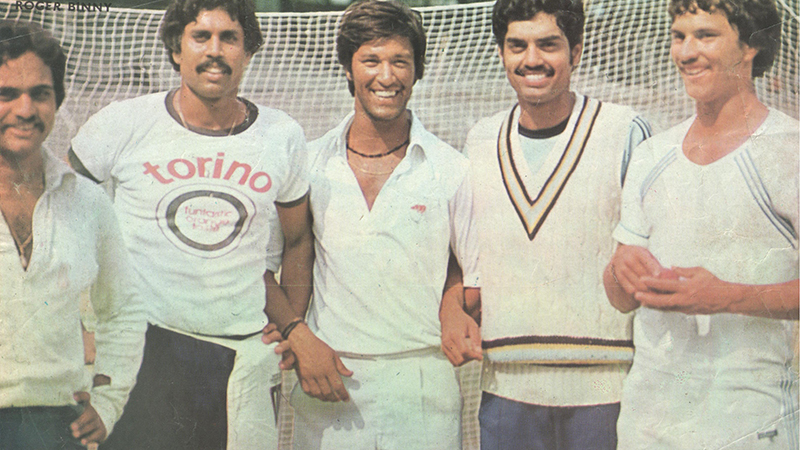 Kapil was voted India's greatest cricketer in a poll where players voted to make their choice. "My greatest memory" is how Kapil remembered that honour. Players like Kapil come once in a lifetime. He is synonymous with the spirit of the game, an athlete who represents everything competitive about cricket. There never was a grimace on his face on the field. And that is how we have known him to be. As they say : Kapil Dev da jawaabnahi !