A chilling silence hung over Lahore's Gaddafi Stadium on that cool November evening. A nation's dream and belief was shattered. Australian team which was supposed to just turn up and roll over at the mere sight of Imran's all conquering Pakistani team has turned the tables against all odds. The whole of Pakistan went into a state of mourning as this was believed to be their best chance ever to life the coveted trophy and the opportunity was lost in the home semi final against a modest Australian outfit. Some gloom was lifted the next day when arch rivals India met and similar fate against Mike Gatting's England in the other semi final. Imran Khan promptly announced his retirement and decided to hang is cricket boots for good.
Four and a quarter years later a similar silence was observed at Auckland's Eden Park when an all conquering New Zealand side was vanquished by an un-fancied and disjointed side from Pakistan which has made it to the semis only due sheer luck and owing to some crazy rules devised by the organizers and misfortune experienced by other teams. Pakistan was once again led by Imran Khan who was cajoled back onto playing arena by General Zia ul Haq in 1988 for one tour of the West Indies and decided to stay on till the next World Cup for one final hurrah.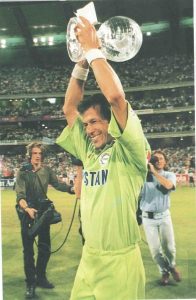 "Ultimately England limped 227 before Rameez Raja accepted a skier from Richard Illingworth to settle the issue and celebrations started in the streets of Karachi, Lahore and rest of the country. Prayers from the faithful who were fasting were answered in an emphatic fashion. That day iftaarwas indeed had an element of joyous celebration in it"
In many ways the 1992 World Cup hosted jointly by the Tasman Sea rivals Australia and New Zealand was a unique and ground breaking event. It was the only World Cup competition played on a single league basis in which every participating team played against all other teams once before the top four went on to the knock out semi final stage.
It was also the first World Cup which dropped the conventional white clothing in favour of the colored clothing and opting for white ball instead of red and use of flood lights for matches. This event also saw the re-entry of South African cricket side on the big stage after spending 22 years in cricketing isolation and wilderness due to country's apartheid related policies. Their players were just carrying three one dayers experience into the tournament which they played in India before coming over to Australia.
They too surprised the cricketing fraternity by playing spirited cricket and emerging as the best fielding unit on display. Having made it to the semi finals, their fate was sealed by the television network's desire to finish off the match in allotted time. The rain rule translated a ten minutes interruption by revising their target from 22 runs off 13 balls to same number of runs off just one ball. It was a cruel end to a wonderful campaign in which South Africans won hearts of cricket followers across the globe with their electric showing on the field.
Pakistan side ran into massive problems even before the start of the tournament. Waqar Younis, their pace spearhead was sidelined due to a stress fracture. The experienced but ageing duo of Imran Khan and Javed Miandad went into the tournament carrying ailments. The team selected for the World Cup had too many inexperienced faces and some strange decisions. Pakistan was the only side which went into the event with two leg spinners in a squad of 14.
Mushtaq Ahmed was a Pakistan regular but Iqbal Sikander got selected out of no where mainly based on Imran's hunch and intuition. Equally perplexing was the selection of Waseem Haider as the man to replace Waqar Younis. Wasim was an all rounder of modest stature on domestic circuit who never got selected for Pakistan again after this trip. Similar fate was experienced by the leggie Iqbal Sikander who like Haider made his debut and played his last match both during the 1992 World Cup.
Another intriguing selection was preference of Lahore's Aamir Sohail over his future opening partner Saeed Anwar mainly due to his ability to bowl sedate left arm spin. Aamir though gave an excellent account of himself scoring a hundred against Zimbabwe, playing a crucial knock in the do-or die game against Australia and bowling a full quota of ten economical overs in the final.
Two unknown quantities were brought in the middle order to supplement the tried and tested trio of Javed Miandad, Saleem Malik and Ijaz Ahmed. These two batsmen were Zahid Fazal and Inzamam-ul-Haq who had contrasting campaign down under. While Zahid did not do much and fizzled out after a couple of lack luster performances, Inzamam went on to play two highly influential innings in the knock out matches and became a legend in the years to follow. An equally interesting fact was that this Pakistan team of 14 contained eight past or future captains.
In the injury forced absence of Waqar Younis the bowling was lead by his partner Wasim Akram and their able lieutenant Aaqib Javed. The effervescent Mushtaq was side's leading leg spinner. But beyond these three main stalwarts the bowling resources were pretty thin. Imran himself was a shadow of his former self and went through the entire tournament bowling with the help of cortisone injections in his shoulder.
The novice Aamir Sohail became a regular at the bowling crease in the middle overs and even Ijaz Ahmed trundled three overs of his brand of left arm military medium in the final. To cap the selectorial shenanigans a change of vice captaincy from Saleem Malik to Javed Miandad after landing in Australia depicted Pakistan's confused start to the World Cup.
"Pakistan managed only three points from
their first five games and was languishing
near the bottom of the table"
For the first 25 days New Zealand was the form team of the 1992 World Cup. Under the shrewd stewardship of Martin Crowe they upstaged all their opponents in the round robin winning seven straight games and were perched on top of the points table making their last league encounter against Pakistan apparently meaningless for them. There were multiple factors behind New Zealand's rise in the tournament foremost being the innovative captaincy of Martin Crowe. From opening the bowling with off spin of Deepak Patel to unleashing a pinch hitter in the form of Mark Greatbatch who used the rugby field dimensions of Auckland's Eden Park to hit flurry of boundaries upfront.
New Zealand's four pronged medium to medium fast attack of Gavin Larsen, Willie Watson, Chris Harris and Rod Latham proved extremely effective and miserly on slow batting surfaces. Martin Crowe himself was in prime batting form and for the first time New Zealand appeared to have mounted a serious challenge for annexing the top prize of the cricket world. It was only until they met their Waterloo in the shape of Imran's "Cornered Tigers".
Pakistan managed only three points from their first five games and was languishing near the bottom of the table. Two of these points were secured from a win against minnows Zimbabwe and one from the great rain escape at Adelaide when after being shot out for a paltry 79 by England's seam attack, rain gods smiled on Pakistan and they seized one point from an abandoned encounter. This landed Pakistan in a scenario that they not only needed to win each one of their remaining league matches against Australia, Sri Lanka and New Zealand but still had to rely on results of other matches to go their way to secure a position in the knock out stages of the tournament. A mathematical possibility definitely but, keeping in view their early form in the World Cup, not a probable outcome.
Pakistan drew first blood by defeating Allan Border's Australian side at Perth. A stubborn partnership between Javed Miandad and Aamir Sohail laid the foundation of a fighting total of 220 which the jaded Australians failed to chase under lights against an all round Pakistan attack.
Another win at Perth followed against the lowly ranked Sri Lankans and Pakistanis flew across four time zones to meet New Zealand at Christchurch. By that time three out of four teams for the knock out stage were already decided with New Zealand, England and the new comers South Africa making the grade. The last team was to be decided from amongst West Indies, Pakistan and Australia in the order of probability.
New Zealand's batting for once did not come off against the trio of Wasim, Aaqib and Mushtaq and their eventual total of 166 was never enough. Rameez Raja notched up an unbeaten 119 to knock off the runs and Pakistanis then awaited result of the West Indies and Australia match to know their destiny. An Australian win was required to eliminate the Caribbean side and send Pakistan to the later stage.
In the Perth group match Pakistani fielders had an heated exchange with Australian pacer Mike Whitney resulting in a hefty fine for Whitney and Pakistani wicket keeper Moin Khan. In the match against West Indies it was a four wicket haul from Mike Whitney which derailed the West Indian chase and propelled Pakistan to their destiny. Once Pakistan made it to the last four, fomer Indian skipper Sunil Gavaskar promptly nominated them as favorites to lift the World Cup.
"Once Pakistan made it to the last four,
former Indian skipper Sunil Gavaskar promptly
nominated them as favorites to lift the World Cup"
New Zealand had so far beaten every team in the tournament except Pakistan but the semi final draw meant that being the top qualified team they were to face their least desired opponents lying in the fourth position in the Auckland decider for a berth in the final. Pakistanis were on a roll winning three straight matches and peeking just at the right time. Martin Crowe won the toss in the semi final and led by example. Fired up by his brilliant 91, New Zealand amassed 262, a winning score in those days.
Unfortunately during batting Martin Crowe pulled his hamstring and was unable to lead New Zealand on the field during Pakistan's turn. Things were seemingly under control of his deputy John Wright until New Zealand dismissed Saleem Malik to reduce Pakistan to 140 for 4 in the 35th over. In walked Inzamam ul Haq, capless and fearless and a relative failure in the tournament so far. He went on to smash a 37 ball 60 and simplified the run chase which was eventually seen through by the calculating duo of Javed and Moin leaving the Auckland crowd disheartened and in literally in tears.
Twenty five years on, one could still relive the final relishing every moment of the most memorable day of Pakistan cricket. Derek Pringle's incisive opening spell, that accounted for both the openers. The dreary rear guard action by two old war horses Imran and Javed. Only 34 runs were in the bucket in first 17 overs and by 34th over the scoreboard had crawled to 115 but importantly without any further loss of wickets.
Imran in his last ODI played a masterly knock of 72 and his deputy Javed an equally valuable 58 setting the stage for two blazing guns Inzamam and Wasim Akram who fired and took Pakistan to an eventually winning 249. England's chase followed almost a similar pattern. Early loss of Botham and Stewart followed by some wizardry by Mushtaq which accounted for Hick and skipper Gooch before the pair of Allan Lamb and Neil Fairbrother stabilized and settled in a potentially match winning partnership.
The two magic balls delivered by Wasim Akram to clean out Lamb and following all rounder Chris Lewis are part of folk lore now. Clean bowling two Englishmen on successive swinging deliveries, one moving out and the other moving in. It was game, set and match indeed.
Ultimately England limped 227 before Rameez Raja accepted a skier from Richard Illingworth to settle the issue and celebrations started in the streets of Karachi, Lahore and rest of the country. Prayers from the faithful who were fasting were answered in an emphatic fashion. That day iftaar was indeed had an element of joyous celebration in it. Memories of what happened in Lahore in 1987 were wiped off for good in Melbourne in 1992.