A shooting star is a small piece of rock that hits earth's atmosphere and moves so fast that it heats up and glows. It is also known as a meteor, but a shooting star makes the wish come true. This belief dates back around 127-151 A.D. Greek astronomer Ptolemy wrote that occasionally out of curiosity gods peer down at these meteors. I found quite a few similarities between Madhav Apte and the glowing meteors. He too glowed at a great speed and then disappeared as quickly as he came.
He opened in all five Tests and scored 460 runs at an average of 51.11 which was second only to Polly Umrigar on the tour. He was ahead of the greats like Vijay Hazare, Vinoo Mankad, Pankaj Roy and Vijay Manjrekar, and was only behind Everton Weekes and Umrigar
I first heard of Madhav Apte during the early 50's when playing for Bombay Cricket Association he made his first appearance against the touring Pakistan cricket team in November 1952. He opened the innings with B. R. Irani and was out caught by Israr Ali of Off spinner Zulfiqar Ahmed for 24. Earlier he had exploded on the cricket scene with a bang by scoring a hundred on Ranji Trophy debut in 1951-52.
Twenty years old Apte was selected for his debut in test cricket in the third test against Pakistan at Bombay in November 1952. Opening the innings for India with his mentor and idol Vinoo Mankad who got out first in the first innings and India was 32 for 1 in an hour's play. Apte was out caught Imtiaz off Mahmood Hussain for 30. Mahmood Hussain had tempted Apte to hit his slower ball who had a wild swing at it but was caught by Imtiaz at deep leg.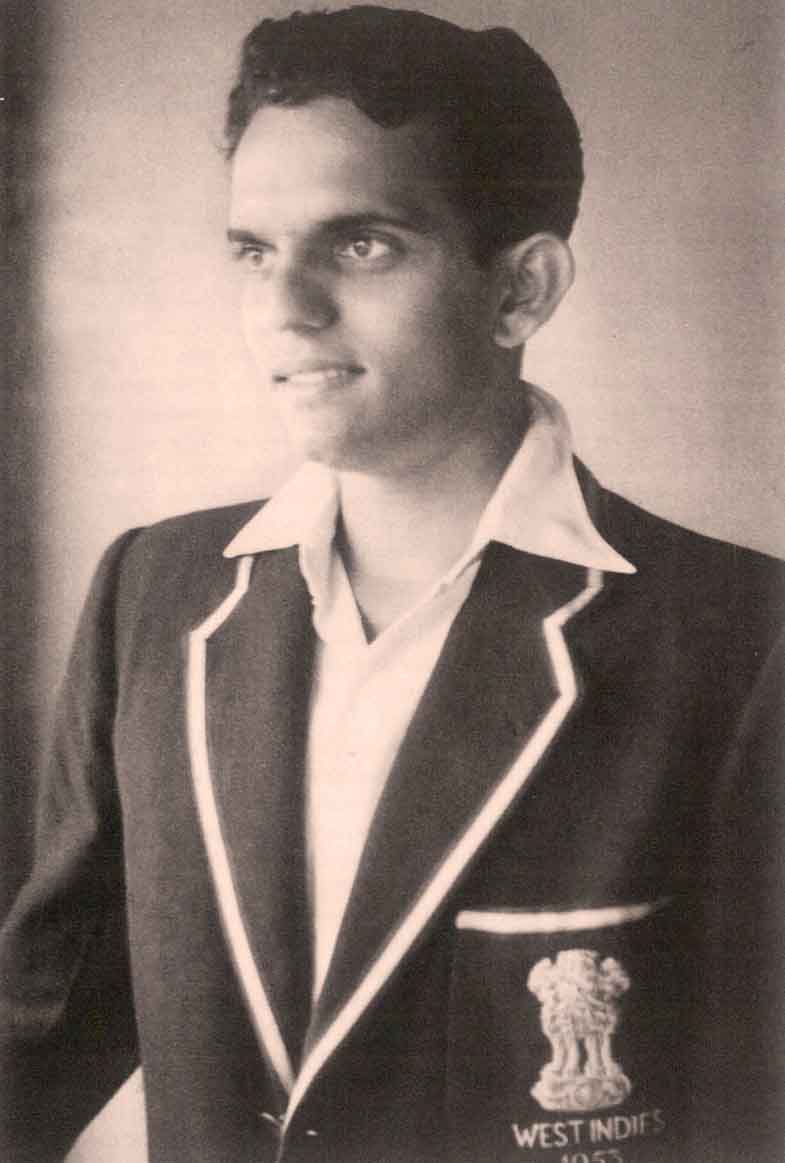 In the second innings he and Mankad remained unbeaten with 10 and 35 respectively as India raced to win the test by ten wickets. Apte had batted with great confidence against Mahmood Hussain whom he rates as a very good quick bowler who bowled great out swingers. He also says that Fazal Mahmood was an exceptional bowler especially on matting. In the fourth test at Madras, Apte again opened with Mankad who was bowled by Fazal Mahmood while Apte went on to score 42 before being caught by Maqsood off Kardar. Apte had batted laboriously for 153 minutes and tried to set about the slow spinner.
This was his undoing, for in playing forward he could not get to the pitch of the ball, drove it and lifted it straight into Maqsood's hands at short extra cover. The Apte-Umrigar partnership had yielded 74 runs in 105 minutes. India reached 175 for the loss of six wickets when heavy rain came and the match ended in a draw. Earlier Pakistan captain Abdul Hafeez Kardar had played a fighting knock of 79 runs before being bowled by Ramchand. Zulfiqar Ahmed made an unbeaten 63 runs which included a grand six off Mankad. This was the first six hit by a Pakistani batsman in Test cricket.
Apte was not included in the fifth test at Calcutta where Pankaj Roy and D. Gaekwad opened for India and Deepak Shodhan coming in to bat at number eight in his debut test scored a magnificent 110 before being caught behind by Imtiaz off Fazal. The match ended in a draw. Apte said that "Facing the great Fazal Mahmood and fast bowler Mahmood Hussain gave him the confidence to play quality opening bowling in international cricket."
Opening an innings is an art combined with guts and technique which consists of courage, temperament, concentration and patience. Madhav Apte had all these qualities in him yet he had not been selected to tour England in the summer of 1952, but he was an automatic choice for the West Indies tour of 1952-53. His performance there was much beyond expectations.
In 2011, he inaugurated the 26th Sportstar Trophy. He published his autobiography 'As Luck Would Have It' in 2015 and it was launched at Wankhede Stadium with Sunil Gavaskar in presence
He opened in all five Tests and scored 460 runs at an average of 51.11 which was second only to Polly Umrigar on the tour. He was ahead of the greats like Vijay Hazare, Vinoo Mankad, Pankaj Roy and Vijay Manjrekar, and was only behind Everton Weekes and Umrigar. His exceptional innings of 163 runs not out at Port- Of- Spain enabled India to draw the match. In the first test match at Port-Of-Spain he opened the innings with Mankad and faced West Indies bowlers Frank King, Gerry Gomez, Sonny Ramadhin and Alfred Valentine with ease to score 64 when he was caught by Frank Worrell off Sonny Ramadhin.
In the second innings he opened with Nana Joshi but was bowled by Alf Valentine for 52. In the second test at Bridgetown, he opened with Pankaj Roy and was caught by Worrell off Valentine for 64. In the third test at Port-Of-Spain, he was bowled by Gomez for a duck in the first innings but came back in the second innings to score an undefeated 163 runs. In the fourth test at Georgetown, he was lbw to Sonny Ramadhin for 30 in the first innings and was out hit wicket to Jeff Stollmeyer for 30 in the second innings. He also took a catch of Roy Miller off Subhash Gupte in the match. In the fifth test at Kingston, he was run out for 15 in the first innings and in the second innings which became his last Test innings he was lbw to Valentine for 33. He also caught Frank Worrell off Vinoo Mankad for 23 in the match. Madhav Apte returned with a huge reputation of a star and an invincible batsman but it was more shocking that with a reputation of such greatness and consistency he was dropped forever. He had scored 542 runs in 7 test matches that he had played with an average of 49.27. It was a sad and unjust end of his test cricket.
His disappointment was soothed by the Jolly Cricketers team which had been formed in 1936. It was called Jolly because the founders wanted the players to play for joy, pleasure and happiness. It was a strong team that consisted of Vijay Merchant, Vinoo Mankad, G.S. Ramchand, Subhash Gupte and Arvind Apte, Madhav's younger brother. Apte believes that Subhash Gupte was the greatest leg spin bowler India has ever produced. He was in the same mould as Amir Elahi in terms of the flight and loop. Sir Garfield Sobers, Hanif Mohammed, Fazal Mahmood and Imtiaz Ahmed endorsed this view.
Madhavrao Laxmanrao Apte was born on October 5, 1932, in a renowned business family who had their interests in Textiles and Sugar. His grandfather Vaman Shridhar Apte started his business training in Vallabhdas Jayram's wholesale cloth shop in Bombay and later acquired a paper mill in Andhra and diversified his business with other industries. Madhav's father Laxman Vaman Apte was the only son of his parents who took part in the freedom movement and later joined his family's textile business. He played club level tennis and cricket and was especially a great promoter of cricket and cricketers. In fact he was the patron of Vinoo Mankad. While still at Wilson High School Madhav Apte reached fantastic bowling figures against Robert Money team in Giles and Shield tournament  by taking 10 wickets for 10 runs in 14.3 overs out of which one was a maiden.
Some years back Hanif Mohammed phoned him and said that he wanted to visit Mumbai. So Madhav Apte arranged and hosted Hanif and his wife's stay at the Cricket Club of India. Apte said that "We looked after them for ten days. Friendships of cricket never end
As a young leg spinner, he was obviously influenced by his heroes Amir Elahi and C. S. Nayudu. He was about eleven years old then. As a batsman he was then quite troubled when facing even moderate medium pace bowling. He judiciously avoided facing fast bowling. In early 1945 he played for Bombay Junior Combined School team. The same year his father made Madhav 13 years old and his younger brother Arvind 11 years members of Hindu Gymkhana to enable them to have net practice there. Soon he was playing for the 'B' team of the Gymkhana.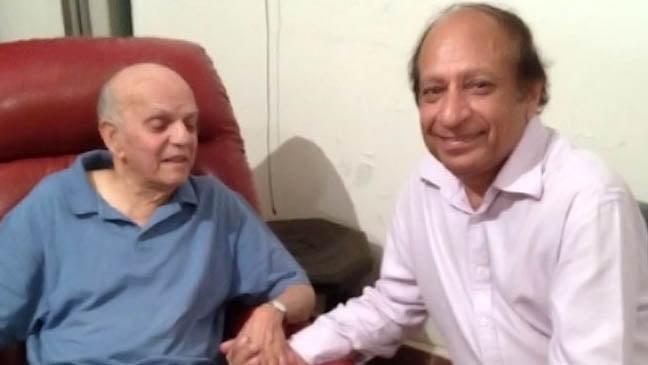 Madhav joined the Elphinstone College at Bombay and started playing cricket there. Vijay Merchant, M. K. Mantri and Dattu Phadkar had been the illustrious students of that institution. In 1948 Vinoo Mankad was appointed the cricket coach of the college. He was playing Lancashire League in those days but was hired at the College for Rs.600/- for the season. On the first day when Vinoo arrived at the net, he asked Madhav if he could bowl? Hearing the answer in affirmative, he picked up the bat and asked him to bowl. Madhav sent down a googly, which Vinoo misread and left it which came back and hit his stumps. Vinoo was stunned and glared at Madhav. He then asked for Madhav's name.  When Madhav told him his name, Vinoo said "Bhausaheb's son?"
In reference to Madhav's father. Madhav used to bat at No. 9 or 10 but Vinoo asked him if he would like to open the batting? Madhav agreed to the idea, and from then on he blossomed as a batsman and the rest is history. His gurus and mentors included the great Vijay Merchant who was a regular visitor to their enormous house 'Woodlands" on Peddar Road. Vinoo Mankad had advised him to watch Vijay Merchant bat in the nets early morning when there was dew, so that he could play against the moving ball in order to become a proper opening batsman.
During the 1951 Ranji trophy season Vijay Merchant got injured before the first Ranji match against Saurashtra and dropped out, and as luck would have it, Madhav got the chance and scored a century on debut. The same year On October 5, his birthday, at age 19 he appeared for the Indian Universities against the touring MCC side led by Nigel Howard at Bombay. Opening the innings with the team captain Pankaj Roy, he scored 27 and was caught by Watkins off Rhodes. He also caught Alan Watkins off Sunderam in the match.
Being a close friend of the great bowler Fazal Mahmood's during his last years, we often talked of his 1952, 1961 tours of India. He had wondered why Madhav Apte did not play more test cricket since he was so promising and a feared batsman. It is widely believed that when Madhav Apte was dropped, Lala Amarnath was the Chief Selector who had come to his father asking for a Delhi franchise of their family's famous Kohinoor mills. Apte's father declined the Chief Selector. Amarnath remained in that position for many years and Apte was never considered for the Indian team again.
It was sad when India toured Pakistan for the first time in 1955; Apte despite his brilliant performances was not selected for the tour which was again managed by Lala Amarnath. Most certainly Indian cricket too was not free of politics and nepotism in 1955. In October 1953 he appeared for the Cricket Club of India against the touring Commonwealth team and was bowled by Berry for 10 in the first innings.
In the second innings he was bowled for 4 by Frank Worrell. He then played at Ahmedabad for An Indian XI against the tourists. Opening the innings with D. K. Gaekwad, he was caught by Emmet off Sam Loxton for 6 in the first innings where Syed Mushtaq Ali scored a brilliant 57 before being stumped by Barnett off Barrick. In the second innings Apte was caught by Barrick off Loxton for 1.
He also appeared in the first 'unofficial' test against the touring Commonwealth side at Delhi in November 1953. He was caught and bowled by Berry for 30 in the first innings.  This was his last appearance in an international match. He had batted for more than two hours for his 30 runs which the selectors probably thought was rather too slow. Oddly enough he was replaced by N. S. Tamhane who was not an opener.  Apte also played for Bengal in 1958, and in his first match made 60 runs. He scored a hundred against Services and a hundred against Bengal in 1959 when he was 30 years old.
I was privileged to meet Madhav Apte and his family at their home in early 2017 at Mumbai and was humbled by their traditional simplicity, genuine humility and warmth. In the old days before the house was replaced by a skyscraper, Vijay Merchant was a regular visitor to play badminton and have cricket net practice in the sprawling bungalow. Mother Teresa also graced the Apte home with her visit. His love for cricket is well known and he is a big factor in Mumbai's cricket.
As the President of the Cricket Club of India in 1989 he specially awarded playing membership to Sachin Tendulkar then under age to play cricket at the Club. He had spotted the promise in the young lad when he was just 14 years old.  Madhav Apte is the only cricketer in the world who would fly from Malaysia to Mumbai every week to play in Kanga League cricket matches. After making a phone call to the club captain from Kuala Lumpur, he would enquire "Is the sky clear? Is it likely to rain tomorrow?" If told that the sky was clear, he would say "Please include me in the team."
And on Sunday morning he would land in India and be the first to reach the ground wearing his MCC cap. He followed this routine for more than a decade from 1968. He played in the Kanga League for 55 years quitting at age 71 years. He is also the only cricketer who has played alongside 'the grand old man of Indian cricket' D. B. Deodhar and Sachin Tendulkar in 1987-88 at Shivaji Park Gymkhana. Apart from cricket, Apte also excelled in tennis, squash and badminton. His son Vaman represented India in squash and Bombay University in cricket. His daughter was an inter-school badminton champion. His seven test matches yielded 542 runs including one century and two catches.
He retired from cricket at the age of 34, in a 16 year long career as a right hand batsman and a right arm bowler, he scored 3336 runs at an average of 38.79 in 67 first class cricket matches that included six centuries and 16 fifties. His highest score being 165 not out. He also took 4 wickets.
His last first class match was the 1967-68 Ranji Trophy final between Bombay and Madras. His era was without helmets and other protective equipment and therefore it was a game of guts, daring and bravery. He was hit on the cheekbone which was reconstructed by surgery. As a well respected industrialist he became the pioneer of sugar industry in Malaysia. Not only he was instrumental to cultivate sugarcane there but also set up sugar mills.
Reminiscing about the 1951-52 tour of Pakistan team to India, he remembers Nazar Mohammed as a very good singer. From the Indian side Vijay Manjrekar was a very good singer. Both of them would sing and did 'jugalbandi' which was fantastic. All of us used to travel in the same bus and stayed at the same hotel. The atmosphere was very friendly. Everyone knew each other. Amir Elahi, A. H. Kardar and Lala Amarnath had previously played together for India. Apte's contemporary was Hanif Mohammed who too was 20 years old like him.
Some years back Hanif Mohammed phoned him and said that he wanted to visit Mumbai. So Madhav Apte arranged and hosted Hanif and his wife's  stay at the Cricket Club of India. Apte said that "We looked after them for ten days. Friendships of cricket never end." He further remembered that Kardar and Mankad had an argument but that was only on the ground. Afterwards out of ground such incidents never affected relationships. In order to take a run Kardar would go way out of the crease on the non striker's end. Vinoo Mankad who used to threaten batsmen in England that he would run out anyone who was not in the crease, warned Kardar a couple of times which had flared up Kardar.
Apte fondly remembers that when in 1954 he and Vijay Manjrekar came to Pakistan for a charity match at Karachi, they were asked by the immigration officer "Ism-e-Sharif?", (Your good name, please?). They responded by saying "Hum sharif nahin hain!" (We're not gentlemen!). He chuckles and says "Well, that was the only truth spoken in life!!". In year 2000 he served Mumbai as its Sheriff.
In 2011, he inaugurated the 26th Sportstar Trophy. He published his autobiography 'As Luck Would Have It' in 2015 and it was launched at Wankhede Stadium with Sunil Gavaskar in presence.  He has served as the President of the Mumbai Chamber of Commerce and presently he is the Chairman of the Apte Group. He is also the president of Cricket Club of India's Legends Club.
He has no regrets despite being unlucky with national selection and has remained positive. He say that " All I can say is I wouldn't have wanted my life to be any different. Of course, the greatest gift is really the game of cricket, because that's one game, and at least I have been saying it over and over again, that it is a great leveller and there is no recovery in that.
The classic example is that of Sir Donald Bradman, bowled second ball off Eric Hollies when he needed only four runs to have a career average of 100. That's what makes for the glorious uncertainty of this game. There is no recovery. It may be an umpire's bad decision, it may be your partner's bad call, it may be your own mistake or it may be your opponent's brilliance. There is no recovery.  So whether you are a Gavaskar or a Merchant or a Tendulkar, when the finger goes up you are back in the pavilion."