England for some odd reason was regarded as the final frontier by our national sides of the sixties and seventies. When Imran took over the captaincy in 1982 from Javed Miandad, a tour of England was his first assignment. He was faced with a history of failed crusades against our former colonial masters.
The 1954 Oval victory engineered by Fazal Mehmood under the captaincy of Abdul Hafeez Kardar remained Pakistan's lone success in the Test matches against England. Every time a Pakistani side came close to over-powering England something peculiar would happen and they ended up losing or drawing the Test match. England was the only side which remained unconquered for Pakistanis even on the home soil. The nearest Pakistan got to beating England was at Headingley, Leeds on the 1971 tour, when chasing a modest 230 runs target, Pakistan slumped from a comfortable 160 for four to a desperate 205 all out.
Even Intikhab Alam's invincible side of 1974, which included a number of experienced county professionals, managed only three draws in Test match series and in fact were saved from a certain defeat by rain in one of the Test matches. So the drought had extended to a 28 years period when Imran landed on the British soil for a three Test match series.
Imran, at the time of his appointment was regarded as a compromise captaincy candidate between Javed Miandad and the rebellious lot led by Zaheer Abbas. He announced his positive intent upon landing in England.
Despite the fact that Imran carried a lot of respect in the English cricket circles his comments to go all out for win were taken lightly by the pundits in England as well as at home. The English side was also recovering from defections to the South African "Rebel" tour and were helmed by a new skipper Bob Willis.
The English summer of 1982 was shared by India alongside Pakistan. England prevailed over India registering a 1-0 Test series win and were expected to continue their winning streak in the second half of the summer against Pakistan.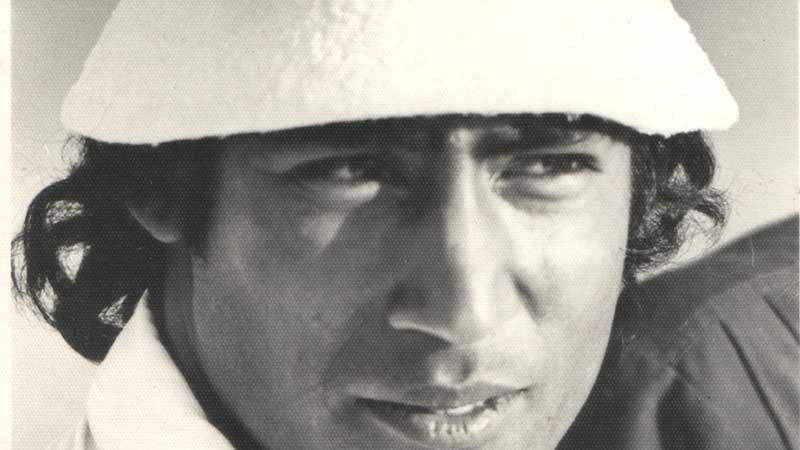 Very much like their Indian friends from across the border, Pakistan suffered two humbling defeats in the limited overs internationals and followed it up by a disheartening loss in the opening Test match at Edgbaston, Birmingham. The only redeeming factor was Imran's all round excellence in his first outing as a captain. A prime reason cited by critics for the loss was the double failure of Pakistani batting line up especially the openers.
Mudassar Nazar who along with his attractive partner Mohsin Khan had amassed runs against almost every county opposition and was also man of the series in the one-dayers was the main culprit bagging a pair and falling leg before to Ian Botham both times. His second innings dismissal was a comical one as Mudassar was ducking to avoid what he thought was a bouncer only to be trapped in front of the wicket.
Cometh the hour, cometh the man. Lord's is the most hallowed of English turfs and to get on its honor board is every Test cricketer's dream. The two possible ways to get your name engraved up there are either to notch up a century or grab a fifer as a bowler. Imran called correctly and Pakistan made good use of this advantage, piling on a total of 428 runs.
Mudassar and Mohsin gave them a fifty plus start and Mohsin, elegance personified, went on to become the sub-continent's first ever double centurion at Lord's. Even 38 years later he has only been joined by compatriot Mohammad Yousuf in this elite group and no one from India, Sri Lanka and Bangladesh has achieved this distinction as yet.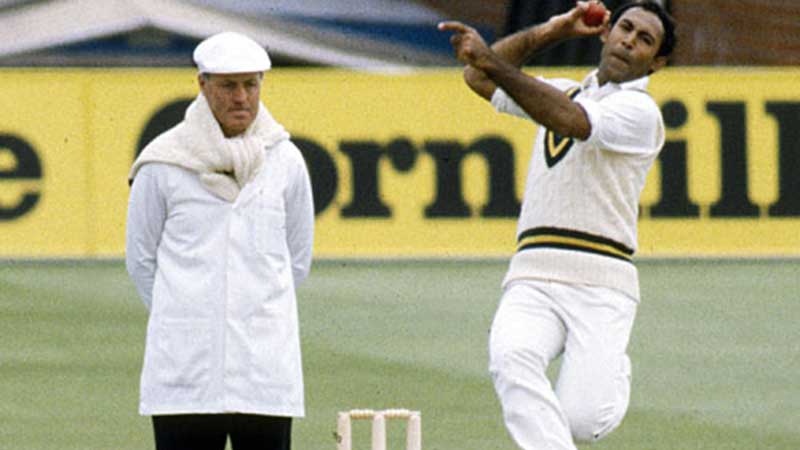 England wilted against the guiles of master leggie Abdul Qadir who was ably supported by the pace trio of Imran, Sarfraz and Tahir Naqqash. When the play ended on the third day England were still two runs short of the follow-on target with Mike Gatting still at the crease.
The fourth day, though curtailed due to bad weather, was still the most dramatic one and brought Pakistan into the driving seat thanks to an unlikely hero in the shape of Mudassar whose spell earned him the title of "Man with the Golden Arm". But before that Imran trapped the last man Robin Jackman leg before to end England's first innings and immediately enforced the follow-on. Imran's first and second choice bowling partners both had niggles which eventually ruled them out of the deciding Test at Leeds and forced Pakistan to call up the burly Ehteshamuddin from Bolton League who also got unfit during the third Test.
After few uneventful overs from his regular partner Sarfraz Nawaz from the Nursery End, Imran chose to throw the newish ball to Mudassar Nazar who in his 25 Tests so far had a grand total of 11 wickets and has never bowled so early in an innings. What happened subsequently is part of the cricketing folklore.
England were opening with Derek Randall who had scored a gritty hundred in the opening Test and his partner was the great stonewaller Chris Tavare, a man whose obduracy at the batting crease was legendary. In his very first over, like the proverbial lightning, Mudassar struck twice. Bowling from the edge of the crease in his Lillee-ish action he got one past Randall's bat and sent his off stump flying in the direction of pavilion. 9/1 soon became 9/2 when the newcomer Allan Lamb, batting without a helmet, was struck on the pads in line with stumps and umpire raised his finger. Now Mudassar's introduction into the attack was being labelled as an inspired change by Imran. But more was yet to come.
In his very next over Mudassar carved the heart out of English batting when the great stylist David Gower nibbled at a seemingly innocuous delivery and was caught at the wicket. 9 for 3 England with Mudassar's figures reading an unbelievable 2-2-0-3.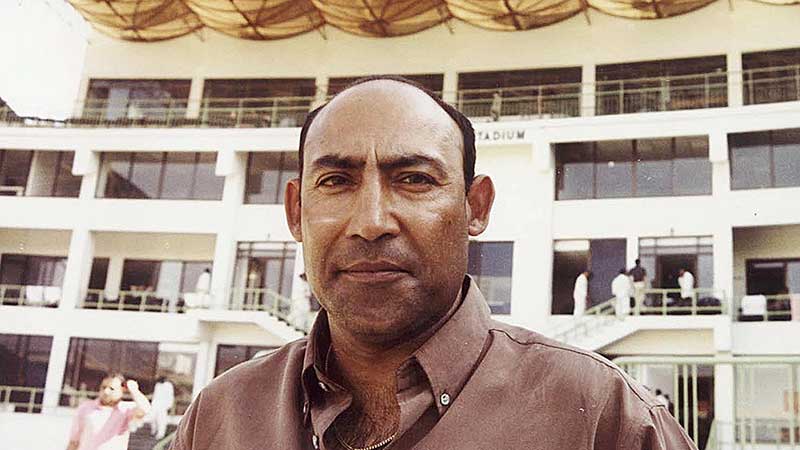 In came Ian Botham and restored some common sense with some lusty hitting. His primary target was Abdul Qadir and when play was stopped England were 95 for three, with a fair chance of saving the Test match on the last day.
Next morning, with rain showers predicted in the afternoon, Imran reintroduced Mudassar from the Pavilion End. Botham slashed contemptuously at a half tracker and big man Sarfraz scooped up a fine catch in the gully. The gates were open again. Mudassar made it five out of five and landed firmly on the Lord's honors board when Mike Gatting flirted with a long hop at least two feet outside the off stump and Wasim Bari took a sensational one handed catch.
Mudassar added one more wicket of Ian Greig, younger brother of Tony Greig, who fell in a similar fashion to Allan Lamb. Mudassar's final figures were 19-7-32-6 and it was a major contribution in Pakistan's historical win which was accomplished minutes before the rain arrived at Lord's.
However Mudassar's Lord's spell was not the first time that he had bamboozled world class batters with his military medium partnership breaking deliveries. During India's historical 1978-79 tour of Pakistan, the Indian side was on verge of saving the Lahore Test when Mudassar was introduced mid way through the final afternoon session by skipper Mushtaq. Within the space of four overs the two rocks of Indian batting were toppled in a similar fashion by Mudassar.
Gundappa Vishwanath was castled and his equally staunch partner Dilip Vengsarkar was caught behind to squash India's chances of averting defeat.
Mudassar apart from his golden bowling spells was known as a dour opening batsman who had many unwanted and some wanted batting records against his name. Mudassar still remains the scorer of slowest ever Test match hundred. He managed that 557 minutes "feat" against England at Gaddafi Stadium in his only second Test match appearance. Mudassar was also the first player to be dismissed with his score of 199 against India at Faisalabad.
On the brighter side Mudassar and his father Nazar Mohammad both have the unique distinction of carrying their bats though an innings and becoming the first father and son duo to do so. He also made 761 runs laced with four hundreds in the 1982-83 series against India who remained his most favorite opponents.
But all these batting feats notwithstanding. Mudassar's greatest hour came with the ball and at the home of cricket and the best part is that the coverage is still available on YouTube for all cricket nuts to savour.