In a sudden waive of emotion in 1977, the crowd started chanting 'Had-lee', 'Had-lee' at Eden Park in Auckland, marking the dawn of a new era in New Zealand cricket. In Richard Hadlee, they identified a cricketer, who carried their hopes and aspirations, with both ball and bat. It was a defining moment for Hadlee, who whilst displaying great courage in scoring 44 and 81, in his usual flamboyant way, against Australia's Dennis Lillee.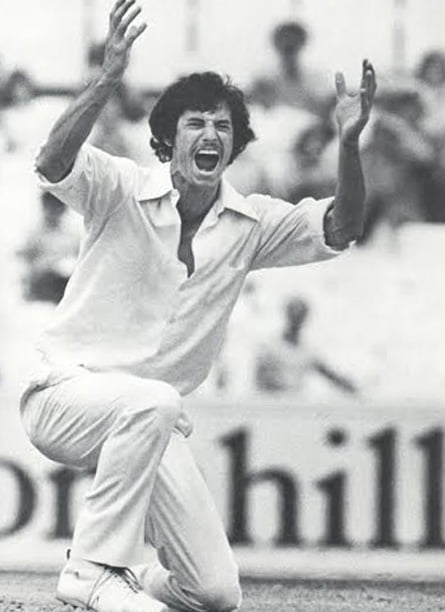 From that point onwards, Hadlee, 'Paddles' to his teammates, with trademark wrist bands and size 11 shoes, took the centre stage in reviving New Zealand cricket. Amongst the modern bowlers who could compare with Hadlee in style would be Glenn McGrath, who had the good fortune of playing in the great Australian era, with far superior support in the field than the New Zealander.
Although having retired 26-years ago, the legacy and memory of Richard Hadlee, still lives on, for he remains its greatest cricketer and by far the finest pacemen, produced by New Zealand. No fast bowler in the history of the game could claim to have shouldered the strain single-handedly so successfully than him.
In the 22 Test victories, he picked up 173 wickets @ 13.06 with no less than eight 10-wicket hauls. An astonishing strike-rate, in the post-war cricket. A remarkable feat indeed, for great fast bowlers – Trueman & Statham, Hall & Griffith, Lillee & Thomson, Roberts & Holding, Sarfraz & Imran – to name a few – hunted in pair and created havoc amongst the opposing batsmen. On his day, he had in him, to examine the best batting technique in the world and simply carried on such was his mastery in home condition that New Zealand did not lose home Test series, for 13 years, a golden period that ended in 1992.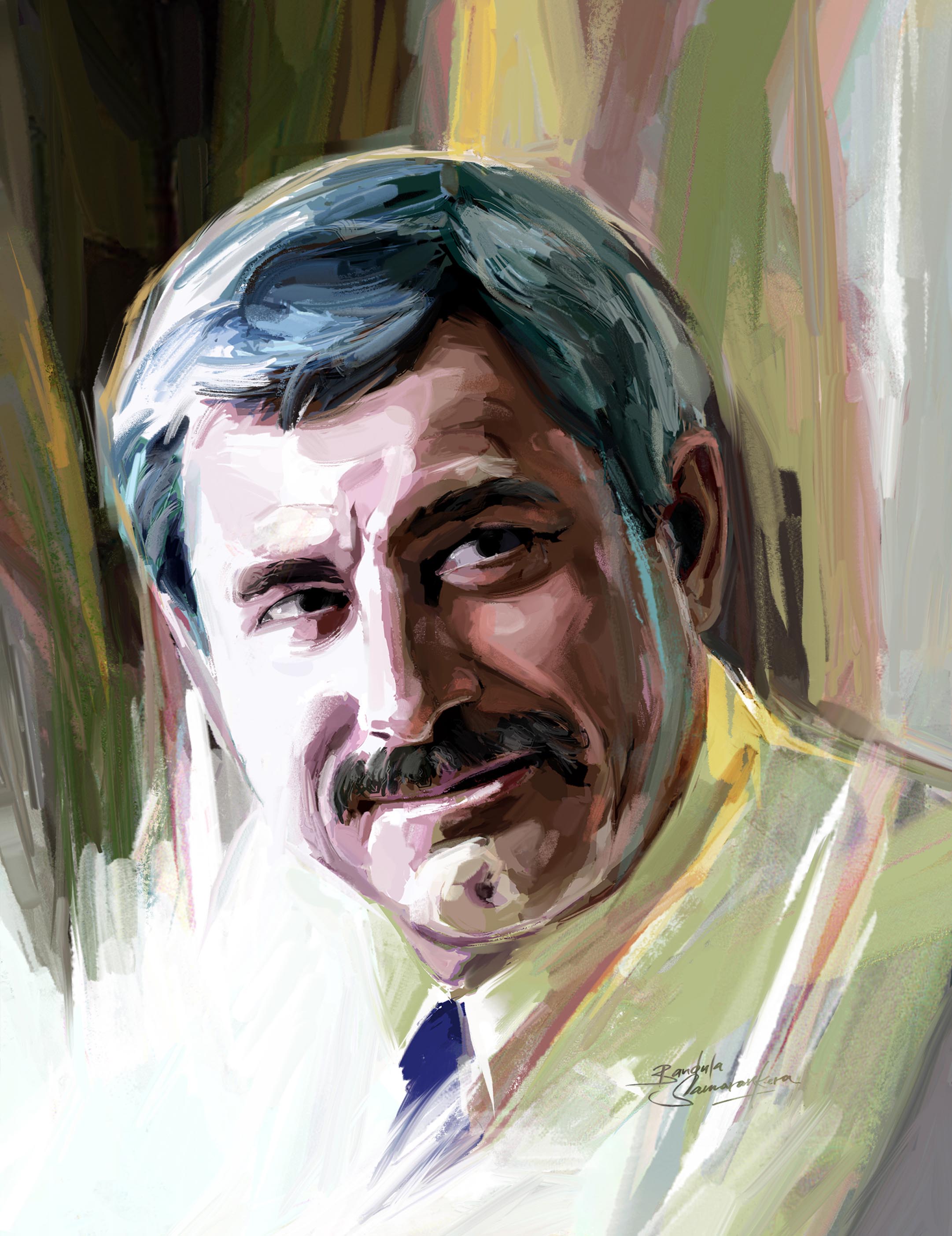 The international cricket in the 1980s boasted of four of the best cricket all-rounders, in the history of the game – Imran Khan, Richard Hadlee, Ian Botham, and Kapil Dev. Their well-documented exploits and head-to-head clashes were the highlights of the decade. A dramatic increase in international cricket enabled all four, to reach the milestone of 3000 runs and 300 wickets. Unlike his three all-round contemporaries, Hadlee never got the chance to captain New Zealand.
Hadlee describes the 1st Test of the 1985-86 series against Australia at Brisbane as the 'Perfect Test Match' A career best 9-52 (he caught the 10th Man) in the first innings was followed by another six wickets in the second and match tally of 15 for 123 off 52.3 overs. He also scored 54 with the bat as the Kiwis won the Test, by an innings and 41 runs. Australia bounced back to level the series. In the decider at Perth, Hadlee produced another herriculean match-winning effort by claiming 11- 155 and finished with astonishing 33 wickets in the series. It remains New Zealand's only Test series win in Australia.
Born on 3rd July 1951 in Christchurch, cricket was very much in the genes for Richard, fourth in line of the five sons of Walter Hadlee, former New Zealand Test captain. The dining table conversation was often dominated by cricket. Richard competed fiercely with older brother Dayle, medium-fast bowler, in their backyard and beyond and the pair would play together in 10 Test matches till 1978. The three sons – Dayle, Barry and Richard – followed in the footsteps of their father and represented Christchurch Boys' High School and later Canterbury.  The three also played in the inaugural World Cup in England in 1975.
Till the 1973-74 season Australia had not played any series of official Test matches with New Zealand. Two back-to-back series in the same winter brought about a fresh rivalry in international cricket. A cruel hand of fate denied New Zealand almost certain victory when the last day at Sydney was washed out with Australia still needing 425 runs with 8 wickets in hand. Richard with six wickets in the match had his tail-up only to be denied by nature.
Two months later, in the return series, New Zealand did manage to beat Australia at Christchurch by five wickets. Glen Turner's hundred in each innings was a grand effort with the bat. In Australia's second innings total of 259 Richard (4-71) and elder brother Dayle (4-75) took the bowling honours. A Test victory against Australia was unthinkable at the time and the day 13th March, 1974 has been etched in the memory of every NZ cricket lover.
Whilst dealing with a hamstring and short in confidence and having achieved very little with the ball in the 1975-76 Plunket Shield and his selection on the line, Hadlee suddenly found his rhythm to produce an historic bowling feat against the Indians at Wellington. His second innings figures of 7-23 and match tally of 11 for 58, were both national records at the time and it remained so for 10 years before he himself surpassed both.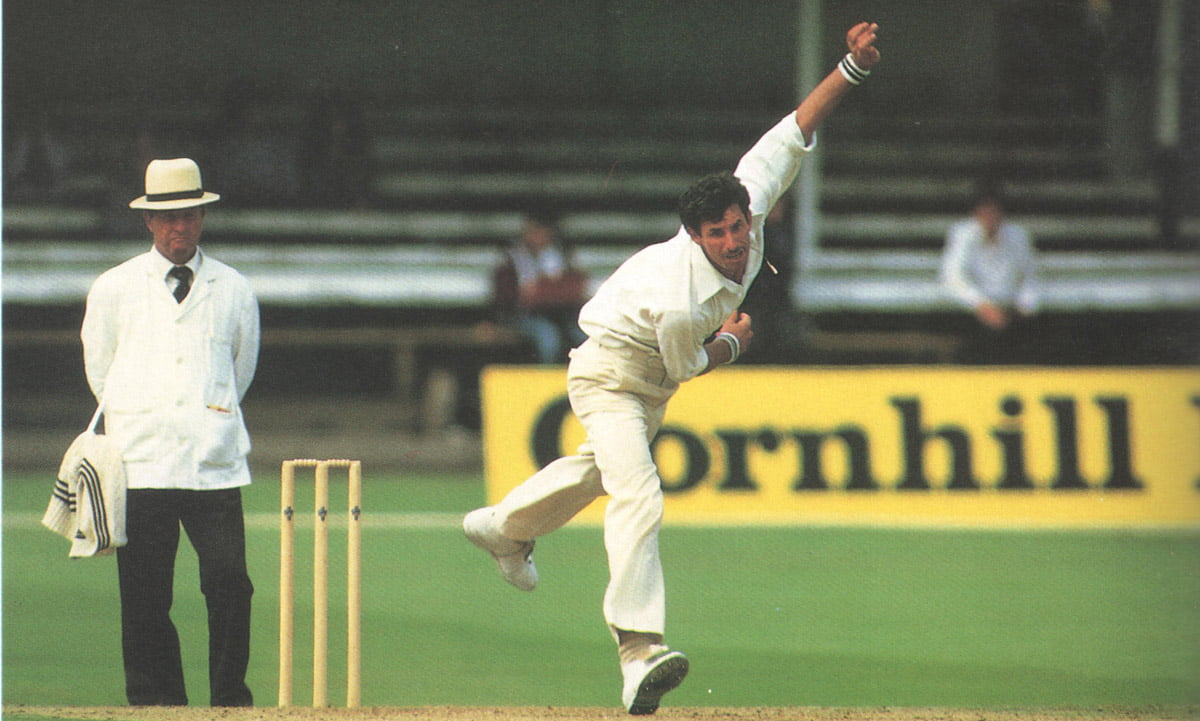 The second of Hadlee's ten-wicket haul was also achieved at the same venue, in the opening Test against England. It was a remarkable day's cricket, the in fact the greatest day in New Zealand cricket history when on 15th February, 1978, Hadlee full of aggression and on song picked up 6-26 of 13.3 hostile overs. England were chasing a modest 137 fourth-innings target but were all for 64. It was the greatest day in New Zealand's history for they had achieved their first ever Test victory against England in 48th attempt. The match-winning hand played by Hadlee in this particular match became part of the folklore of New Zealand cricket.
An ill-tampered series at home against West Indies in the 1979-80 winter, was the beginning of the reign of Geoff Howarth, often acknowledged by Hadlee as the best of the eight New Zealand captain he played under. On a nail-biting final day of the opening Test at Dunedin, the home side, in pursuit of 104 runs, stumbled to 44 for 6 before winning the contest with the last pair in. Hadlee, not for the first time in his career, held the key, for beside his 11 wickets for 102 runs, his contribution of 51 and 17 with the bat, was invaluable.
New Zealand achieved their first ever Test win on English soil at Leeds in 1983 – Also significant for the fact that they previous overseas victory had been against Pakistan in November 1969.
Remarkably Hadlee remained wicket-less in the match as Lance Cairns and Ewen Chatfield filled their boots, but hit a timely 75 to earn his side which proved a match-winning first-innings lead of 152. 'Man of the Series' Hadlee scored 301 runs @ 50.06 and claimed 21 wickets @26.61 but that was not enough for New Zealand to lose 1-3.
In the winter of 1983-84 New Zealand finally claimed their first Test series win against England. In a three-day finish in the 2nd Test at Christchurch, Hadlee took the guard at 137 for 5 on the opening day and thrashed 99 off just 81 balls and then help England dismiss for 82 and 93 with a stunning match figures of 35 overs. 15 maidens. 44 runs and 8 wickets. A deadly bowler in conditions that offered, a hint of help.
In 1986, determined to set the record straight, Hadlee, at his very best in his 'adopted home' of Trent Bridge, sliced through the host line up with a match return of 10 for 140 as New Zealand earned their first Test series win in England.
As a hard-hitting number seven or eight, Hadlee could be trusted with useful contribution to the team's total, more than often in quick time. Always prepared to take on the bowling, it was upper cuts and slashes that featured prominently in his strokes.
Kicking off with 46 on his Test debut at Wellington against Pakistan, he could prove an awkward left-hand batsman to bowl at. Hadlee, benefited from using the helmet whilst facing the fast bowlers, for he organised his defence and became much more consistent.
Coming at number eight, Hadlee's hit his maiden Test hundred (103) against West Indies at Christchurch, taking full advantage of wayward and dispirited bowling. His off-side slashes and lofted strokes, down the ground, being his most productive strokes. His highest innings 151 not out was scored against Sri Lanka at Colombo Cricket Club was his country's 100th century.
By the time Hadlee arrived for his first tour of the sub-continent, where he played three Tests each in Pakistan and India, in the 1976-77 winter, he was New Zealand's number one strike bowler. Despite health issues, he managed to come out with credit.
In the second half of his career, he was reluctant to tour the sub-continent, except when it was bowling against Sri Lanka, the weakest opposition in international arena. Instead staying at home to recharge his batteries.
By declining the challenge of bowling in unfavourable conditions, Hadlee, brought himself down a notch or two in comparison with the likes of Andy Roberts, Imran Khan, Wasim Akram, Michael Holding, Malcolm Marshall and Glenn McGrath.
He decided to sit out both 3-Test tour of Pakistan in 1984-85 and the 1987 Reliance World Cup, jointly hosted by India and Pakistan. The workload on his slim, wiry frame body was just too much and it was only the pursuit of a world-record tally that convinced him to tour India in 1988-89.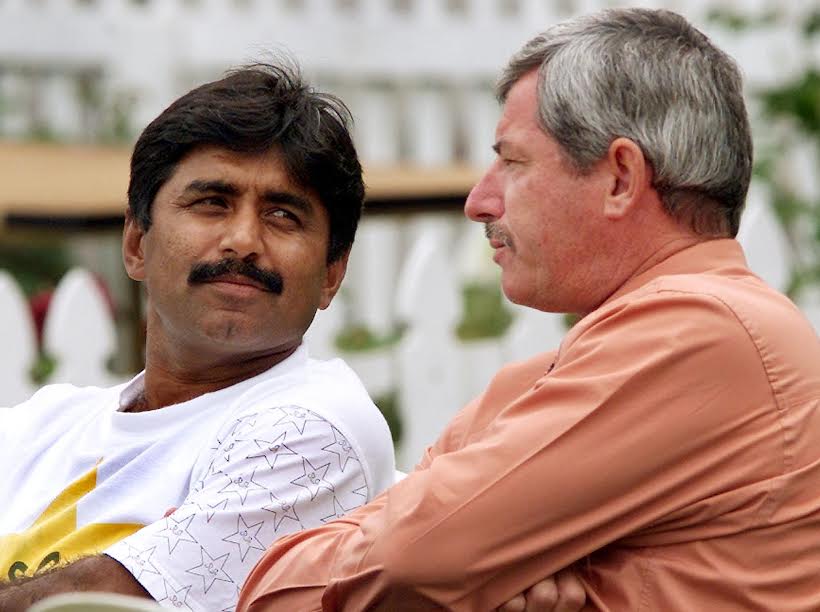 Admittedly, motivated by records and statistical milestones, his single-minded determination took him to the peak of the bowling summit. Following an agonising wait for 318 days, since equalling Ian Botham's 373 mark as the highest wicket-taker in Tests, he send back Indian opener, Arun Lal, caught at 3rd slip, at Bangalore on 12th November, 1988, to go one past his great rival. The very next week he achieved match figures of 10-88, against all odds, at Bombay to help his side to a shocking win by 136 runs.
He became the first bowler to claim four hundred Test scalps, when he clean bowled India's Sanjay Manjrekar at Christchurch in February 1990 and at the time of his retirement his tally of 431 Test wickets in 86 Test matches was a new landmark. In his last spell at international level, he picked up his record 36th five-wicket haul, to bowl out England for 158.
Hadlee's name stayed at the top, till it was overtaken by India's Kapil Dev in February 1994, though it had taken him a staggering 43 more Test matches than the New Zealander. The Kiwi though had a clear advantage of having played most of his international career at home and in England and Australia, where seam and swing, earned him bag full of wickets.
At 21, whilst on 1973 tour of England, Hadlee refused an offer from Ray Illingworth to join Leicestershire. His fear of burning out too early proved right. Five years on in 1978, he was mentally and physically, up for a county career and agreed terms with Nottinghamshire.
By teaming up with Clive Rice, the South African all-rounder, Hadlee enjoyed a remarkable success and Trent Bridge became his second home. The county's two overseas signings encouraged the groundsman Ron Allsop to prepare 'lively' result wickets.
After reducing his run-up he was even more effective in county cricket and in 1981 was in tremendous form to take Nottinghamshire to its first Championship title, after 52 years.
In the 1984 summer, Hadlee achieved a rare double of 1000 runs and 100 wickets in an English season, an achievement that had been seen impossible, after the reduction in the number of first-class games, back in 1969. He planned it in a military fashion and in fact was labelled as a bionic man with 1179 runs @ 51.26 including a career-best 210* against Middlesex at Lord's – and topping the seasons bowling averages with 117 wickets @ 14.05.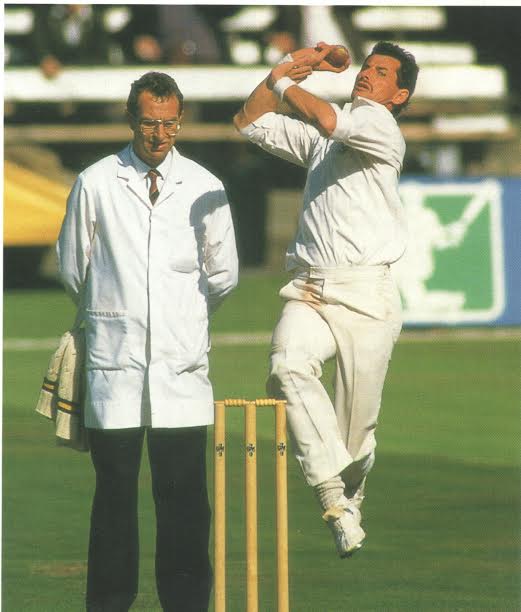 He was able to maintain very high standards and in 1987, picked up 97 wickets @ 12.64 and score 1111 runs @ 52.90. During his ten-year stint in the county cricket, Hadlee, mastered the English conditions and topped the bowling averages on no less than five occasions, to be bracketed as one of the best overseas signing in English cricket.
He was honoured in the 1990 Queen's birthday list – services to cricket – and led out his team in the Lord's Test as Sir Richard Hadlee. At 39, he bowed out as one of the true greats of the game. His 342 matches first-class career got him 12052 runs @ 31.71 and 1490 wickets @ 18.11 – not bad for someone who was tagged as 'Chairman's Son', for his father, Walter Hadlee, was the Chairman of New Zealand Cricket Council (NZCC) at the time of his initial phase.
He represented New Zealand in the first three Prudential World Cup tournaments and picked up 158 wickets @ 21.56 in his 115 ODI career. He has kept himself close to New Zealand cricket through media work and as a national selector. Richard's wife Karen captained New Zealand women team.