Life is not so easy for anyone as it is not a bed of roses but a stage of thorns,  still life moves on with the ones will power, if we look over the physically challenged people who are known as disabled people, the life is even much more difficult for them. Disability of any kind present challenges but this doesn't mean that life with a disability can't be fulfilled. Most societies have limited availabilities for disabled people and they are dependent on others while disability is not a barrier for a willing person.
We sometimes think these challenged people are good for nothing but that misinterpretation has been knocking out by some renowned people who have these disabilities.
Determination, intensity, strength, ambition, yearning, tenacity and  just one word for all these is non-other than Farhan Saeed, a famous disabled cricketer, especially abled Farhan Saeed. Everyone makes fun of him, discouraging him and not giving any importance but with crutches, fast speed bowling proved that crutches are not a bar for him.
Saeed is a person who is a victim of polio when he was just two years old. Once he randomly picks up the ball when his friends were playing cricket from a tennis ball on street. His bowling instantly made his friends won who appreciate and motivate his passion of cricket. He starts developing his passion for bowling on streets of Korangi in Karachi.
In 2007 Farhan was told by his friend Zahid about the selection of physically disabled team in Karachi National Stadium. He gave trial and got selected as a fast bowler. Life changing year just begun from the platform of PDCA (Pakistan Disabled Cricket Association). PDCA proudly introduce the world a unique champ, a fast bowler with crutches.
In his first ever national level match, he took one wicket but loose the match with narrow margin, soon in the next match his team defeated the academy team and get the confidence back. After that he participated in numbers of series including National Championships, Pentangular Cup, local tournaments and friendly matches.
In 2012 he played his career's First International match against England UAE (International Cricket Council Global Cricket Academy ICC GCA) where Saeed bowled in his unique style which leads Pakistan to defeat England.
In 2014, PDCA again visited UAE to play another winning series against England in which he scored 20 runs in 4 overs and took a wicket he was honoured trophy as best fielder.
In 2015, team participated at big tournament in Bangladesh where Pakistan competed with four countries (Afghanistan, Bangladesh, England &India),Pakistan won all the matches but lost the final from England. IN this tournament Saeed won the trophy as Best Bowler.
Farhan divulged that people always fear of losing his balance but since joining team in 2007 he confidently bowled with prefect pace. When he delivered his first ball every eye was teary and worried about his loosing balance. Throughout his remarkable bowling style Shoiab Akhter stated "I went to give tips to a bowler who was on crutches, but after seeming his control on line and length myself learned many things from him and I urge other bowlers to learn from him".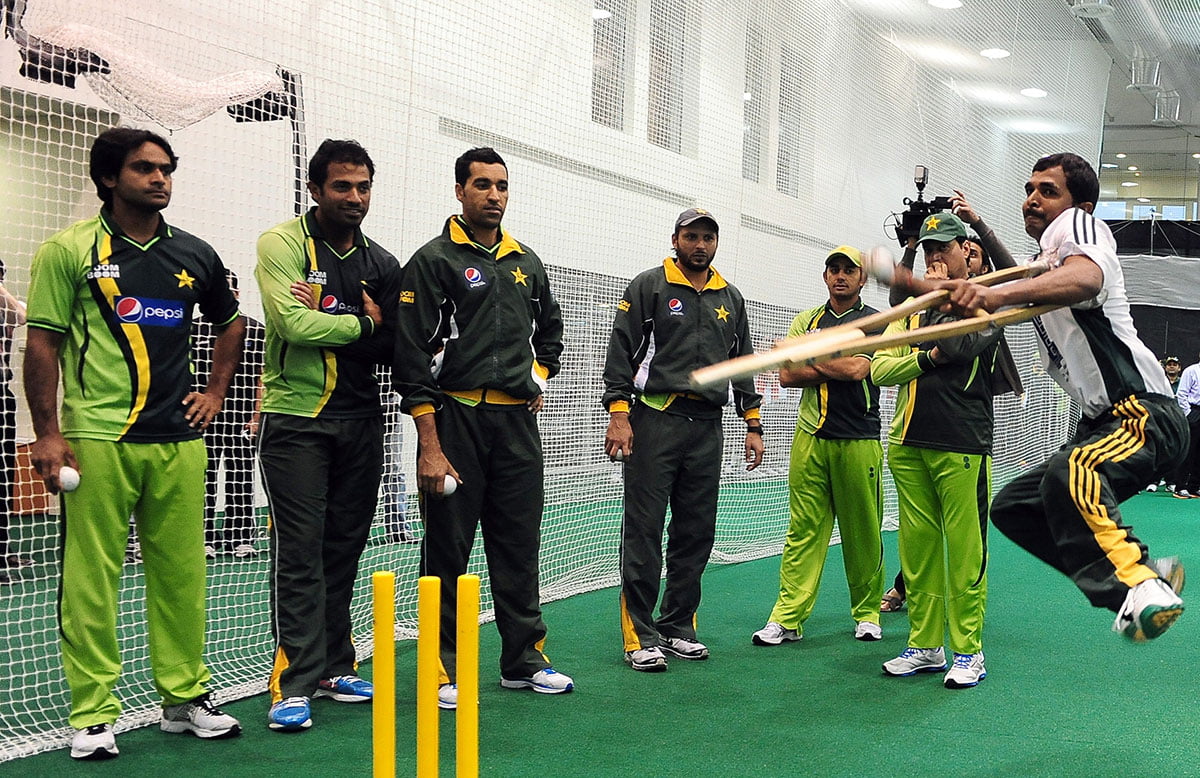 Along with sports career he is facing all the challenges very bravely. He does job in a garment factory and live in a rented house at Korangi along his wife, son and parents. Being a father of a son he trying hard to give his son a good life ahead. This especially abled is a lively person bearing all the difficulties in his life he wants to experience the beauty of Murree, swat & Peshawar.
History has witnessed many cricketers and their passions like Imran Khan, Wasim Akram, Virat Kholi but the self-confidence of this especially abled makes him different from these others. His determination encourages players like him to show their hidden talents. Farhan Saeed is a pride of Pakistan turning his disability into ability.
Saeed's life is a good example for the people like him, he want to say them that "don't consider yourself disabled but learn something from me, we can do anything, always have courage and  trust God"