Karachi, July 12, 2017: Internationally acclaimed cricketer and former captain of Pakistan's national cricket team Younis Khan visited The Citizens Foundation (TCF) head office to gift his 10,000 runs bat for the cause of education.
The gesture from Younis Khan is a remarkable display of support for the organisation's mission to educate children from underserved communities in the country.
In April, Younis Khan became the first Pakistani cricketer and 13th in the history of Test cricket to cross the 10,000 run milestone during a Test Series against West Indies, hence entering the elite club of the most accomplished cricketers of the world.
With a deep rooted desire to help transform society for the better, Younis Khan recently also pledged to distribute his match-winning monetary reward of Rs. 1,000,000 among TCF and two other not-for-profit organisations.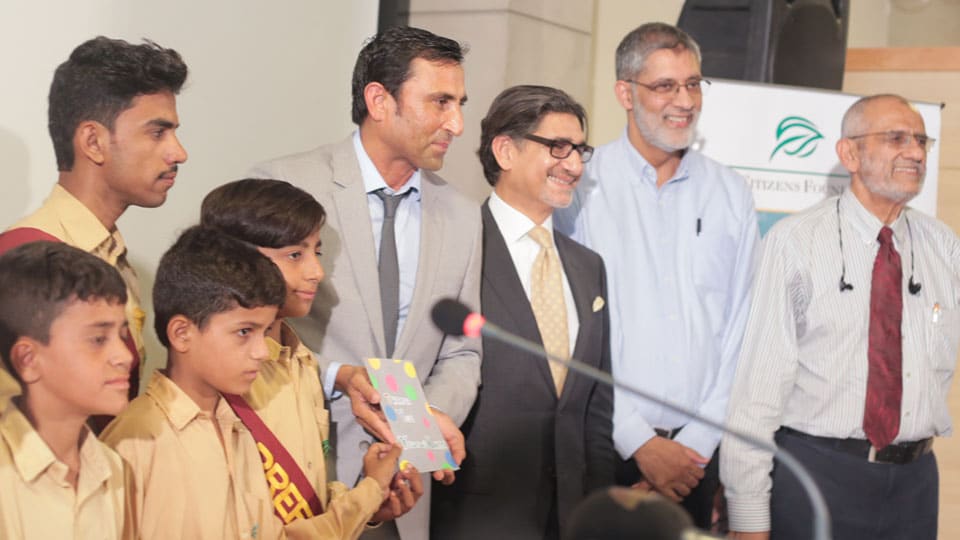 The star cricketer donated his life asset to TCF in realisation of a commitment he made to the organisation earlier during a visit to a TCF school in his home town, Steel town.
Expressing the shared vision of the TCF founders & directors, Mr. Mushtaq Chhapra, Co-Founder and Director, TCF, said, "We are extremely grateful to Younis Khan for his immense generosity and commitment towards our cause.
TCF has come a long way from 5 schools in Karachi slums to 1,441 school units across the country in just over two decades. It is only through the support and dedication of our many supporters and well-wishers, like Younis Khan, that we have come this far. With their sustained commitment, we shall continue to enlighten many more lives through education."
After presenting the bat to Mr. Asaad Ayub, CEO, TCF, Younis Khan shared his sentiments in the following words, "I am of the firm belief that Education is the key that will unlock the potential of our great nation. I am convinced that my contribution would further enable TCF to continue with their commendable work of bringing about positive social change. Education can take our country to greater heights."
At the end of the ceremony, Younis Khan was presented with a plaque and a bouquet in appreciation of his benevolent contribution to TCF.
About TCF: The Citizens Foundation (TCF) is a strong advocate of the belief that a truly informed and educated society forms the foundation of a progressive state and instills in its citizens the ability to adapt and evolve with changing times.
It is a non-profit organization set up in 1995 by a group of citizens who wanted to bring about positive social change through education. Today, TCF is one of Pakistan's leading organizations in the field of education for the less privileged.
The TCF model is providing quality education to 204,000 children through 1,441 purpose-built schools located in the heart of Pakistan's urban slums and rural communities.  The organization ensures that girls represent nearly 50% of overall student enrolment.
To magnify its impact, improve enrolment and quality of education, TCF is now adopting Government schools across Pakistan.