Kennington Oval also referred to as Kia Oval for sponsorship purposes and located in the Southern part of London is the home of English County Surrey. Another team which would like to refer to the Oval as its second home is Pakistan. Of all the English cricketing venues the Kennington Oval holds the fondest memories for the Pakistani touring sides.
Their first ever Test match win in England on their first ever tour of England in 1954 courtesy Fazal Mahmood was recorded here. For their next triumph on English soil they had to wait for 28 years. On their 1967 visit to the Oval an unlikely pair Asif Iqbal and Intikhab Alam created the then ninth wicket world record partnership of 190 runs.
In 1974 Zaheer Abbas notched up his second Test double century against England at The Oval in a high scoring draw. In recent years the Kennington Oval was the stage for Younis' skillful double ton which led Pakistan to a series-levelling win in 2016.
However, the match we are focusing on is the 1987 series finale which was played on a traditional Oval featherbed but had all the ingredients of a stellar contest. It was though dominated by a master who was at that juncture at the prime of his career and is without any doubt the best ever batter produced by Pakistan, Javed Miandad. A man alongside Australian Allan Border whom Sunny Gavaskar selected as "The Men to bat for your life". A tenacious and pugnacious duo of street fighters. Not so pretty to watch but capable of surviving and delivering when it mattered the most.
The English side was fresh from its Ashes win in Australia and also prevailed over the Pakistanis in the three match ODI series which preceded the Test matches. Pakistanis too were equally confident about winning the series as they were coming after winning an equally tough series against India on the Indian soil.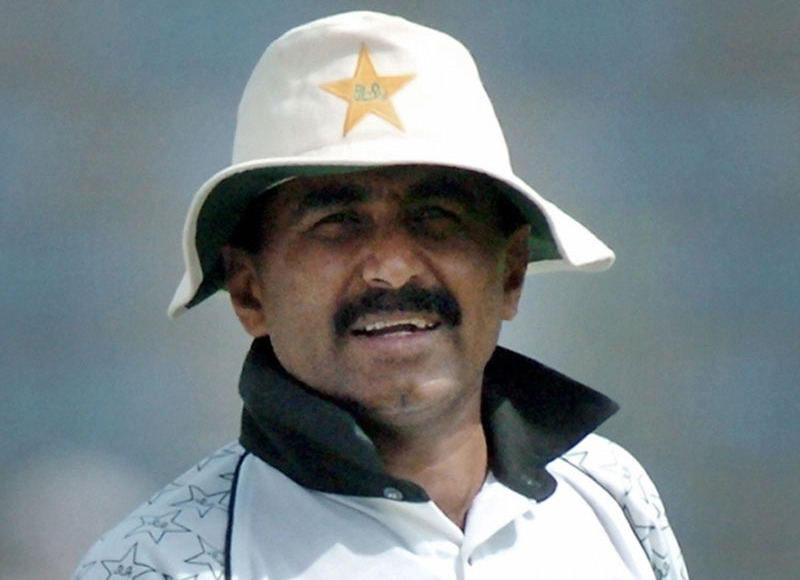 So, when Imran in his opening press conference expressed his desire to register Pakistan's first ever series victory in England none of the English press took it seriously. The press in fact showed more interest in engaging with the out-spoken Pakistani team manager Haseeb Ahsan and making fun of his cavalier statements.
For Pakistan it was a must win situation to prove that their recently developed cohesion and team work can surely translate into a series win and that the scars of their previous 1982 trip to England are wiped out. It was some dubious umpiring by David Constant which derailed their chances for success at that time. Pakistan did earn a 1-0 home win in 1984 under Zaheer Abbas' stewardship but an away win against England was what they wanted to confirm their rising status in the cricketing world.
The first two Tests of the summer were lost to the old enemy rain with England having two completed batting outings spread over two Test matches and Pakistan just above half an innings over the same period. Coming to Headingley, Leeds the sun finally shone on the series and the tourists. And Pakistanis made most of the overcast skies and a seaming wicket. A ten wicket haul by skipper Imran including a 7/40 in the second innings sent the powerful English side packing to an innings defeat in a few overs above three playing days.
England almost hit back in an unexpected fashion in the fourth Test match at Edgbaston. Two tall first innings scores and a decent Pakistani position of 74/1 at the fifth day lunch only predicted a dreary draw. Then came Neil Foster with a quick three wickets burst which set the proverbial cat among the Pakistani chickens. Pakistan crumbled to 205 all out leaving England a very achievable target of 124 runs from 18 overs.
Chris Broad, father of Stuart Broad, started off like a train and for initial four or five overs England looked odds on favorites to pull off an incredible win. Imran again rescued Pakistan by dismissing Broad and dangerous David Gower and bowling in tandem with his disciple Wasim Akram, restricting England to 109/7, an agonizing 15 runs short of the series equaling victory target.
So, the final Test at The Oval was a must win game for England if they wanted to equalize and a minimum result of a draw was needed for Pakistan to floor their former mother country. Interestingly David Constant of the 1982 series fame (?) was one of the umpires in that Test. Imran did well by winning the toss but Botham and Dilley took advantage of the early morning life on the wicket. Botham cleaned out Ramiz Raja who played across a straightish delivery and Dilley found the edge of Mansoor Akhtar's bat to leave Pakistan at 45 for two within the first hour of play.
Cometh the hour, cometh the man. When Javed walked in after the fall of the second wicket at 1155 am on the first day he had a lot to prove. None of his fourteen Test hundreds by that time have come against England. The first four Tests of the series have yielded a modest tally of exactly 100 runs.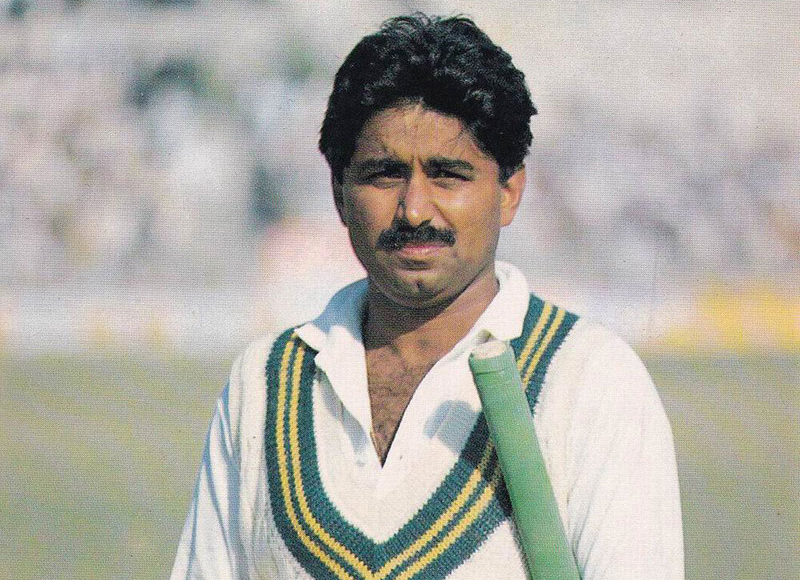 In fact in his ten Test matches on English soil spread over three tours since 1978, Javed had managed only 355 runs prior to the Oval Test inclusive of just three fifties.
A thumping cover drive off Botham was his first boundary and soon after Javed became the first Pakistani to cross the 6000 Test match runs landmark. An unbroken fifty partnership between Javed and Mudassar Nazar recorded on the stroke of lunch salvaged Pakistan somewhat. The only false shot which Javed played was a mistimed hook off Ian Botham which fell well short of a diving Neil Foster at fine leg. Botham removed Mudassar for a well made 73 but Javed found an eager partner in the shape of Saleem Malik whose classy 99 at Leeds was still fresh in the memory of spectators and English bowling contingent.
The pair practically settled the series result with a 234 runs partnership and played havoc with the English attack. First Graham Dilley walked off when he had to stop mid way through his delivery stride due to a stray flying pigeon. But he came back to the field after getting treatment and bowled with a great heart on an unresponsive wicket.
The biggest blow came when England's most incisive bowler of the series Neil Foster stressed his back after bowling mere 12 overs and was done for the match. This was a major setback on the flat Oval strip and Javed made the most of this opportunity. He reached his first Test hundred by pushing off spinner John Emburey towards fine leg and it took him 197 deliveries and 15 minutes less than four hours to reach that magical figure.
Pakistan ended the day one at 297/3 with Javed unbeaten on a chanceless 131 and his partner Malik on 64.
A lofted six off Emburey and an all run four off Edmonds underlined Javed's resolve for a big score. Saleem Malik reached his hundred too and left soon after but Javed continued to pile on beyond 150 and was accompanied by his skipper Imran. With spinners especially left-armer Edmonds making no impact Dilley and Botham had to bowl long spells.
For the only time in his illustrious career Botham conceded more than 200 runs as Pakistan marched on towards an impregnable total led by Javed. A push towards mid wicket off Botham brought up Javed's fourth double ton and he showed no signs of stopping. English skipper Mike Gatting became so frustrated that he brought on himself and Martyn Moxon to bowl and even let go a military medium bouncer at his opposite number Imran.
A steer towards third man took Javed past 250 and his partner Imran reached a memorable hundred too in what was announced to be his last Test match as he wanted to retire from active cricket after the 1987 World Cup. How the decision got reversed is an entirely different story. Finally it took an innocuous looking delivery from persistent Graham Dilley to dislodge Javed for a monumental 260. He played a very tired looking uppishly played shot towards the bowler who after juggling grabbed it on the second attempt. Mission accomplished and series bagged.
Pakistan crossed 700 for the first time in their history and ended their innings at 708. Pacer Graham Dilley ended with a commendable 6/154. A tired English batting line up was bamboozled by leggie Abdul Qadir and were skittled out for 232 runs, 28 less than the individual score of Javed.
A series of dropped catches and a resolute fifth wicket partnership between skipper Gatting and Botham on the fifth day saved the Test but were unable to save the series. Gatting's parting comment that England were series winners on points conveyed the hurt and underlined Pakistan's achievement on their eighth attempt.