Karachi Sports Forum (KSF) has taken extensive measures to reach out towards concerned sports fraternity in the city during the ongoing pandemic and lockdown situation. The forum is leading the way with noted personalities on board including former Olympian Hockey Star Islahuddin, Squash legend Jahangir Khan and former Cricket Captains Shahid Afridi and Safraraz Ahmed.
KSF has gone on to distribute ration bags, sanitizers, face masks, to affected ground staff and underprivileged persons related to the sporting community. Chairman of the forum, Asif Azeem added "KSF seeks to extend services during Ramadan and Eid by providing ration bags and gifts. Number of steps are being initiated to provide continual services during this calamity". The forum has already extended its services to over 26 different sports associations and distributed relief items to over 650 families.
Sports stars have donated personal items and memorabilia to generate funds for the efforts. Former Skipper Sarfaraz Ahmed has donated his bat, used during the last Champions Trophy which Pakistan won comfortably. Jahangir Khan contributed with his signed racquet which he played with during a British Open final. Olympian Islahuddin donated his Hockey stick used during the World Cup final played in Argentina during 1978. Islahuddin also added 230,000 Rupees in cash to the forum fund for utilization in providing services. KSF spokesperson stated, "JS Bank has contacted the forum to auction memorabilia of various sports greats, which will be using the revenue coming from it to support needy sports persons".
Chief Organizer of KSF, Syed Wasim Hashmi mentioned, "The forum will now increase its span of relief work outside Karachi as well with support of some wealthy donors. We are also trying to reach out to unemployed sportsperson and help them with distribution of ration bags".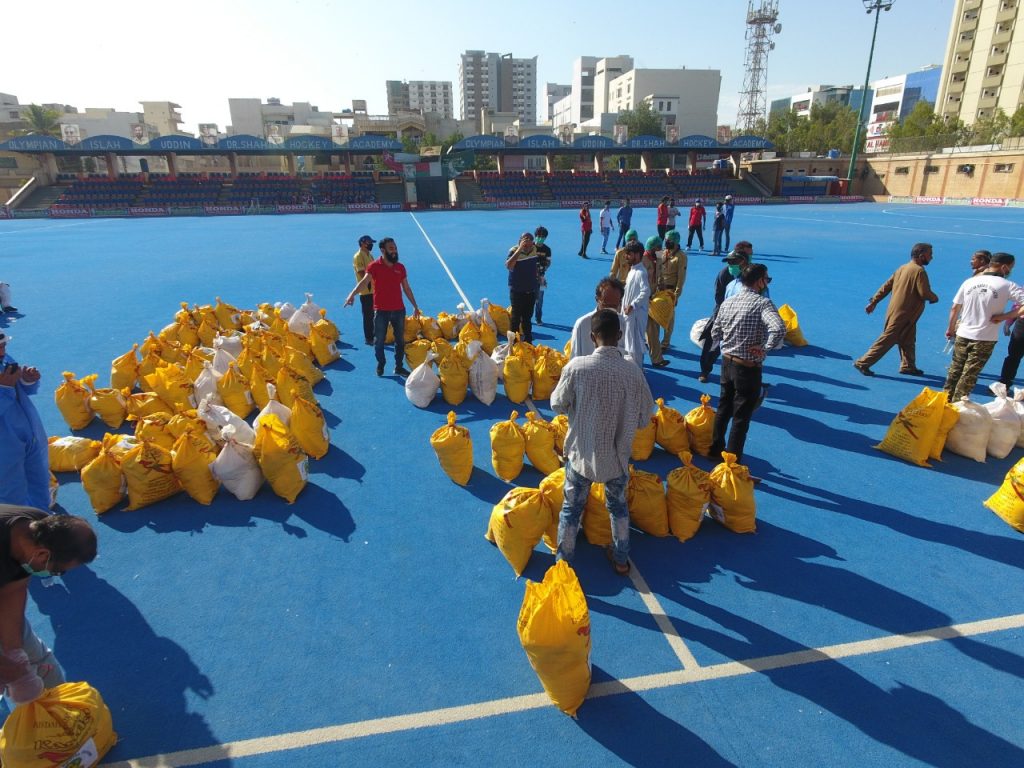 The Karachi Sports Forum has made successful alliances with Adventure Scouts Group, Lions Club International and Alamgir Welfare Trust for effective enhancement of relief work. "Adventure Scouts is heavily experienced in distribution, thus our reliance on them to make this work smoothly", quoted Asif Azeem. Lions Club International, on the other hand are one of the largest welfare organizations globally and have assured their support in reaching out to struggling sports persons, coaches, umpires and sports organizers. Former Governor of District 305 South, Lion Anwar Javed furthered, "KSF are a model for the country to be followed in these times of crisis". Chairman of Alamgir Welfare Trust, Chaudhry Nisar Ahmed cited, "Our organization is standing with KSF at this critical time and would support in its relief work". Lions Club has already provided 150 ration bags and 250 flour bags, whilst Alamgir Welfare has donated 500 hand sanitizes.
On the corporate and commercial side a number of entities have come forward and contributed in forming social partnerships and support with Karachi Sports Forum for welfare of the community at this unstable time, including but not limited to Hamdard Foundation Pakistan, Foundation Public School, Tulips, Manal Foods Private Limited, Koh-e-Noor Soap and Detergent and JS Bank. "Our volunteers have been distributing flour bags among staff and guards working at different gymnasiums, sports complexes and grounds. We are also personally reaching out to sports persons and organizers, who have been affected by the lockdown due to Covid-19 pandemic and are unemployed now", mentioned Syed Wasim Hashmi of the Karachi Sports Forum.