Perhaps the most explosive situation he diffused was when Sarfraz Nawaz, charged up and aggressive, unleashed a beamer high enough to nearly decapitate Tony Greig. With two such mercurial characters involved this was a recipe for disaster. As expected Greig walked down the wicket, making it clear that he had a bat in his hand and it was a perfectly good murder weapon. That was when Dickie Bird stepped in, with a few words of caution. The twinkle in his eye and the hint of smile on his face remained as unflappable as the man himself, but there was the stern no-nonsense strain that quelled the worst of them. The match proceeded without any further incident.
 Bird seldom stepped in unless it was necessary. But when he did, order was restored, aggression was throttled down from primal to cricketing, and the most volatile of characters got on with the game. What's more, it often did a whole lot of good for the players involved.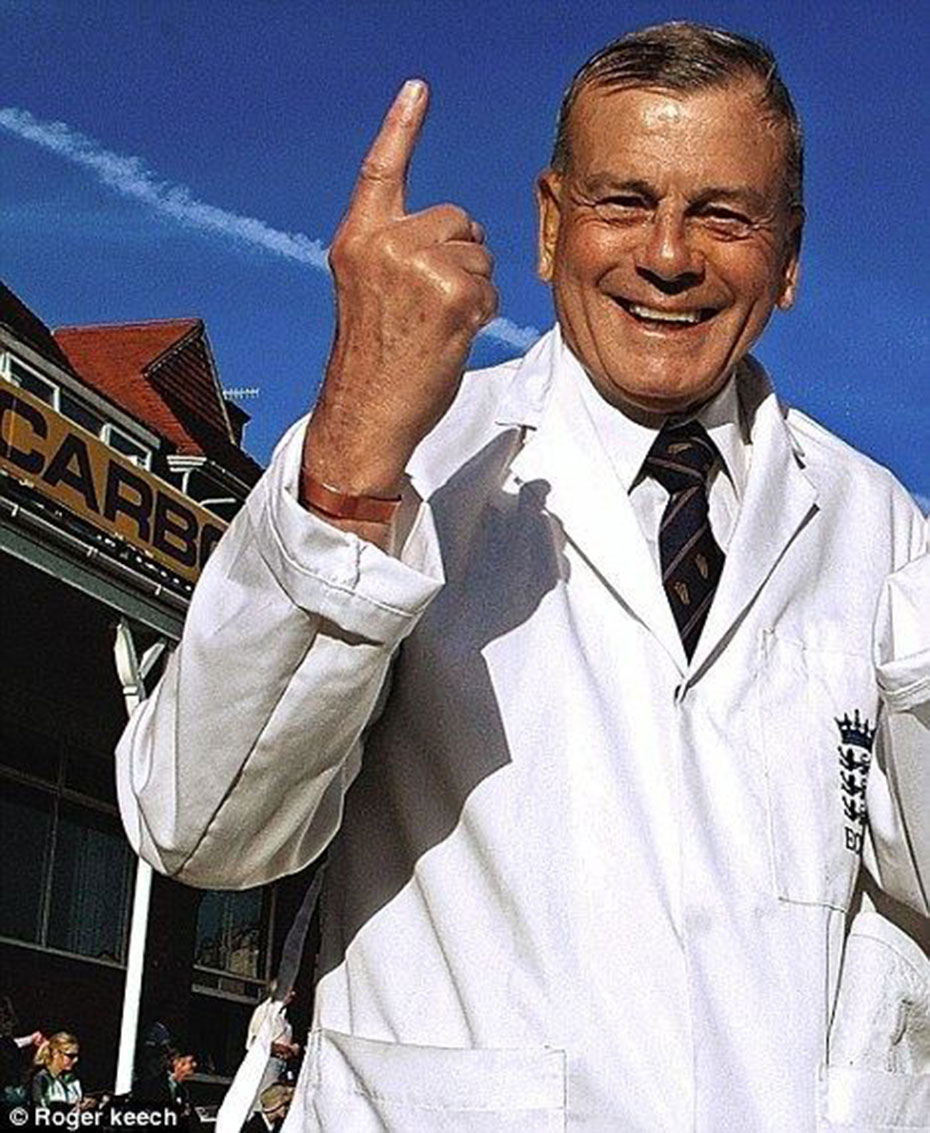 Kenny Benjamin will agree. Having dismissed Phil DeFreitas after a stubborn ninth wicket partnership, the Antiguan quick became a bit too excited, hurling down a couple of deliveries which buzzed past poor Devon Malcolm's head. In the opinion of Bird that was crossing the line. That too at the hallowed Headingley, his own backyard. "I don't think Malcolm can defend himself. He's not good enough," he said to the bowler. "I don't want any more of it." Benjamin ran in and pitched the next ball up. The stumps went flying.
 The fond fumes of nostalgia lead us to believe in a lot of nonsense. Such as 'the great West Indian quicks were of exemplary behaviour.' Nothing can be further from the truth. They were great bullies, and as churlish as anyone else.
Malcolm Marshall, for instance, was overdoing his short-pitched stuff one of those days during which they used to hammer England regularly. Bird objected. And the churlish Marshall kicked the ball to the ropes.
That simply would not do. "Malcolm, while I have a word with the captain, I would like you to fetch that ball back." For the rest of the innings Marshall pitched the ball up and picked up five wickets. "It probably did me a lot of good, Dickie," he said later.
 "Pig's arse! We've been running up and down here all afternoon," Thommo had cried. That was when Lillee had slapped a Holder no-ball straight to Fredericks at extra-cover during the 1975 World Cup final. Thinking the match was over, the seething waves of West Indian delight had crashed down from the stands and into the ground. The batsmen had run, the fielder had attempted a run out and the ball had disappeared into the forest of legs in the outfield. Lillee and Thomson had kept running. When the field had been cleared, Bird had asked Lillee how many they had run. "You should be counting," Lillee had retorted.
Bird and his colleague Tom Spencer mulled it over and decided on two runs. And Thommo let out that immortal phrase. In the end three runs were added to the total.
But when the two of them resumed their profusion of short stuff in the Edgbaston Test that followed, Bird asked them to cut it out. And the duo did. Lillee 5-15 in the first innings, Thomson 5-38 in the second. At the end of the tour,  Lillee presented Bird with his official touring tie. "Going back to Australia with an open-neck shirt. You can have my tie because you are a great guy and we all think you are a fair umpire."
 They all thought he was a fair umpire.
After standing in three successive World Cup finals, the policy of neutral umpires stood in the way of his fourth. In the 1987 Reliance World Cup held in the subcontinent, England reached the final, making it technically impossible for him to officiate in the title round. Allan Border, the Australian captain, actually made an official request for Bird to be allowed to stand.
 Of course not all his decisions were correct. He was of the conventional school who leaned in favour of the batsman when there was the slightest of doubt about a leg-before decision. And as he got older and fatigued more easily, especially when the heat in Sharjah got to him, he could be seen making the occasional howler.
But no one doubted his integrity and absolute impartiality. And there was brilliance too. In 1995, the year before he called it a day, he got 8 out of 10 in the TCCB rating of umpires. In his very last Test match at Lord's 1996, he correctly decided in favour of Sourav Ganguly when the ball clipped his shoulder on the way to Jack Russell. The century on debut had much to owe to this man from Yorkshire.
 It was being born in Yorkshire which derailed his cricket career somewhat. He was quite good, and once scored 181 against Glamorgan. But the Yorkshire side in the 1950s and 1960s was way too strong for him to make any headway. After all, when he turned up for trial the bowlers who bowled to him were Trueman, Appleyeard and Wardle. And then there were Willie Watson, Frank Lowson, Jimmy Binks, Ray Illingworth, Don Wilson, Brian Bolus and Brian Close. Later he moved to Leicestershire and once added 277 for the first wicket with Maurice Hallam against the touring South Africans. But he retired at the age of 31.
 The Yorkshire cricketers, though, held him in the highest esteem. There is a story of him diligently rehearsing his signals at Lord's. At the indoor training facility, coach Don Wilson called his young wards over and pointed. "Look there, that's my old pal Dickie Bird. He'll practice his art at every opportunity and I'm asking you all to do the same."
 He remains highly esteemed and popular. Extremely popular.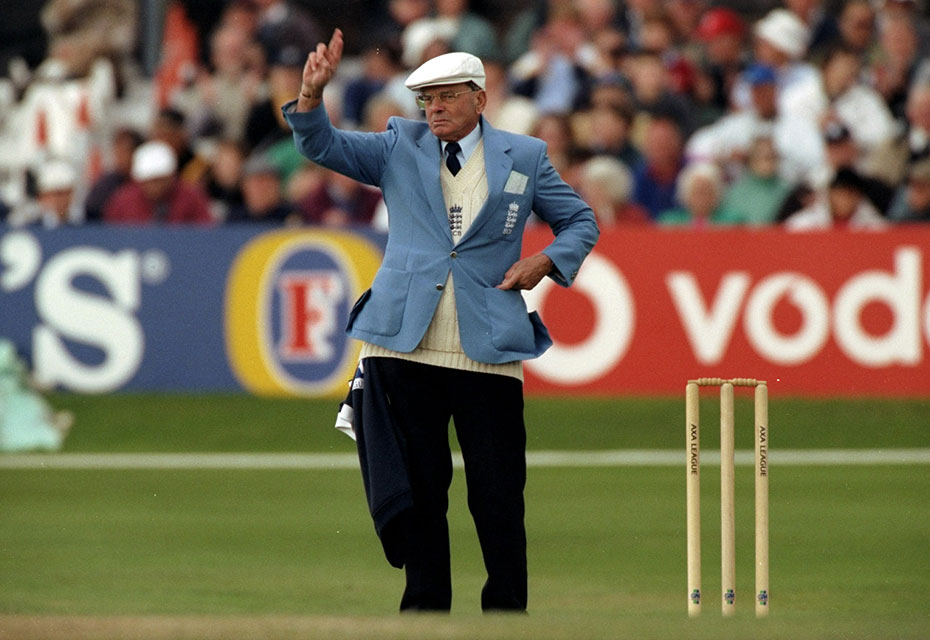 There was that time in Barbados when he went to a Methodist church just before the start of the service, squeezing into the back of the large gathering. He thought he was unnoticed. And then the preacher had got up and started his sermon with the words, "Brothers and sisters, we have in our midst Dickie Bird, the Test umpire from England."
It was a natural transition into an after-dinner speaker in perennially high demand. His stories are always entertaining … and as ever so often happens with cricketing after-dinner tales, more and more apocryphal.
Such as the oft-repeated story of Ian Botham calling Allan Lamb's cellphone and telling Bird, who answered, to ask Lamb to play his strokes or get out. That did not happen. But then, fiction is a major part of cricketing chronicles – the stuff people pay to hear in such dinners.
Bird has also had several such stories compiled into books. Some say he is running to become the second first-class cricketer to be awarded the Nobel Prize for Literature – the first being Samuel Beckett.
Dickie Bird stood for 66 Tests and 69 ODIs over a period of 22 years. And he has entertained us for many more. When the Centenary Test match of 1980 was interrupted by rain, John Arlott voiced, "I do wish that everybody could be entertained by the great dramatic presentation of Dickie Bird worrying about whether to play or not."
He was always worth watching. He still is.
 Arunabha Sengupta is the author of Apartheid: A Point to Cover and co-author of Sachin and Azhar in Cape Town.