By Mohammed Salim Parvez
The death of the great, Hanif Mohammad, on Thursday 11th August – the first day of The Oval Test between England and Pakistan – was ironic for it was his brilliant throw to run out the last man, Johnny Wardle, that sealed his country's famous win at this very ground, way back in 1954. Appropriately, it was the two Karachi-based batsmen, Asad Shafiq and Younis Khan, who each batted with the application and discipline that was trademark of Hanif Mohammad. It will be a great occasion if Misbah-ul-Haq's team can seal a win and draw the Test series at 2-2 and dedicate it to the departing cricket icon. It will add spark to Pakistan's 69th Independence Day celebration on Sunday 14th August.
The 81 year old former Pakistan captain, diagnosed with liver cancer for which he was treated in London in 2013, passed away when he suffered respiratory complications whilst also battling against lung cancer. Having spent a few days in ICU on a ventilator in Agha Khan Hospital in Karachi, his body could not carry on anymore. The strongest pillar of the Mohammad family that amazingly had at least one member present in each of Pakistan's first 89 Test matches, has fallen, leaving a vacuum, virtually impossible to fill
The subscriber alongside Abdul Dyer and Arslan Mirza, in September 2011 paid a visit to legendry Pakistan opening batsman, Hanif Mohammad, who on his annual visit to U.K. was staying with his family in Wembley. Twice tourists to England with Pakistan Eaglets, Abdul Dyer had the honour of playing under Hanif Mohammad and alongside Mushtaq Mohammad for Karachi in the Quaid-i-Azam Trophy in the 1950s.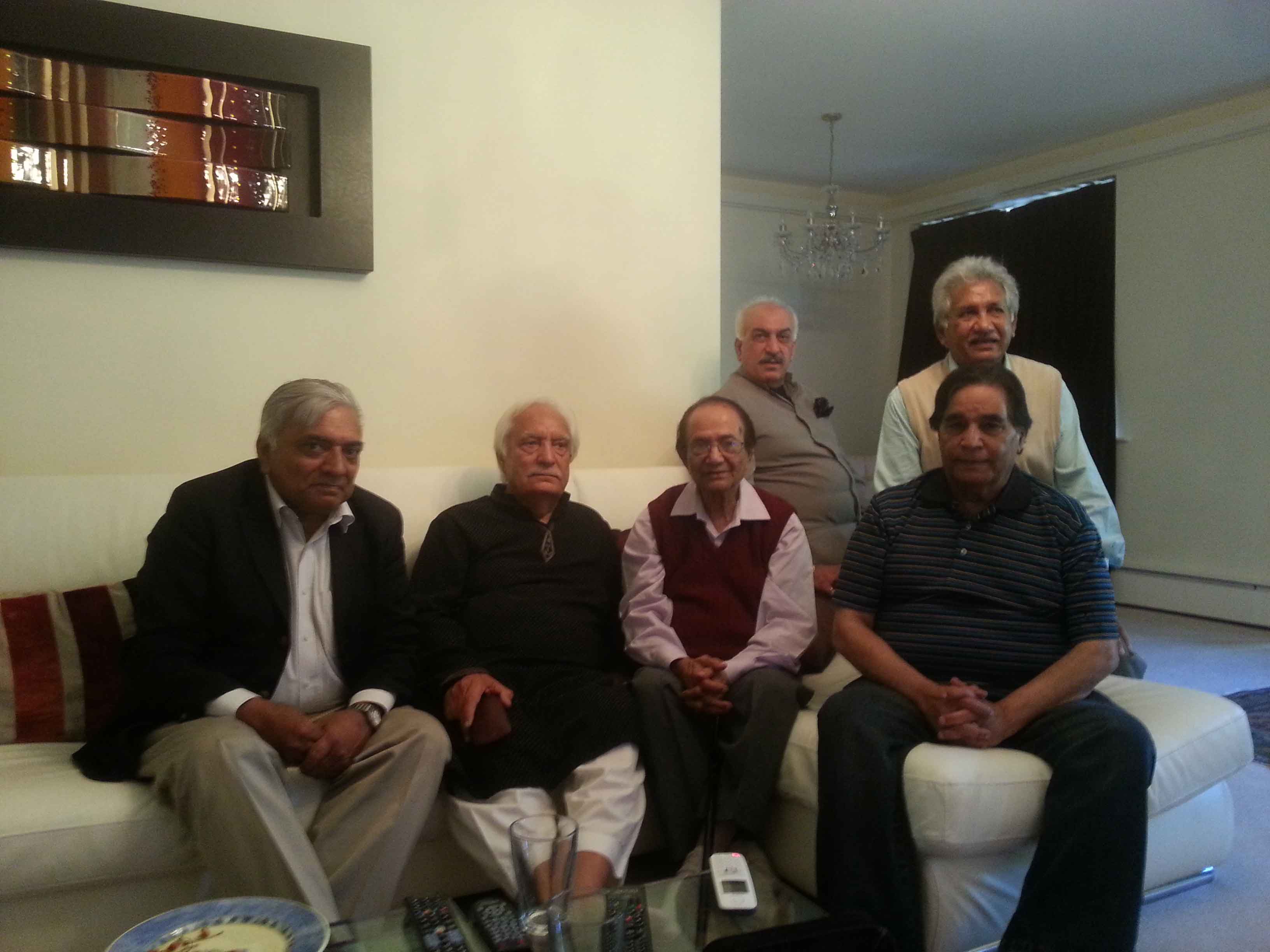 On the other hand Arslan Mirza, aged seven at the time, had clear vision of interaction with the great man whilst he nursed a hand injury during the Test match between Pakistan and West Indies at Bagh-i-Jinnah Lahore in March 1959. He also watched Hanif Mohammad score a double hundred against New Zealand at Lahore Stadium in 1964-65. In the latter years, as a regular spectator at domestic matches in Lahore, he had a chance to study his cricket hero, both as a player and later manager of PIA.
On a personal note, having only met Hanif Bhai twice before, initially at his home in Karachi, alongside his two Test colleagues, Shuja-ud-din and Haseeb Ahsan, in 1994 and then briefly at Lord's during the Test match between England and Pakistan in 1996, it was hard to expect anything in particular from him. In his typically soft tone, Hanif Bhai, even at seventy-six years of age, was more than capable of holding the audience captivated by his logical argument and detailed analysis on all aspects of the game. Mild mannerism and capacity to listen and take in, are two obvious features one comes across in the company. To this day each and every movement is measured and calculated, for all his life during his playing days and for that matter afterwards, Hanif Mohammad, unruffled and unperturbed, neat and economical, has been a model professional, both in theory and practice.
It was an absolute privilege to be in the company of a cricketer, who after having 'forced' to quit international cricket way back in 1969, still commands huge respect and following, both in and outside Pakistan. For a number of years Hanif Bhai, the third in line of the famous five Mohammad sons of Ameer Bee, has shunned the media attention to opt for a quite life and hence our meeting with the great man ran on the lines of an 'informal chat'.
Make no mistake for Hanif Mohammad was a truly great international batsman with a star quality. A schoolboy prodigy, and a pupil of the famous coach Master Abdul Aziz, Hanif had a triple hundred to his name whilst playing for Sind Madrassatul Islam in the Rubie Shield inter-school tournament in Karachi. Soon he would be dubbed as the wonder boy of Pakistan cricket.
At seventeen he had shown enough promised to be called to open the Pakistan innings alongside Nazar Mohammad against the touring MCC side in 1951-52. In Pakistan's famous win at Karachi Gymkhana, that was to pave the way for its promotion to the full membership of ICC and a Test status, Hanif's carefully-crafted 64 runs in the second innings whilst defying Brian Statham and Derek Shackleton, was a laudable effort for someone so young and playing only in his third first-class game. Not surprisingly, the success against MCC made Hanif Mohammad alongside skipper Abdul Hafeez Kardar, Fazal Mahmood, Imtiaz Ahmed and Khan Mohammad, household names. The game of cricket had taken its roots in the newly independent Muslim state of Pakistan and its popularity grew with every passing years.
Amazing batting feats awaited the Karachi school boy, who with a watertight defence and intensity of concentration stood above all in the formative years of Pakistan batting line-up. In the country's first ever Test match, against India at Delhi in 1952-53, Hanif scored 51 in his maiden innings to be followed by 96 in the third Test at Brabourne Stadium, Bombay. Given Pakistan had the likes of Imtiaz Ahmed and Maqsood Ahmed in its ranks to up the tempo, Hanif Mohammad, adapted himself in the mould of a defensive opening batsman, who thrived in denying the opposition early inroads and taking the shine off the new ball. It was during the 1952-53 tour that he was given the title of 'Little Master' by the Indian Press.
Showing masterful technique and a calm temperament, the Junagadh-born batsman enhanced his reputation on the tour of England in 1954. His maiden Test hundred arrived against India at Bahawalpur in 1954-55.
Hanif Mohammad's epic innings of 337 against the West Indies at Bridgetown in 1957-58, was in the most trying circumstances. In all he batted for a world-record stay of 16 hours and 10 minutes that was equivalent to three full days' cricket at the time in the Caribbean. It was his patience and endurance that defied the odds to help his country to draw the game and stay afloat in the series. It is very rightly considered as the mother of all rearguard innings in Test history.
He re-wrote cricket records with an innings of 499 for Karachi against Bahawalpur at Karachi Parsi Institute Ground in the Quaid-i-Azam Trophy in 1958-59 thus beating Don Bradman's 452 not out that was the highest innings at first-class level. How can one not mention his memorable 160 in the opening Test at Brabourne Stadium, Bombay in 1960-61, for it was his family and friends that persuaded him to 'play for Pakistan' despite a foot injury.
At the time Hanif Mohammad was invited to lead Pakistan in the 1964-65 winter that would include eight Test matches, he had dropped down to the middle order. In his only Test match in Australia, at Melbourne, he scored 104 and 93, showing full range of strokes whilst top scoring in both innings and becoming the first Pakistan batsman to score 3000 runs in Tests and as a stand-in wicket-keeper, also took five catches in the match. Few months later the New Zealand bowlers found themselves up against the great man, who pulled his team out of a crisis with an unbeaten 203 to his name at the Lahore (now Gaddafi) Stadium. He batted on and on for little over nine hours in compiling a match-saving 187 not out against England at Lord's in 1967, his last great innings for Pakistan.
The presence of Hanif Mohammed at the batting crease remained a sight of great assurance and relief for his team mates and cricket lovers in Pakistan, for almost two decades. Invariably, it was Hanif's rock-solid defence upon which, Pakistan's almost every formidable total was built. His deeds with the bat are legendary: he was simply his country's first champion batsman, and to this day is regarded as the most consistent opening batsman in the short history of Pakistan's cricket. Besides Nazar Mohammad, he also opened the batting in Tests with Alim-ud-din and Imtiaz Ahmed and in his last appearance he partnered younger brother Sadiq Mohammad, who was making his debut.
In reality with the exception of a wretched tour of England in 1962 when he batted with a painful left knee, Hanif Mohammad from the period of 1951-67 was the mainstay of his country's batting. With only 55 Test appearances in a career spanning 17 years, Hanif's aggregates of 3915 runs and 12 centuries were overtaken in the 1980s but in terms of craftsman-like batting technique and mental aptitude, he still remains at the top of the list. He was the young nation's first great batsman of international class and just about an ideal man to lay the foundations. Since then, amongst Pakistanis, it is only Javed Miandad and Inzamam-ul-Haq, who have performed and achieved consistently well enough in all conditions and in all formats, to be bestowed with the word great.
Perhaps a harsh call and a one that is likely to kick off a debate. The crowd-pulling powers and the brilliance of such outstanding Pakistan batsmen, Imtiaz Ahmed, Waqar Hasan, Saeed Ahmed, Mushtaq Mohammad, Asif Iqbal, Majid Khan, Sadiq Mohammad, Zaheer Abbas, Imran Khan, Wasim Raja, Mohsin Khan, Salim Malik, Ijaz Ahmed Sr., Saeed Anwar, Aamir Sohail, Mohammad Yousuf and Younis Khan, to name a few, cannot be denied for a moment but the word 'great' need not be over-used for it to lose its essence.
Hanif Mohammad's grand services to the game of cricket in a variety of roles for Pakistan, Karachi and PIA as a batsman, captain, selector, batting coach and advisor, manager, cricket pitch inspector, expert analysis on TV and Radio, has been acknowledged at the highest level for he remains one of the most decorated and celebrated sportsperson in the country's 64-year history. Three of Hanif's brothers, Wazir Mohammad, Mushtaq Mohammad and Sadiq Mohammad, also played Test cricket with the odd one Raees Mohammad acting as 12th Man against India at Dacca in 1954-55. Hanif's eldest son Shoaib Mohammad, a studious, hard-working and under-rated player, did not need searching for a role model and went on to represent Pakistan in 45 Tests and 63 ODIs in the period between 1983-95. Now grandson Shehzar Mohammad, 24, has played 30 first-class games, primarily with PIA.
There simply would not be another Hanif Mohammad, for a number of generations, including the present one, took inspiration from his appetite for long stay at the crease with unflinching level of concentration.