When I watched English county cricket in the early 1960s there was one batsman who regularly filled grounds with spectators. If he appeared at the crease in a weekday game, office workers would sneak away from their desks to watch him (you could spot them a mile off because people then still dressed distinctively for work, often in the clerical "uniform" of tight black jacket and striped trousers). They would see as many overs of him as they dared. If he was out early, they would sneak back disconsolately to their offices. I am certain that local productivity rose on those days, but there were not that many of them.
That batsman was of course E.R. Dexter of Sussex and England – still styled thus on the scorecard, initials before surname, until formal amateur status was abolished in 1962. He was my boyhood idol – and I was just as thrilled nearly sixty years later when he came to the crease as a guest of the regular podcast which Peter Oborne and I do for listeners starved of cricket.
Ted Dexter is still in terrific form at 85 Not Out, the title of his recently-published autobiography. (With characteristic generosity, he has donated his royalties to the MCC Foundation, the charitable wing of the MCC, and they will help to provide access to cricket and coaching for disadvantaged British boys and girls.)
Ted shared many memories not only of his cricketing life and work but also of his personal life outside cricket, especially his courtship of the beautiful model, Susan Longfield, who became his wife of over sixty years. Like so many courtships, it was powerfully assisted by the soundtrack of Frank Sinatra's greatest album, Songs For Swinging Lovers.
Some of his happiest cricket memories are connected to Pakistan. He first captained England against Pakistan on a long, arduous tour of the sub-continent in 1961-62 with eight Test matches. It was something of an England B tour, because in those days senior players tended to avoid trips to India and Pakistan.
Peter May had just retired from Test cricket and Colin Cowdrey, Tom Graveney, Fred Trueman and Brian Statham were other notable absentees. Because India suddenly arranged a tour of their own to the West Indies it was an oddly structured tour, opening with a Test in Lahore, then completing the India progamme, then returning for Tests against Pakistan in Dacca (as still then spelt in England) and Karachi.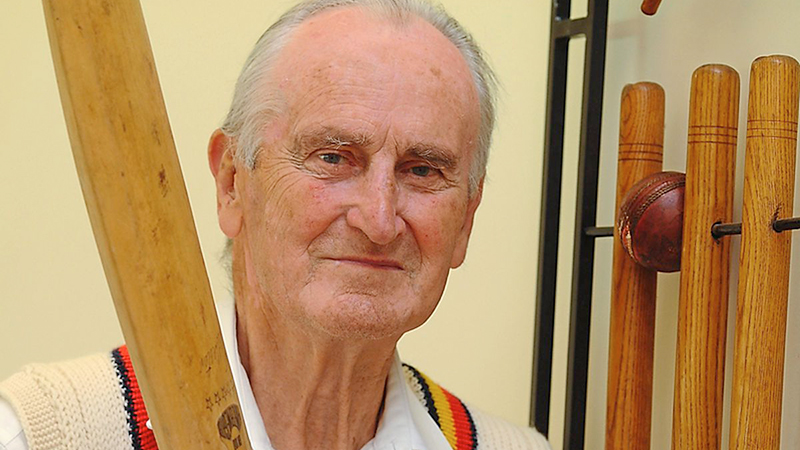 In his autobiography, Ted is not too enthusiastic about his team's accommodation in Pakistan, which began in the Airport Hotel in Lahore and then declined, or the travel and the catering. But he is full of praise for the Pakistani crowds and the quality of Pakistan's umpiring in Lahore, in the hands of Shujauddin (not the Test bowler) and Khwaja Saeed.
In that Test, he led England to their first victory in Pakistan, which was not repeated until the famous one in darkness in Karachi forty years later. Ted is proud of dismissing his rival captain Imtiaz Ahmed in Pakistan's second innings collapse (like Walter Hammond before him he might well have taken more wickets for England with his sharp seamers). When England were wobbling in their chase of 208 he piloted them to victory with his 66 not out.
His best memories of that tour were of the third Test in Karachi when he made his highest score of 205. It took him six hours and fifteen minutes and it was made against an attack with a restored Fazal Mahmood.
In our podcast he recalls Fazal's performance. "He was very accurate and he still had a good leg-cutter. But he had lost his nip. I think he bowled eighty or ninety overs." This was a slight exaggeration: Fazal actually delivered 63 wicketless overs for 98 runs. He was the most economical bowler of the seven used by Pakistan (his opening partner Antao D'Souza took five for 112) in an innings of 504 in nearly 234 overs.
Younger fans today are constantly amazed at the scoring rates of Test matches in that time. Three an over was considered electrifying.
Pakistan came to England the following summer with a weak team led by Javed Burki and managed ebulliently but not always expertly by Brigadier "Gussie" Haider. Ted Dexter led England to a four-nil series victory. England won the Lords Test by nine wickets in three days, despite Pakistan's first centuries in England from Javed Burki and Nasim ul-Ghani.
Ted had a special reason for getting the match over early. The Duke of Norfolk (later to manage him on the Ashes tour of Australia in 1962-63) had given him tickets to the Ascot races for the fourth day. Having scored a rapid fifty in England's first innings, Ted came in on the third evening and knocked off 32 runs in 20 minutes to give England victory – and use the tickets.
Ted had two further encounters with Fazal when he was flown out to reinforce Pakistan's battered attack. Fazal actually took his wicket twice – but after he had scored 85 and 172. At least statistically, Pakistan were his favourite opponents: he averaged nearly 94 against them in eight Tests.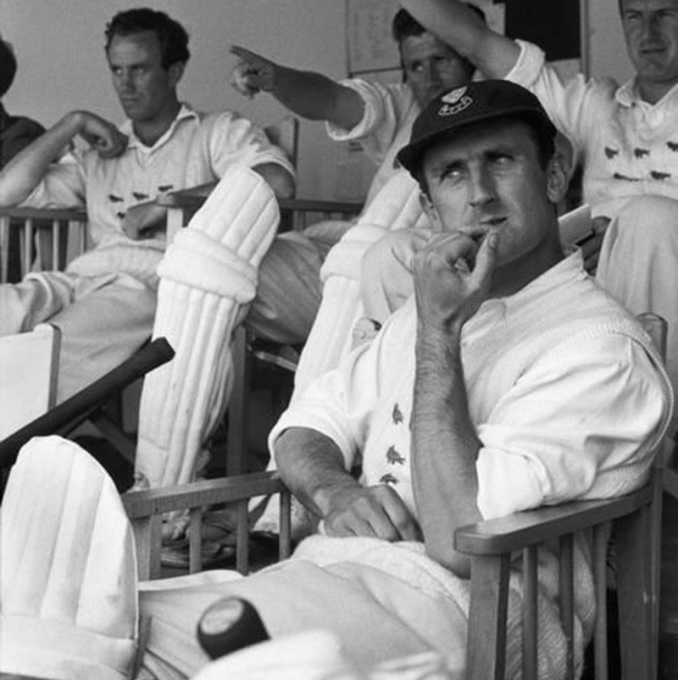 Ted Dexter was a noted innovator and experimenter in the world of cricket. Some of his successes have had a lasting influence – including such details as the composition of bats and the stitching on cricket balls and bigger changes, such as the present ICC rankings of players. He is understandably proudest of promoting, with Colin Cowdrey, the principles in the Spirit of Cricket as a preamble to the Laws. That said, he says he is a little miffed that the Spirit of Cricket lecture at Lords, memorably delivered by Imran Khan among others, is named only for Cowdrey.
Although their bowlers and fielders might disagree, Pakistan was lucky to see Ted Dexter as I did in his pomp.
Ted Dexter's autobiography Eighty Five Not Out is published by Quiller. His podcast with Peter Oborne and Richard Heller can be heard here.https://chiswickcalendar.co.uk/episode-32-the-thrill-returns-of-ted-dexter-at-the-crease/
Richard Heller's latest book The Prisoner Of Rubato Towers (a crazed account of cricket deprivation in lockdown) is published by Xerus Publishing.