The last minute cancellation of our home series against New Zealand is both shocking and painful. The Black Caps have not explained the nature of the security threat that compelled them to act in this sudden manner.
And until they offer a credible explanation for pulling out, this wound on Pakistan and international cricket will simmer. In fact, if this decision nudges England and Australian to follow suit, Pakistan cricket will be lost in the wilderness for years.
Pakistan's Prime Minister, Imran Khan, tried to persuade the New Zealand Prime Minister, Jacinda Ardern, to reconsider, but she didn't. Surely he must have spelled out the hurtful consequences of this pullout. But we can only assume she didn't heed his advice because the security threat was very real and urgent. If she had ignored such a threat, she would have paid for it dearly in loss of support for her government at home if it had materialized to harm the team.
However, since our security agencies have provided excellent security to visiting teams and players in the last four years, it is Pakistan's right to know how and why our assurances were overruled
Our media is awash with conspiracy theories only because no credible explanations have been forthcoming from New Zealand. But it is conceivable that a combination of factors persuaded the New Zealanders to pull out at the last minute. In the last seven days, the Punjab police had issued at least two public "threat advisories" regarding the New Zealand team.
Then a tweet by Ehsanullah Ehsan, the former spokesman of the Tehreek-I-Taliban Pakistan who had taken responsibility for countless terrorist attacks on civilians, warned New Zealand of possible danger ahead. Did such considerations weigh with New Zealand?
The PCB has been kept in the dark by both Pakistan and New Zealand governments about the nature and content of the exchange between the two prime ministers. But it should now scramble to ensure that the tour by England two weeks hence is not cancelled. Ramiz Raja and Wasim Khan should get a full brief from the Prime Minister's Office and rush to London before any adverse announcement is made that cannot be turned back.
Naturally, Pakistanis are worried that the diamond in their crown, PSL, should not be hurt by the blowback from this incident. But statements of support to Pakistan from top international cricketers have poured in, lauding our security and hospitality.
Since Cricket Boards do not control players' rights to play in non-ICC or bilateral tournaments, the likelihood is that few, if any, international players will drop out of PSL in Pakistan next January or February. That is some sort of consolation.
One earlier setback should not be brushed under the carpet while we fume over the cancellation of this tour. The PCB did not make timely bookings of the DRS system for these series. So if it had gone ahead without it, it would have been marred by controversy. Given the track record of bad umpiring decisions in the Sub Continent, the DRS is an absolute necessity for us. Heads must roll and there should be no scapegoating as happened earlier when the Bio-Secure Bubble SOPs were violated with impunity and led to a halt in PSL matches followed by an untidy transfer to the UAE.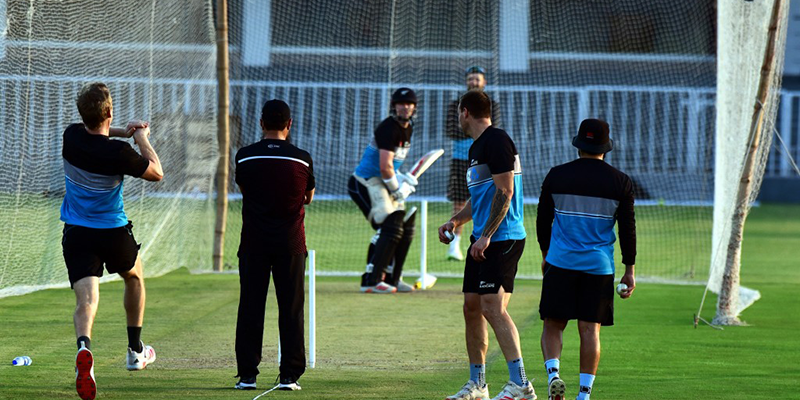 The PCB under Chairman Ehsan Mani was a mess. It dismantled a working domestic cricketing structure without replacing it with a better one, rendering hundreds of budding cricketers and Coaches out of jobs. It disrupted two PSL tournaments midstream by bad judgment calls. It made sifarshi appointments of coaches and selectors. It wrote non-transparent Contracts with broadcasters and sponsors. It doubled administrative expenses without showing good results. It fought with Production and Broadcasting Contractors and PSL Franchises. Now it faces a big hole in its finances by the cancellation of the home series against New Zealand and possibly England and Australia.
The World Cup starts next month. Already, questions are being asked about the quality of players and Coaches selected for the grueling contest by Ramiz Raja and Company.
Everybody will laud Raja's wisdom and expertise if our team acquits itself "honourably". But hell hath no fury like Pakistanis losing at cricket. So the new Chairman has got his job cut out for him.
Raja faces stiff challenges ahead. First, he has got to get the domestic cricket structure up and running. That means putting club cricket on a sound and efficient footing, spending billions on providing and revamping grounds and training academies
Second, he has to get the national cricket team to start winning. That means critical decisions regarding selectors, training, coaching. Reviving school and women's cricket will be no easy task. Much cricket infrastructure also needs to be upgraded.
Ramiz Raja says he doesn't like criticism for the sake of it. But he must steel his nerves for crossing swords with the media and ex-cricket icons and experts in the weeks and months ahead. His term has unfortunately kicked off on a sour note through no fault of his. I hope it will get better for him over time.
I wish him good luck.