Javed Miandad needs no introduction. Statistics are an integral part of cricket but then numbers in some case do not accurately reflect the true talent and ability of some players.
Cricket history is full of batsmen scoring tons of runs in one form of the game. Some are prolific in domestic circuits, but fail at the international level.
There are few players in modern history who can qualify to be ranked among the giants in all formats of the game and were able to leave a solid impression both in terms of caliber and the statistics. Miandad belongs to that elusive club beyond any doubt.
Such was his class and dependability that Pakistan's Man of Crisis was once Sir Vivian Richard's pick as someone he would prefer to bat for his life.
This was undoubtedly an astounding tribute from one of the greatest batsmen of all times to another. It was indeed a privilege to watch and cover Miandad as a sports journalist in the late eighties and nineties.
Countless accounts and stories have been told about Javed's batting prowess, his abilities as a master tactician and captain. Being among the very best in the world in a career spanning 21 years is no ordinary achievement in itself.
Miandad had his fair share of controversies during his illustrious career and continues to remain in the limelight one way or the other. His spat with Shahid Afridi is just another example.
As a cricketer Miandad would always be remembered as someone special, who in many ways was in a league of his own. It was for the simple reason he always commanded respect from his colleagues and foes alike.
Being vice captain to Imran Khan was no joke either, yet despite his differences, Imran Khan always ensured he didn't miss out on Javed's services at the most crucial of the challenges. One such occasion was Javed's selection for the 1992 World Cup, that Pakistan won thanks to some heroic efforts and leadership skills of the two giants.
On a cold, foggy late December afternoon in 1991 at Faisalabad's Iqbal Stadium at the end of the third and final Test against Sri Lanka, Imran caught us totally off guard by suddenly turning the spotlight on Miandad in his post-match comments.
I was covering the game as the Sports Editor of The Frontier Post along with my mentor Late Imtiaz Sipra of The News, Lahore, and Anis Khan of the Associated Press of Pakistan (APP).
Miandad had struggled in that series and there were also rumors of differences between him and Imran. As Imran was the most powerful figure in Pakistan cricket at that time, it was impossible for anyone to be in the team without having his support.
But in once sentence Imran put to rest all the rumors and literally tossed them in the bin by stressing that Pakistan needed Miandad if it wanted to win the World Cup.
"I know some people are after Javed's blood, but I must say Miandad is imperative if Pakistan wants to win the World Cup", Imran said.
The rest is all well-documented history.  Imran and Miandad played pivotal roles in Pakistan's World Cup victory. Both were inspirational in their own ways to young guns like Wasim Akram, Inzamam-ul-Haq, Aamir Sohail, Aaqib Javed and Mushtaq Ahmad and led the team from the front.
Those who played with or under Miandad would testify to his inspirational qualities. No matter what the situation was, Miandad was the last man who would wilt under pressure. While sledging used to be rampant at that time with all kinds of slurs and name calling going on in the middle when the stakes were high in the bigger games, Miandad used to walk in with his chest high and was a master at demoralising, distracting and destroying the opposition.
Who can forget him mimicking Indian wicketkeeper Kiran More in the 1992 World Cup match! The world had seen his fearlessness when he almost pounced on Australian great Dennis Lillee with his bat after the latter had tripped Javed in his follow through.
Some of the best tributes I heard about him were from dear friend and former Pakistan opener Aamir Sohail. During the 1992 summer tour of England, Aamir became the first man in 17 years to score a double hundred in a single day of Test cricket at Manchester's Old Trafford. Sir Viv Richards had accomplished the feat in 1975.
I witnessed that glorious innings from the Press Box and could recall a chat between Aamir and Miandad shortly after young leg spinner Ian Salisbury was introduced into attack. England were thrilled about their young bowler, and their media was projecting him as someone capable of giving Pakistan a taste of their own medicine.
Miandad had probably made a note of that already when he walked to bat with his team already in a commanding position. As narrated by Aamir, shortly after Salisbury came to bowl, Miandad told him to watch what he was about to do with the over-rated youngster. A true master that he was, Miandad terrorised the spinner with four consecutive boundaries in an over. Poor Salisbury had an awful start to his career and was dropped for the rest of the series.
I once asked Aamir to describe what he had learnt over the years from Miandad. The answer was not surprising. "The biggest thing that I admire about Javed Bhai was his fearlessness," he told me in 1993 during the West Indies tour.
This was in response to events of the opening day of the Port of Spain Test when an injured Aamir, who could barely walk, was included in the side which was struggling to come to senses following a mega scandal with Wasim, Waqar and Mushtaq getting caught at the beach smoking weed.
Aamir, who was forced to open the innings by coach Mudassar Nazar, was struck twice on the same painful spot of his thigh by a viscous Ian Bishop, but each time he simply stared back into the eyes of the bowler, showing no pain at all.
"I learnt to ignore pain from Javed Bhai. I had observed how tough he was mentally and how difficult it was for any bowler to bring him under pressure," Aamir said.
He remained visibly upset for quite some time after getting removed from the captaincy in late 1992 after the disappointing tours of Australia and New Zealand. Wasim Akram and Waqar Younis were appointed captain and vice-captain for the tours of South Africa and the West Indies.
Pakistan were outstanding in the evenly contested five-match one-day series prior to the Test matches against probably one of the most formidable West Indian sides ever under Richie Richardson.
Like most of cricket observers and enthusiasts watching live transmission of the one-day series at home, I was flabbergasted to see Miandad being totally aloof and fielding deep at the boundary instead of being close to the wicket where he used to be a great help to his captains. I could tell something wasn't right.
A few days later, I was on my way to the West Indies to cover the Test series and hurled this question directly to Wasim Akram the moment I saw him at the hotel lobby in the morning. "Why aren't you utilising Miandad properly? Why is he fielding so far away from the action? Don't you need his advice?"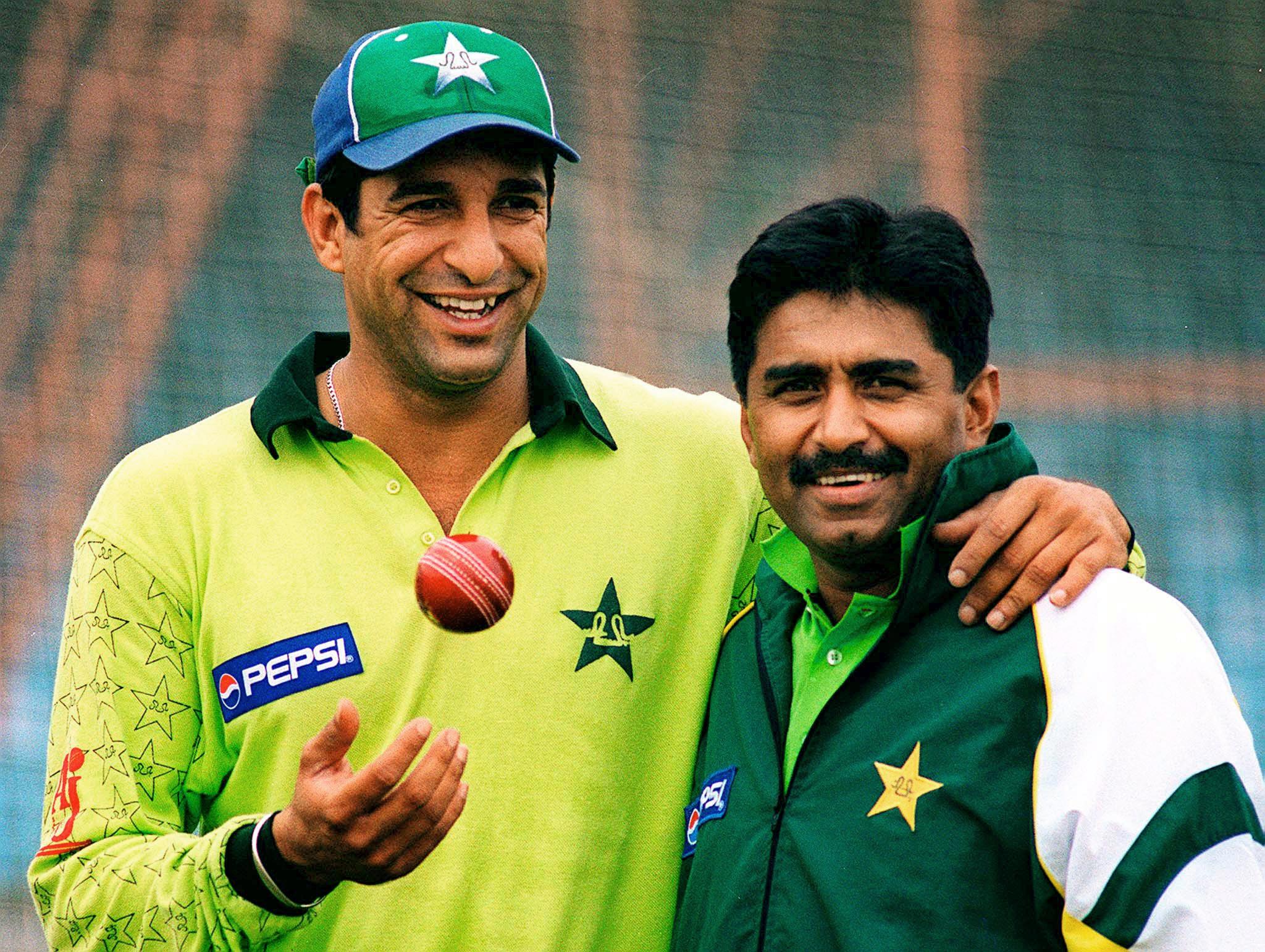 Clearly sensing my anxiety, Wasim threw the ball right back into my court with a clever answer. "Now that you are here, why don't you ask him this question yourself?"
"I've been doing my best to keep him involved, but there's only so much that I could do under the circumstances," he said with a certain helplessness in his tone.
I didn't have to wait long to hear it all directly from Miandad. He minced no words. He was obviously hurt and didn't like getting demoted and forced to play under his juniors. He was fighting with his own demons.
Throughout his career, Miandad was known as the backbone of Pakistan batting. There were countless occasions in his career when Miandad walked out to bat with the team under immense pressure. He was the trusted saviour and match winner not only for the team but the entire nation. No matter how tense and critical the situation was, everyone knew it would all be okay as long as Miandad was out there. Friends and foes were all unanimous on this point.
The only time I felt that Miandad let his team down big during all those years was in the second Test at the Kensington Oval, Barbados, a few days later.
Having lost the opening Test at Port of Spain, Pakistan were struggling again and desperately needed a longer partnership from their middle order.
After losing the top order cheaply, Pakistan were recovering well with Miandad at the wicket along with his batting look-alike, the gifted Basit Ali. I was, along with Fareshteh Gati (now Fareshteh Aslam) of The News and Qamar Ahmed of Dawn, frantically typing the post-tea session report when Sir Gary Sobers entered the press box from the commentary booth and stopped right at my side to take a look. With Carl Hooper bowling his off-spinners in the final overs of the day, Miandad danced out of his crease and hoisted him towards the long on boundary.
That was a situation that didn't demand any adventure. Miandad should have known better. Or perhaps he knew what he was doing.
It was probably Hooper's next over, which turned out to be the last of the day, that Miandad did the unthinkable. He came out of his crease again and holed out a simple catch, literally gifting away his wicket, to the utmost joy of the West Indian players and the crowd. Sobers shook his head in disbelief and uttered these words which have been glued to my mind ever since. "I can't believe a batsman of Javed's caliber could play a shot like that," he said.
The words from one of the greatest players ever about another summed up the nature of that suicidal stroke. Never before had I seen Miandad throwing away his wicket.  Pakistan never recovered from that and went on to lose the match and series the next day.
My initial thoughts were that Miandad threw his wicket on purpose in frustration that day. However, the events of the remaining days of the tour proved that assumption totally wrong and showed other sides of Miandad. A thorough-bred professional, he overcame his inner feelings and was seen in a totally different mood during the final Test in Antigua.
It was the first tour of the West Indies for youngsters like Inzamam ul Haq, Basit Ali and Zahid Fazal. Inzi in particular was a nervous wreck during the Test matches and was unable to live up to the expectations. It was no coincidence that a day before the start of the final Test, I saw Miandad and Geoffrey Boycott coaching him and Basit Ali how to play the spinners, especially a mediocre Carl Hooper, whose off spin was often Pakistan's nemesis during the series. The emphasis and advice was on the footwork, especially taking the front leg out rather than waiting for the ball in the crease.
A beaming Inzamam ul Haq went on to score his first test century when Pakistan batted a couple of days later.
Contrary to general assumptions about Miandad, I mostly found him to be an extraordinary patriot, who was passionate about his team and the country.
Also he was extremely caring towards his friends and colleagues. Like a committed soldier on a mission, Miandad ensured none of his comrades was left behind. I experienced that kind aspect of his personality a couple of days later.
To this day I remember how he showed up like a God-sent guardian angel out of nowhere and rescued me from a difficult situation at the Barbados Airport.
Despite all my efforts I was unable to get my seat confirmed on the BWIA commercial flight to the team to Antigua and was queuing up as a stand-by around 5.00 am all by myself.
The team got off their bus and had already moved to the lounge. I was getting really anxious as I didn't even have a visa to enter Antigua and was instead planning to get it on arrival along with the team.
I suddenly felt somebody patting my shoulders and was overjoyed to see Miandad standing next to me. He somehow had seen me standing in the line while clearing the security and while everybody else had walked away, he came right back to check whether everything was ok with me.
"What the hell are you doing here," he asked. I told him what the issue was. "Give me your ticket and the passport and stay here. I'll be back in a moment," he said as he walked to the Airline counter.
A few minutes later he returned with my boarding card in his hand and a smile on his face. Of course he had to sign a few autographs to the Airline staff and take a few pictures with the other passengers while the staff supervisor was confirming my seat. "Talk to me next time if you ever run into any problems buddy," was his friendly advice as we walked towards the lounge. That I ended up on the airplane next to Brian Lara and had a completely hassle-free entry into Antigua was absolutely owed to the kindness and affection of Miandad.
Nobody is perfect. We all have flaws and can make mistakes. Miandad was no angel too.
In his latest row with Shahid Afridi, I personally think it was a bit out of place for him to drop to the level of a much junior Afridi who is nothing in terms of cricketing achievements.
One of the greatest mistakes committed by Miandad in his career in my opinion was his decision to force himself in the squad for the 1996 World Cup. He was a done deal by that time.
Miandad would have done himself and the team a greater favour by at least opting out of the quarter-final against India. He was just simply past his prime.
The writer is the former Sport Editor of The Frontier Post, Lahore as well as Sport Correspondent for The News Lahore.  He also happens to be the first journalist to break the news of match-fixing in international cricket during Pakistan's tour of South Africa in 1994-95 and extensively covered national and international cricket in the 90s.