As one of Pakistan cricket's most enduring voices behind the microphone, both on television and radio, Chishty Mujahid has delivered over five decades of broadcasting cricket commentary. Known for his silken voice, elaborate but simple vocabulary and correct pronunciation, his thorough knowledge of the game of cricket and vast storage of history and anecdotes about the sport and its players has set benchmarks for standards in broadcast from this part of the world.
Chishty was born in New Delhi, (British India) on 17th January 1944. His father was a government employee and opted for Pakistan. Chishty's parents were ardent admirers and followers of Mr. M.A Jinnah. His father for about three years worked in a personal and honorary capacity for the Quaid-e-Azam. His mother who kept poor health was a fanatical advocate of women's liberation. She was well versed in Urdu, Persian and Arabic. She wrote short plays for All India Radio and also broadcast speeches, when health permitted. She presented her first cheque for a princely sum of Rs 5 to Mr. Jinnah for the Muslim League Fund. She also insisted on having her name included in the surname of her children. As such Chishty' full name is Chishty bin Subh-o-Mujahid ; Subh was the takhallus or pen name of his mother.
At the time of partition Chishty's father was posted in Allahbad. On 14th August 1947 the family flew direct from Allahabad to Karachi the capital of the newly created state of Pakistan in a chartered Scottish Airline Dakota along with family friends. The aircraft had been chartered by a close friend. Chishty being three and a bit has some hazy recollections of the journey. He says the plane was very cold and noisy!!
After initial education at Trinity, and Gulistan Shah Abdul Latif English Teaching Schools in Karachi, Chishty obtained 'O' and 'A' levels from Karachi Grammar School (1962). In 1962 he was the School Captain (Head Prefect) of Karachi Grammar School. He graduated in English Literature and Political Science from National College (1964), further completing his Law Tripos (B.A. Hons.) from Selwyn College Cambridge University, UK in 1966 and was awarded a master's degree by Cambridge University in 1970. At school and colleges he played cricket and tennis. But he states very frankly that he realized early that he was not good enough to excel in either game to reach the top. As such he opted to try his hand at broadcasting commentary on the game he was passionate about – cricket.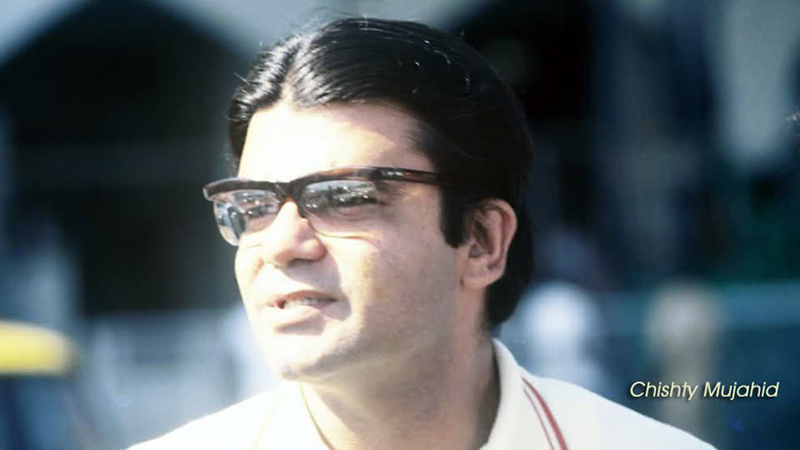 The household names of Omar Kureishi and Jamsheed Marker, kicking off with the first home series against India in 1954-55, had a mesmerizing effect on the cricket public, as the pioneers of radio commentary.
In the days when commentary of cricket matches, was only associated with the English language. After going through various auditions and voice tests he was considered suitable to go "on air" for Radio Pakistan in 1967 and 2 years later on Television. 23-year-old Chishty, set off on a journey in a three-day fixture between South Zone and touring MCC under-25 team, at Niaz Stadium, Hyderabad during 1966-67.
The two rival captains being the legendary Hanif Mohammad and Mike Brearley, who had also led Cambridge University in 1963-64.
In May 1968 he was approved for national news for the Radio and his first taste of Test cricket (on Radio and Television) came at Karachi during the New Zealand and MCC tours of Pakistan in 1969. In 1969 he commentated on the Test match in Karachi when three brothers Hanif, Mushtaq and Sadiq represented Pakistan. Only on two other occasions have three brothers have played in a Test Match together. In 1880 England vs. Australia William Gilbert (WG) Grace, Fred Grace, and Edward Grace played for England. In 1892 the Hearne Brothers played in the Test between England and South Africa George and Alec played for England while Frank represented South Africa. In 1997 Zimbabwe played three sets of two brothers – Flowers, Rennies and Strangs. Since then he has covered innumerable memorable matches including Majid's century before lunch, three run outs in a Test and close victories against India in 1978 as also the Sharjah triumph in 1986 over the Radio (Miandad's sixer of Chetan Sharma).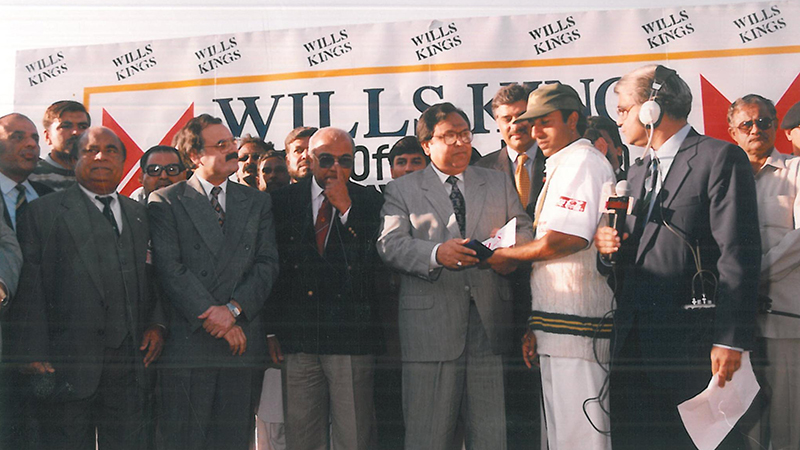 On the insistence of the Viqar Azeem Brothers (Akhtar and Athar) he did commentary on squash for some time. It was he who called Jahangir Khan the wonder boy of squash when the 17 year old won an international title. Chishty also remarked that Jahangir may not be eligible to vote or qualify for a driver's licence but shy of his 18th birthday he was the World Number #1 in Squash.
Dating back to the historic Pakistan-India series in 1978-79, that took the fever of cricket and lifted the profile of the cricketers, to an unprecedented height, the trio of English commentators, Omar Kureishi, Iftikhar Ahmed and Chishty Mujahid, added their own individual persona, whilst reaching out to the masses.
Chishty's 15-20-minute slot, without fail, included, a short and sharp reminder of the full names of the Indian players, with a strong emphasis on correct pronunciation, more so with somewhat lengthy and complex South Indian variety that included Erapally Anantharao Srinivasa, Prasanna, Srinivasan Raghvan Venkatraghvan and Bhagwat Subramanya Chandrasekhar, to name a couple. It simply reflected his desire to go an extra mile in educating himself and his listeners. Things got a touch more complex, with the arrival of Sri Lankans in the 1980s but Chishty has refused to back on that score and his correct pronunciation of their full names was even appreciated by the Sri Lankans themselves.
During that era commentators fee on radio and television was not enough for those involved to make a healthy career. As such men like Omer Kureishi, Iftikhar Ahmed and Jamsheed Marker had to work in various companies and businesses. Chishty also worked in transnational corporations for more than thirty-five years and upon retirement worked on short assignments with Institute of Business Administration, Management Association of Pakistan as well as doing a brief stint as Chief Executive of the Pakistan Cricket Board, a period in which he negotiated India's tour of Pakistan which materialized in 2004.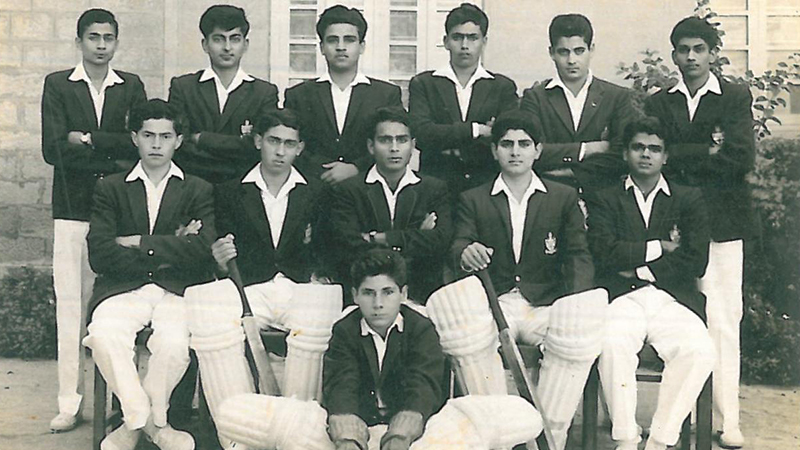 His commentary assignments have taken him around the cricketing world. He has been to every Test playing country except Ireland and Afghanistan and to the UAE and Kuwait. It is no mean feat indeed that Chishty, a man of articulate charm and subtle humour, has outlived his contemporaries, by a long distance. That he continues to march on dutifully with the zeal and passion of the yore, despite there hardly being any noteworthy international cricket hosted on Pakistan soil, following the terrorists attack on the Sri Lanka team bus in Lahore in March 2009, is a great tribute to, both his work ethics and professionalism. With no intention of hanging up his boots (or should we say microphone) just yet Chishty continues to feature in television coverage of international and domestic cricket, including women's cricket, as well as cricket talk shows on various channels.
Chishty Mujahid has been the recipient of several awards including the Pakistan Television best commentator for cricket and squash, Radio Pakistan's awards for cricket commentary, Radio Pakistan Excellence Award and was a deserving winner of the President of Pakistan's Medal for Pride of Performance 2003 for cricket broadcasting and telecasting. In 2019 the PCB presented him with a shield "in appreciation of your dedicated and outstanding contribution to cricket as an administrator broadcasted and correspondent." He has commentated in Pakistan and throughout the cricket world. Chishty Mujahid has done commentaries not only for Radio Pakistan and PTV but has also commentated for and appeared on Doordarshan – India; Rupavahini, MTV and TNL in Sri Lanka; TW1, Worldtel, Sony, South African Broadcasting Corporation, CricInfo, BBC (Urdu) Hum FM (U.A.E.) and yes FM (Sri Lanka). He has written on cricket for newspapers such as the DAWN, Frontier Post, Morning News, The News (all Pakistan English Dailies), The Khaleej Times (U.A.E.) and the World of Cricket and The Cricketer (Pakistan) and ScoreLine.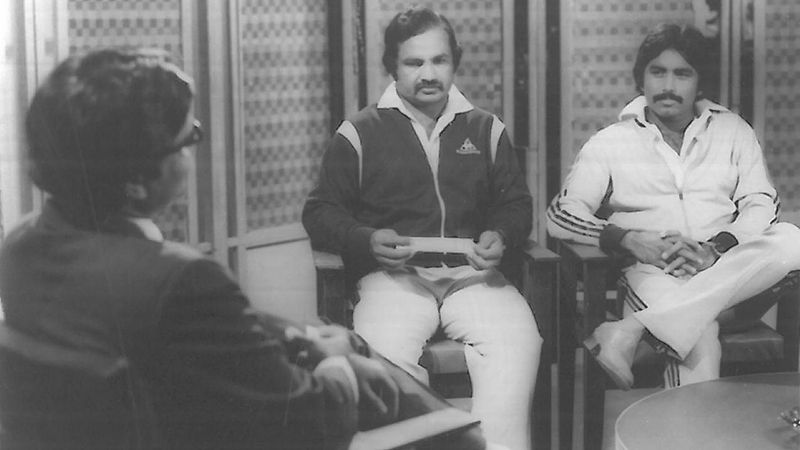 Chishty Mujahid wrote the commentary for a pictorial biography of Imran Khan – "AN EYE ON IMRAN"
On the family front his spouse, Durainow Fatima herself an alumna of Karachi Grammar School and a master's in science from Girton College Cambridge University, served several years as the Headmistress of the College section pertaining to Karachi Grammar School, and retired in 2015. She has authored a book "My long association with Karachi Grammar School." She spent 45 years in KGS as a student from KG to A Levels, teacher, Senior Mistress and Head Mistress.
Their elder daughter Dr. Nadya a graduate from Bryn Mawr College, and M. Ed from Smith College and MA and Ph. D from McGill University. She is currently an Assistant Professor at the Institute of Business Administration. She is also a regular Book Reviewer for the DAWN Newspaper. The younger daughter Sumeeya, a graduate of Hampshire College Amherst and a master's from Harvard University works as a consultant in the United States.