The Australian batsmanship reached its zenith in the 1970s with the arrival of Greg Chappell, an artist destined for greatness. From the day he walked in as a debutante with Australia in all sorts of problems at 107-5 to score a polished 108 and add 219 for the 6th wicket with Ian Redpath, at Perth in an Ashes battle to signing off 13 years later, with 182 against a somewhat toothless Pakistan attack, at Sydney in 1984, he was up there with the very best in the business. The first batsman, to score a hundred, in his first and last Test innings.
A batsman of classical mould, Greg brought up on the hard and true bounce in Down Under, had the range of strokes and the elegant style, to match any in the history of the game. A perfect balance whilst defending or attacking, to go with his appetite for long innings, simply lifted his status as the master batsman. Once entrenched at No.4, Greg formed the backbone of the Australian batting, along with elder brother Ian, who batted at one-down. On the field, Greg created a persona of a serious-minded businessman, who would not let anything come his way of success. Though focused and determined he was never selfish for after the first hour at the crease, he would often seek to dominate the bowling, with a view to putting Australia in a driving seat and winning matches. Neither brother cared for averages and milestones.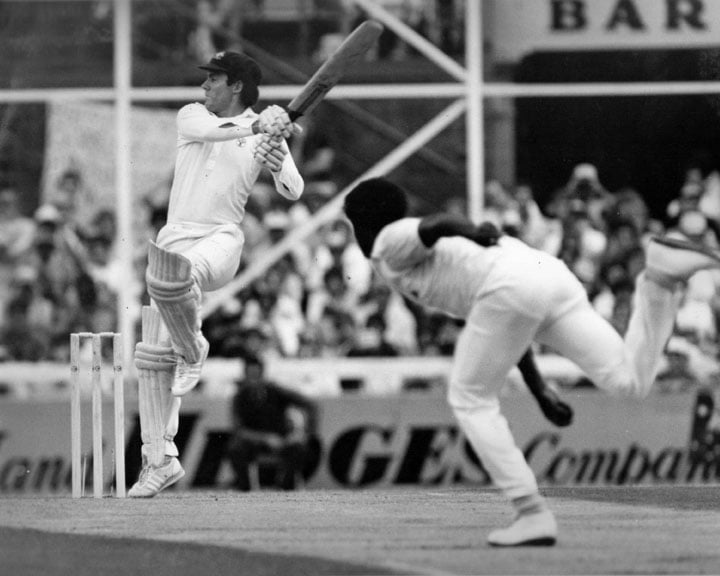 Greg, alongside his contemporaries, Barry Richards (South Africa) and Majid Khan (Pakistan), with whom he played alongside, in Sheffield Shield whilst at South Australia and Queensland respectively, was incapable of an ugly stroke, even whilst raising the tempo in Test or limited-overs matches. He always seems to retain the composure and find an extra gear, on the big occasions and against tough opposition.
Gregory Stephen, Chappell born in Unley, Adelaide on 7th August 1948. Inspired by the deeds of their maternal grandfather, Vic Richardson(1894-1969), who represented Australia in 19 Test matches, the three boys – Ian, Greg and Trevor – passionately in love with the game had a rightful claim to have cricket in their blood. He was picked for South Australia at 18 and immediately met with success. On first-class debut in 1966-67, innings of 53 and 62n.o against Victoria at Adelaide, followed by a maiden hundred – 104 taken off Queensland at Brisbane, the ground he will go to make his very own with a first-class tally of 5437 runs in 51 matches @ 79.95 with 23 hundreds.
Greg was fortunate to arrive in England to play a couple of seasons with Somerset, beginning with 1968, the year the doors were wide open for overseas cricketers to play County Championship. An apprenticeship in variable and challenging English conditions, including uncovered wickets, tightened his technique that served him well, before he entered the international arena.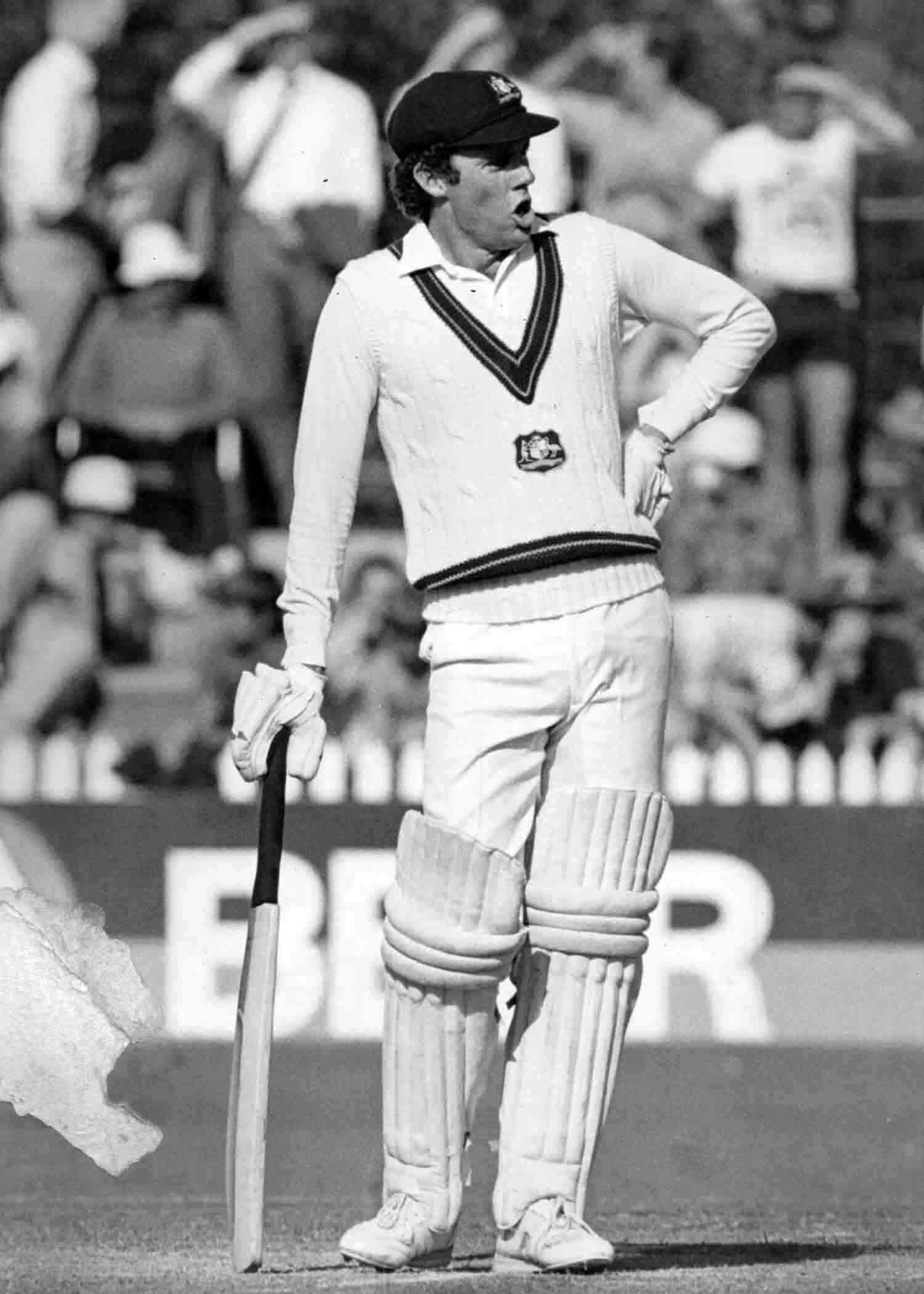 In the matter of months, whilst the Ashes was slipping out of their hands in the 1970-71 winter, Australia unearthed three cricketers – wicket-keeper Rodney Marsh, batting all-rounder Greg Chappell and fast bowler, Dennis Lillee – who formed the nucleus of their great success in the 1970s and the 1980s. It was the series when Australian captaincy changed hands from Bill Lawry to Ian Chappell. The 4-0 whitewash at the hands of South Africa in 1969-70 had left deep mental scars on the Australians, forcing the selectors to inject new blood. It was quite ironic that the three champion cricketers, named above, would bid farewell to Test cricket, on the same day.
The acrobatic and robust Australian wicket-keeper Rodney Marsh and its slip cordon of the 1970s was renowned for bringing off some extraordinary catches. The super sharp reflexes and catching ability were tested to its limit against the likes of Dennis Lillee and Jeff Thomson, two of the fastest bowlers more so on the bouncy tracks of Australia. One is hugely indebted to Patrick Eagar, the great cricket photographer, to have captured the most breathtaking moments in that era. Greg, with a 2nd slip as his favourite spot, created a new world record of catches taken by a fielder in a Test match – 7 at Perth in the 1974-75 Ashes. After Ian's retirement in 1980, Greg stood at 1st slip for the last four years and continued to display great skills as a slip fielder, both to pace and spin. So much so that he ended his career (122) as most catches by a non-wicket-keeper in a Test match.
At the beginning of his career Greg, came on as first-change bowler with his right-arm medium-pace seamers. Very soon, with the Australian bowling stock raised, he was happy to come on, on part-time basis, and more often than not broke the partnership. It was a knack he shared with fellow Australian, Doug Walters. In the latter half of his career, the post-Packer era, he did not bowl much in the Tests but often bowled his full quota of 10 overs in the limited-overs internationals. It enabled him to preserve the mental strength for batting. He took 5-61 in the first innings against Pakistan at Sydney in 1972-73 that kept the home team in the game and went a long way in securing a dramatic 52-run victory, against all odds. Greg's impact on Australian cricket, as a world-class batsman, part-time bowler, brilliant all-round fielder and later an astute leader, he was simply indispensable and whenever available, was an automatic choice.
After seasons of Sheffield Shield cricket with South Australia, Greg, with future Australian captaincy in his mind, switched his allegiance to sign a lucrative contract to lead Queensland in 1973-74. His new State was unfashionable for it did not possess the quality and star attraction to challenge the best in Australian domestic season. It would allow Greg to come out of the shadow of his brother Ian, who continued to captain South Australia. In no time he was allowed to shape his career in the manner he wished and the experience of leading Queensland in Sheffield Shield. His presence attracted the arrival of Jeff Thomson, Allan Border and Kepler Wessels but it still did not bring Sheffield Shield till 1994-95, 11 years after Greg's retirement.
At 27 and at the peak of his powers, Greg, inherited the captaincy from his brother Ian, who after a run of 30 Test matches, decided to step down after retaining the Ashes in England in 1975. Greg had been the vice-captain for a couple of series and hence with Ian still in the side, was able to ease into the job. The transition from one brother to another could not have been smoother.
The second phase (1979-83) of Greg Chappell's captaincy was far more testing than the first one. On his return from World Series Cricket, he was the best candidate for the job and seemed happy to West Indies team, lead by Clive Lloyd and armed with the pace-quartet consisting of Andy Roberts, Michael Holding, Colin Croft and Joel Garner, beat Australia 2-0 in 1979-80 and drew 1-1 in 1981-82. The punishing workload of international cricket saw Greg to ask his younger brother to bowl the infamous underarm, against New Zealand in 1980-81, to avoid playing an extra one-day match, in the days when triangle one-day series included a staggering amount of 10 matches and the best-of-five finals.
Heavy workload of World Series Cup triangle one-day series, family and business commitments made him skip the 1981 Ashes series in England, the 3-Test series in Pakistan in 1982-83 and the 1983 Prudential World Cup in England. On each occasion, Australia lost badly and dressing room harmony was not at his best when Greg was allowed to slip back, as a captain, without much fuss, in the comfort of home series. Australia got away with it but it was not ideal for continuity. Poor Kim Hughes, often claimed that he was not getting 100% support of the senior trio of Greg Chappell, Rodney Marsh and Dennis Lillee. After relinquishing the one-day captaincy, prior to the 1982-83 World Series Cup series, in his last series, Greg, was happy to play under Kim Hughes, as Australia beat Pakistan 2-0 in the five-Test series.
Often tagged as the finest Australian batsman since Sir Don Bradman, numerically, Greg enjoyed one of the most productive batting careers of all time. With back-to-back hundreds, 115n.o (Melbourne) and 197n.o (Sydney), against the 1971-72 World XI attack consisting of Peter Pollock, Garfield Sobers, Bishen Bedi and Intikhab Alam, in the unofficial 'Test', Greg dispelled any doubts about his Test debut hundred, being a one-off fluke.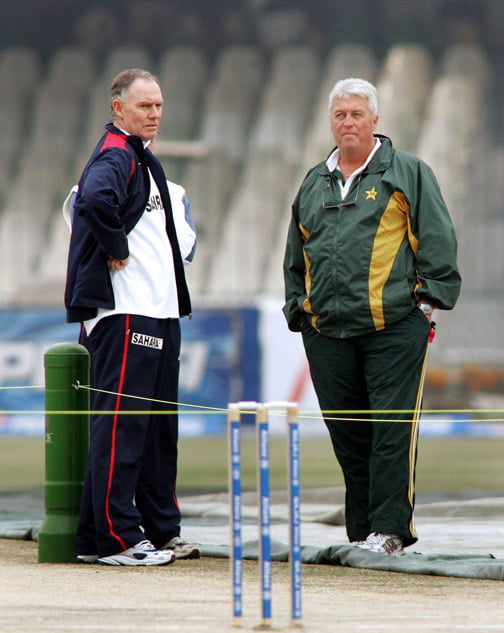 In 1972 tour of England Greg scored hundred at Lord's (131) – rated as the finest by himself – and at The Oval (113) – each time contributing in Australia's win. In the final Test at The Oval, the Chappells provided the first instance in Test cricket of brothers each scoring hundreds in the same innings, as the pair added 201 runs for the 3rd wicket.
The Chappells, created history in the opening Test of the series against Wellington as New Zealand bowlers toiled hard. It was only the 2ndinstance (1st in Test) of brothers scoring hundred in each innings of the same match. Ian scored 145 & 121 whilst Greg with the scores of a Test-best 247n.o and 133 in the 2nd innings, set a new record for the most runs 380 in a Test.
In 1975-76, Greg became the first player to score a hundred in each innings of his first Test as captain – 123 & 109n.o – at his adopted home of Brisbane. He ended the series with 702 runs @ 117.00 with a season first-class aggregate of 1547 runs @ 85.94.
In 1977, Kerry Packer, a media tycoon formed a World Series Cricket (WSC) after falling out with the Australia Cricket Board (ACB), to change the face of the game for ever.  It kept Greg and all the leading Australian players out of the national side, for little over two years. Financial security appealed to cricketers who had always found it difficult to negotiate terms with their respective cricket Boards. Greg continued to score heavily and confirmed his status alongside Vivian Richards, as two of the finest at the time. In 14 WSC 'Test' matches, which amazingly do not even enjoy first-class status, he at his most sublime best, accumulated 1415 runs @ 56.60 with 5 hundreds.
On his only tour of Pakistan in 1979-80, Greg hit 235 at Faisalabad and in the next meeting between the two countries, he struck a match-winning 201 at Brisbane in 1981-82. In between the two innings, in 1980-81, in his first Test innings against India, he compiled a masterly 204 at Sydney. He was only the third batsman to score 4 double hundreds in Test matches. A phenomenal achievement by all accounts.
As a one-day captain, Greg, set the tone for the world cricket by continuing to adopt aggressive tactics in bowling, batting and fielding, which was traditionally seen as defensive and economical bowling and field placing. A career-best ODI innings of 138n.o against New Zealand at Sydney in the 1980-81 World Series Cup. As a bowler, he picked up, 5-20 against England at Birmingham in 1977 and improved upon it with 5-15 against India at Sydney in 1980-81, often prizing out top order batsmen.
In New Zealand at Christchurch 1981-82, Greg played perhaps one of his best innings under severe pressure. A master class of a knock bringing him 176 off 218 balls with 23 fours and 2 sixes – adding exactly 100 in a two-hour before lunch on the 2nd day – and enabling Australia to level the series. At the age of 33, he had successfully climbed out of the leanest phase of his entire career, with no less than seven ducks to his name in Tests and ODIs at home, against Pakistan and West Indies in the 1981-82 season.
During his last Test innings – 182 (530 minutes, 400 balls, 17 fours) against Pakistan at Sydney, full of typically elegant drives on his way to his 24th hundred – Greg became the 6th player to score 7000 runs in Test cricket and overtook Don Bradman's Australian long-standing record of 6996 runs. The three catches he took in the slips, nudged him ahead of Colin Cowdrey's world Test record of 120 catches as a fielder.
It was a richly deserved grand send off and a perfect finish to the career of a champion Australian batsman. A truly magnificent cricketer, Greg is one of the all-time greats, whose deeds both as a player and as a captain, inspired many, all around the cricket world, despite a limited amount of video footage available.