The notion of linking brands with sports has taken various forms over the decades. The growth of cricket in Pakistan owes a lot to the support from various brands.
ScoreLine took time out with Javed Jabbar, an advertising giant having served in the capacity of Chief Executive at MNJ Advertising, to understand this specific relationship. Below are the details from the discussion.
ScoreLine: How was the concept of branding in sport initiated?
Javed Jabbar: A couple of factors shaped the intrusion of commercial brands into sports in the 1970s and the 1980s. A gradually increasing number of brands in the same category of products. This resulted in an expansion of scale and the exploration of scope for new affinities and associations — to enable one brand to stand out.
Then came live television coverage of sports, both through terrestrial, earth-based links and via satellite links. This intensified engagement with spectators and added to the already existing audience for live radio broadcasts. The visual dimension of tv was more inclusive, because it facilitated the display of a brand's personality and because the sight of sports action became more comprehensive and depictive of a contest, and of the brand's attributes.
There was a growing need to fund sports activities from non-state sources and from non-ticket revenues in order to meet the costs of increased sports activities.
Kerry Packer's bold initiative of introducing an entirely new version of sports, that is, one-day cricket instead of five-day Tests, demonstrated how media rather than sports, advertisers or even audiences led the transformation.
ScoreLine: As the agency to Pakistan Tobacco what did you foresee for sports in Pakistan in relation to mega brands and their advertising budgets?
Javed Jabbar: The most potent feature of a possible future emerging from the new collusion between PTC and cricket was, firstly, an unprecedented stimulus to mobilizing larger participation in sports thereby tapping dormant talent and mobilizing potential for excellence on a large scale.
Because the negative consequences of smoking cigarettes were being increasingly publicized, seeking to create a deflective, diversionary "positive" dimension of a tobacco brand providing pleasure and entertainment to viewers. And even subliminally suggesting that smoking was a source of pleasure. But because it was entirely legal at that time, it forced one's conscience to go to sleep.
The PTC management, especially the marketing team led by late urbane Riaz Mehmood, Saquib Hameed (who later became Chairman), Tahir Memon and the then Chairman, Nizam Shah, was delightfully professional to engage with.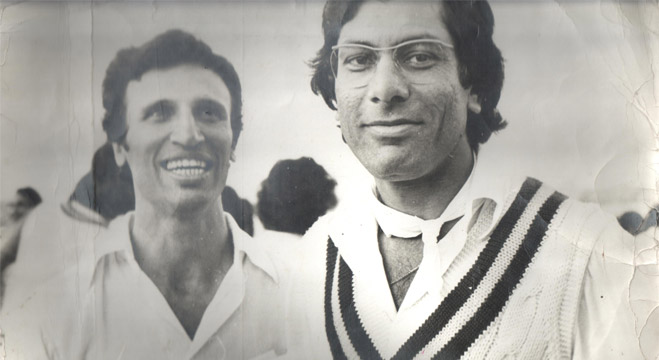 ScoreLine: How were these concepts and (or) adjustments handled initially specifically at the client's end.
Javed Jabbar: As a client, Pakistan Tobacco was an exceptional example of well-educated sophistication, professionalism, and total ethicality as per the law and the rules. And very open minded in accepting innovative concepts and approaches.
One indicator already existed before MNJ became an agency to PTC. The theme: 'Men demand Capstan the world over' had already been adopted by PTC and the late Zahid Saleem had overseen its use in Pakistan. MNJ helped sustain the theme and took it to new parts of the world by filming commercials in the Middle East, Europe, and North America.
MNJ helped PTC introduce the pioneering association of the Wills brand with cricket by propagating that 'Wills and Cricket go together'. The one-minute TV portraits of Asif Iqbal, Majid Khan, Zaheer Abbas, Javed Miandad and Imran Khan, filmed during the World Cup in the United Kingdom in 1979 and later in Pakistan became the first ever promotional commercials of their kind from the country.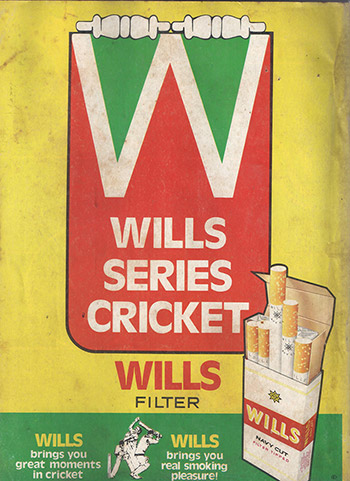 MNJ's proposal that the top-of-the-line brand named Gold Leaf should be associated with refined art, culture and aesthetics with the theme 'Gold Leaf–for the taste alone' was almost instantly approved by PTC. Thus, we created a series of eight different commercials, four in each phase over a six-year period in which the same, single handsome Englishman was depicted in his easy elegant association with fine carpets, choice paintings, antique weapons, cars, and other such objects. So distinct were these commercials in that time that the Gold Leaf commercials, despite the known reluctance of award juries to give prizes to tobacco commercials, nevertheless gave them the best tv commercial prize.
For the classic old brand named Gold Flake which we wanted to give a distinct, separate identity from Gold Leaf—particularly because of the commonality of the word "Gold", we proposed a completely distinct theme and approach based on the enduring appeal of a value and a taste that remained the same, expressed in the words "Yesterday and today", depicted by recapturing images and objects from the first half of the 20th century such as old and new motor cars and landmarks, etc.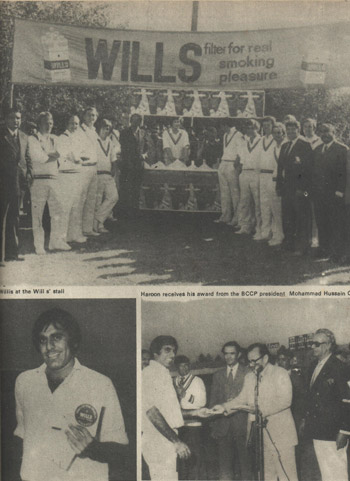 Distinctive and effective advertising can only be created in partnership between advertiser and advertising agency. PTC's marketing team deserves as much credit as does MNJ. But when it came to the production of TV commercials, both with regard to filming in overseas locations and within Pakistan, and conducting all post-production work in London and sometimes in Los Angeles to ensure top quality, Tahir Memon of PTC rendered a vital role in managing the finances and many aspects of the logistics. What made it most unusual was that this was the only instance where MNJ and myself were willing to work with a client who wanted to be such a major part of the production process. In all other cases, MNJ handled all aspects of the production of campaigns. As cameramen, Piyar Ali Manji and A Khatri provided technically able support.
ScoreLine: Did you feel that the desired objectives were achieved and what extra, if anything, did you attain from this exposure?
Javed Jabbar: Yes, the desired objectives were very much met. What MNJ attained as a firm was a very valuable reputation, that of being able to work productively with one of the country's largest advertisers over a range of different brands, creating content across three continents, while being singularly focused on the market, media and the realities of the sports in Pakistan. On a personal level, I gained enormous and varied experience in visualizing multi-media campaigns for a cigarette in a controversial product category and in writing and directing and co-producing about fifty commercials in about eight overseas countries.
ScoreLine: Did this association take different forms?
Javed Jabbar: Changes came gradually but decisively. When a complete ban was placed for advertising on television and radio of tobacco brands, it signaled a complete end to a large part of the creative relationship between PTC and MNJ.
But the change from high volume to low, and then from being one of MNJ's largest clients to ceasing to be a client altogether after more than a decade of a fine relationship came in a very cordial and pleasant manner. Human relationships formed with individuals endure today, about 25 years after the end of the business relationship.
ScoreLine: Do you feel that cricket had mass appeal in those days as is the case now?
Javed Jabbar: Television, for better or for worse, played the dominant, decisive role in extending and phenomenally expanding the mass participation of Pakistanis in cricket as viewers, armchair analysts, and players.
Through one's individual, humble association with PTC in facilitating Pakistan Television and the Cricket Board in this process, I count this as a great learning experience but with one regret: cricket has become the predominant obsession at the expense of hockey and squash, in which Pakistan once excelled on a global level, also at the expense and neglect of football, and other sports such as basketball, table tennis.
ScoreLine: How do you look at branding with the sport as a factor in society?
Javed Jabbar: As sports promote values of merit, fitness, respect for competition, mobilization of potential and helps erode multiple divisions in society, in theory, the association between brands and sports is positive and should be sustained.
However, in practice, there should be strict vigilance against crude commercialization and prevention of encroachment of advertising into the individual character and identity of each sport and of those who view the sport.
ScoreLine: How do you view today's commercial branding and integration within the sport of cricket?
Javed Jabbar: I am very disturbed by the unremitting commercialization and endless glutton like appetite for gains by advertisers, media, organizing bodies and players.
ScoreLine: How much is your personal interest in cricket?
Javed Jabbar: Much less than it used to be. The decline is in direct reaction to the advent of excessive branding, match fixing, spot fixing, posturing, playing-to-the-gallery instead of ably, humbly playing the sport itself.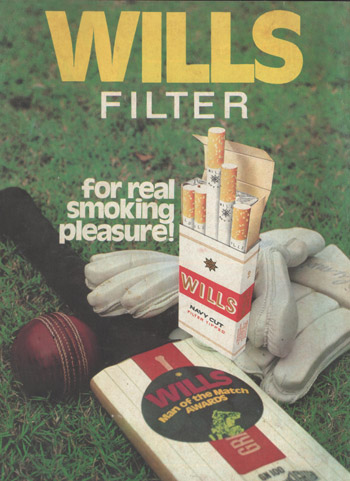 Yet I am proud to be a fellow Pakistani of Umpire Aleem Dar whose integrity and capability have brought honor to the country and to cricket by his being recognized by ICC as the world's best cricket umpire on multiple occasions. So, one does retain an interest in Test cricket and in one-day matches. The ten over version is as superficial as Twitter, and therefore of only marginal, titillating interest.