March 3, 2009 will go down in the history of Pakistan Cricket, rather Pakistan Sports, as the darkest day when the touring Sri Lankan Cricket team while going to play on the first morning of the second test match from Hotel to Gaddafi Stadium, was attacked by Pakistan Tehrik Taliban terrorists. Luckily, the Sri Lankan team came out unhurt, but Pakistani umpire, Ahsan Raza was badly injured. This was a serious incident. Ultimately, all international cricket teams then and onwards refused to come to play in Pakistan, branding Pakistan as the terrorist affected country.  M. Ijaz Butt, who was the Chairman of Pakistan Cricket Board at that time, ignored all advises not to play second test match in Lahore due to tense political situation in Punjab at that time.  This gave a big blow to Pakistan sports particularly cricket.  Since then Pakistan was forced to play all its international cricket in U.A.E declaring it as its home ground.  This resulted in extra organizational expenditure to PCB to organize cricket in U.A.E. and deprived the local cricket fans to watch foreign teams in action in Pakistan.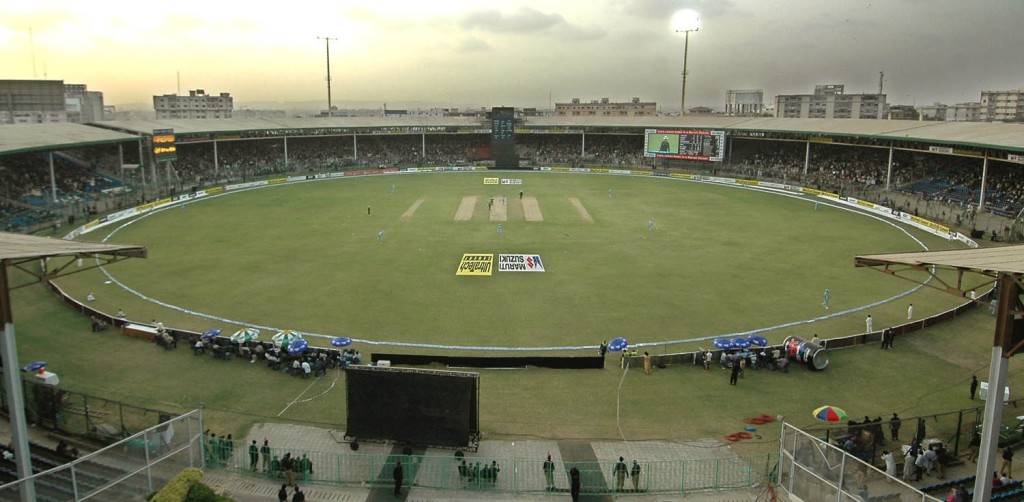 It may be remembered that a similar situation was faced by South African cricket team, as all foreign cricket teams stopped visiting South Africa due to the menace of apartheid from 1973 onwards.  South Africans then, instead of giving up all hopes, made their Domestic Cricket very strong. Finally, they were again allowed to play International Cricket in 1992.  They came back very strongly and qualified to play World Cup 92 in Australia. They even reached the semi finals and were beaten by Australia in a highly contested match.  Today South Africa is on the top in World Test Cricket, third in World ODI and fifth in World T20 ranking.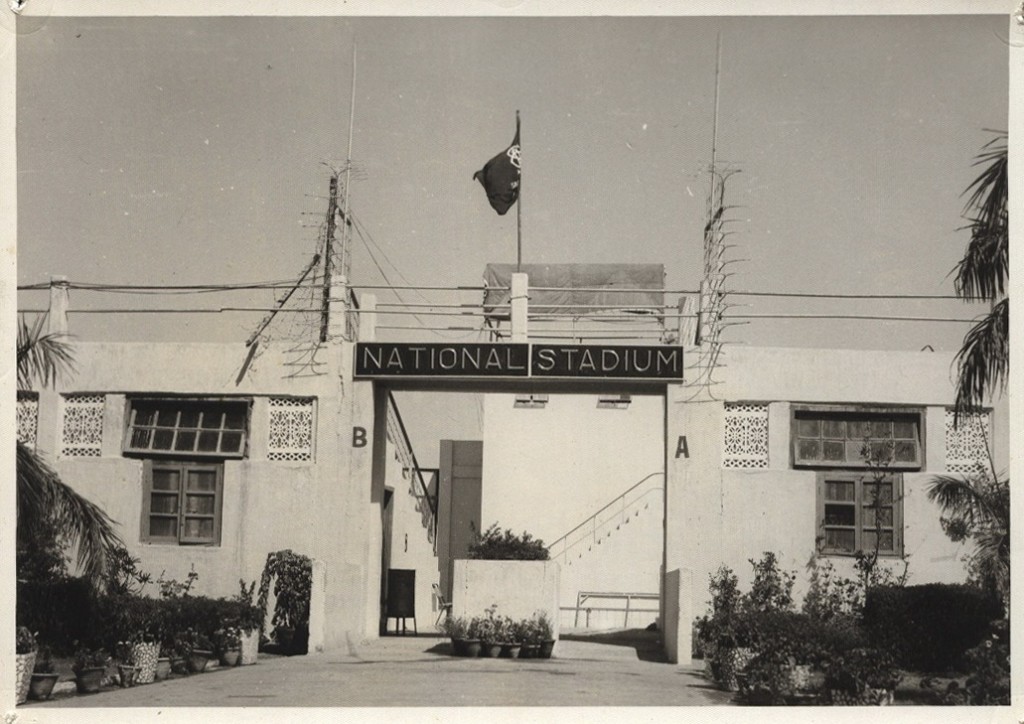 On the other hand, Pakistan did nothing to even improve its format of domestic cricket indulging in changing the  format again and again to the detriment of Pakistan cricket. Today Pakistan has come to sixth in World T20, third in World ODI and slightly improved in test cricket occupying fourth position in World Test ranking.
Even the plight of its cricket grounds, except Gaddafi Stadium, have worsened. The most affected has been Karachi's National Stadium, which had been neglected by the incoming regimes. No effort to improve its condition has been made.
BACKGROUND OF NATIONAL STADIUM
In and around the year 1953 before the first visit of Indian cricket team to Pakistan, Pakistan Public Works Department (Pak PWD) acquired through the Chief Commissioner of Karachi about 174.5 acres of land, forming part of the then Federal Capital area, in "Deh Okewari" NCL 177, on Country Club Road now known as Stadium Road, and constructed National Stadium, in a record time, working day and night through the untiring efforts of its chief engineer Alhaj Kafiluddin.
Out of this 174.5 acres of the Central Government land, about 21.6 acres of land in Survey No. 1 was privately owned by the Karachi "Penjrapur Association" which was acquired under the Land Acquisition Act 1894.
Some of the land was given  to the departments / institutions in the following years as under: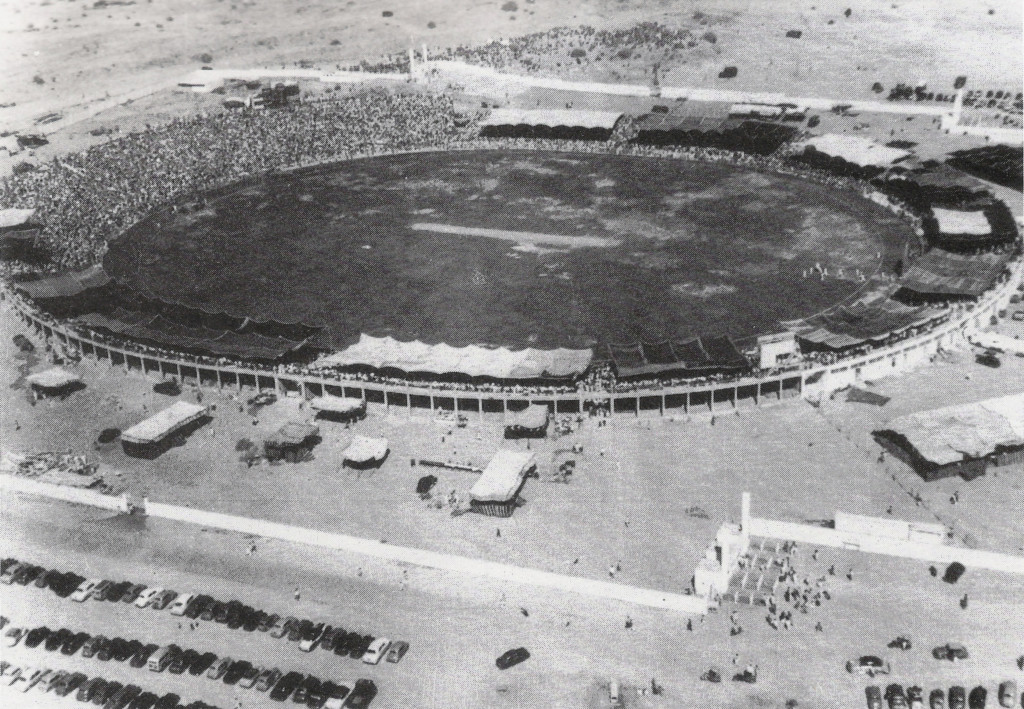 1.       Ten acres of land was given to  Karachi Development Authority (KD A) for construction  of 150 ft wide road, now called Sir Shah Sulaiman Road.
2.       60 acres of land was gifted to the Agha Khan University by the then President Ayub Khan, who took away some extra land.
Station Commander, Karachi jumped into the field and claimed this land ,occupied by Pakistan Steel lying on the West of Inspectorate of Army Stores and Clothings to be their land and asked Pakistan Steel to hand over possession of the land to them as the country was under Martial Law,at that time. Interestingly, their claim was on Survey No 118,while this PCB land was situated on Deh Okewari S.No  177.
A meeting was held under the chairmanship of Commissioner Karachi in 1984 which was attended amongst others by MEO Karachi and Maj Sadiq from Pakistan Steel. The claim of Station Commander Karachi was discussed at  length. The matter was to be verified by the Assistant Commissioner East who was asked to verify the extent of boundaries of serial No. 118 and serial No. 177 of Deh Okewari from the map. It was decided  the owner of the disputed land will not act till submission  of report by Assistant Commission East.
KDA authorities then unauthorizedly extended its boundaries of Gulshan-e-Iqbal to the North East of National Stadium. KDA carved out plots from this National Stadium land and allotted to influential persons including the judges.
The Deputy Commission East Karachi also claimed a piece of PCB land lying open for future development, adjacent to NSTC and alongwith boundary wall of Aga Khan University Hospital for making DC East office.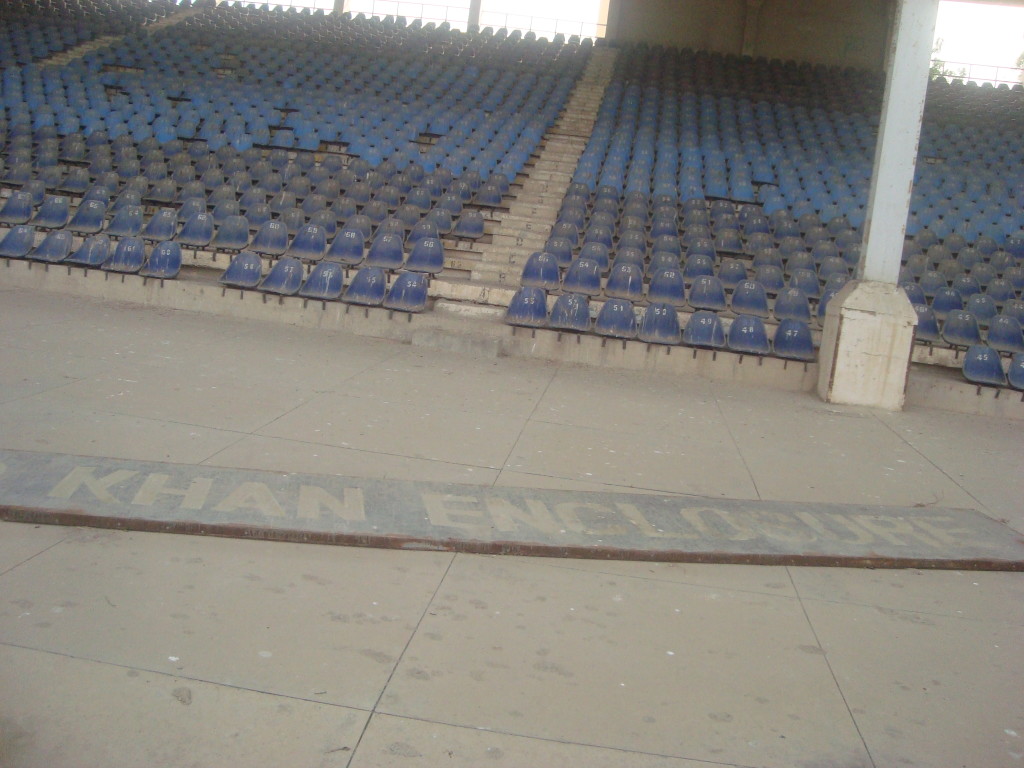 On learning, about the illegal, mala fide and absurd claims to the BCCP land, notices were issued to Station Commander Karachi, Karachi Development Authority and other illegal occupants/claimants to vacate the BCCP lands, failing which BCCP will be in its rights to seek justice from the Court of Law.
Since the occupants/claimants. despite notices, did not withdraw their illegal claims of the property, lawfully owned by BCCP, which  had to institute civil cases in the High Court of Sind in 1988. The suits were admitted and stay orders were issued restricting them not to proceed further.
As the case was pending for long, the President of Pakistan being the patron of BCCP intervened and a meeting was held by the Secretary to the President, Mr. Omer Khan Afridi on 23rd September 1993 at Aiwan -e-Saddar, Islamabad. The meeting decided that the Chief Secretary Sindh will ensure that about seven acres of land occupied by DC  East would be returned to BCCP. Further the Chief Secretary will also get 9 acres of extra land taken by Aga Khan Hospital be surrendered to BCCP. He will ensure that BCCP will surrender their land, taken by KDA and allotted to various parties. It was also decided that Production and Defence Division shall be requested to surrender land occupied by Pakistan Steel, to BCCP.
Since then, the seven acres of land has been vacated by Deputy Commissioner East, the nine acres of extra land taken away by the Aga Khan Hospital has not been recovered so far.
Pakistan Steel  occupied  part of National Stadium  land for parking its vehicles in 1982  However, on persuasion by BCCP, Mr. Haq Nawaz  Akhtar, the then Chairman, Pakistan Steel, surrendered the land to Lt Gen M. Safdar Butt, the then President BCCP.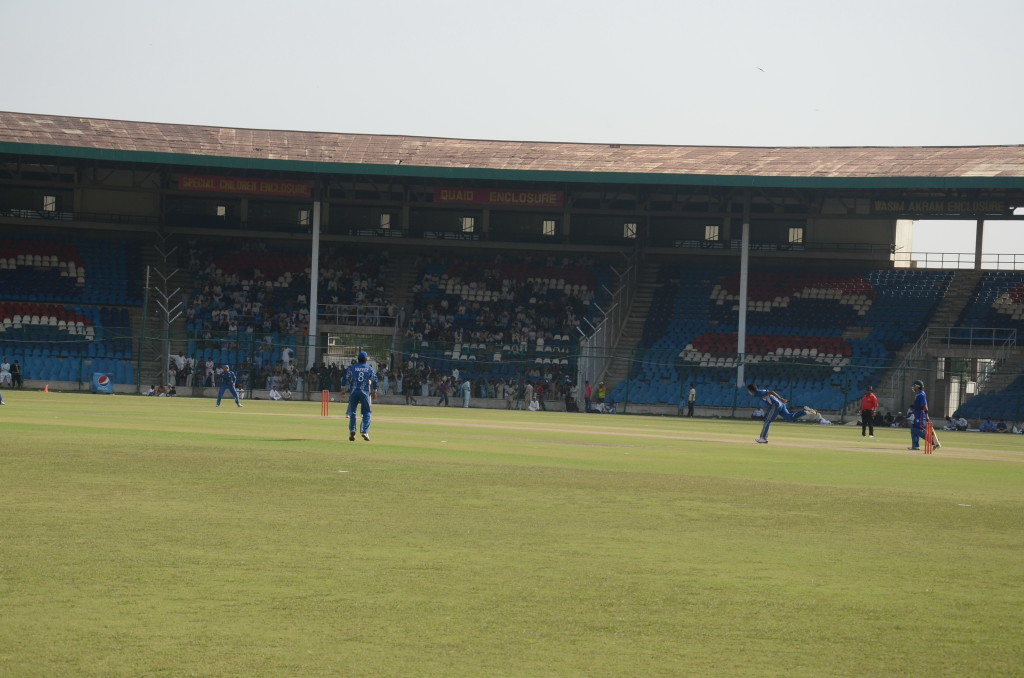 Earlier, at the request of Air Marshall® M. Nur Khan, the  President BCCP, the then  Chief Martial Law Administrator and President of Pakistan Gen M. Zia-ul-Haq ordered the allotment of National Stadium to BCCP on 27th March,1980, which was subsequently  given to BCCP on 99 years lease on 19th June,1980.
Before the start of World Cup 1987. taken away outside England, by joint efforts of India and Pakistan; huge construction work was undertaken  to make it in proper trim for the important event,  including roofing of National Stadium, construction of dressing rooms, commentator boxes, media house etc.
Now, the condition of National Stadium has further deteriorated, during this intervening period, due to negligence of PCB authorities. The roof is in a dilapidated condition, with big holes in the ceilings of the National Stadium all around while broken chairs can be seen spread all over the enclosures. The walls and enclosures of the Stadium badly need white washing and painting. The Regional Cricket Academy building is still awaiting final touches before its completion. In short, instead of working to improve the domestic cricket format and make the grounds in proper shape, so that when circumstances improve and International cricket is revived in Pakistan; we should be in a better position to face the challenges, but unfortunately PCB has done nothing so far in this direction.