Arthur Mailey, the great Australian leg-spinner of the 1920s, was said to "bowl like a millionaire." His successor, Clarrie Grimmett, was said to "bowl like a miser."
Pakistan cricket has produced a full crop of millionaire and miserly spinners. In the first category are Abdul Qadir, his successor Mushtaq Ahmed, and, from the early days, the charismatic Prince Aslam, with his left-arm all sorts. (He also happened to live like a millionaire, even when he could not afford to.)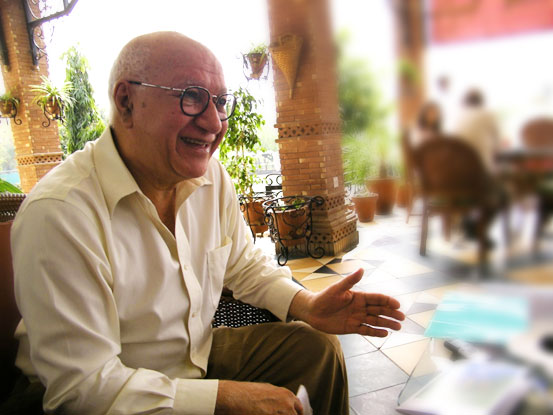 Standing out among the misers is the proud record of Pervez Sajjad.
His first-class career as a slow left-arm bowler spanned twelve years, from 1961-62 to 1973-74. During this time, he sent down the equivalent of 4550 overs, the great majority on sedated pitches in Pakistan, at a cost of 2.36 apiece, which earned him 493 wickets. Pakistan had a limited Test programme in the 1960s and he had some inconsistent treatment from the selectors. He therefore played only 19 Tests, in which he earned 58 wickets at 23.89 apiece, and his economy rate was only 2.04 per over.
Pervez Sajjad did not look at all like a miser when I met him on a rare return visit to Lahore from his home in Paris. He was an affable, avuncular bespectacled man, soft-spoken but fluent. I could imagine him in one of those Parisian cafés on the Left Bank where intellectuals used to meet, arguing with Jean-Paul Sartre or Albert Camus about alienation and the art of the chinaman.
He was born in Lahore on 30 August 1942, one of seven sons of Mr Mir Khursheed Hasan, who was headmaster of Mozang Boys High School. It was a high-achieving family. His oldest brother was an army officer, Asghar Hasan, who was sent out to Amritsar at partition to bring Muslim refugees to Pakistan. He also went to Jullundur and collected several members of the Burki clan. Pervez Sajjad told me jokingly, "I can't forgive him for this!" Ashgar eventually became a brigadier.
Pervez Sajjad's next older brother was Waqar Hasan, a batting star for Pakistan in its first Test series during the 1950s. He scored over a thousand runs in 21 Tests and then established a successful business empire with National Foods Industries in Karachi. The third older brother was Pakistan's greatest film director, Iqbal Shehzad, who made the classics Badnam, Beti, and Banjaran.  Pervez worked for both Waqar and Iqbal at different times. He contemplated a full-time career in the film industry and took a co-producer's credit on Iqbal's first success, Badnam.
Pervez Sajjad made his breakthrough in cricket in his late teens, playing for the Universal CC in Lahore. He adapted quickly to the new turf wickets introduced into Pakistan at the time at the direction of President Ayub Khan (partly influenced by a comment from a distinguished guest, President Eisenhower, when watching the Karachi Test against Australia in 1959).
Pervez Sajjad made his first-class début in 1961-62. In only his second first-class match, for Lahore A against Combined Services in the Quaid-e-Azam Trophy he sent down 65 overs in both innings and captured 13 wickets for 98 runs – but his team still lost. In total his first season produced 30 wickets for 400 runs in five matches.  He was not far off earning a place on Pakistan's tour of England in 1962. His second season produced 16 wickets but he paid only 10.56 runs for each of them. He found time to take a degree in psychology at Government College, Lahore. Had he ever used this professionally? No. "Except perhaps against batsmen," he added with a smile.
He made his Test début (with his friend Majid Khan) in the one-off Karachi Test against Australia in October 1964, securing the lone wicket of Peter Burge, caught by Majid. It was enough to earn selection for the subsequent tour of Australia and New Zealand. At Auckland he strangled the New Zealanders with figures of 12-8-5-4. No other Test bowler in history has paid so little for four wickets.
When New Zealand played three Tests in Pakistan in 1969-70 his 189 overs produced 22 wickets at a total cost of 342 – but the series was lost. Millionaire bowlers sometimes win matches on their own: misers need help from their colleagues.
Pervez Sajjad retired from cricket in 1974, ending a career which included four overseas tours for Pakistan. Like many ex-players he then worked for PIA, retiring as General Manager in Paris.
He enjoyed describing his secrets to me – not that there were many because his methods were simple.  "I had a six-yard run-up, and tried to bowl at the same point every delivery, but mixing up my flight and my angles of delivery. Like Lance Gibbs, I occasionally threw in a slow beamer."
The slow beamer is now banned but the rest is still an excellent formula for bowlers of his type, especially in Pakistan:  immaculate line and length with minute variations.  Because he has lived mainly overseas, he has not been able to contribute much to Pakistan cricket after his playing career. However, before the Asia Cup in 2007 he was invited by the then PCB chairman, Nasim Ashraf, to teach his miserly methods to some promising bowling prospects for Pakistan.
Unfortunately, for England, one of them was Saeed Ajmal.