The PCB management's mentality has been exposed. It is very clear how they handle things when it comes to cricket in Karachi.
The affairs of international cricket are looked after by PCB high official Zakir Khan and Haroon Rasheed is the director domestic cricket.
The media persons were surprised at National Stadium where ACC Emerging Teams Asia Cup match was being played as there was not a single table or rostrum for putting up the mikes of TV channels for press conference.
Even there was no place available for organizing a press conference for a foreign team's captain.
The Hong Kong's captain addressed a press conference while standing on the ground. As there was no table or rostrum, the bags of TV camerapersons were used to make a platform.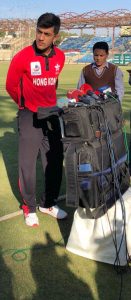 It was disgusting! Is there no one in the PCB to take notice? What is going on and how the affairs of Pakistan cricket are being run.
There should be no issue of place or room for the press conference as everything is available at the Hanif Muhammad Excellence Centre, but who cares! And why!
The officials appointed at NSK did not know what national interest is and what measures should be adopted when a foreign team is playing here and an Asian-level cricket tournament is being played. They treated such events as they do domestic events.
The newsmen are also facing a lot of difficulties in covering the event.
The NSK Manager Arshad Kahn doesn't know anything. How can he handle such situations?
Zakir also doesn't know the importance of issues.
What importance PCB gives to the Quaid-e-Azam Trophy can be ascertained from the fact that neither any PCB official was present at UBL Sports Complex where the final is being played these days nor is the match being telecast live on any TV channel.
The Quaid-e-Azam Trophy is the country's most prestigious cricket event. It is named after the founder of Pakistan Muhammad Ali Jinnah.
Former cricket players and organisers expressed surprise over this treatment by the PCB.
They said that this is the first time that the final of Quaid-e-Azam Trophy is not being telecast live.
They said that if Pakistan's third Test against New Zealand was being live telecast on PTV Sports, the final of the first class event could have been telecast on PTV Global or PTV National.
The final could have been aired by some other channel if PCB authorities had taken interest, they said.
The final is only being streamed live on YouTube. Some unknown, inexperienced commentators have been hired for commentating on the final.
PCB appointed a TV umpire for the final but how he could take decisions when the required cameras are not there. Cameras have been installed at UBL sports complex but they are of low quality and short range.
Informed sources said that the TV umpire Waleed Yaqoob went from the UBL sports complex when he was informed that the final is not being telecast.
There was not a single banner of any sponsor at any place in the UBL sports complex.
They reminded the PCB chairman Ehsan Mani and director domestic Haroon Rasheed that whatever Pakistan's recognition is in the world of cricket is because of Quaid-e-Azam Trophy.
They appealed to the PM Imran Khan, who is also the patron in chief of PCB, to take notice of this wrongdoing and ask PCB chairman Ehsan Mani and the cricket committee why Quaid-e-Azam Trophy is being treated in this way.