Big and burly 6'-3'' tall Inzamam-ul-Haq was born at Multan on March 3, 1970 but his ancestors hailed from Tehsil Haansi of District Hissar in East Punjab. Although they belong to the Syed clan but were known as 'Pirs' since the family was preaching Islam there.
The family finds its lineage to a renowned Saint Jamal-ud-Din Haansi who was the first 'Khalifa' of the famous Sufi Saint Baba Fariduddin Shakarganj of Pakpattan. The family of Inzam-ul-Haq is also related to the great Sufi saint Baba Farid Shakarganj.  After partition they first moved to Okara in 1947 and since there were no Colleges there, his father Pir Intazam-ul- Haq relocated his family to Multan in 1960. With such a prominent religious background Inzamam was not only a visitor to the shrines of the Sufi saints of Multan Baha-ul- Haq Zakaria and Shah Rukn-e-Alam but he was also deeply religious from a very young age and said his prayers regularly. His grand father Pir Zia-ul-Haq was also known to be a spiritual man. Whenever the 'Urs' of Baba Farid Shakarganj is held, the life and religious services of Inzamam's grandfather are also celebrated at Pakpattan and Haansi in India.
Inzam is the youngest among four brothers and a sister. His eldest brother Ehteram-ul-Haq taught English as a Professor at Hussain Islamia Degree College Multan, his second brother Insaram-ul-Haq is a businessman, his third brother Intizar-ul-Haq is also a businessman at Karachi. Then there is a sister who is married to a businessman Maghfoor-ul-Haq Taabish who is the son of the famous 'Naat" recitor Mansoor Taabish. Then there is a brother Ikhtasar-ul-Haq who lives in England.
There were not enough facilities for cricket in Multan at the time. There was only one ground in the city the Divisional Sports Ground where everybody could play and so the entire cricket of Multan was played on that ground. This is where Inzamam also played. With such a great lack of facilities it is nothing short of a miracle that Multan produced a world class batsman of the caliber of Inzamam.  Just across the ground is Government Muslim High School where Inzamam studied. At the school he was a back bencher and was a mediocre student. The sports Incharge Mehr Nawaz played a very vital role in promoting Inzamam's cricket while he was at school.
While he was growing up he loved being a prankster and used to invade a mango orchard with his friends and would later go for a swim in the Canal. He was very fond of flying kites and playing football. He was literally born in a cricket atmosphere where his father and brothers were all cricket lovers and played the game.
Inzamam was in the sixth class of his school when he joined Combined Cricket Club, his first cricket club. He was about ten years old then. His main inspiration at the time was his brother Intizar-ul-Haq who had played a first class match. He played for four years for his school and scored many centuries. At the time he used to bowl left arm leg spinners as well and would get many wickets. When he was twelve years old his club held an All Multan Cricket Tournament where he received his first award as an outstanding bowler. He was not tall in those days. He gained height when he was in the 10th class at school. He was never a big eater and surprisingly was not fond of sweet dishes.
Amazingly, he was first selected as a bowler for the Multan Division in the under 19 tournament. In the very first match of the tournament his team was literally shot out but Inzamam was able to bat brilliantly in that match. In the beginning he was always considered as a bowler for selection and in one first-class cricket season he took 33 wickets.
Gradually he started to concentrate on his batting and completely gave up bowling. He started to bat as a middle order batsman and having proved himself as a successful batsman in Club cricket he went for the Pakistan Under 19 trials and got selected.  That year he scored two centuries in two matches. He then played his first first-class match against Karachi at the Youth Centre Karachi and made a century on debut followed by another century at Lahore. Then he scored another century at Sahiwal against Faisalabad completing three centuries in a row.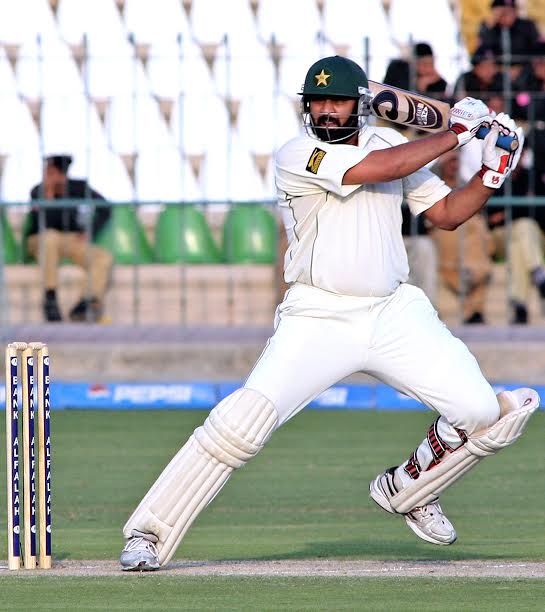 After this performance he was selected to represent Pakistan in the Youth World Cup in Australia although his name was not in the initial list of the 87 players. He topped the batting averages on this maiden tour. He was the Man of the Match when he scored 50 runs against New Zealand in this tournament. After the successful tour he was invited to join the United Bank team. In his second first class match for them he scored a double century but failed against India. Next season he made 1200 runs but was not considered for Pakistan. He followed it with 1645 runs that included six centuries the following season just short of 4 runs to break the record of 1649 runs. Still he was not among the 25 players selected for Pakistan training camp. Next year he made 1400 runs and remained the top scorer for two years.
England 'A' toured Pakistan during the Gulf War and its first match was to be played at Multan. Fourteen players were named for selection but his name was not there. He was heartbroken and thought of giving up cricket completely. The training camp of the Pakistan team was being held at Lahore where Mushtaq Ahmed and Waqar Younis spoke to Imran Khan about Inzamam. He was called to Lahore and Imran Khan watched him in the nets. Inzamam was tense and nervous when he started his batting. Iqbal Sikander was bowling and Inzamam got bowled twice merely on straight balls. Aaqib Javed, Mushtaq Ahmed and Waqar Younis were also bowling. Their words of encouragement gave Inzamam some confidence and he batted well enough to impress Pakistan Captain Imran Khan.
Two months later when the West Indies toured Pakistan Imran Khan included him in the squad. He made his ODI debut in the home series against West Indies in 1991 and made a good start of his career by scoring 20 and 60 runs in two matches against West Indies. This was followed by 48, 60, 101 and 117 against Sri Lanka. He was relatively unheard of when he went to play the 1992 World Cup. The rest, as the world knows, is history. His 60 in 37 balls in the 1992 World Cup Semi Final against New Zealand at Auckland paved way for Pakistan to reach the final. It was regarded as one of the finest innings played in the World Cup.
His vital contribution of 42 runs off 35 balls gave Pakistan batting the security it needed to win the final and the World Cup. He was the second batsman to score 10,000 runs in ODI matches and was named in the ICC World XI for Tests and ODIs in 2005. He made his Test debut against England at Edgbaston in 1992. He ranked as ICC's No.1 batsman in 1995 and 1997. He is the 3rd   highest scorer of runs for Pakistan after Javed Miandad. His highest Test score 329 against New Zealand at Lahore in 2001-02 is the second highest test score by a Pakistani after Hanif Mohammed.
He scored 184 runs in his 100th Test and became the 5th player ever to do so. He scored a century in each innings against England in 2005 and became the highest century maker for Pakistan by reaching 24 centuries. He holds the record of the most consecutive half centuries against a country with nine in nine innings against England. Inzamam was known to be a ferocious batsman in the ODIs and Test cricket. With his amazing footwork he had the ability to pick the length of a delivery very early and play it very late with a lazy ease.
Imran Khan rated him "the best batsman of the world against pace. He seems to have so much time on his hands before the ball reaches him". Imran thought that Inzamam was as talented as Brian Lara or Sachin Tendulkar but little did he realize his true talent. He was a poor runner between the wickets and was run out 40 times in the ODIs. Inzamam captained Pakistan in 30 Tests, winning 11, drawing 9 and losing 10.
Although he has played as an opener but was always essentially a middle order batsman. In One day cricket he rates his 116 not out against South Africa in the triangular tournament as his most favourite innings. However he likes Test cricket better than One day cricket. During the 1995 Wills Cup semi final he had a bad fall and injured his knee that started to trouble him till he got it operated in 1996 in Canada.  He likes boiled rice and chicken karahi as his favourite food but loves omelets at night.
He loves to watch films of Dilip Kumar and Amitabh Bachan. He is fond of music and enjoys listening to Nusrat Fateh Ali Khan. According to his father Inzamam was playing cricket even in his dreams when he was still a child. "We often heard him yelling while asleep, it's a four, and it's a four".
Inzamam-ul-Haq was awarded Sitra-e-Imtiaz in 2005. He remained one of the top 20 batsmen of the World till his retirement. He joined Yorkshire Cricket County in 2007 at a rather late age of 37 and played for a season. In the ICL league played in India he captained the Hyderabad Heroes. In its second edition Inzamam captained Lahore Badshahs a team comprising of all Pakistani players. However this move to the ICL proved to be a controversial one and the PCB banned him from playing in any domestic competitions in Pakistan but since Inzamam announced his retirement from cricket it did not affect him. He was a successful Pakistan Cricket Captain 2003-07 and is now a prominent member of the Tableeghi Jamaat of Pakistan.