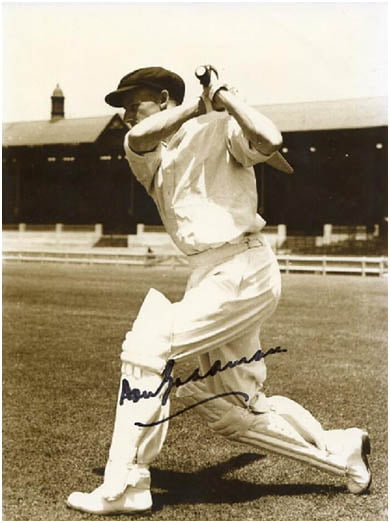 Passion gets one going, oblivious of the investment in cricket and other memorabilia, what did acquiring it actually cost, as a schoolboy Nauman Niaz who lives in Rawalpindi was keen to collect signatures of great players and was intrigued by history.
He has an exclusive collection and completely private, which doubles the taste, how he has made a world of his own is now being pressurized to make it public however he seems reluctant, not even ready to believe he had to part with his collection even placed at a small distance. He lives with his genuine feelings within.
The moment you enter this special house, first you get a real taste of Army, and it seems a residence of a warrior, obviously Nauman Niaz's father retired as a Lieutenant General from Pakistan Army, his photographs in uniform from a Gentleman Cadet through all ranks gives a pleasing touch.
You get in a little and there are pre-historic 1857 guns hanging, then are the AK 47, G3, semi-automatic, automatic guns, Kalashnikov, the highway patrol pistols and a lot more. This is one part. Turning on your right and near the staircase it's a whole new world.
I have known Nauman while even before I became a Pakistan player, we both played university cricket together, even then, as I recall he was different, a loner and not really keen on spending time in company of friends.
In Karachi, I remember instead of attending a dinner he had gone looking for KC Ibrahim and Rusi Dinshaw since he wanted their autographs. While I became a Pakistan captain, Nauman progressed to become a top clinician besides keeping his romance with cricket alive, first as Media Manager at the Pakistan Cricket Board, Associate Manager of the Pakistan team, and eventually ending up as Director of Sports and Syndication and Head of the PTV Sports.
I had known his keenness on collecting autographs and memorabilia I didn't know how deep he has grown into it.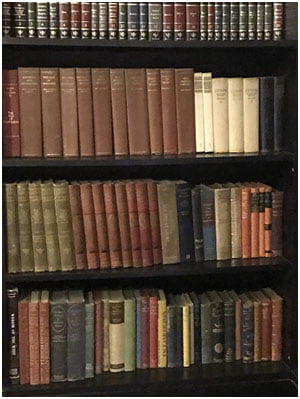 Now we work together, on screen he may well look different, off it he is a simple, obsessive autograph collector. I just love his passion, and his collection is absolutely unbelievable. He hasn't made it public, I decided at least to bring out to the younger generation one of the basic tools to achieve excellence, like hard work in the ground a player requires, off it steadfastness and commitment to the cause elucidates success.
Living with his parents, the moment you start climbing the stairs, on the staircase are the souvenir stumps neatly framed, a majority of them given to him by Saqlain Mushtaq, I have also been one of his main providers and also Wasim Akram besides some he had plucked from different auctions in England, Australia, and South Africa even in New Zealand.
You could see the Lord's Test Pakistan VS England 1992 stump, the Wills World Cup wicket from the quarter final between India and Pakistan at Bangalore, or those from the tri nation series in England in 2001 when Waqar Younis picked back to back hauls of five wickets. Each stump signed and aesthetically showcased.
---
"I dared not open the albums
with exclusive cricket photographs,
approximately more than twenty thousand"
---
Couple of them from the Hamilton Test between Pakistan and New Zealand in 1993, or from the Sydney Test match in 1995 where I picked a record number of catches or the one from the Durban Test in 1997 with Shoaib Akhtar winning us the match, the number of stumps are just uncountable, and then there are those from the England Vs West Indies Test in 1963, even the one from The Oval Test in 1938 when Sir Len Hutton posted 364 not out, the then world record.
As you move up, you see a huge frame signed photographs of Sir Ian Botham along with ten autographed photographs, it is just beautifully made, next to it is a Virat Kohli bat signed with autographed photographs, then is Brian Lara, Sunil Gavaskar and you end up having seen some of the best collectables hanging on the sides of the staircase.
Now you have reached the second floor, right in front of you is Nawab Iftikhar Ali Khan Pataudi's blazer, next to it AH Kardar' scarf the one which he wore on tour to India in 1952-53, and his Pakistan blazer. As you turn left, you see Wasim Hassan Raja's first Pakistan blazer from the tour to New Zealand and Australia in 1972-73, next is one of the rarest master pieces, coronation gown of Maharajah of Patiala Sr. dated 1911, he was India's first captain leading the team to the British Isles, not only the gown inspires you what intrigues you are the two pocket watches, his toshkent and the coronation belt.
Down below is an exclusive Pakistan's 1992 World Cup winning shirt signed by Imran Khan. Then is the Benson & Hedges bat signed by the Pakistan's 1992 World Cup triumphant team, and next is Aamir Sohail's Gray Nicolls bat with which he had scored a Test hundred against Australia in 1994-95, a Duncan Fernley bat used by Zaheer Abbas in a One Day International duly signed, a Reader's bat signed by the Lashings Team including Sir Vivian Richards, Wasim Akram, Herschelle Gibbs et al.
A little further, you see on the doors, on the right side are the rarest Pakistan cricket photographs, AH Kardar, Imtiaz Ahmad, Fazal Mahmood, Nazar Muhammad and Khalid Qureshi together with Professor Mohammad Aslam as part of the Islamia College team, and then are the portraits of the first India team to England in 1932.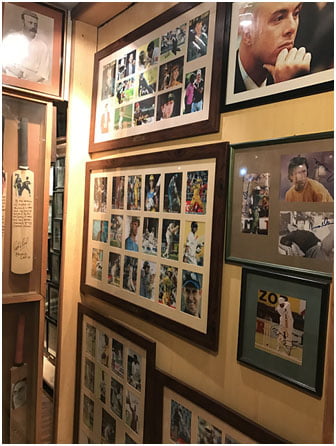 I wondered where I was until I was shocked again, right in front of me were a trail of photographs original from Pakistan's tour to England in 1954, and next to it are two beautiful paintings of Imtiaz Ahmad and a bail which was used at The Oval in the Test which Pakistan won, a rare item it is.
There are couple of Bahawalpur blazers, one of Imtiaz Ahmad and the other of Amir Elahi. Saqlain Mushtaq's Surrey Blazer, his signed Pakistan shirt, and above you beautiful 50 water painted portraits of the greatest cricketers neatly signed. Virat Kohli's India 'A' shirt signed, Hashim Amla's South Africa 'A' shirt autographed, and a handful of cricket jerseys of various top international players.
We haven't so far entered the main collection room we are still in the pavement. There is a cupboard housing 28000 hours of original right protected visuals of cricket from 1890 until the present day, and hundreds of books tucked in, they must be rare I suppose but I feel I would be exhausted getting into their details.
What attracted me most while still being in the pavement were signed photographs of top players of the nineteenth century, all rare with their originality, the olden frames adding to their grace. As you get near, you see Charles Robson a player from England, London County and Middlesex who played at Lord's between 1881-1906, to me his signatures were unique, not faded and well kept.
Harlod Lindsay, Walter Livsey, George Brown, Alec Bowell, Phil Mead who played Tests for England from 1905 and his first class career lasted until 1936, Charles Lewellyn, who played for the early South Africa team and was part of the London County,
---
"I have known Nauman while even before I became a Pakistan player,
we both played university cricket together, even then,
as I recall he was different, a loner and not really keen
on spending time in company of friends"
---
George Geary an all-rounder who toured India in 1936-37, Les Berry, Edward Dawson and wait, now I could see a beautifully originally signed portrait of Sir. W.G Grace, Sir Jack Hobbs as we move in the main room. I apologize for having missed couple of bats of modern players I tended to ignore.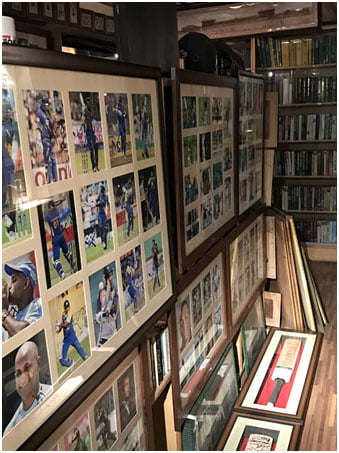 There is a portrait singed in ink by Charles Marriott who had once played for the International XI at Lahore's Bagh-i-Jinnah. Percy Tic Freeman's autographs, Maurice Tate, Herbert Sutcliffe, Victor Richardson, Leslie Ames, Charlie McCartney, Bill Ponsford and the front wall is jammed with Sir Donald Bradman's memorabilia, signed photographs, paintings etc.
There is a hand written original letter by Sir W.G. Grace, Sir Lord Hawke, Sir Lord Harris, Bobby Abel and Sir Pelham Warner. I am by now dazed. John Crawford, Harold Larwood, Bill Voce, Sir Walter Hadlee, Sydney Santall and all of them originally signed. Douglas Jardine, Alf Gover and Sir Garfield Sobers, Sir Everton Weekes, Sir Frank Worrell, Sir Clyde Walcott, Rohan Kanhai, Sir George Headley placed on one wall and also Andrew Sandham, the first triple centurion in Tests, Billy Murdoch, Australia's captain in 1882, Charlie Bannerman the first centurion in Tests, Alfred Shaw, Frank Spofforth, Jack Blackham, Ivo Bligh all photographs originally signed.
I honestly needed a break there was a full room to continue my venture. Everything there is original, no facsimile signatures, more are the mosaics of all the top 100 ICC batsmen all signed, top 100 ICC bowlers all signed, modern greats, top cricketers of the 1960s, 1970s, 1980s, and on another wall are the original autograph sheets.
This left me spellbound. Ashes 1905 Australia team, Ashes 1909 England team, signatures from the triangular series in 1912, the 1932 Bodyline team sheets, the 1932-33 MCC's tour to India, the 1948 Invincible Australia, the 1950, 1954, 1956, 1959, 1963, 1968, 1972 Ashes sheets all original.
There was so much to it, the West Indies tour to Australia 1960, autographs from the tied Test at Brisbane, the 1963 and 1966 West indies team to England, India in Pakistan 1954-55, Pakistan's signed brochure of their first tour to India in 1952-53, and then there are shirts of Shane Warne from World Cup 1999, and a host of others Chris Gayle, Surav Ganguly, Kumar Sangakkara, Sanath Jayasuriya, Daniel Vettori, Muttiah Muralitharan, Misbah Ul Haq, Mohammad Hafeez, Curtly Ambrose, his shoes too and signed, so much is there.
Fifty signed cricket balls beautifully framed of all top performers, a ball signed by Ray Lindwall, Keith Miller, Brian Statham, Freddie Trueman, Charlie Griffith, Wesley Hall, just unbelievable. Nauman's most prized collection is a beautifully signed photograph of Victor Trumper, as rare as it could get. I could also see my signed last One Day International shirt which I had given on the day I quit playing for Pakistan.
---
The books are close to 8000 housing original first editions of Felix on the Bat,
Sir WG's signed autobiography, With the 15th Australian XI, 
Walkers of the Southgate the 1900 edition, all Wisden Alamanacks from 1876-77,
Lillywhite's cricket annuals, the 1893 copy in mint condition, and so many more
---
I dared not open the albums with exclusive cricket photographs, approximately more than twenty thousand. There are brochures from 1888 until 1970, all of them, from all the series, most of them autographed and also the signed ephemera. I have missed most of it.
The books are close to 8000 housing original first editions of Felix on the Bat, Sir WG's signed autobiography, With the 15th Australian XI,  Walkers of the Southgate the 1900 edition, all Wisden Alamanacks from 1876-77, Lillywhite's cricket annuals, the 1893 copy in mint condition, and so many more.
There are complete sets of Sir Pelham Warner, Naville Cardus, Robertson Glasgow, Lord Harris, the autobiography of Lord Hawke, Ashley Cooper books and the sequence is never ending. Majority of the books are signed by the players and the authors. This was cricket. A little more, Arthur Gilligan an ex-England captain, his blazer, Percy Fender, Douglas Jardine, the bats signed and with inscriptions of Majid Khan, Younis Khan, Imran Khan, Mudassar Nazar, Sanath Jayasuriya, Andrew Symonds, Herschelle Gibbs, Jonty Rhodes, Dean Jones, Sachin Tendulkar, Ravi Shastri, Mahendra Singh Dhoni, Brendon McCullum, Chris Gayle, Joe Root, Alistair Cook, Allan Border, and Graeme Smith, there are at least a hundred more.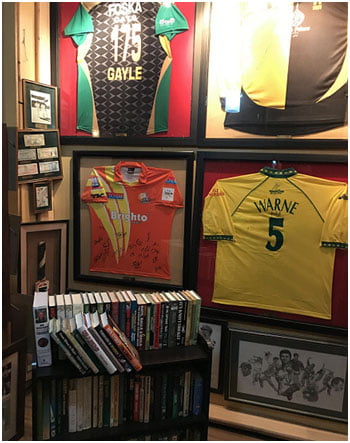 Signed shirts of Brian Lara, Shane Warne, Chris Gayle, Richie Richardson, Sanath Jayasuriya, Muttiah Muarlitharan, Courtney Walsh, Shivnarine Chanderpaul, Hamilton Maskadza, Shoaib Akhtar, Craig McMillan, Daniel Vettori and others, the best thing is Arthur Shrewsbury's bat, and belt of Test cricket's first bowler to deliver a ball Alfred Shaw.
Nauman has also collected all sports autographs, originals of Jesse Owens, Henry Lacoste, Muhammad Ali, Michael Jordan, Tiger Woods, Diego Maradona, Rod Laver, Pele, Roger Federer, Carl Lewis, Lance Armstrong, Michael Phelps, Ayrton Senna, Jack Nicklaus, Babe Ruth, Bjorn Borg, Michael Schumacher, Pete Sampras, Michael Johnson, Joe Frazier, Rafael Nadal, John McEnroe, Zinedine Zidane, Kareem Abdul Jabbar, Usain Bolt, and all the Wimbledon Champions of the Open Era. There are signed photographs of the Manchester United legends with the Manchester United emblem, just beautiful.
Then there are originally signed photographs of Hollywood actors and actresses, to name a few Johnny Depp, Al Pacino, Robert De Niro, Brad Pitt, Angelina Jolie, Leonardo DiCaprio, Sylvester Stallone, Nicolas Cage, Bruce Willis, Tom Hanks, Stuart Granger, Richard Burton, Sophia Lauren, Sean Connery, Richard Gere, George Clooney, Jack Nicholson, Nicole Kidman, Gregory Peck, Christopher Lee and it continues.
In his bedroom are housed approximately 7000 books on literature, philosophy, poetry including complete sets of Sir Winston Churchill, William and Aerial Durant, Bertrand Russell, Jean Paul Sartre, Fyodor Dostoyevsky, Jean-Louis Guez de Balzac and William Makepeace Thackeray.
I believe such passionate people are rare, and cricket lives on because men like Dr. Nauman Niaz keep our spirits high.