Not much of the early visual and print history of Pakistan cricket was ever preserved. There were scattered writers like A. H. Kardar, Qamaruddin Butt and M. H. Maqsood whose writings after partition recorded the initial affairs of cricket in the newly created State.
Some torn old newspaper files in dilapidated conditions under heaps of dust are found in some libraries and may have some history. Old scorebooks, the backbone of all information, were never saved at any level. There is no record available of the famous finals of the Inter-College tournaments between the arch rivals Government College Lahore and Islamia College Lahore, whose rivalry was as intense and bitter as that of Eton and Harrow, Oxford and Cambridge, Players and Gentlemen, England and Australia, and India and Pakistan.
The Lahore Gymkhana Club established in 1880 with its famous cricket ground at the Lawrence Garden has none of the records available. The precious old group photos in the veranda of the pavilion and the old score books are said to have been lost to termite and rain. No scorebooks have been saved from the clubs and early first class cricket in Pakistan.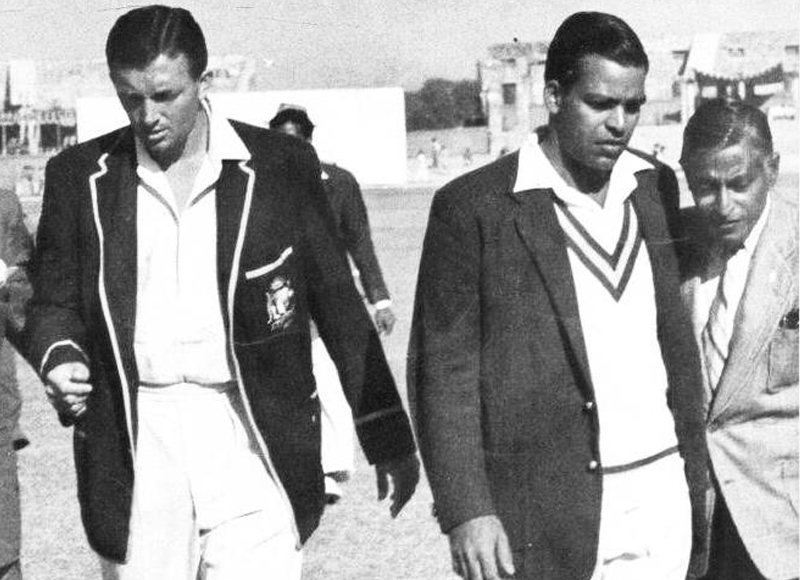 In Lahore the pictorial history of early cricket in Pakistan was captured by the inimitable photojournalist F. E. Chaudhry, also commonly known as Chacha Chaudhry. There were other notable photographers like S. Rollo, M. Bhatti, Shaukat Sahib of Allied Photographer, Zaidi's Photographers, H.R. Mirza Photographer, Baig Photography, Abdul Aziz of Punjab Photo Service, Simla Photo Service, Khushi Mohammed Photos and Central Studio YMCA building at Lahore, who also took some pictures at the cricket matches.
At Karachi there were Mahmood Photographers at Victoria Road, Paradise Photos and Lightning Photo Studios who took memorable black and white pictures related to cricket but nothing was ever preserved and all is now lost and untraceable. They were all great photographers in their own right who captured magnificent black and white pictures and could make them talk by their mastery over light and shadow.
Faustin Elmer Chaudhry was born on March 15, 1909 at Saharanpur U.P in British India in a Rajput Christian family. It is said that his grandfather was a Muslim who converted to Christianity. They belonged to Salimpur village near Hoshiarpur in East Punjab.
His grandfather was a Naru Rajput while his grandmother was a Janjua Rajput. It was claimed that the family belonged to the landed gentry in India and had an estate consisting of 72 villages. Their lands were known as Ghorawa Pinds which were given to F. E. Chaudhry's grandfather by the British for his services, and was told to cover as much distance of land on horseback in a day which was to be then awarded to him. That's how 72 Ghorwa Pinds came into their possession. People wrongly and unscrupulously assume or hint that he was a Muslim and the initials F. E. stood for Fazal Elahi. He was born a Christian and so was his father Yuhana Khan.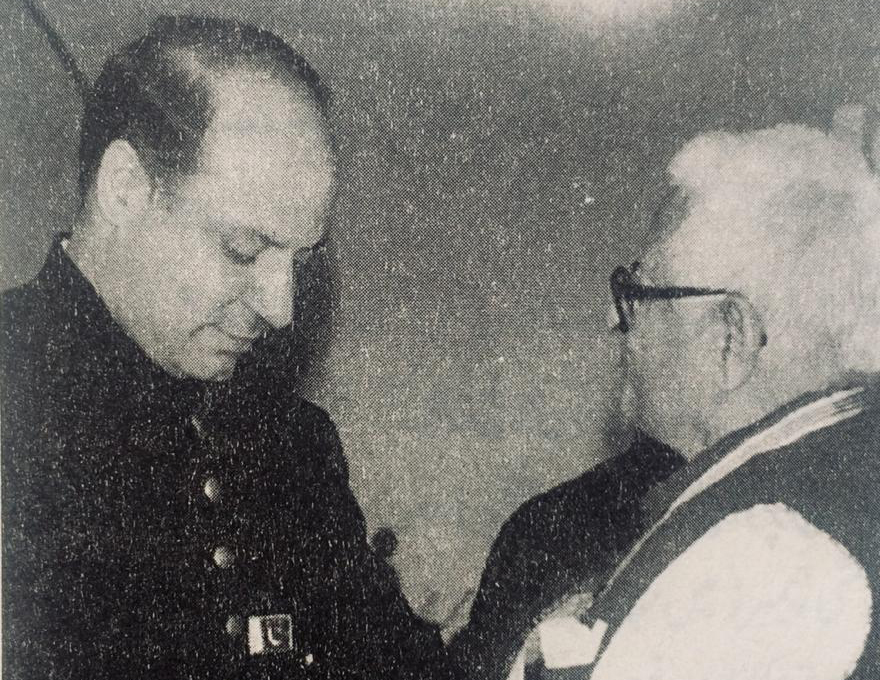 F. E. Chaudhry started his early education at the Municipal School Shah Alam Gate and Sir Francis School Lahore. He then did his matriculation from the Mission High School Dhalwal in District Jhelum where he began photography as his hobby. He then completed his education at the Forman Christian College Lahore. He got married on March 25, 1932. He remained a Science and Urdu teacher from 1934 to 1949 at St. Anthony's High School Lahore. While still there he started his photo journalism and his first picture appeared in the Civil & Military Gazette Lahore in 1935.
As a freelance photographer he also contributed to the Illustrated Weekly of India, The Statesman Delhi and The Hindu Madras. During the 1936 Shaheed Ganj Movement at Lahore when Mr. Jinnah came he was at hand to take pictures. He also took pictures of Mr. Jinnah's speech at the Badshahi Mosque and proudly considered those pictures to be his masterpieces. He was an ardent follower of Mr. Jinnah and took active part in the Pakistan movement. When the Muslim League Salt Range branch was inaugurated Chacha Chaudhry travelled on horseback to reach the venue to cover the event. Not only had he taken pictures there but also made speeches in the villages to muster support for Pakistan. Mr. Jinnah, upon seeing him would greet him as "Hello Mr. Photographer, how are you?".
Mr. F. E. Chaudhry was a regular feature to be seen on all occasions. Before he bought a German motorized bike NSU Quickly that could also be peddled like a cycle, he was often seen riding his Hercules bicycle cheerfully. Incidentally during the same period of 1960s Pakistan cricketer and captain of the Government College cricket team Zafar Altaf was riding a German Kreidler Florett motorbike, along with his future wife Ms Stella. Both were from the Cathedral School Lahore. F. E. Chaudhry was a principled high moral journalist. He would always be the first on the scene, while others would be found scampering; he would be leaving on his own quickly. He would choose his perch, his angle and his camera and just take a couple of pictures and not click away aimlessly. He was a dignified, simple, down to earth incorruptible journalist with a full head of thick white hair, who shunned artificiality and showed off. He was blunt and always had the moral courage to speak up the truth without any reservations. He had a sharp photographic memory right till the end of his life and was the living history of Lahore. He would say that if he reached the age of 100, he would be the first journalist of Lahore to attain that age, which of course he did.
F. E. Chaudhry introduced a variety and innovative features in photojournalism. He was the first photographer of Pakistan who took action photos of cricket. In 1948 when the West Indies played the inaugural unofficial Test match on Pakistan soil at Lawrence Garden Lahore, F.E. Chaudhry decided to make his perch on the sliding roof of the Gymkhana cricket ground pavilion to take action pictures of the match.
There were no zoom lenses in those days. He improvised a wooden box into a long range lense holder and fitted in it a special lense used by the Air Force during reconnoiter sorties.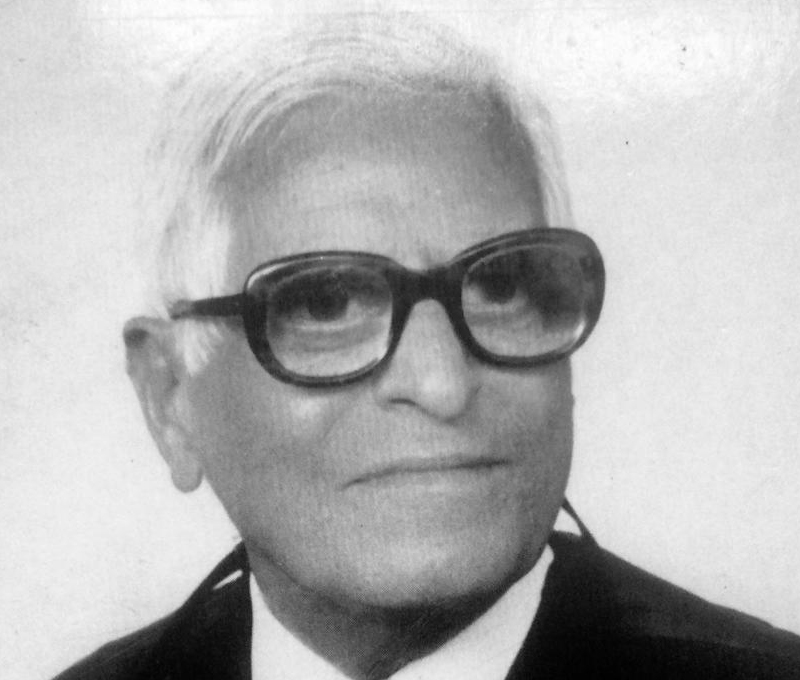 With this invention he took some great pictures especially the one where after being bowled by Munawar Ali Khan the wicket of the West Indies captain John Goddard flew and broke into two in mid air. It was for the first time anyone took such action pictures. He also took a great picture through a long shot of Maqsood Ahmed in the middle of the pitch being stumped by wicket keeper Naren Tamhane for 99 in the third Test between India and Pakistan at Lahore in 1955. His other unforgettable picture from the same Test match was of Fazal Mahmood taking a catch while falling down off C. D. Gopinath off Shujauddin. Upon my request Chacha Chaudhry graciously gave me the historic lense which I have placed on display at the Lahore Gymkhana Cricket Museum. He was also present at Karachi in 1951 to take pictures of the Pakistan England match that brought test status to Pakistan. He was the first full time press photographer who worked free lance till Mian iftikharuddin took him to the Pakistan Times Lahore at its inception in 1947 and stayed there till it closed down. He became a staff reporter in 1949 and worked with great editors like Faiz Ahmed Faiz, Mazhar Ali Khan and Khwaja Mohammed Asad.
He retired from the Pakistan Times in July 1973 and was awarded the President's Medal for Pride of Performance. He was recalled by the Pakistan Times in 1976 and stayed on till 1978. He was the founder President of Lahore Press Club.
He captured a unique and only picture of Faiz Ahmed Faiz going out to bat for the Pakistan Times XI. Poet Faiz had only two ambitions, either to become a Test cricketer or to become a poet.
After the partition, West Pakistan minister, Sheikh Masud Sadiq, offered to give him two squares of land in lieu of his services in the Pakistan Movement, but F.E. Chaudhry declined the offer saying, "Give them to the poor and needy as I am quite content with my limited income." Similarly another such offer came from the Director of Industries West Pakistan, Khan A. Rahman, who offered to make an allotment of fruit gardens but Chacha Chaudhry refused that offer as well.
However in his twilight years he would say, "Had I known then that Pakistan would become a land of plunder and corruption, I would have accepted the offers." His family made no claim in Pakistan for the properties that were left in India at partition.
F.E. Chaudhry covered many sports and social events at the Aitchison College, University Ground, Minto Park, Fortress Stadium and the Lahore Stadium which later on was renamed Gaddafi Stadium. He had also covered events at the now abandoned and dilapidated Bradlaugh Hall Lahore where the famous singer Gohar Jan from Calcutta had performed in 1912 and 1913. He took the last ever photograph of Zulfiqar Ali Bhutto being led out by the police after receiving the death sentence at the Lahore High Court. He waited in hiding for more than three hours in an opposite building to take the picture with a long range lense. He was famous for taking the picture of the last sunset of the year which would appear on the new year day in the Pakistan Times.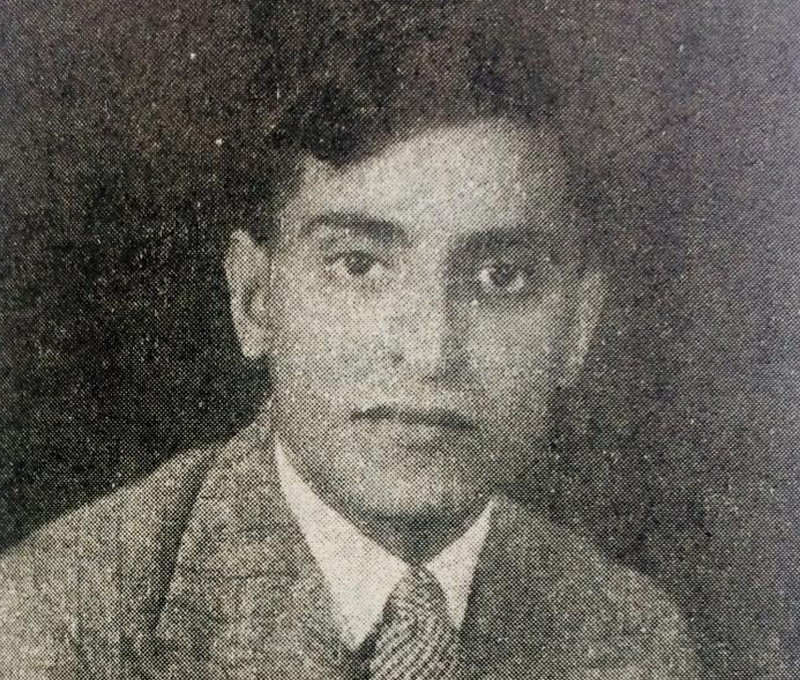 In 1955 during the shooting of the Hollywood film Bhowani Junction he took some marvellous pictures of lead actor Stewart Granger and lead actress Ava Gardner playing tennis at the Falettis hotel where they were staying. In return both gave Chacha Chaudhry their autographed pictures which he always cherished. It was Hamid Sheikh, a colleague at the Pakistan Times who gave him the nickname of "Chacha." Hamid Sheikh had been the first Urdu cricket commentator of the Sub-Continent.
He was in England in 1946 when the All India Cricket team was touring. While John Arlott did the commentary in English, Hamid Sheikh did it in Urdu. Professor Qayoom Nazar of Government College Lahore was the first to do Urdu cricket commentary in Pakistan in the 1950s. I met F. E. Chaudhry at his house 7/10 Kacha Jail Road Lahore, for the first time in 2004 on the advice of the Oval Hero Fazal Mahmood to request him for pictures for the Lahore Gymkhana Cricket Museum. Our meeting turned into a lifelong friendship that I always cherished. His wife had passed away in 1987 and he was living alone.
He told me that I was late with my request as a certain retired Major Yahya Ghaznavi has taken two or three sacks full of sports negatives on the promise to return them but several months have passed there is no trace of the man as he has completely disappeared. The sacks contained many cricket negatives. I was also told by Shahid Kardar that the same Yahya Ghaznavi met him through Zafar Altaf and took away a couple of albums of cricket pictures belonging to his father A. H. Kardar and never returned them.
By his own admission Yahya Ghaznavi did not have any knowledge of cricket or its history, yet, ironically, he's been working at the Pakistan Cricket Board for several years to set up a "cricket museum" which is still a far cry!
After a fall at home that broke his leg Chacha moved with his son Group Captain Cecil Chaudhry, Principal at St. Anthony's School. Cecil had been a war hero who had been awarded Sitara-e-Jurrat in 1965 and Sitara-e-Bisalat in 1971. Not long after his wife died, Cecil too passed away and Chacha Chaudhry moved with his other son Cyril Chaudhry who had retired from the Bata Shoe Company and his wife Sandra Anne Chaudhry at 1-A, Muslim Park, AlIama Iqbal Road Lahore. The deaths of Cecil and his wife took their toll on Chacha Chaudhry and despite his outwardly chirpiness he was sad deep down. At Christmas I took a bottle of brandy for him which cheered him up. His 102nd birthday was celebrated on March 15, 2011 at Alhamra Arts Council with his family, friends and admirers that included Socialist Rauf Malik, Naeem Tahir, Yasmin Tahir, Munno Bhai and Naghma Rahila.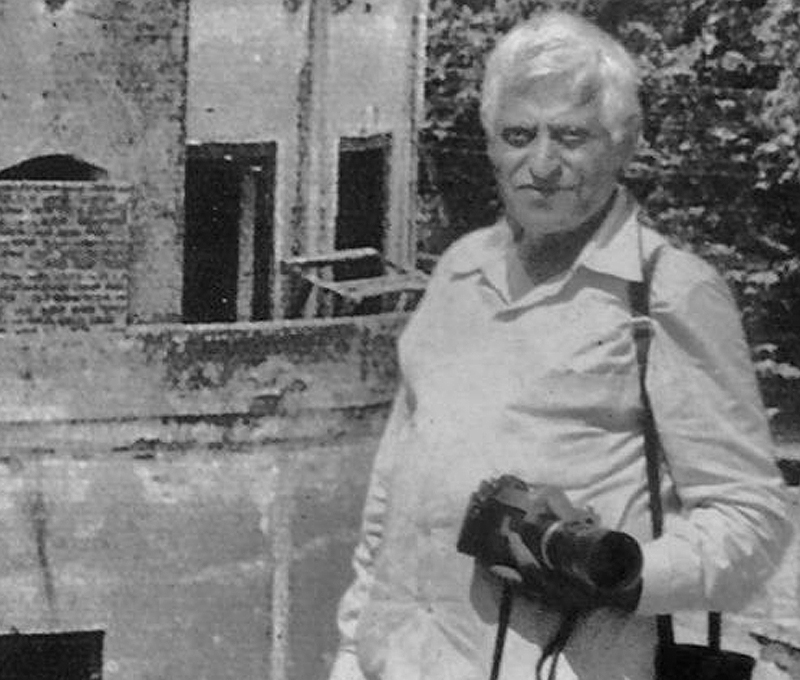 He donated the fabulous collection of matchbox labels that he and his wife had been collecting for years to the National College of Arts Archives. F.E. Chaudhry died on his 104th birthday in 2013. His largely attended funeral service was held at the Sacred Heart Cathedral Lawrence Road Lahore. He was laid to rest at the Jail Road cemetery among his family graves, not far from the graves of Justice A.R. Cornelius and his wife. He was awarded Sitara-e-Imtiaz, Tamgha Khidmat in 1970 and Tehreek-e-Pakistan Workers Gold Medal in 1992.
In a memorial reference by the journalists Munno Bhai said, "He was our father." Soon after his son Cyril Chaudhry died on April 14, 2014 and then Sandra Anne Chaudhry passed away on March 30, 2015. This brought a closure to my friendship with a family which was more like a family. May the souls of these wonderful people rest in peace. Wing Commander Anthony Chaudhry of Lahore Flying Club is Chacha Chaudhry's surviving son.