The concept of Mini-World Cup which was re-branded as ICC Champions Trophy, a modern phenomenon that kicked off in Bangladesh in 1998.
The ICC Champions Trophy is a One Day International (ODI) cricket tournament organised by the International Cricket Council (ICC), second in importance only to the Cricket World Cup.
It was inaugurated as the ICC Knockout Tournament in 1998 and has been played approximately every two years since. Its name was changed to the Champions Trophy in 2002.
The number of teams competing has varied over the years; originally all the ICC's full members took part, and from 2000 to 2004 associate members were also involved.
Since 2009, the tournament has only involved the eight highest-ranked ODI teams as of six months prior to the tournament.
In the lead-in to the 2013 tournament, the ICC announced that the 2013 Champions Trophy was to be the last, with its place in the cricketing calendar to be taken by a new ICC World Test Championship.
However, in January 2014, that decision was reversed, with the ICC confirming that the 2017 Champions Trophy tournament would take place and the proposed Test Championship was cancelled.

Mini World Cup (Wills International Cup)
24th October – 1st November 1998
Teams(9) : Australia, England, India, New Zealand, Pakistan, South Africa, Sri Lanka, West Indies & Zimbabwe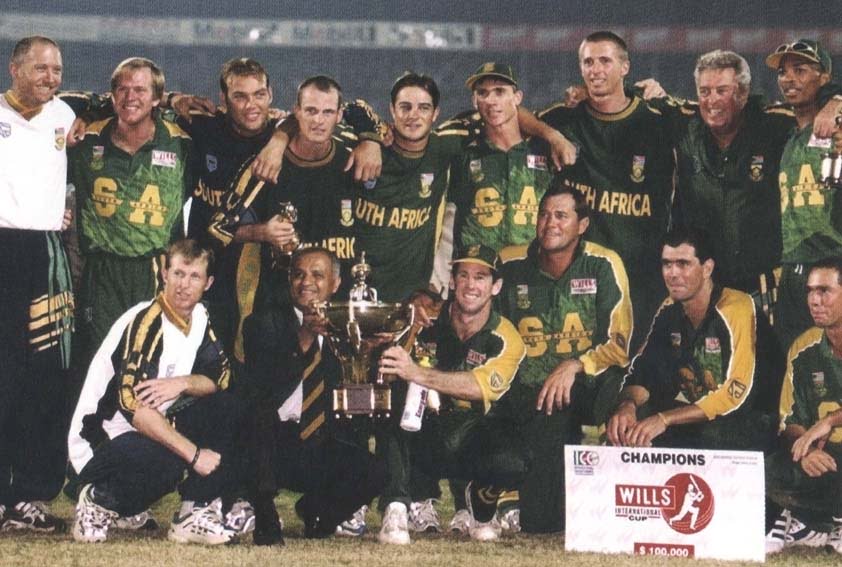 The success of the inaugural Mini World Cup, also known as Wills International Cup, was a brainchild of ICC on the back of the huge revenue it generated during the 1996 World Cup, jointly staged by India, Pakistan & Sri Lanka.
Bangladesh cricket Board came out with flying colours at the end of the tournament that was represented by all nine Test playing countries. The event went a long way in Bangladesh securing its full membership of the ICC and by October 2000, it would be playing its first Test match, against India at Dhaka.
The surfaces on show were slow with low bounce but still produced some outstanding individual innings – Zimbabwe's Alastair Campbell (100), Sachin Tendulkar 's sublime 141 off 128 balls against Australia, who were without its two star bowlers, Glen McGrath & Shane Warne, Jacque Kallis 113 not out off Sri Lanka in the semi-final included five sixes and Philo Wallace's big-hitting 103 off just 102 balls with 11 fours and five sixes in the final against South Africa. What a stage to bring up his maiden international hundred.
On the playing front South Africa achieved its first ever major ODI tournament. Led by its courageously innovative leader, Hansie Cronje, they knocked out England – chasing 282 – in the quarter-final before going all the way with all-round strength to win the trophy.
In the final, Cronje played a match-winning unbeaten 61 to steer his side to a famous victory. Earlier his inspirational presence had restricted the West Indies total, that 153 for 3 in the 30th over was heading in the region of 280 plus.
The tournament was the right build-up for the Proteas to World Cup that was to be played in England, in six months' time. Having started as underdogs the West Indies team pulled off two shocking victories against Pakistan (quarter-final) and India (semi-final) before losing to South Africa by 4 wickets in the final. Brian Lara, in his first year as captain of the West Indies, saw his team almost steal the show.
On the opening day of the tournament, Pakistan and Australia players were still engaged in the last match of the three-Test series in Karachi. Both set of players were rushed to Dhaka to play in their respective quarter-finals.
They both lost, Australia to India by 44 runs and Pakistan, surprisingly to the West Indies team by 30 runs. Pakistan, led by the volatile left-handed opening bat Aamir Sohail, were just not good enough on the day after conceding 289 runs in the 50 overs.
ICC Knockout Trophy
3rd – 15th October 2000
Teams: Australia, Bangladesh, England, India, Kenya, New Zealand, Pakistan, South Africa, Sri Lanka, West Indies & Zimbabwe.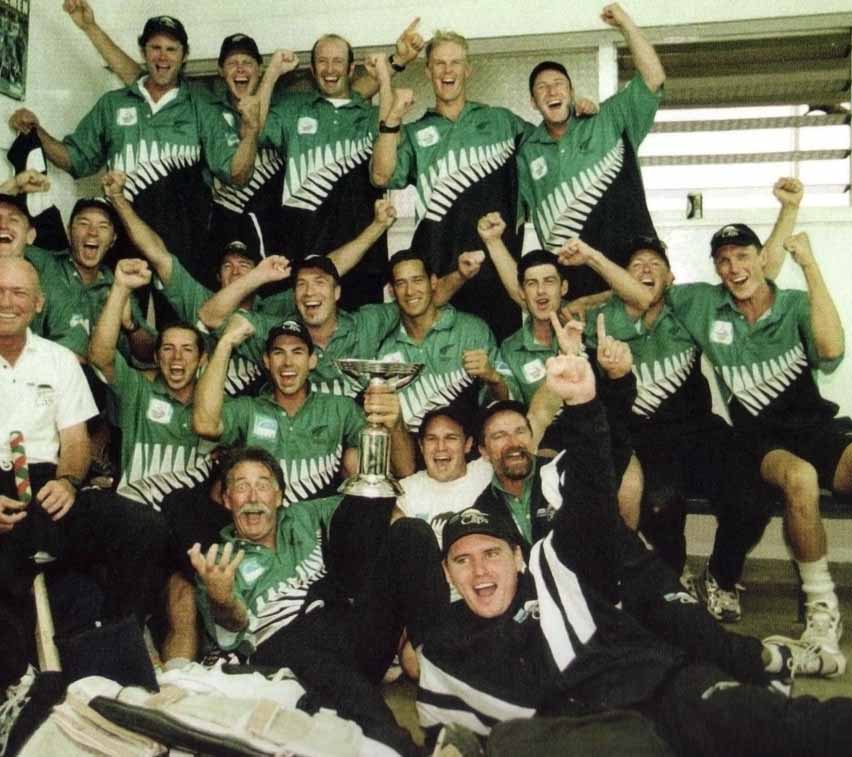 ICC's choice of Kenya, an associate member, as the host of the 2nd edition of the ICC knockout tournament was a tremendous success, just as the first one in Bangladesh in 1998.
The number of participating team went up from nine in 1998 in Dhaka to 11 in Nairobi. Sun shone brightly throughout the tournament, which was Kenya's second experience of hosting an event, having previously hosted a four-nation ODI tournament in October 1996 – Kenya, Sri Lanka, Pakistan & South Africa.
Pakistan, led by wicket-keeper Moin Khan, started off as one of the hot favourites, only to go off boil in its semi-final against New Zealand. The Kiwis were all set to re-write history by claiming its long-awaited first ever international tournament success.
India, with its last big tournament win dating back to 1983, once again came second best and lived to its billing of 'chokers'. In spite of having one of the best batting line-up in the world, its often struggled for a collective team effort and often cracked under the pressure of big occasions.
The weight of expectation and noisy support from 7,000 crowd, was simply too nervy for the Indian team.
The harmonious dressing room of the Kiwis was coupled with a splendid cricket on the field. All-rounder, Chris Cairns, with a hundred to his name, justified his reputation as one of the dynamic all-rounders of world cricket. In pursuit of a target of 265, Cairns had arrived at the crease at 82 for 3. He defied an injured knee to reach 102 not out and feature in Kiwis' great sporting moment with just two balls to spare. Its skipper, Stephen Fleming, was quick to claim it as the 'greatest one-day win in the country's history'.
India, with its new captain, Sourav Ganguly, perhaps was a touch unlucky not to win the tournament. Its two exciting debutantes – left-handed Yuvraj Singh & paceman Zaheer Khan – added bit more urgency and class to his team. India beat the host Kenya in the first round before turning their attention to Australia and South Africa – tournament favourites.
By outclassing two formidable opponents, India fought well in the close final game against New Zealand.  Making the most of short boundaries, Ganguly had a tournament aggregate of 348 runs @ 116.00 which included 141 not out off 142 balls whilst carrying his bat, against South Africa and 117 against New Zealand in the final.
Pakistan's own left-handed opener, Saeed Anwar, too had two classy back-to-back hundreds 105 not out against Sri Lanka and 104 against New Zealand in the semi-final. After a relatively comfortable nine-wicket win by blowing away Sri Lanka for just 194, Pakistan's middle order failed to click and its total was restricted to 252, which the Black Caps, despite Chris Cairns' absence through a bad knee, won in a thrilling manner with six balls to spare.
New Zealand with 10 defeats in their previous 11 one-day internationals against Pakistan, slipped to 187 for 6 in the 38th over before a match-winning stand between Craig McMillan (51not out) and Scott Styris (28not out) and clinched the issue.
In the qualifying stages, Sri Lanka's 287-6 off 50 overs with Avishka Gunawardene (132), a chubby left-handed opener, reaching his first hundred proved a match-winning  total as West Indies was handed a comprehensive defeat of 108 runs.
In the quarter-final, India reached home in a tense match against Australia by just 20 runs. India, batting first, reached a total of 265, with Yuvraj Singh, in his very first international innings, hitting an incredible 84 off just 80 balls.
South Africa, keen to retain its title that they had won so splendidly in Dhaka in 1998, brushed aside England by eight wickets in the quarter-final but could not quite get to grips with India in the semi-final and lost by 95 runs.
ICC Champions Trophy
12th to 30th September, 2002
Teams (12): Australia, Bangladesh, England, Holland, India, Kenya, New Zealand, Pakistan, South Africa, Sri Lanka, West Indies & Zimbabwe.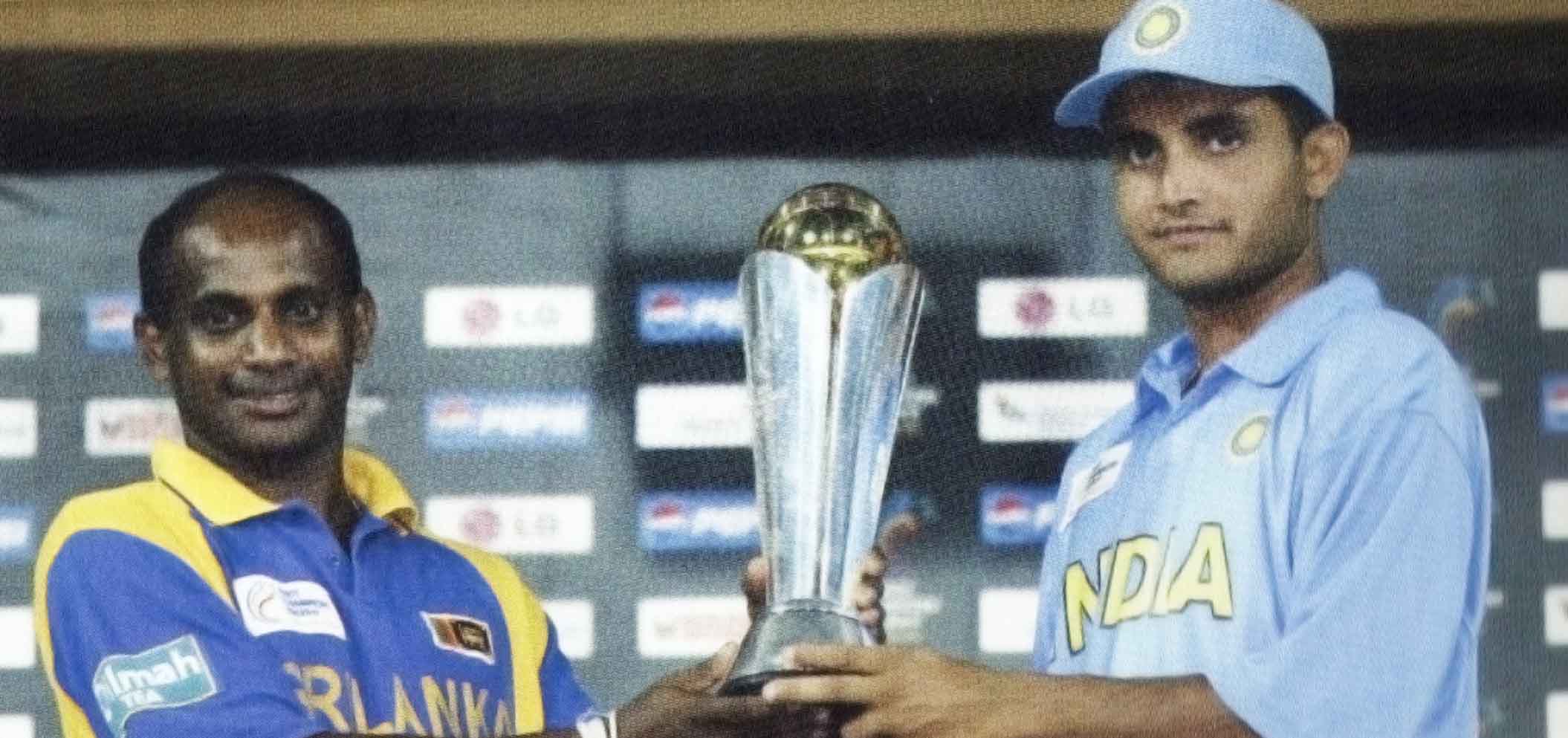 It was not a high-scoring tournament, often spinners dominating the proceedings. The India-Zimbabwe game at R. Premadasa Stadium, Colombo was one of the best. India reeling at 87 for 5 were lifted to respectability of 288 for 6 by Mohammad Kaif who finished with 111 not out.
In reply Andy Flower played a grand ODI innings – the highest by a Zimbabwean – and almost got his side close to a shocking result. In the end the margin was mere 14-runs. In the same group England's opener Marcus Trescothick was in top form in taking 119 off Zimbabwe.
Indian openers Virender Sehwag (126) off 104 balls and Sourav Ganguly (117not out) lifted the crowd with eye-catching strokeplay in adding 192 against helpless England bowlers that provided the platform for their side to reach a target of 270 with 10.3 overs to spare.
Pakistan, led by Waqar Younis, were taken to task by the two wonderful Sri Lanka batsmen, Sanath Jayasuriya (102) and Aravinda de Silva (66not out), on the opening day. The hosts were home by 8 wickets with 13.5 overs to spare at the R. Premadasa Stadium, Colombo.
Pakistan pace attack that featured Wasim Akram ,Waqar Younis and Shoaib Akhtar, made little impact as the Sri Lankan pair proved  their reflexes were still sharp enough to handle the pace on their way to reach the target of 201. The defeat was seen as a series of poor results that cost Mudassar Nazar his job as the national coach, as he was summoned to Pakistan, during the ICC Champions Trophy.
In the first semi-final, South Africa, failed once again, in the knockout stages. Their 10-run defeat against India at R. Premadasa Stadium, Colombo, was a tearful experience. Chasing 262, they were cruising along at 194 for 1, courtesy of Herschelle Gibbs (116 retired hurt) and Jacque Kallis (97), before suddenly losing the plot and enhancing its reputation of chokers.
The second semi-final too was played between two in-form teams, Australia and Sri Lanka. On the day the home team, led by Sanath Jayasuriya, could not be faulted for its game plan worked to perfection. After dismissing Australia for 162, they reached the finish line in 40 overs.
It was unfortunate that the final between two Asian teams: Sri Lanka and India, was spoiled by north-east monsoon that had allowed the tournament to progress smoothly until the last hurdle. On two successive nights the organisers had to give in to the weather. No major trophy had ever been shared by the two countries before and in the end Sri Lanka and India were announced as the joint-winners of the ICC Champions Trophy with an equal share in the US$300,000 prize money.
ICC Champions Trophy 2004
10th to 25th September, 2004
Teams (12): Australia, Bangladesh, England, India, Kenya, New Zealand, Pakistan, South Africa, Sri Lanka, United States of America, West Indies & Zimbabwe.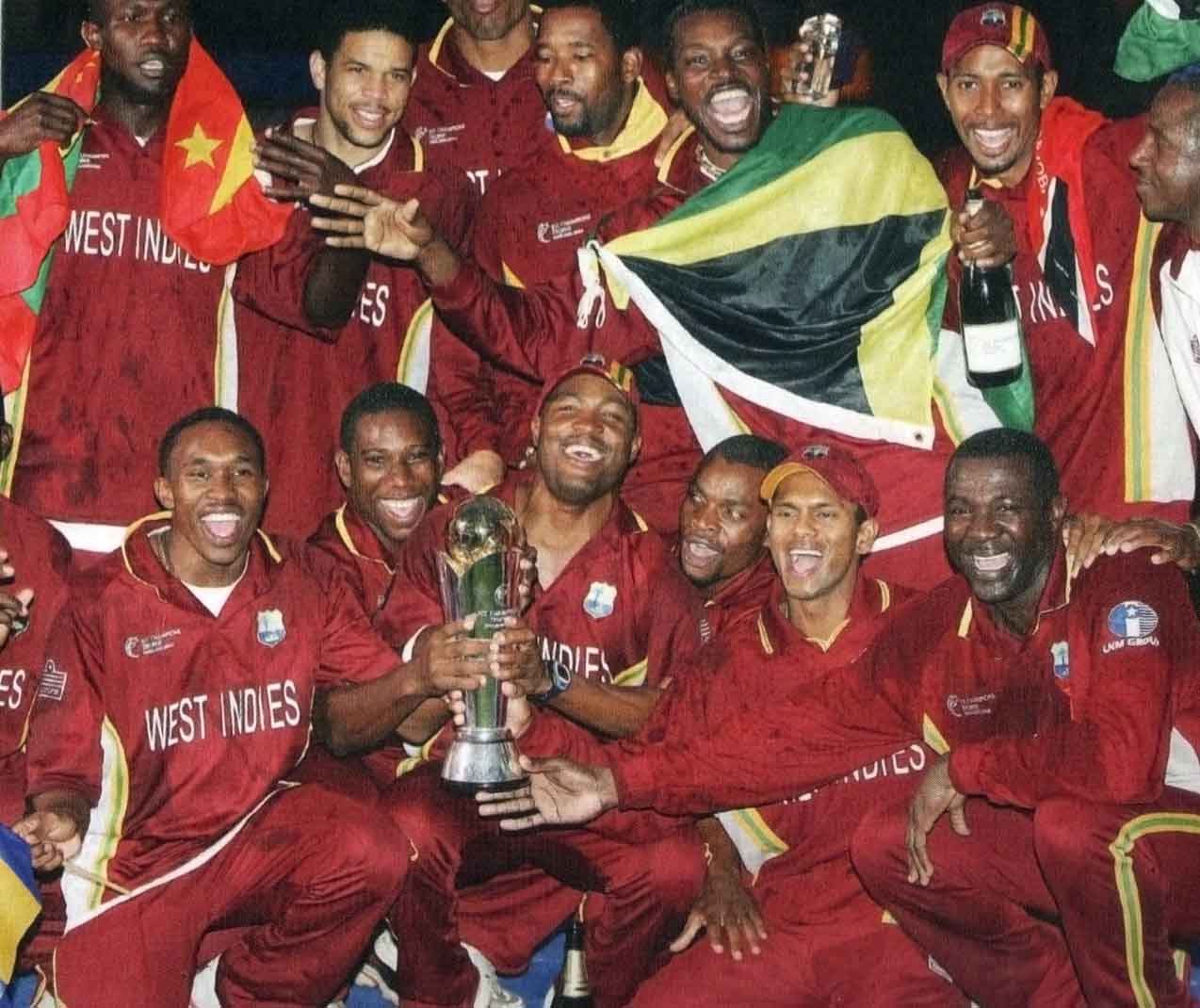 The fourth by-annual ICC 50-over tournament was staged in the 2004 English summer. In a thrilling final, England, armed with their star all-rounder Freddie Flintoff and leading fast bowler Steve Harmison, dominated most of the match before in near dark conditions, the West Indian pair of wicket-keeper Courtney Browne (35 not out) No. 10 Ian Bradshaw (34 not out), snatched a famous victory, with just seven balls to spare.
Trailing behind and virtually out of the match at 147 for 8, it was indeed one of the most unlikely results as the West Indies pair added 71 runs for the 9th wicket, to silence the English supporters at The Oval. As the pioneers of limited-overs cricket, England, surprisingly had not won any major one-day tournament, having reached final on number of occasions only to come out second best.
Twelve teams were divided into four pools with the group leader reaching the semi-finals. ECB had earlier decided to restrict the tournament to just three venues – Birmingham, Southampton & The Oval.
In its two pool games, England beat Zimbabwe by 152 runs and Sri Lanka by 49 runs thanks to 104 off 91 balls from Freddie Flintoff.
West Indies recorded two massive wins in its Pool B matches. It beat Bangladesh by 138 runs at The Oval after reaching a total of 269-3 off its 50 overs. In its second group match, West Indies, raised its game to overcome a very compact South African side by beating them by 5 wickets. Opening batsman, Herschelle Gibbs' typically imperious 101 off 135 balls lacked support as South Africa fell short of their desired total with the final score showing 246 for 6.
The eagerly-awaited India-Pakistan clash at Birmingham attracted a full house (19,800) and produced a fantastic cricket contest. Upon winning the toss, captain Inzamam-ul-Haq's decision to bowl first by vindicated by its seam attack with Rana Naved-ul-Hasan and the fiery Shoaib Akhtar, picking up four wickets apiece. Indian total of 200 off 49.5 overs was eclipsed with four balls to spare as Yousuf Youhana calmed the nerves of Pakistan supporters with a classy unbeaten 81, bringing back memories of Javed Miandad, at his best.
Only heavens know on what grounds did Pakistan captain chose to bat first in the conditions ideally suited to bowling, in its semi-final against West Indies at Southampton. It was all out for 131 in 38.2 overs, a meagre total reached by West Indies in 29th overs with loss of three wickets.
United States of America (USA) had its first taste of one-day international but failed to make any impact. It had to contend with two heavy defeats against New Zealand & Australia in Pool A.
ICC Champions Trophy 2006
7th October – 5th November, 2006
Teams (10): Australia, Bangladesh, England, India, New Zealand, Pakistan, South Africa, Sri Lanka, West Indies & Zimbabwe.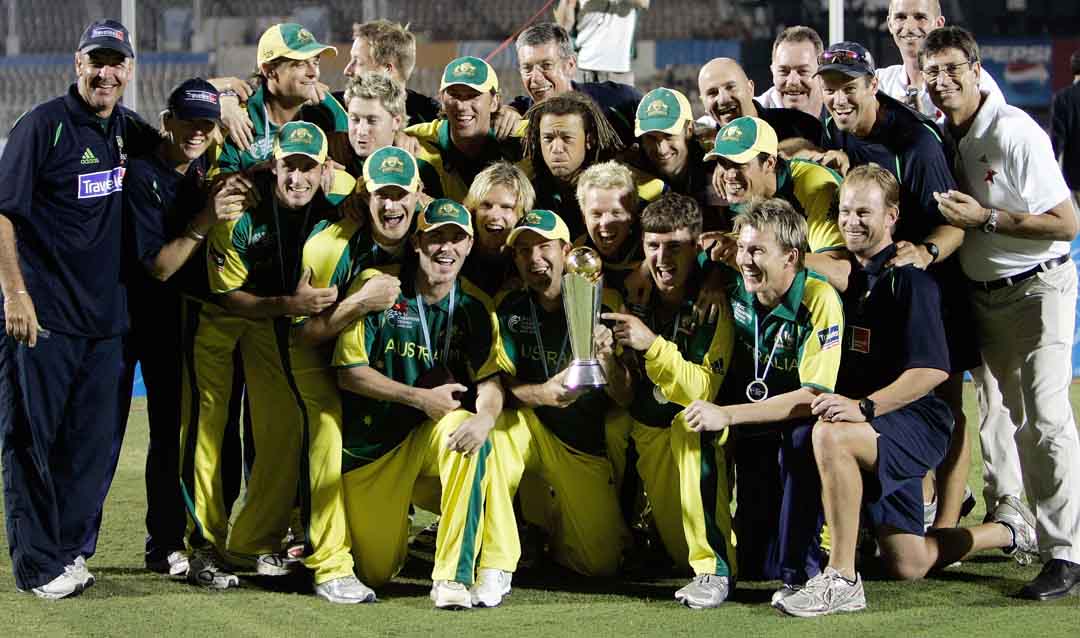 After having twice beaten in the semi-finals, Australia, finally collected the winner's medal. It was led superbly and aggressively by Ricky Ponting, the uncompromising skipper, who within five months would be defending its 50-over ICC World Cup in the West Indies.
In between the ICC Champions Trophy in India and the ICC World Cup in the Caribbean, the Australian captain, hell bent on the revenge mission and Glen McGrath, Shane Warne and Adam Gilchrist bidding farewells, made sure England tasted its first-ever whitewash Down Under. The ruthless Australian approach was all to savour in its first ever success in the ICC Champions Trophy.
The tournament, kicked off with four teams – Bangladesh, Sri Lanka, West Indies & Zimbabwe – playing each other once to eliminate two teams. The two top teams Sri Lanka & West Indies joined the other six teams after which the eight teams were divided into two groups.
The top two teams from each group was to progress into the semi-final stage. There was a slight deviation from the previous tournaments as the number of teams was reduced to 12 which meant only ten-Test nations would be sending their squads to India.
In the qualifying stages the Sri Lankan opening batsman hit two hundreds: 105 against Bangladesh (Mohali) and 110 off Zimbabwe (Ahmedabad). Chris Gayle, reached his 13th ODI, 104 mot out against Bangladesh, in yet another low-key and one-sided match.
Another opening batsman, Shahriar Nafees scored Bangladesh's highest ever ODI score, 123 not out as he carried his bat in his team's total of 231 for 6 in 50 overs, against Zimbabwe at Jaipur. Sri Lanka with three wins in the qualifying stages, was the team with the momentum going into the next stage.
In the group stages, India dismissed England for just 125 to win by 4 wickets at Jaipur and Australia were beaten by 10 runs by the West Indies team in Brabourne Stadium, Mumbai.
Following that defeat, Australia was in a do-or-die situation and it responded wonderfully well to beat first England (Jaipur) and India (Mohali). England successfully chased a target of 273 against West Indies at Ahmedabad, but were not to progress into the semi-finals.
The West Indies total, which had looked like a match-winning effort and included hundreds from Chris Gayle (101) and Dwayne Bravo (112 not out), was overtaken through a majestic unbeaten 90 by England's Kevin Pietersen.
Pakistan, at its most unpredictable, registered a remarkable win, against Sri Lanka at Jaipur. The absence of Inzamam-ul-Haq (suspended for four match in the 'Oval Gate' fiasco), disgraced pacemen Shoaib Akhtar and Mohammad Asif, sent home after testing positive for nandrolone. It was all sensational and deeply disturbing for Pakistan's image.
It left only 12 players to choose from and a new reluctant stand-in captain in Younis Khan. Prior to the team leaving for India Shaharyar Khan had been replaced by Dr. Nasim Ashraf, as the new Chairman of PCB. Leg-spinner Mushtaq Ahmed was sacked after being named to accompany the team to India as an assistant coach.
After restricting Sri Lanka to 253 all out off 49.2 overs, Pakistan batsmen, for once, rose to the occasion to fashion and execute a successful run-chase, with 11 balls to spare.
Following its remarkable win against Sri Lanka, it was simply too much to ask for a repeat miracle. In its last two matches, both at Mohali, Pakistan were beaten by New Zealand (51 runs) and South Africa (124 runs). Its match with South Africa was a classic Pakistan performance. Making use of a greenish pitch with variable bounce it reduced South Africa to 42 for 5 before it was allowed to reach 213 for 8 in 50 overs.
Its batting though was torn apart by Makhaya Ntini whose opening spell of 5-21 off 6 overs left Pakistan reeling at 47 for 8 before its swift demise for 89 all out in 25 overs.
In the Trans-Tasman semi-final, Australia's superior bowling resources, propelled them to a 34-run win against New Zealand at Mohali. In the second semi-final at Jaipur, Chris Gayle enhanced his reputation as one of the most destructive opening batsman in the world, in smashing a match-changing 133 not out with 17 fours and 3 sixes to take West Indies to a memorable win by six wickets, with six overs to spare against South Africa's total of 258 for 8 (50 overs).
In the final, played at the Brabourne Stadium, Mumbai, West Indies after a bright opening stand of 49 runs collapsed to 138 all out in just 30.4 overs, a total that was overtaken by Australia in just 28.1 overs, with customary ease.
ICC CHAMPIONS TROPHY 2009
23rd September – 5th October, 2009
Teams (8): Australia, England, India, New Zealand, Pakistan, South Africa, Sri Lanka & West Indies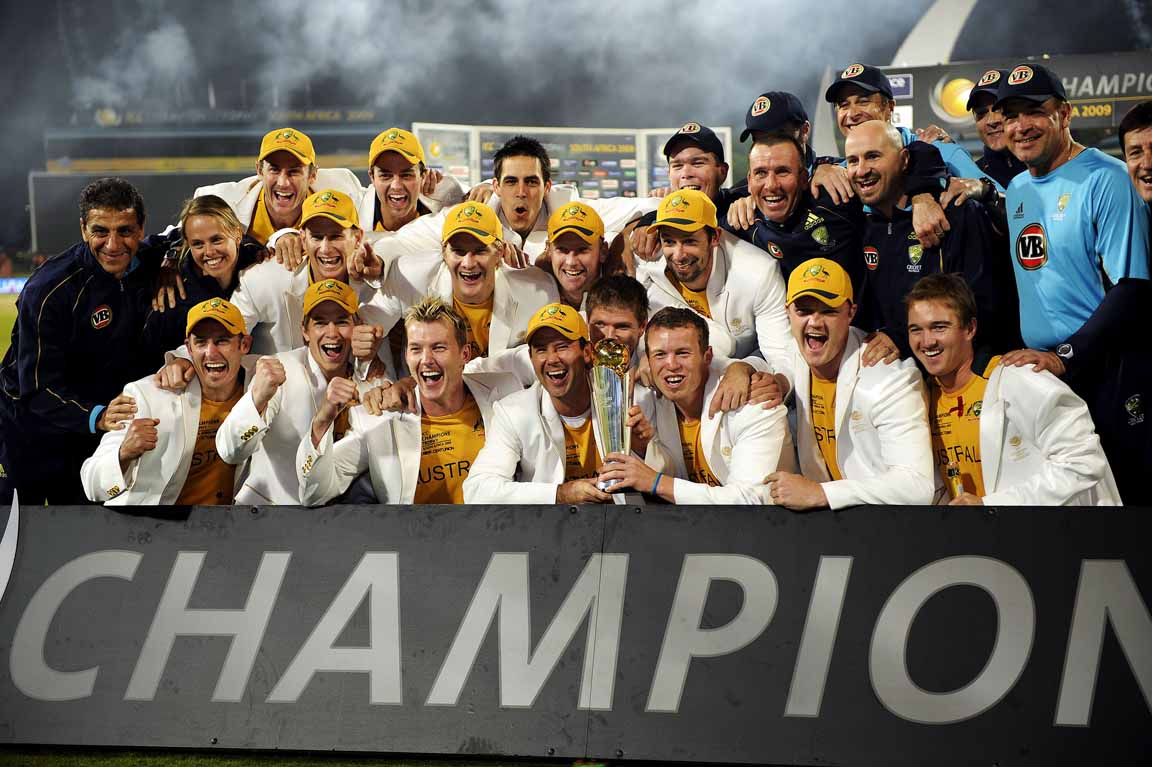 Originally scheduled to be played in Pakistan in September- October 2008, the security concerns forced ICC to switch the tournament to South Africa, although initially Sri Lanka was named as the second option.
Pakistan, recently crowned as the World T20 champions in England, was placed in Group A, alongside West Indies, India and Australia for the ICC Champions Trophy 2009. West Indies, severely depleted by players' dispute, lost its opening game to Pakistan by five wickets at Johannesburg, after getting bowled out for 133 in 34.3 overs. Pakistan in reply looked shaky at 76 for 5 before reaching a modest target.
The India-Pakistan group match at Centurion – the venue of its memorable clash in the 2003 ICC World Cup – lived up to its billing. The harmonious relation between the spectators of both countries made the ICC Champions Trophy, another special occasion.
The quality and depth of Pakistan bowling earned its side a convincing 50-run victory. All rounder Shoaib Malik, continued his good record against India by scoring 128 and adding 206 runs for the 4th wicket with Mohammad Yousuf (87) in Pakistan's total of 302 for 9 off 50 overs.
In the opening game of Group B, at Centurion, the impact of T20 batting innovations was in full bloom when Sri Lanka's opening batsman Tillekeratne Dilshan kicked off with an eye-catching 106 off 92 balls in his side's total of 319 for 8 off 50 overs.
His 'starfish' or 'Dilscoop', a stroke that is aimed over the head of the wicket-keeper, managed to rattle the South African bowlers and fielders, to such an extent that they could not find their feet whilst batting and finished on 206 for 7 off 37.1 overs – losing by 55 runs (D/L).
Two days later, at the same venue, South Africa recovered to beat New Zealand by five wickets. Their fate hung in its third and last group game against England. As so often in these big tournaments, its collective effort as a formidable team, even on his home soil, was not good enough. England, batting first put 323 for 8 in 50 overs on the board.
South Africa in reply, threatened to take the game but lost wickets at regular intervals. A high-quality captain's knock from Graeme Smith who was ninth out after a career-best 141 from 134 balls, came to no avail as South Africa finished on 301 for 9 off 50 overs.
The first semi-final at Centurion, between arch-rivals, Australia and England was far from a classic one-day encounter. After restricting England to 257 all out in 47.4 overs, Australia's two in-form batsmen Shane Watson (136 not out) and Ricky Ponting (111 not out) launched an assault on English bowling and had the last laugh whilst adding 252 runs for the 2nd wicket and the target was reached in just 41.5 overs.
In the second semi-final at Johannesburg, Pakistan, did not take its chances that enabled New Zealand to make a successful bid at chasing 234 runs. Pakistan batting failed to lift itself after Younis Khan had opted to bat first.
On the strength of a superb undefeated hundred by its all-rounder, Shane Watson (105 not out), Australia strolled to victory and thus retained ICC Champions Trophy, they won back in 2006. His innings included four sixes and won him the second successive match award. New Zealand, batting first, reached a below-par total of 200 for 9 off its allotted 50 overs. Australia reached its target with 26 balls to spare.
ICC CHAMPIONS TROPHY 2013
6th   to 23rd June 2013
Teams (8): Australia, England, India, New Zealand, Pakistan , South Africa, Sri Lanka, West Indies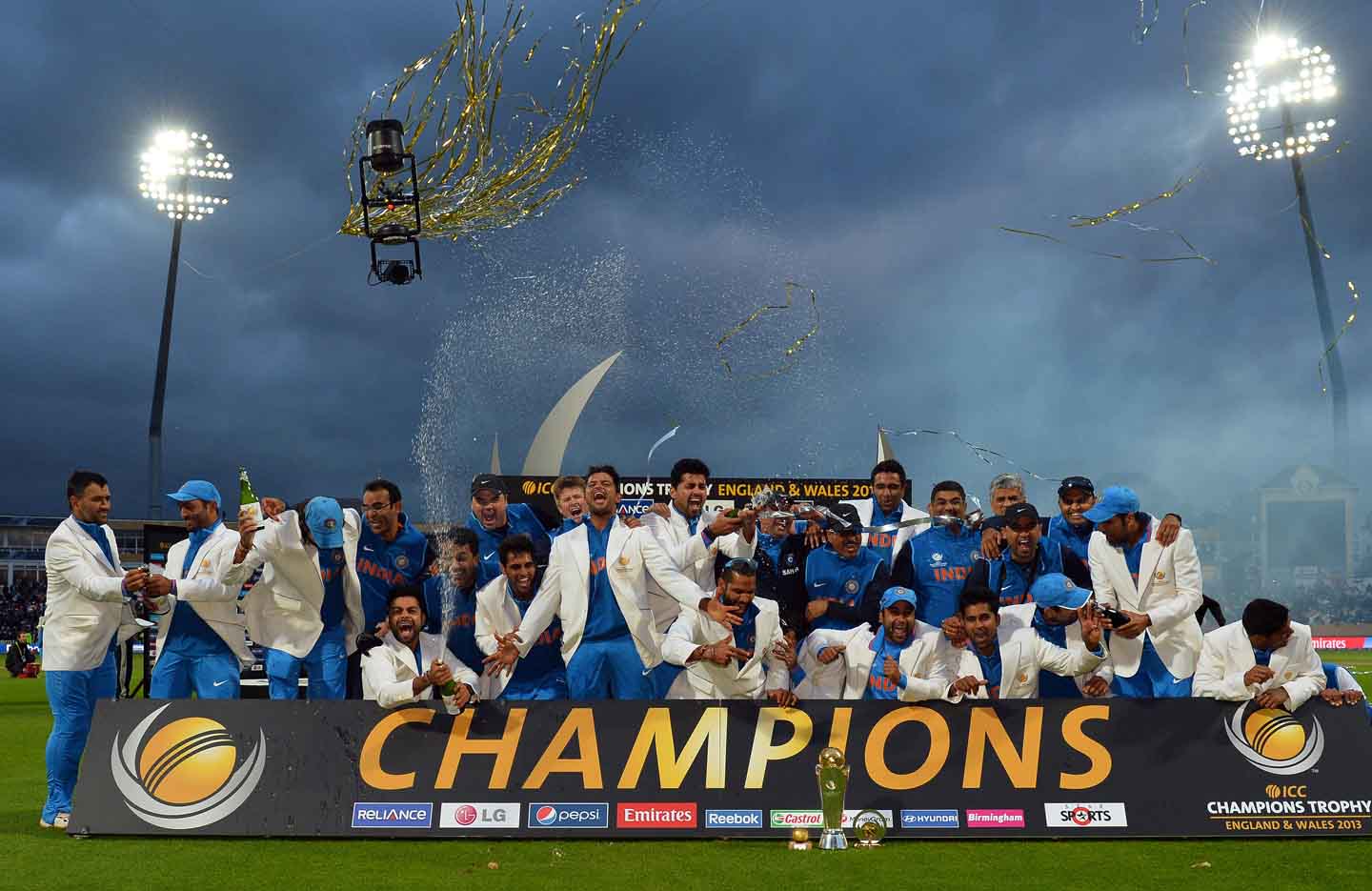 England and Wales hosted the 2013 Champions Trophy. England became the only country to host the Champions Trophy twice. ICC World Test Championship has been postponed to 2017 at the earliest amidst earlier reports.
India, Sri Lanka, South Africa and England qualified for the semi-final stage. India and England won their respective games comprehensively and the final between the two took place on 23 June 2013.
India beat England by 5 runs at Edgbaston. Ravindra Jadeja was selected as the man of the match and he also received the "Golden Ball" for taking the most wickets.
Shikhar Dhawan received the "Golden Bat" for scoring the most runs in the series and was also the man of the series for his outstanding performance.
This was India's second time winning the trophy, after 2002. MS Dhoni became the first skipper to win all the major ICC trophies.
The final of the 2013 ICC Champions Trophy was played on 23 June 2013 between the England and India at the Edgbaston Cricket Ground, Birmingham.
This was the 7th ICC Champions Trophy. India won the match by 5 runs. England qualified into the final by defeating South Africa in the first semi-final at the The Oval, London on 19 June 2013.
India made their way into the final after defeating Sri Lanka in the second semi-final played at SWALEC Stadium, Cardiff on 20 June 2013.
The match was delayed almost six hours for rain and started at 16:20 local time. But the match was reduced to 20 overs per innings. So all the rules of this match was the same like a T20I game.
But they had to share the honour with Sri Lanka since this was a joint championship winning. So this was the first time when India won that title individually.
In addition India became the second team after Australia to win the ICC Champions Trophy more than one time.
Ravindra Jadeja earned the man of the match award for his performance in the match. Shikhar Dhawan was named the man of the series for scoring 363 runs in the tournament.
In the stadium, the match was watched by 24,867 spectators.