18 January 1977- 40 years of the classic Pakistan win over the Aussies
The political temperature in the country had shot sky high, following the announcement of General Elections by PM Zulfiqar Ali Bhutto, when a sporting event, far beyond the shores of the country, suddenly took the centre stage, for millions of Pakistanis. The avid cricket lovers, dotted all over in the cities, towns and villages, had followed the 1976-77 Australia-Pakistan Tests, a keenly contested series, through their transistors, half asleep, tucked in duvets and blankets, braving the chilly winter mornings. It simply was a love affair with a game of cricket, a beautiful legacy of the British rule in the sub-continent.
A twelve-year old student of Divisional Public School, Lyallpur (soon to change to Faisalabad) is in a state of unease, never experienced before. Armed with the knowledge of the whitewash at the hands of Australia, back in 1972-73, he suddenly finds the national cricket team, at the brinkof creating history. The fear at the back of the mind was, what if the last pair turn the game and deny Pakistan, their first-ever Test win, in Australia. It would be a well-deserved win, for collectively Pakistanis, had bowled, batted and fielded, out of their skins. To win and dominate most sessions of a Test match, against a top side in the world, was nothing short of a dream performance. Thus far, a great many spectacular catches, with wicket-keeper Wasim Bari's appearing on the scorecard on seven occasions, had been attributed to Pakistanis.
The rest day, provided time, for both Pakistan players and management, to reflect and weigh, the magnitude of the success, awaiting them. Previously Pakistan had recorded only fourTest wins – Lucknow (52-53), The Oval (54), Port-of-Spain (57-58) and Dunedin (72-73) – outside the comfort zone of home conditions. A number of cherished moments,could be counted on one hand.
Snatching the best seat to witness a historic moment had its perils for it required a 4am wake up on Tuesday 18th January, 1977.A sleepless night was a blessing in disguise for it assisted in waking up without an alarm.An agonising wait whilst PTV (Pakistan Television) established a satellite link for a live telecast from Sydney cricket ground. It was also a ground-breaking moment for PTV too for no overseas cricket match had been shown live, to the Pakistan public, before.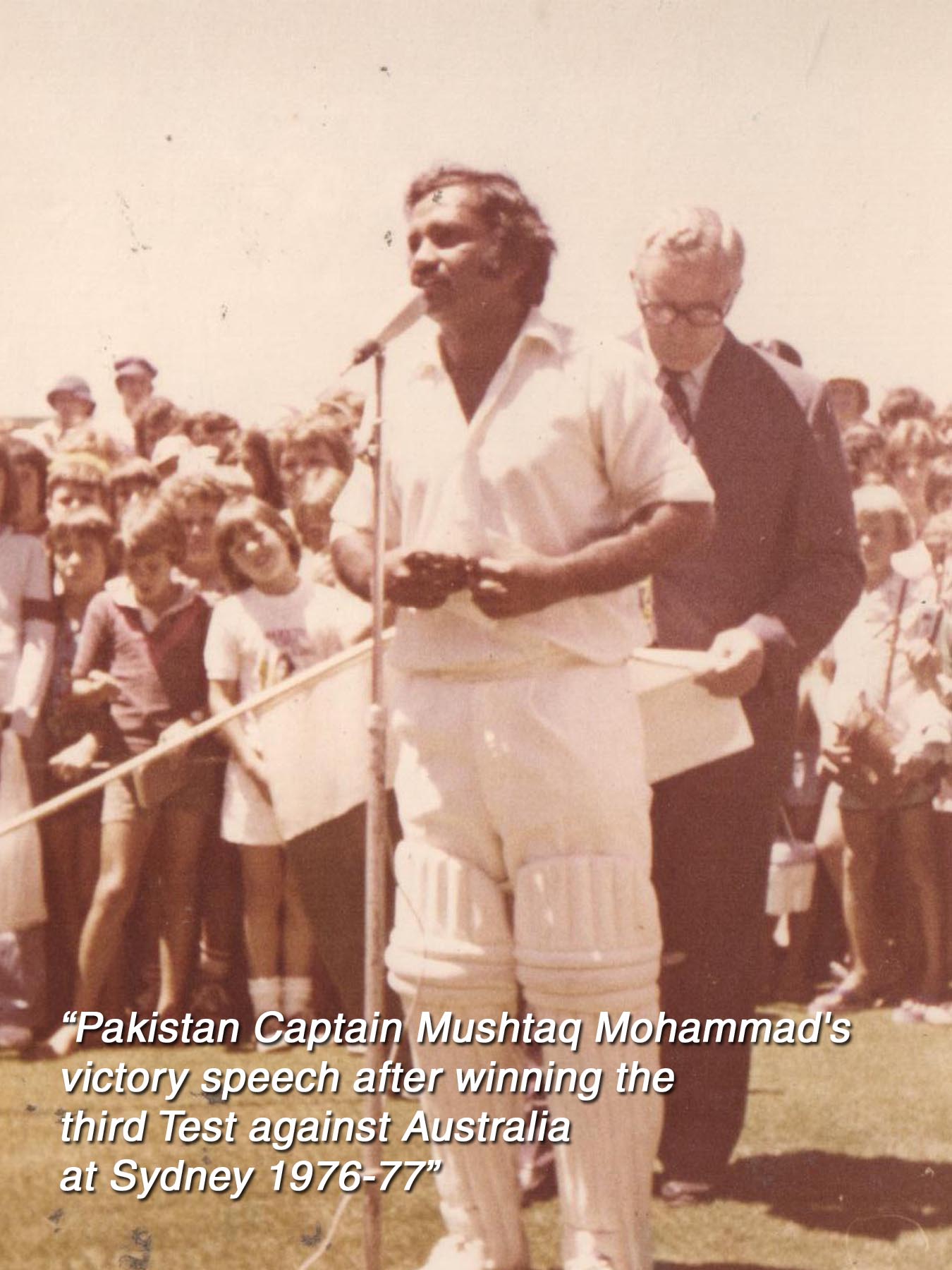 A huge sigh of relief, followed the exit of Dennis Lillee, top-edging a bouncer to be caught by Zaheer Abbas, running back from his 3rd slip position, off Imran Khan, who by picking up his 12th wicket of the match, created a sensation in the cricket world. A 24-year old Oxford graduate with initial grooming in Zaman Park, Lahore, who had only been advised to go flat out in the previous Test at Melbourne, now with the help of his senior pace partner, Sarfraz Nawaz, on a lively Sydney wicket, made excellent use of the overcast conditions on the opening day and then pushed the opponents further back, on the third and deciding day of the Test.
To be fair to Imran, he surprised himself, team members, management and his opponents, with pace, bounce and above all the control, to exert constant pressure o Australian batting line-up, led by captain Greg Chappell.With only himself and Sarfraz, as two front-line pacemen in a somewhat defensive ploy by the selectors, he bowled 45.7 eight-ball overs, with admirable stamina, aggression and liberal use of bouncers. A Pakistan fast bowler with no fear of triggering a bouncer-war between the two sides and even himself being targeted by the opposition had taken the first steps towards greatness.
The Indian sub-continent, previously produced Mohammad Nissar and Amar Singh, two fast bowlersof genuine pace in the 1930s, now had a claim on a Pathan of the warrior race, who would be regularly clocked beyond 90mph and challenge the best batsmen, in the world. Imran's splendid effort, was indeed a turning point, on a personal note for the bowler and a significant one for Pakistan cricket, which despite, a great pool of talent in the 1970s, was still coming to termswith, the 'art of winning'.
Australia all out for 180, in its second innings, leaving Pakistan only 32 to win and level the series at 1-1. The match was wrapped up before lunch on the 4th day of the Test, but not before some drama. Now the focus shifted from one Khan to another. Majid Khan, with only his trademark weather-beaten floppy sunhat, to protect him from a serious head injury, faced the great Dennis Lillee, who ran in with the aggressive intention of running through and bowling out Pakistan, before they could reach the finish line.
Arguably, no Pakistan batsman, before or after, could match the aura of Majid, an elegant batting artist, from the Golden Age of Cricket at the turn of the 20th century. Thankfully, he remained cool as a cucumber, whereas all three of his partners, Sadiq Mohammad, caught down the leg-side of a lifter, Zaheer Abbas, took a blow on his hand before succumbing to another bouncer and Mushtaq Mohammad, dropped before he could open his account, did not look at their best. Majid's 26 not out included a six off Lillee over fine leg and a winning cover-drive boundary off Max Walker, to bring smiles all around.
The post match ceremony included a 'Man of the Match' award for Imran Khan, presented by Alan Davidson and an act of great sportsmanship with Majid, handing his famous sunhat to Dennis Lillee, in acknowledgement of the Australian's tireless bowling, during the three-Test series. Pakistan had levelled the series, prompting the use of phrase, 'superstar' tagged, for the first time with its match-winning individuals – Majid Khan, Sadiq Mohammad, Zaheer Abbas, Mushtaq Mohammad, Asif Iqbal, Javed Miandad, Imran Khan, Sarfraz Nawaz, Wasim Bari. It also gave birth to players' power, with Abdul Hafeez Peerzada, President of the PSB (Pakistan Sports Board), far more sympathetic in the pay dispute, than the BCCP President, Abdul Hafeez Kardar.
It was a dawn of a new age. The victory provided Pakistan cricket with the impetus paving the way for more success in the 1980 and culminating with its World Cup win at Melbourne in 1992.
Remarkably, four decades on, Imran, the architect of the great Sydney victory, continues to remain, in the spotlight and attracts attention like no one's business.With a remarkable portfolio, featuring a 10-year leadership reign of the most volatile cricket team in the world, running a fund-raising campaign to build a cancer hospital in the memory of his mother Shaukat Khanum, establishing Namal College in Mianwali, and above all fighting every inch, as a Chairman of Tehrik-i-Insaf (Movemnet of Justice), a political party that has emerged as the leading opposition force, Imran has all the credentials, to go down, as one of Pakistan's most,noteworthy individuals.
Abbreviated Scores : Third Test of the series, played at Sydney Cricket Ground on 14, 15, 16, 18 January, 1977 – Australia 211 (G.J. Cosier 50, Imran Khan 6-102, Sarfraz Nawaz 3-42) & 180 (R.W. Marsh 41, Imran Khan 6-63, Sarfraz Nawaz 3-77) lost to Pakistan 360 (Asif Iqbal 120, Javed Miandad 64, Haroon Rasheed 57, M.H.N. Walker 4-112, G.J. Gilmour 3-81, D.K. Lillee 3-114) and 32-2, by 8 wickets.
Playing XI Maashallah is all alive with 12th Man Wasim Raja, who ran out Rod Marsh, no longer with us