I take this opportunity to put forward the feelings and dissatisfaction of people and cricket lovers of Sindh to a large audience through this article. As I have been an elected representative from Region Hyderabad thrice it is my duty and I hope for the resolution of this issue.
Before I present my case, let me make it clear that Niaz Stadium and cricket can never be separated as this stadium holds a special place in the hearts of cricket lovers of Sindh and in the history of Pakistan Cricket.
Let me share a bit about the current state of buildings and the outfield with you although many articles were published by mainstream newspapers and magazines about the shambolic state that Niaz stadium is in.
Having seen it in its glory, it pains me to see now the decline of this iconic stadium: the stands are crumbling which cannot be used without major repairs and the pavilion is also in a state of disrepair.
The three and a half decades old structure needs immediate attention from the authorities.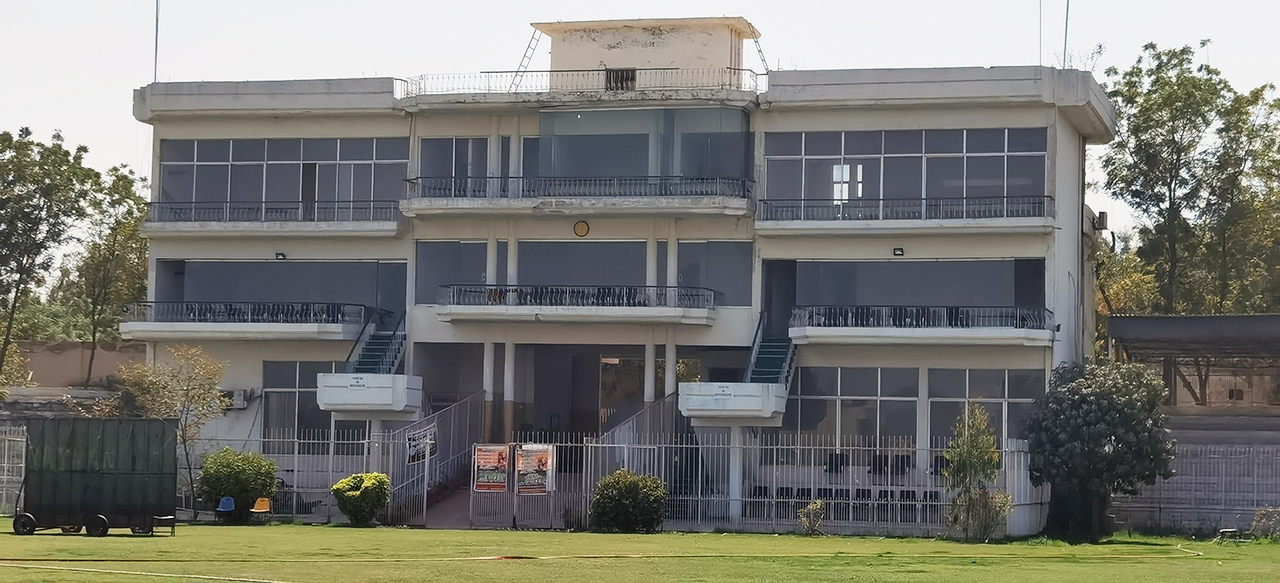 It is clear as daylight that the major portion of population in Sindh has suffered a lot because of Niaz Stadium being excluded, overlooked and mismanaged by Pakistan Cricket Board and the local, Sindh and federal governments.
The former glory can be restored only if the government and PCB invests heavily in its infrastructure and serious and worthy steps are taken to rehabilitate this historic venue so that it may host international and PSL matches.
PCB has invested more than a billion rupees on the renovation of National Stadium Karachi. It is a very legitimate question raised by the cricket fraternity. Why is Niaz Stadium being denied a chance to host international and national cricket stars?
The derailing of the regional system by the current PCB management has destroyed the investment of many years in cricket of this region to bring forward players from rural and unrepresented areas, giving them a chance to develop their skills and hone their talent close to where they live.
At the time of writing this article, Noman Ali who is originally from Khipro in Sanghar district has represented Pakistan in Test matches against South Africa. He is among the few players from Sindh, other than those based in Karachi, to be in Test XI of Pakistan. Muhammad Hasnain, a young and promising fast bowler with above 145 KPH speed has also been part of Pakistan team.
Kashif Bhatti, included in the Pakistan squad but not given an international match, is another contender for a place in the Pakistan Test or One Day squad.
Zahid Mehmood, a leggie from Dadu District has debuted in T20 for Pakistan and Shahnawaz Dahani, a fast bowler from Larkana Region, is playing in Pakistan Super League. All this has been possible because they were provided playing opportunities at their doorsteps when PCB invested in bringing local talent forward, establishing grounds and providing help in the shape of manpower for Districts and Regions. This would have been undreamt of if people with a vision and a love of the game had not been in the seats of authority in the past.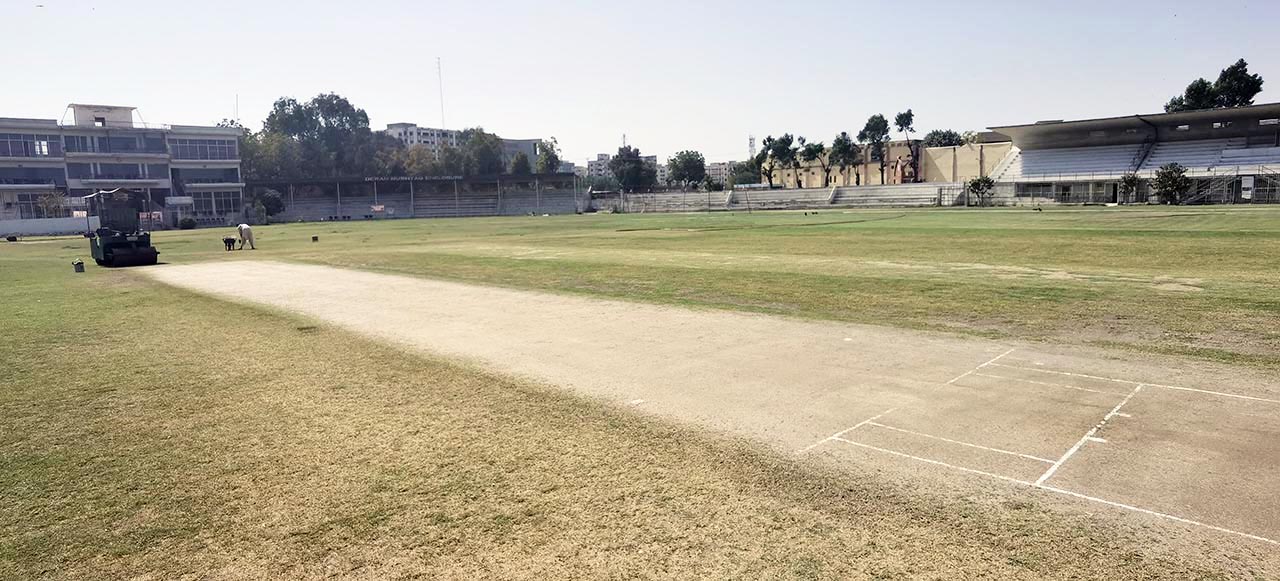 On the 17th of July 2007, PCB took over the management and control of Niaz Stadium. An MOU was signed between Hyderabad's local government stating that improvements to the structure and the outfield would be made by PCB. It was also declared in the MOU that a share of income from any international match or commercial activities would also be awarded to the local government.
A Pakistan-Zimbabwe match was held. Gigantic efforts were made by the Regional Development Officer Mr. Husain Shah and President of Region Hyderabad Mir Hyder Talpur.
I remember the outfield was not worthy of play so four (4) lawns were taken out in patches from Tando Jam Agricultural University and placed to make the outfield worth playing. The building was revamped and special rooms were designed to house Chairman PCB and other dignitaries.
My point here is that if anyone has the will and wants a resolution to any problem it is possible and although it takes many sleepless nights to be able to do it at a level that is acceptable for all. They say if you change nothing, nothing will change.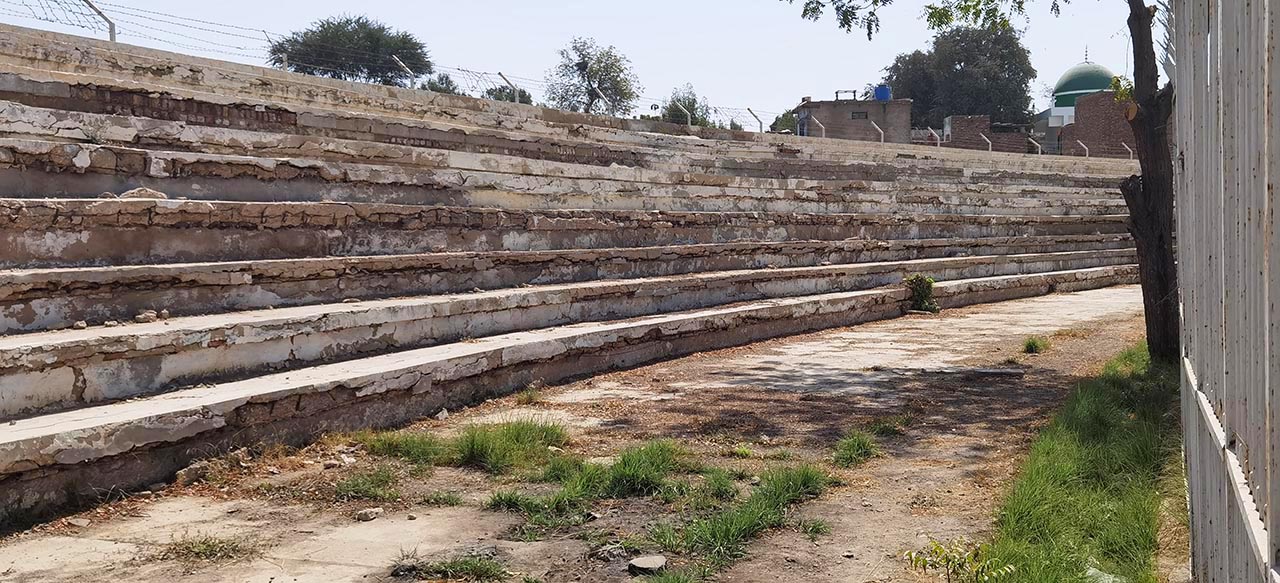 On the fateful day of 3rd March 2009 the Sri Lankan Cricket team was attacked and all international teams stopped visiting Pakistan. It led to a decline in the income of Pakistan Cricket Board but at the 23rd Governing Body Meeting that was held at Garhi Khuda Bux and after convincing done by Mir Hyder Talpur it was announced that renovation would start and floodlights installed to enable Day and night matches but the change of government left all these plans in limbo.
Then out of the blue in March 2018, CM Sindh announced along with Chairman PCB Mr. Najam Sethi that Niaz stadium would hold a PSL match and Municipal Committee Qasimabad took over Niaz Stadium with force. The MC was presided over by Kashif Shoro, brother of Jam Khan Shoro, who was Minister for Local Government. He cancelled the MOU by a mere resolution passed by municipal committee Qasimabad.
The damage which was already evident has aggravated manifolds after this takeover of Niaz Stadium as nowadays it has also been used as a venue for landing helicopters and non-cricketing activities. Even fees are reduced to 5000 from 15000 charged by PCB for a day's play resulting in total degradation of grass and quality of cricket pitches.
Any Tom Dick or Harry can now enter the fields without any hindrance as there are no guards around to stop them from stepping on to pitches or loitering around.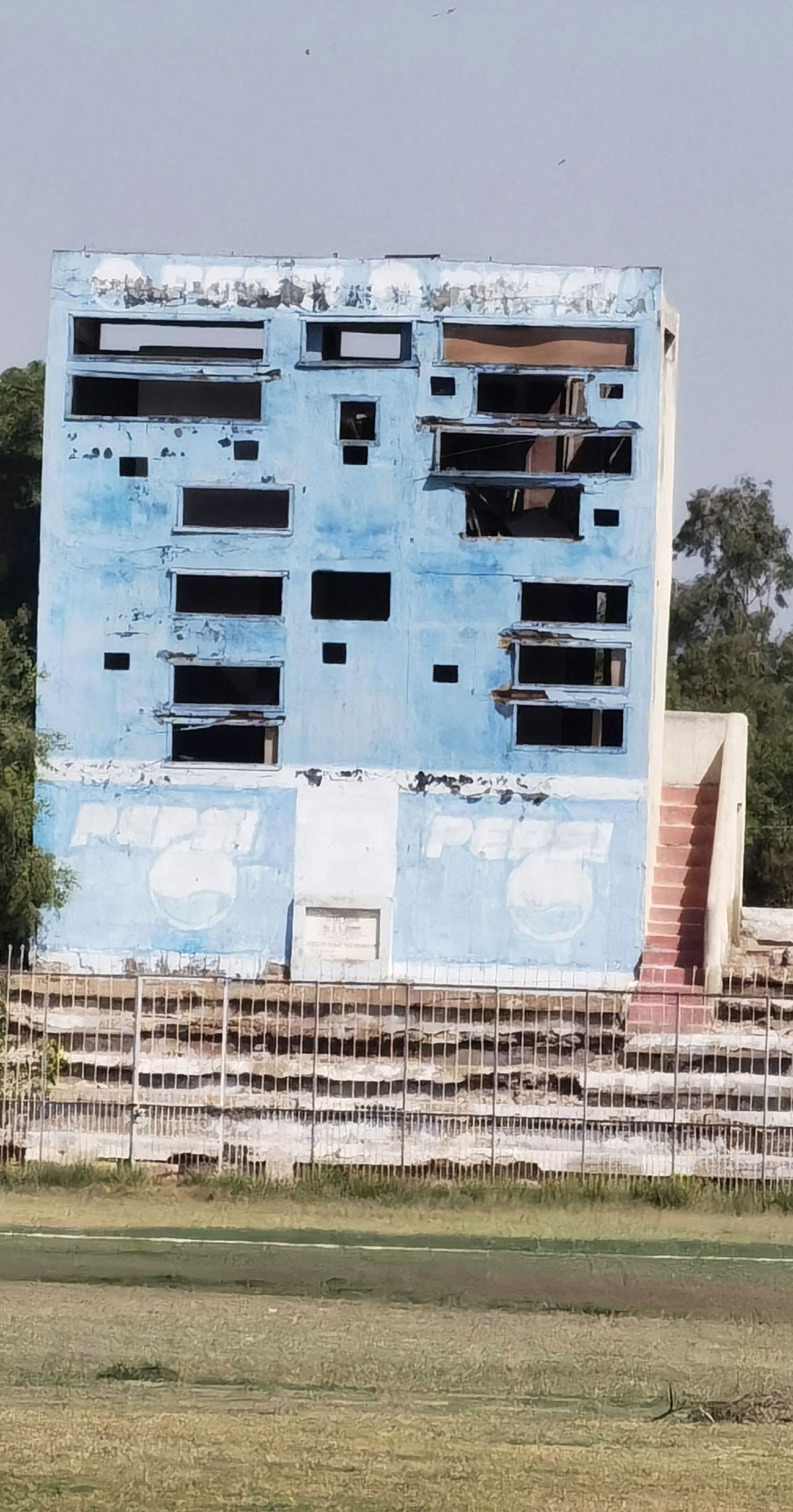 I tried my best to give the control back to PCB as I wanted PCB to invest in and improve this Ground for future use as an international venue but PCB took no interest in taking over control.
It was interested in the machinery only that was at the venue and after discussion with Jam Khan and Kashif Shoro they refused to hand it over as they said PCB owes them money from matches and commercial activities that were carried on in the 11 years.
It is high time that Pakistan Cricket Board revisited its policy of giving matches to only big cities and must allow all, whether a large or a small city, to enjoy and have fun witnessing a game of cricket.
We, the people of Sindh, demand from Pakistan Prime Minister Mr. Imran Khan that he direct the Pakistan Cricket Board and also request the Sindh Government to invest resources and make us all Sindh cricket lovers happy once again and enable us to witness international cricket.
And now some unknown and well-known facts about Niaz Stadium.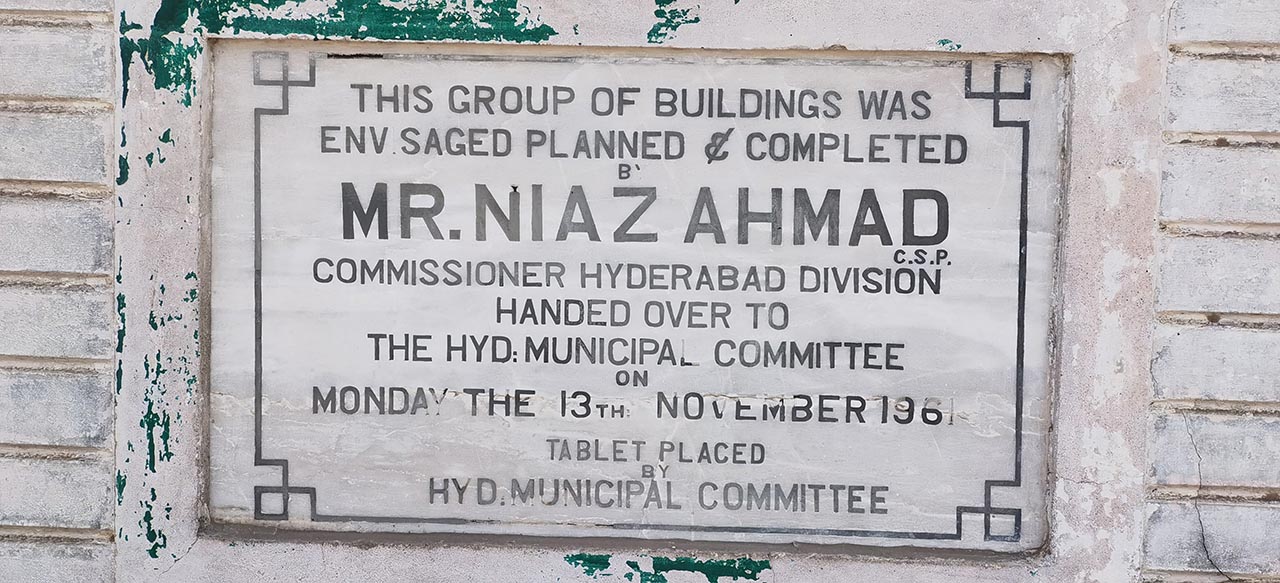 The iconic fabulous venue called Niaz Stadium was conceived and constructed by Commissioner Hyderabad Mr. Niaz Ahmed in late 1950s.
The stadium has an iconic stand that is standing without any pillars and can seat up to 3000 spectators.
Few people now know that this stadium has hosted a national football championship and also hockey matches. The stand that is placed on the west side of the field strategically was for the fans to enjoy all games equally.
Mr. Ronaq Ali Rajput is an eyewitness to the football championship in 1959. The stand was not even erected. Only tents were there for the spectators.
Mr. Waheed Sheikh, currently Secretary Hyderabad Football Association, also told me that in 1997/98 All Pakistan Inter University Football Tournament was also held in Niaz Stadium and that tournament concluded in a final between Sindh and Punjab universities which was officiated by FIFA Referee Mr. Mohsin Iqbal.
In early '80s, he also witnessed a hockey final between Pakistan Customs and Habib Bank which had giants of Pakistan hockey like Hasan Sardar and Hanif Khan.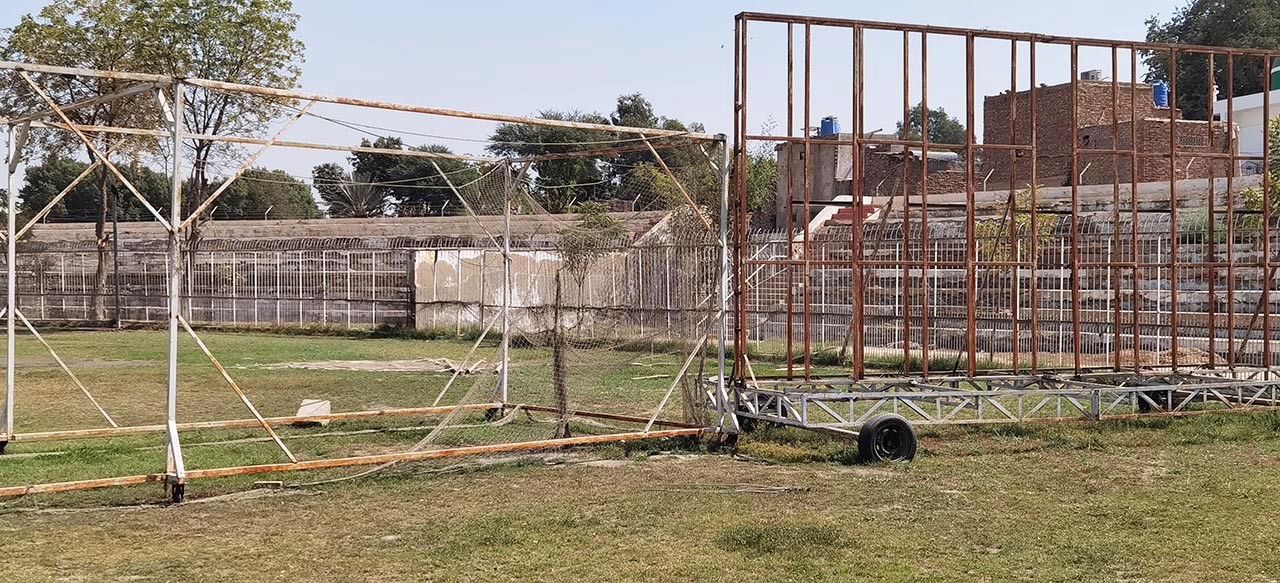 Many facts are very well known about this historic Stadium such as that Pakistan has never lost a match at this venue. It was in 1973 when Niaz Stadium hosted its first ever Test match, between Pakistan and England.
The Reliance Cricket World Cup in 1987 was inaugurated by a match here at Niaz Stadium.
Hat-trick by Jalaluddin also happened here when he was playing against Australia on September 20, 1982. That was the first ever for any bowler in a one day international cricket match.
Niaz Stadium also boasts of holding the 1000th Test match in history — against New Zealand in 1984. Pakistan won it with more than a day to spare.
Mr. Qamar Ahmed, famous journalist and only Pakistani to cover 450 Tests, was born in Hyderabad. He told me some interesting facts little known to the general public. The first ever game that he played at this Stadium was a friendly match between Commissioner XI and Deputy Commissioner XI in the same year that Niaz Stadium was inaugurated.
He also told me that the first first-class match took place in 1962, between South Zone and Secondary Board XI.
And can anyone boast of saying that he hit the first ever six at Niaz Stadium? Mr. Qamar Ahmed can.
Also little known to cricket lovers is the fact that Niaz Stadium is the second first-class venue in Hyderabad. Qamar Ahmed also stated that he made his first class debut for Rest Of Sindh Versus Karachi at Queens Park (Rani Bagh) Hyderabad.
It is high time that proper attention was given to Niaz Stadium and resources spent properly to uplift this only centre after National Stadium Karachi for Sindh cricket fans.