Before Misbah-ul-Haq the present Pakistan cricket captain scored his century at the age of 42 years at Lord's against England in the first Test during Pakistan team's current tour to England, it was Miran Bux who was rated as the oldest player from Pakistan to play test cricket.
Miran Bux played two Test matches for Pakistan against India in 1955 and became the second oldest cricketer in the world to appear in test cricket in the twentieth century. When he donned Pakistan colours in the third test match against India at Lahore he was 47 years 284 days old.
Although Pakistan had an off spinner in the shape of Zulfiqar Ahmed but he stayed away from the series due to domestic problems created by the Pakistan captain A. H. Kardar who was married to Zulfiqar's sister Shahzadi but had married an English woman on the 1954 tour of England.
In his first appearance as an off-break bowler for Pakistan Miran Bux took the wickets of Indian opener P.L. Panjabi and Vijay Manjrekar. Both were clean bowled and I can still hear the rattle of the stumps as I saw it happen. He would have taken a third wicket if Fazal Mahmood had not dropped an easy catch of Polly Umrigar earlier on in his innings who then went on to score 78 runs. His two wickets had cost him 82 runs but he had bowled accurately and dangerously throughout the innings. His figures were 48-20-82-2. In India's second innings eight bowlers were tried including Alimuddin, Hanif Mohammed and Wazir Mohammed except Miran Bux which was beyond any comprehension.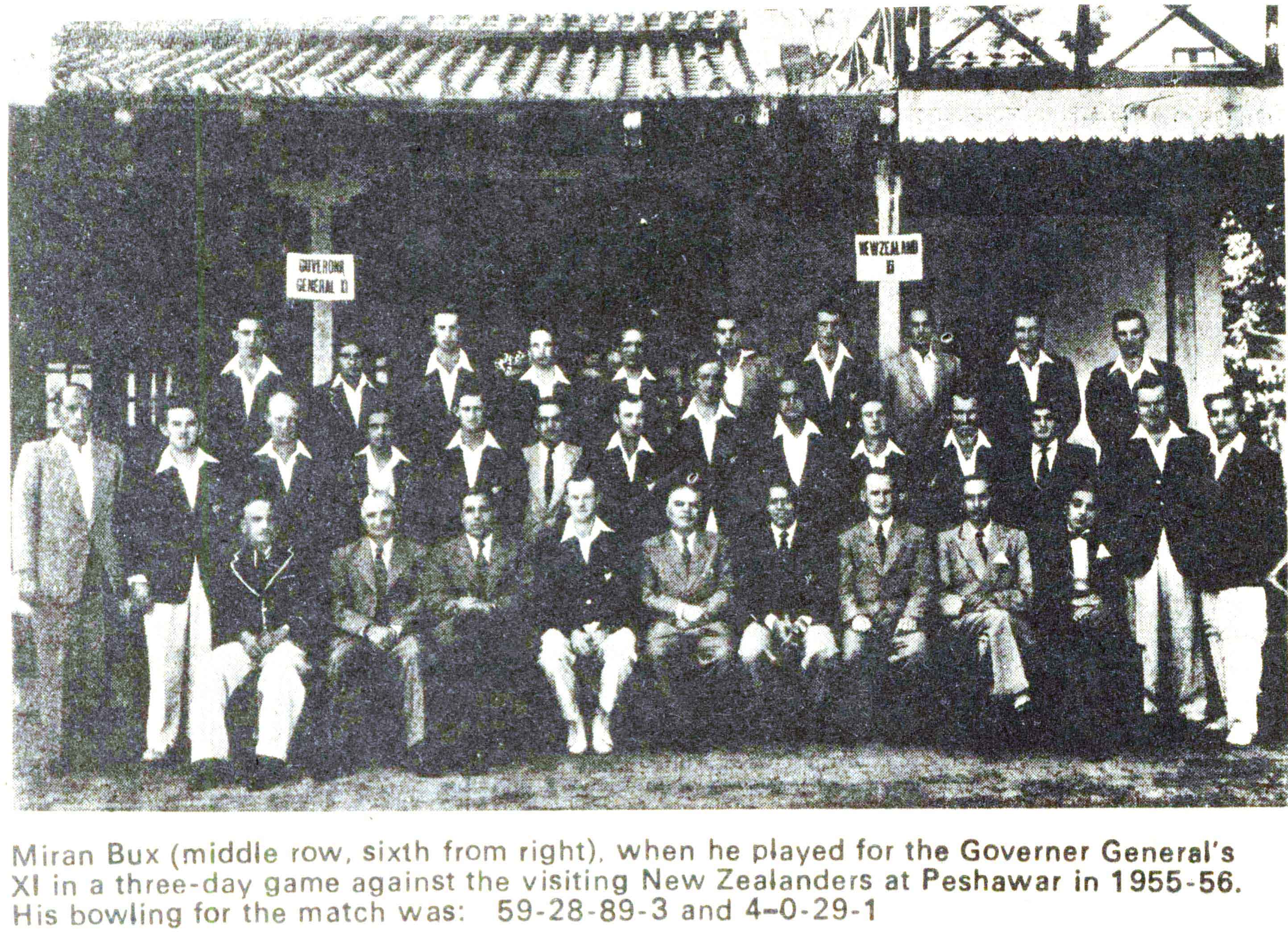 In the next Test at Peshawar he was hardly given a chance to bowl. He bowled only eight overs in the first and two overs in the second innings. Strangely he was dropped from the final test at Karachi which was to be played on a matting wicket. I think it was a mistake to drop him because he would have been quite effective on that wicket. Miran Bux never played test cricket afterwards. However his job with the 501 Central Workshop at Rawalpindi enabled him to lay a new turf wicket for his employers.
At his home ground the Pindi Club at Rawalpindi he was virtually unplayable. Everyone feared him on that wicket. It was a pitch he should have carried to every ground to play.
His first class cricket career was astonishing. Malik Miran Bux was born on April 20, 1907 at Rawalpindi. He did not play higher level of cricket till he was 42 years old. Earlier he was mostly playing second grade cricket.
It was in 1948 he appeared against the West Indies led by John Goddard in a two day match at Rawalpindi and took five wickets for 61 runs. His victims were George Carew, George Headley the black Bradman, Clyde Walcott, John Goddard and Robert Christiani. He was then selected for the Commander-in-Chief's XI to play against Jock Livingston's Commonwealth team. He was simply unplayable and took 5 for 19 and 5 for 65 in both the innings. His team almost won in contrast with the Pakistan team that had lost to the Commonwealth at Lahore. He had George Tribe in trouble all the time before getting him out LBW. As Tribe was leaving he patted Miran Bux with his bat in appreciation of his outstanding bowling. Miran Bux never forgot that gesture of sportsmanship even in his old age.
He next played for the C-in-C's XI at Rawalpindi against the touring Ceylon team. He was then 42 years 343 days old. He only bowled seven overs and conceded 8 runs without a wicket in the match that was stopped due to rain. Miran Bux was not given any first class opportunity for the next four seasons. During all this period when Pakistan defeated the MCC at Karachi, achieved full membership of the ICC and Test status, toured India, inaugurated Quaid-e-Azam trophy and toured England, Miran Bux had been forgotten in the wake of these important events.
It was a gap of five years after which he made his test debut. I think initially it was Maqsood Ahmed commonly known as "Merry Max" who used to play cricket regularly at the Pindi Club always thought of him as the gentlest and sweetest soul in cricket. He recommended Miran Bux to Pakistan cricket captain Kardar who attached great importance to Maqsood's advice. After Miran Bux had appeared in test cricket his actual first class career took a start.
From 1954-55 to 1956-57 he played for the Combined Services XI that took part in the national first class tournaments. In 1957-58 he represented Punjab "B" which in fact was the Rawalpindi team. He had also appeared for the Governor General's XI at Peshawar against Henry Cave's New Zealand team in 1955 and took three wickets for 89 runs in 59 overs of which 28 were maidens in the first innings. In the second innings he got one wicket for 29 runs in 4 overs.
He appeared in his last season in 1958-59 for Rawalpindi against Services and took 9 wickets for 72 runs. He then gave up cricket at the age of 52 years. His two test wickets averaged at 57.50 runs per wicket. Although his first class cricket career lasted for ten years but he played only fifteen matches. As a batsman he scored 53 runs with an average of 3.31. His highest score being 24 runs against Railways at Rawalpindi. He took 48 wickets with an average of 19.43 and his best bowling figures were 6 for 15 for Services against East Pakistan Whites at Dacca who were all out for 33 runs. He took five or more wickets in an innings thrice and held two catches.
After he left cricket he worked as a groundsman and supervised most of the grounds of Rawalpindi. He remained as the ground incharge of the Pindi Club who organised a benefit match for Miran Bux on December 19, 1986 in which the top players of the country took part. It fetched Miran Bux Rs.125000/-. He stood as an umpire in the local club matches in Rawalpindi but mostly he watched first class matches from his usual seat next to the sight-screen.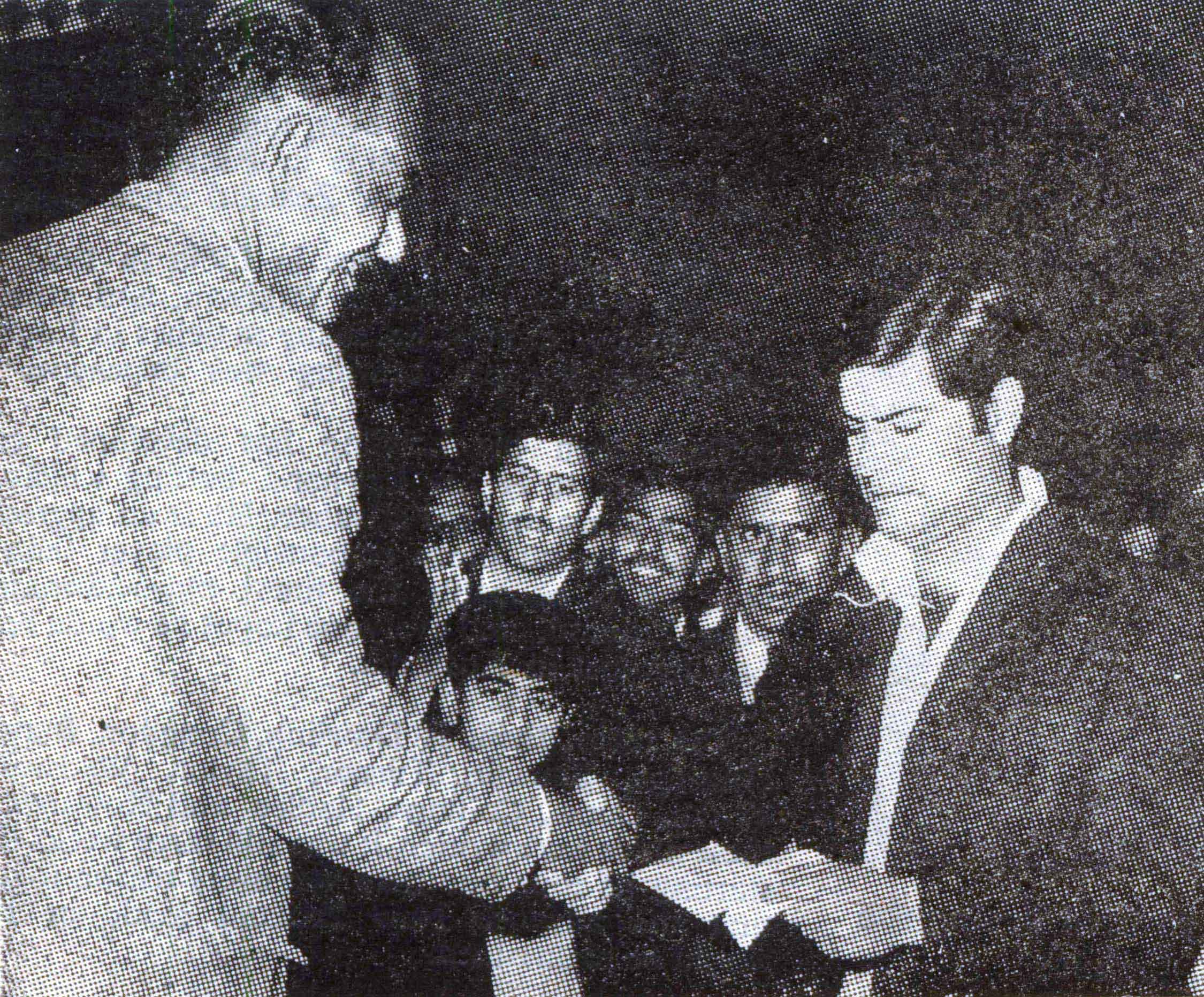 Miran Bux was a self made cricketer and it was through sheer perseverance and his natural ability he was able to play cricket at the highest level. As a marker at the Pindi Club Ground he played alongside the members of the exclusive club. Those were the days when the British would not let a local play in their company but Miran Bux had never thought of anything beyond club cricket.
When he made his test debut he had appeared in only one first class match in his entire career. He had started as the groundsman at the Pindi Club in Rawalpindi and played limited cricket by bowling to the members of the Club mostly British in those days at the nets.
The Club would play on the weekends or Sunday matches and therefore the same players played in each match. Miran Bux had impressed the Club members with his cricket prowess and they always kept him in their first eleven.
Miran Bux was nearly a six footer and bowled fastish off breaks with a jerky action with a twelve yards start. On the notorious Pindi Club pitch, he was deadly, accurate and very deceptive.
During the Australian cricket team's tour of 1979-80, the manager of the Australian team was browsing through the pictures that hung at the walls of the Pindi Club. He was looking at a group photo in which he himself was a player. Noticing a player in the picture he asked the 75 years old man accompanying him if that player was still alive? The quiet old man gave a short polite answer "Yes, he is alive." The manager again asked if it was possible to meet him? Before the old man could speak again, Pakistan wicket-keeper batsman Imtiaz Ahmed joined them.
The manager repeated his question and Imtiaz smilingly replied "Yes I can arrange it in just a second." The manager was quite surprised and said "Do you have a magic wand to produce him?" Imtiaz asked if he recognised the player ? "Of course who can forget him? In Australia when a bowler takes three or four wickets we say he has become Miran Bux. "Then look closely at this old man with us. He is Miran Bux." The manager excitedly ran out and then came back with Australian players where Miran Bux and Imtiaz stood. Pointing towards Miran Bux he said " Look at him, he is Miran Bux, the real Miran Bux of Pakistan that we all know in Australia!".
I first saw Miran Bux during his test debut at Lahore. He had a high forehead with dyed black hair. He stood quietly on his own in the pavilion wearing a white cricket kit as against the off white kit of the rest of the Pakistani players. He was polite and aloof.
I went to call on Miran Bux on January 24, 1988 when I was in Islamabad with my friend Jati Kaur Jaijee of Patiala who wanted to meet Merry Max. He was in his one room modest accommodation in a lower middle class section of Dhok Rata in Rawalpindi. He was sitting on a chaarpoy (Bed) wearing a white shalwar kameez with a black coat. His circumstances reminded me of another great bowler of Karachi Ghulam Mohammed who in his later years had become a typist for public at the City Courts of Karachi.
Mohammed Essa Jaffar who served the Karachi Cricket Association since 1953 and was the son of Sir Ibrahim Haroon Jaffar came to his rescue and helped him pay his debts by collecting donations for him. Miran Bux spoke softly in low tones. He could not remember exactly how many matches he had played but he remembered other great players of his time like Habibullah, Malik, Ahmed Khan and Sheikh Shakoor Ahmed from Rawalpindi who had played with him. Miran Bux got interested in cricket in 1914 when the British rules India.
Rawalpindi was a military cantonment and the British soldiers brought cricket with them. Miran Bux was a student at Daniel School where his father was a cricket coach. It was his father who started coaching him. After school he would straight go to the Pindi Club ground and when the school was closed for a holiday he would spend all his day bowling, batting and fielding at the ground. His father encouraged him at every step and he became familiar with the names of local cricketers that included Jagan Nath Mehta and B.L. Talwar. Both belonged to the well to do Hindu families of Rawalpindi. Other players from Rawalpindi were Feroze Din and Fazal Elahi.
With time he got familiar with the names of the Indian cricketers like Dr. Jehangir Khan, S. Wazir Ali and Mohammed Nisar.
He would travel with his father to Sialkot where he would buy a bat and a ball for his son. He thought that he actually played his first match in 1916. He enjoyed the first first-class match that he ever played. His father coached the British and Miran Bux accompanied him in his sessions.
Miran Bux was a good bowler from the start and whenever the British travelled to other cities to play matches, they took Miran Bux with them who took many wickets. During the Second World War there used to be a Christmas Tournament played at Lahore where Miran Bux took three wickets for 32 runs. In 1932 he toured the whole of India for four and half months and played matches at Bombay, Calcutta, Karachi and other Princely States. He took more than 125 wickets during the tour. No one was his ideal but his favourite cricketer was Mirza Habib from Rawalpindi.
Miran Bux had studied till the 8th class though people wrongly assumed that he had never been to school. His education was disrupted because of his love for cricket. After the 8th class he joined the British army in the Royal Artillery as a sepoy and a gunner. With his limited education he could not become a commissioned officer but when the English officers learnt that he could bowl very well they started respecting him more, despite him being an ordinary sepoy.
However cricket did not give him much and he rose to the rank of a Havaldar due to the normal course of promotions. Miran Bux had never been abroad and played all his cricket in India and Pakistan.
In his opinion Mohammed Nisar was the fastest bowler followed by Khan Mohammed and Mahmood Hussain. He counted Fazal Mahmood among the fast bowlers as well. He rated Imran Khan the best bowler he ever saw. He thought Salim Altaf and Asif Masood to be good bowlers too. He lamented that everyone thought him to be too old for test cricket but no one really paid any attention to the fact that how fit he was and how well he could bowl.
Sixty years on Misbahul Haq is proving Miran Bux's point of view about age and fitness by continuously performing that age is just a number and it is the fitness that really matters. Miran Bux also coached cricket to the college students of Faisalabad and Sargodah.
On February 8, 1991, 84 years old Miran Bux was on his early morning walk when he suffered a heart attack and died along the road, not far from his house. No one recognised him. Loudspeakers from the mosques announced of the unidentified dead body and asked the residents to come and identify it. Such was the tragic end of "Babuji" as Malik Miran Bux was affectionately known. He was buried in the Amraala graveyard.