The shock and disbelief that followed the death of Malcolm Marshall, through cancer of the colon, in November 1999, aged 41, could be felt all around the world of cricket. A fierce competitor on the field, he was one of the nicest cricketers off it. So well respected and revered all over the world, it is hard to imagine that the same person, armed with a cricket ball, could turn so nasty He rose to such heights to establish his name as one of the most skilful pacemen of his era and arguably the most complete fast bowler of all-time. If Pakistan's Wasim Akram stands on his own as the finest left-arm, amongst the right-arm, Marshall too was in a league of his own. A truly magnificent cricketer.
Within 18 months of Clive Lloyd's reign as the captain of the West Indies it experienced an unprecedented euphoria after beating Australia in the inaugural Prudential World Cup in 1975, only to be brought down to earth by its demoralising 5-1 hammering in the Test series, Down Under. Battered and bruised at the hands of Dennis Lillee, Jeff Thomson and co. on fast bouncy Australian tracks, the West Indies think-tank, reacted quickly and plotted a revenge by asking his pacemen to toughen up and trade bouncers as never before. It was put in practice on urgent basis in the home series against India and reaching a high-point in the subsequent 1976 England tour. In no time Andy Roberts and Michael Holding, emerged as the hottest new-ball pair, soon to be joined by Joel Garner and Colin Croft, made it into a four-man pace quartet. It kicked off brutal dynamics of fast bowling where pace would rule and West Indies would dominate the international scene for almost two decades.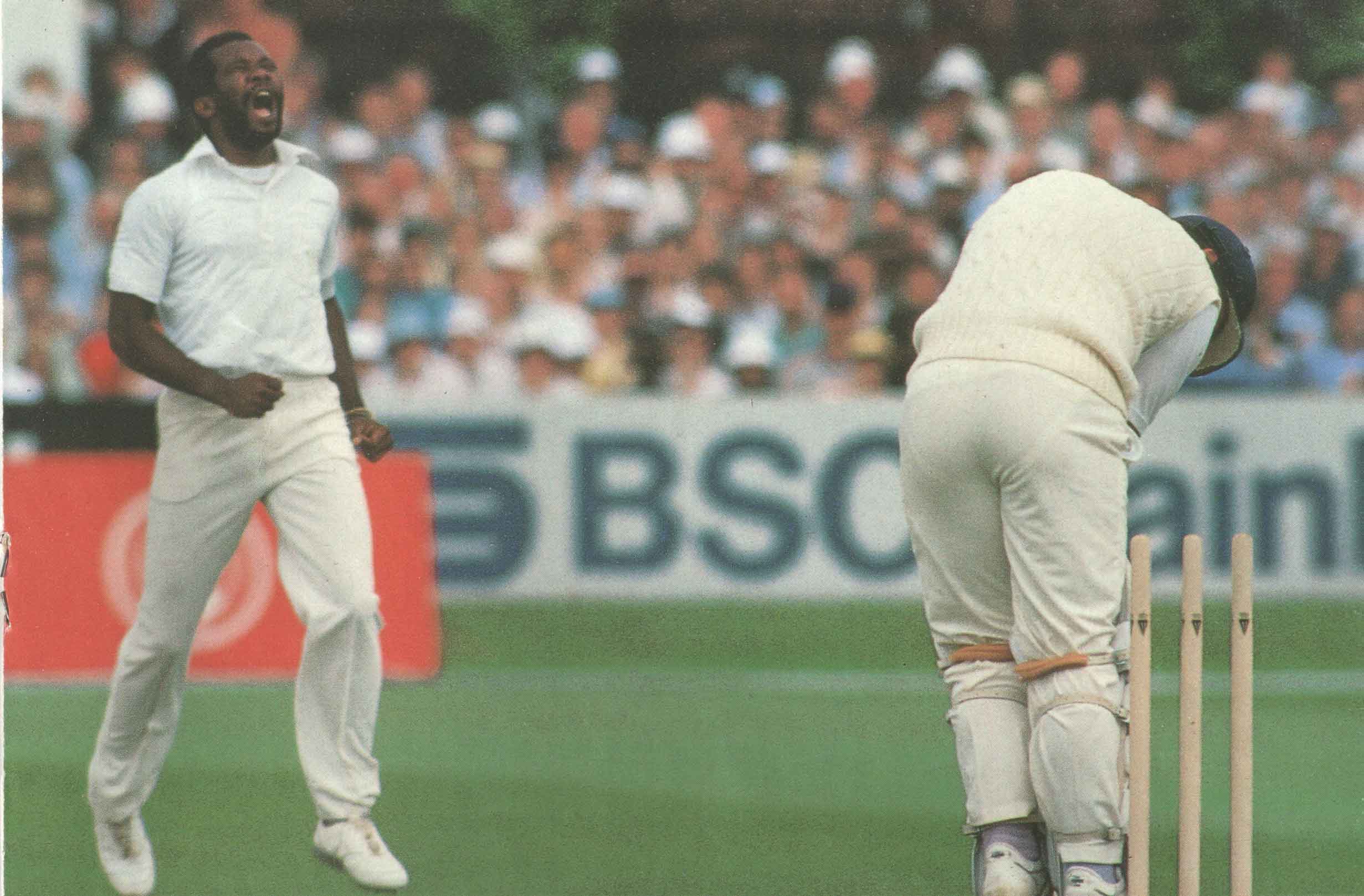 Malcolm Denzil, Marshall, born on 18th April, 1958, in Bridgetown, St. Michael, Barbados, a small Caribbean island with quarter million population. A great nursery for world-class cricket talent, it had previously produced such legendary names as the three W's – Walcott, Worrell & Weekes, Seymour Nurse, Garfield Sobers, Conrad Hunte, Wes Hall, Charlie Griffith, Gordon Greenidge, Desmond Haynes and Joel Garner, to name a few. The defection of leading West Indies player to Kerry Packer's World Series Cricket (WSC), brought an unexpected international call for, Marshall, for the 1978-79 tour of India and Sri Lanka, with just one Shell Shield game to his name.
In no time the 5ft.8inches, dwarfed physically by the such giants as Roberts, Holding, Garner and Croft – having returned from WSC- emerged as one of the brightest apprentice for he sat on bench for the 1979 Prudential World Cup in England and the 1979-80 tour of Australia and New Zealand. Always ready to fill in, in case of injury he left no one in doubt of his potential as he helped his side to beat England (1980) and Pakistan (1980-81) – two very demanding overseas campaigns. At times West Indies faced criticism for their slow over-rates and going overboard with the short-pitch bowling. Their reply, quite rightly, was that the two white Test playing nations, England and Australia, simply could not stand the heat and that West Indies themselves had, in the past, been at the receiving end of hostility from the opposing fast bowlers.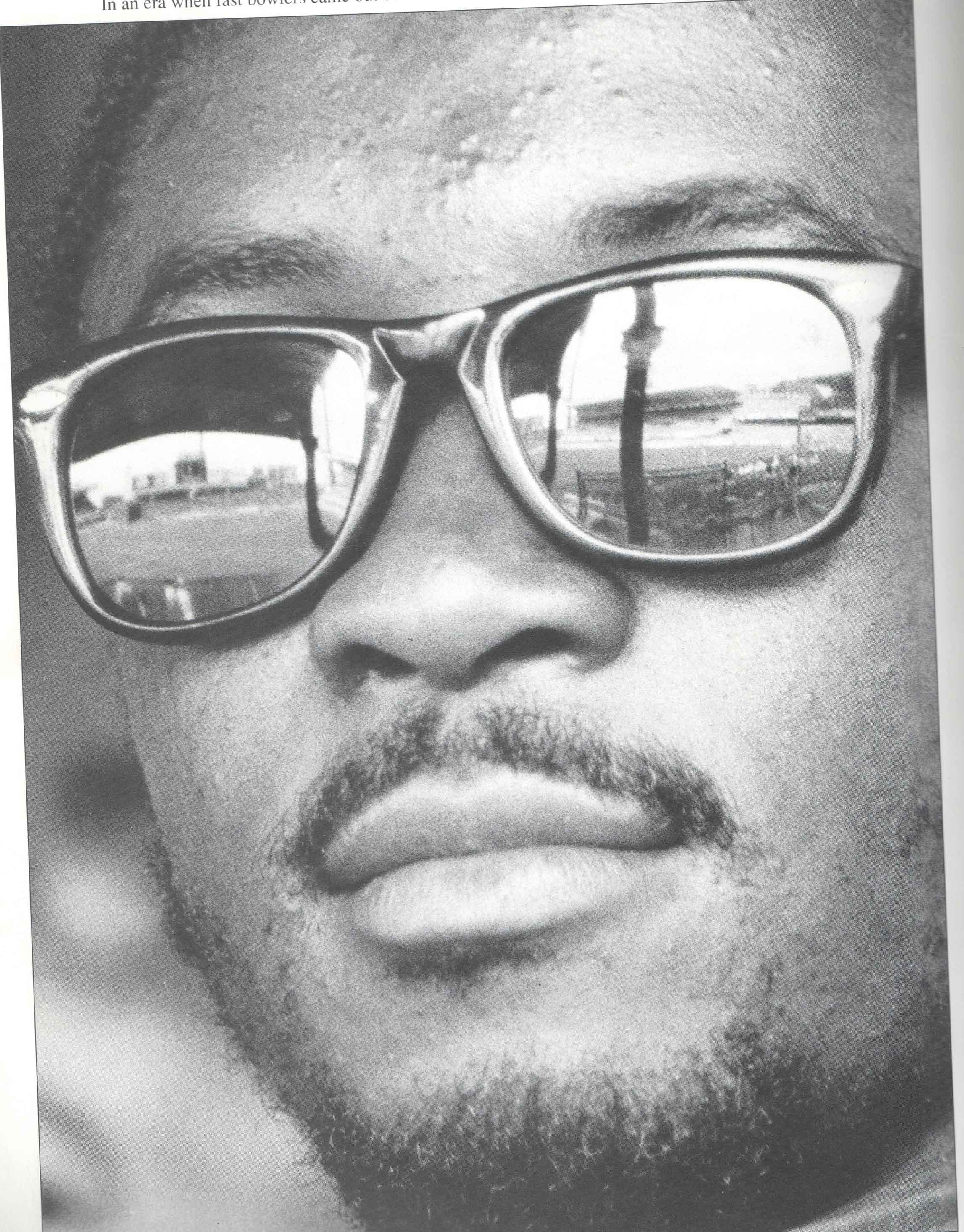 The departure of Colin Croft and Sylvester Clarke, on a highly controversial rebel tours to South Africa brought Marshall, now 24, to the forefront. Grabbing his opportunity gleefully with both hands, he became the first-choice for West Indies in the 1982-83 home series against India. From that point onwards for nine years, Marshall acted as a predator, who took great pleasure in going for the 'kill'. On a rare occasion when West Indies bowlers failed to dislodge a partnership, Marshall did not spare the opposition from dishing out the barrage of bouncer from around-the-wicket, which did not please the purists much but was lawful, effective and won matches.
In the period, 1983-88, Marshall, along with Pakistan's Imran Khan, was simply the most feared bowler in the world. His aggressive, penetrative bowling lifted West Indies to new level as it retained a proud record of not losing a Test series for 15 years. Putting his body and soul, in each and every game, he was simply a captain's dream. He seemed equal at ease with, Clive Lloyd and Vivian Richards, two leading West Indies captain. At the absolute zenith of his power he simply took the game by the scruff of the neck through irresistible power. Marshall continued to thrive in a West Indies dressing room that despite a rich variety of cultural differences, stood together as one unit.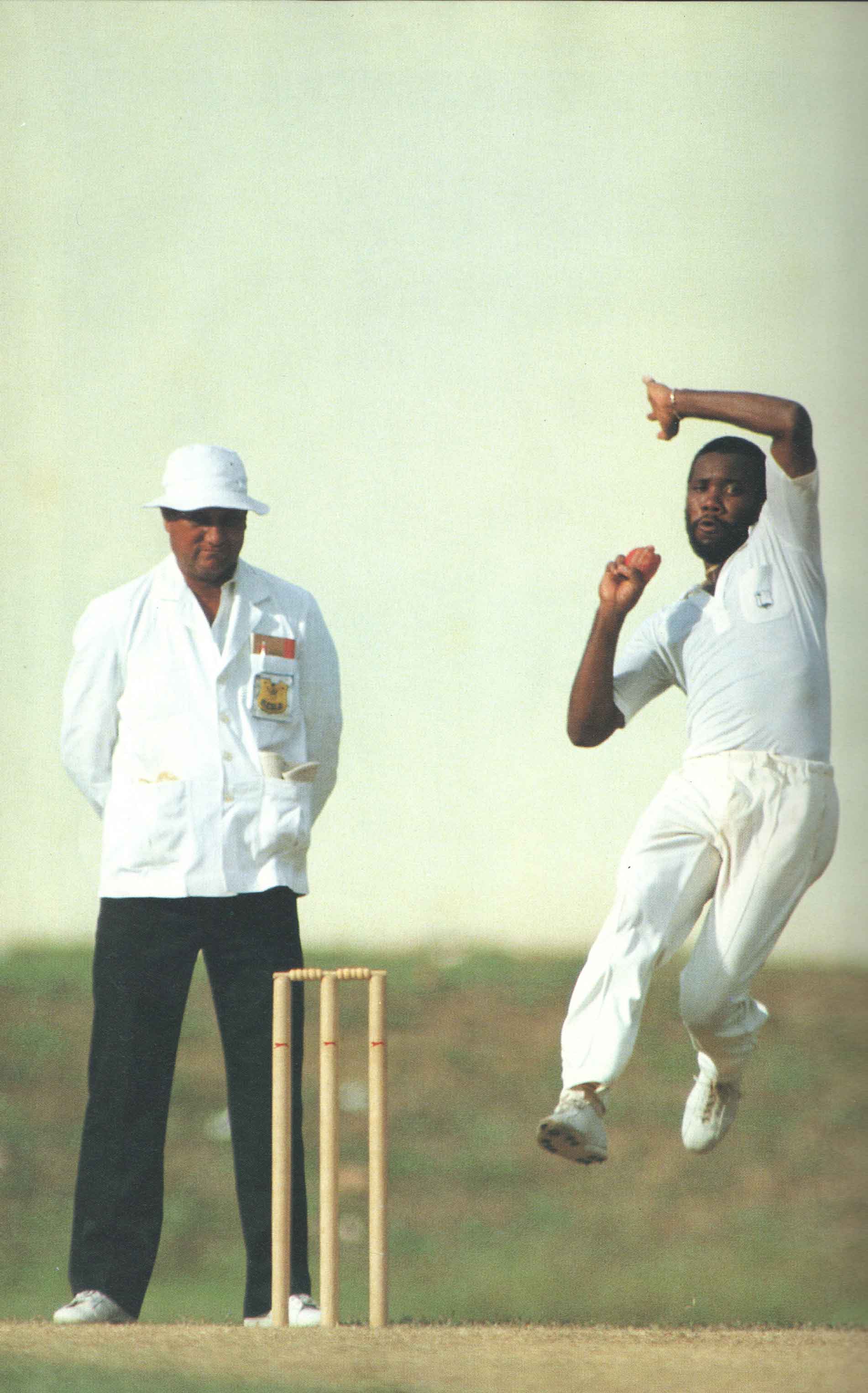 On the 1984 tour of England West Indies achieved their first ever whitewash against their host and 18 months later in the 1985-86 series repeated the doze and could have achieved a hat-trick had rain and slight injury to Marshall not occurred on the final day of the opening Test of 1988 tour. It was an amazing run of success and the Barbadian pace ace was at the forefront of Caribbean domination of cricket. Marshall combined pace, swing and control to remain a constant threat to the batsmen, all around the world. His autobiography, 'Marshall Arts' (1987) was aptly named for the Barbadian had shown great character in learning the art of fast bowling. He was both brutal and subtle at the same time and inspired by the great Dennis Lillee, mastered the out-swing and leg-cutter, without losing much of the pace.
Returning to India in 1983-84 Marshall followed his Test-best innings of 92 and added eight wickets in the match at Kanpur, which prompted a newspaper headline, 'Marshall Law' His 33 wickets equalled the West Indies record of most wickets in a rubber, equalling that of Alf Valentine (1950) and Colin Croft (1976-77). It included 6-37 at Calcutta as India was bowled out for 90 in their 2nd innings with a number of senior batsmen including Sunil Gavaskar, Mohinder Amarnath and Dilip Vengsarkar, all shaken by the pace, in their own backyard. A huge achievement for Marshall for he wanted to settle a personal score, following his debut series in 1978-79 and more recent defeat in the 1983 World Cup final against India at Lord's.
On the 1984 tour of England, Marshall proved his psychological hold on the opposition batsmen, more so after inflicting a serious head injury to opening batsman, Andy Lloyd. In the 3rd Test at Headingley, Leeds, he claimed his (then) career-best 7-53 whilst suffering a double-fracture of the left thumb. Truly amazing will power for he had taken the field with plaster on left arm. He revoke memories of the 'one-armed boxer' as he out-bowled three other pacemen in the West Indies line-up. On the 1984-85 tour of Australia when his side won the series 3-1, Marshall claimed 5 wickets in four consecutive innings. In the same winter at Bridgetown, Marshall ripped through the New Zealand line-up with match figures of 11-120 to go with his 63 runs, batting at number 9.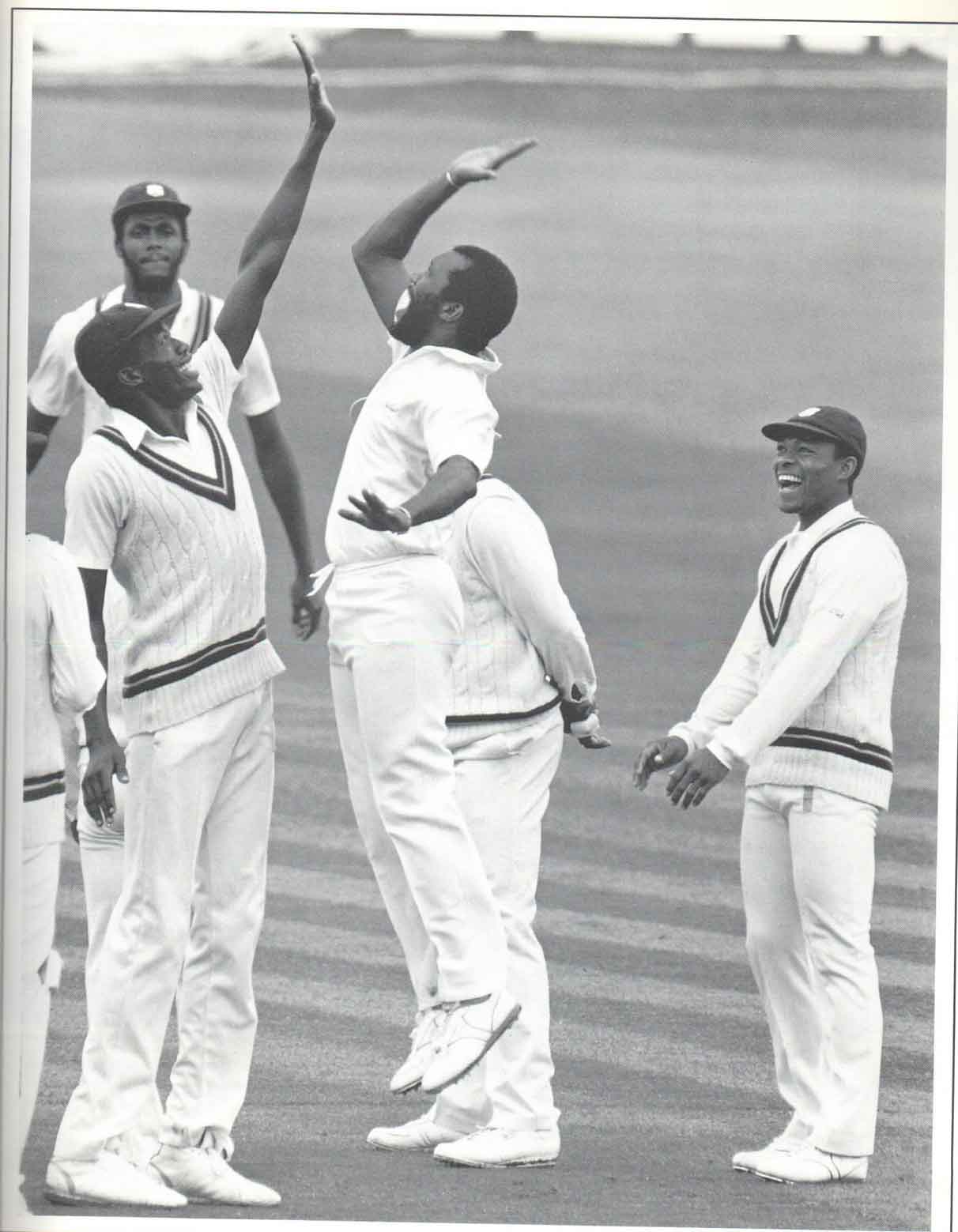 At Lord's in 1988, swinging the ball alarmingly at considerable pace, English batting line-up succumbed, once again to Marshall's onslaught as he finished with match-figures of 10 for 92 that brought his team a win by 134 runs. In the very outing he claimed a career-best 7-22 in England's second innings total of 93 all out at Old Trafford, Manchester. It was a fast bowling exhibition to be treasured for the future generations. Marshall's tally of 35 wickets, was a new West Indies record for a Test series. A match haul of 11-89 against India @ Port-of-Spain in 1988-89, ensuring 217-run win.
The footprints he left on all the cricket grounds from Bridgetown to Bombay, Lord's to London, Madras to Melbourne and what to say of his fear and awe for batsmen all over the world. With his trade mark angular run-up, chest-on action, wonderfully supple wrists and that deadly weapon of skiddy pace, he was an awesome bowler to face in all conditions. A man of slight built but rubbery joints, he was superbly fit and avoided any major injuries. The only period he was missing from the West Indies team was when he decided to sit out the 1987 Reliance World Cup in the sub-continent and the subsequent tour of India. 'Maco' was badly missed. Now very much the senior figure amongst the fast bowlers, following the retirement of Holding and Garner, he was soon in his stride. With West Indies one-down in a three-Test series, Marshall was the key factor for pulling his team back to draw the series at 1-1.
Pakistan, in sharp contrast to England and Australia, stood out as the only team in world cricket with a knack of stretching West Indies to the limit. It come as no surprise that Marshall once again emerges as a supreme fast bowler for in each of the four series against Pakistan, he produced devastating spells to stay unbeaten against a very determined opponents. On its first tour of Pakistan in 1980-81, Marshall took six wickets (including 4-25 in the second innings) to help his side to a 156-run win at Faisalabad. Six years later, now with a sky-high confidence and high reputation, allowed West Indies to come back from 0-1 down to draw the series at 1-1. He picked up 5-33 on the opening day of the Lahore Test which West Indies won by an innings and 10 runs. In the deciding Test at Karachi, it was his five wickets in the match, which almost snatched a remarkable victory.
In the 1987-88 home series, considered as one of the most absorbing Test series of the modern times, it was Marshall, returning after missing the opening encounter, who made life very difficult for Pakistan batsmen, claiming 9 wickets in the 3rd and final Test at Bridgetown, when the home side came close to losing its crown as the best international team. On his third and final tour of Pakistan in 1990-91, Marshall now bowling at fast-medium, brought about a collapse to see the home side slip from 127 for 3 to 154 all out, claimed 4-24 of just 4.2 overs at Faisalabad, to level the series.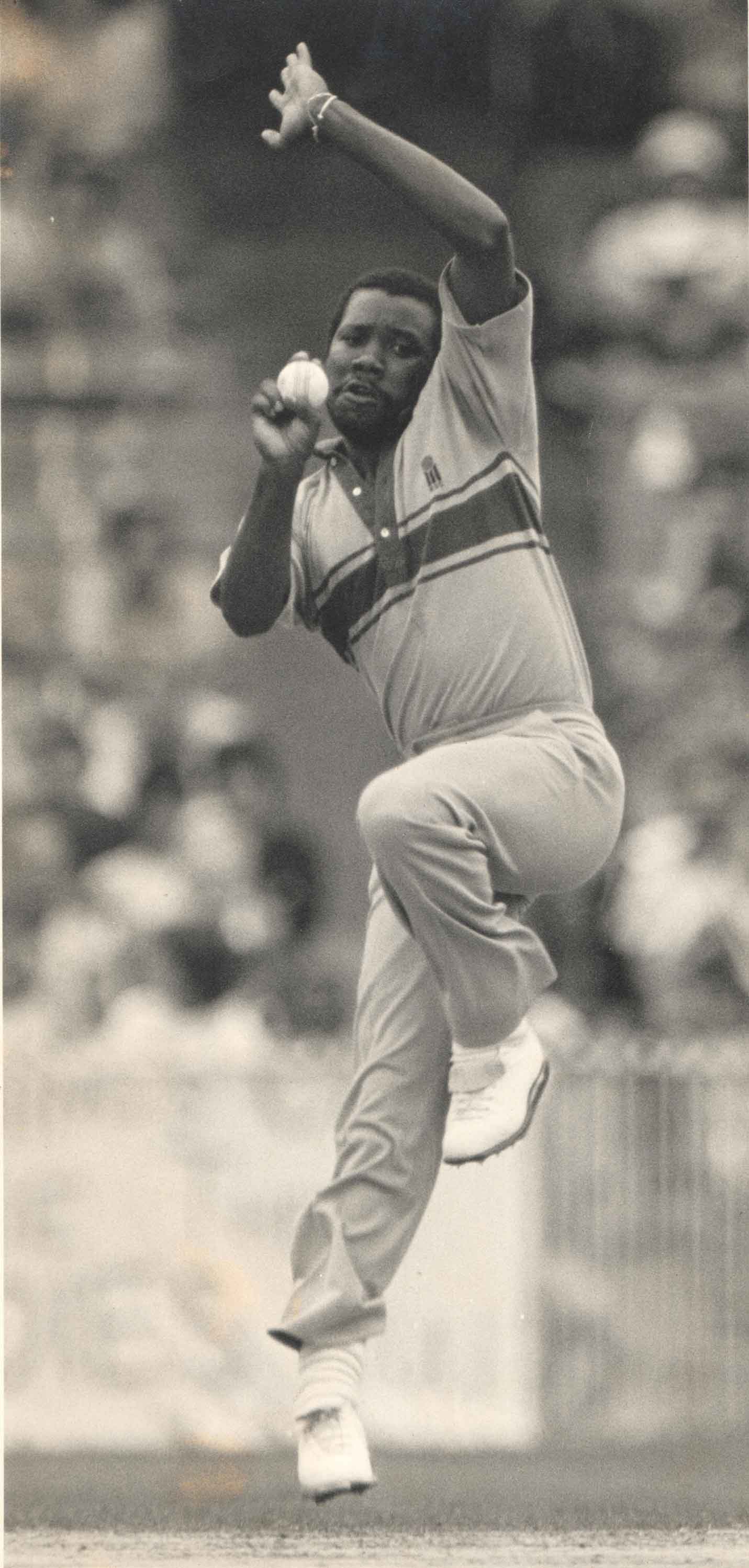 It is hard to imagine any bowler before Marshall who came on top of his one-to-one battles all around the world. At the peak of his powers, Marshall enjoyed his encounters with such big names – Graham Gooch, David Gower, Alan Border, Martin Crowe, Sunil Gavaskar and Javed Miandad – and often than not, would be declared winner on points. None of the above could claim to have had an upper hand over the Barbadian pace ace. This sequence of score-settling with the best batsmen in the world, on home and away basis, could not be matched. The individual hundreds taken off the West Indies were so rare and hence at least three times in value and merit compared to the rest of the world.
Marshall's international career came to an end on a sour note when West Indies failed to qualify for the knock-out stages in the 1992 World Cup in Australia and West Indies. It was end of an era for besides Marshall, three great West Indies cricketers, Vivian Richards, Gordon Greenidge and Jeffery Dujon, dismayed by their non-selection from the mega event, simply faded out of the game. The West Indies supremacy lasted for another three years, before the Australians won a Test series in the Caribbean in 1995.
Whilst turning out for Hampshire in the English County Cricket he remained a formidable force for he never held back anything. One of the best overseas signing, in his first full season, he took 134 wickets, the best in the post-1969 period of reduced County Championship programme. A professional par-excellence both with his fitness and attitude to the team game, he continued to excel and in 1986 picked up another 100 wickets. He spent four seasons with Natal and influenced Shaun Pollock. His first-class tally of 1408 wickets @ 19.10 makes – including 376 Test wickets @ 20.94, makes Marshall one of the all-time greats of the game. The decline of the West Indies cricket so steep that even with the likes of Clive Lloyd, Vivian Richards and Marshall, stepping in for management and coaching roles, could not make any difference. The world of cricket said farewell to one of its favourite son, aged 41.