Gallery of Greats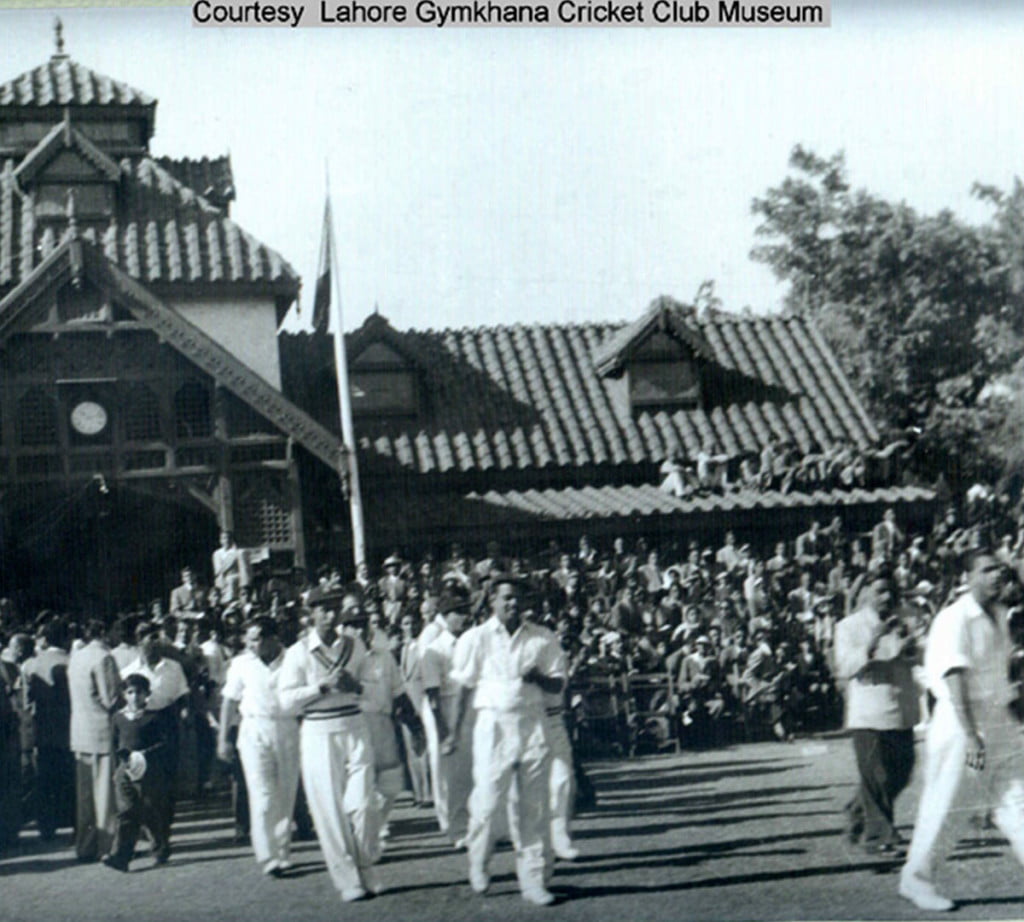 To reach a maiden international hundred with a hooked six of Imran Khan, certainly required courage and sense of theatre and Aravinda de Silva, possessed both. It was an innings that laid down a marker for his career and cemented his place in Sri Lanka's middle order. All the more significant for it was the opening Test of the series at Faisalabad against a formidable Pakistan bowling that also featured Wasim Akram and Abdul Qadir. Aravinda showed what could be done with patience and restrained selection of strokes, on his team's tour of Pakistan in 1985-86. Just to prove that his hundred was not a fluke he signed off with a rapid stroke-filled century in the 3rd and final Test at Karachi. To produce two technically correct hundreds of contrasting style, was the beginning of Aravinda's journey to greatness.
It was no coincidence that Aravinda featured prominently in Sri Lanka's finest hour in international cricket when the islanders defeated the more fancied Australian team in the final of the 1996 Wills World Cup in Lahore. It was his perfectly-paced hundred – 107* off 124 balls with 13 fours – that sealed a historic win and his friend and captain, Arjuna Rantaunga, at the other end, to savour the moment. Previously only West Indies' Clive Lloyd (1975) had managed to score a hundred in a World Cup final. It was a defining moment for Sri Lanka, both in terms of its profile in world cricket and freedom of expression for its future generation of batsmen. Sri Lanka cricket had come of age and earned the right to be amongst the 'big boys' of international cricket.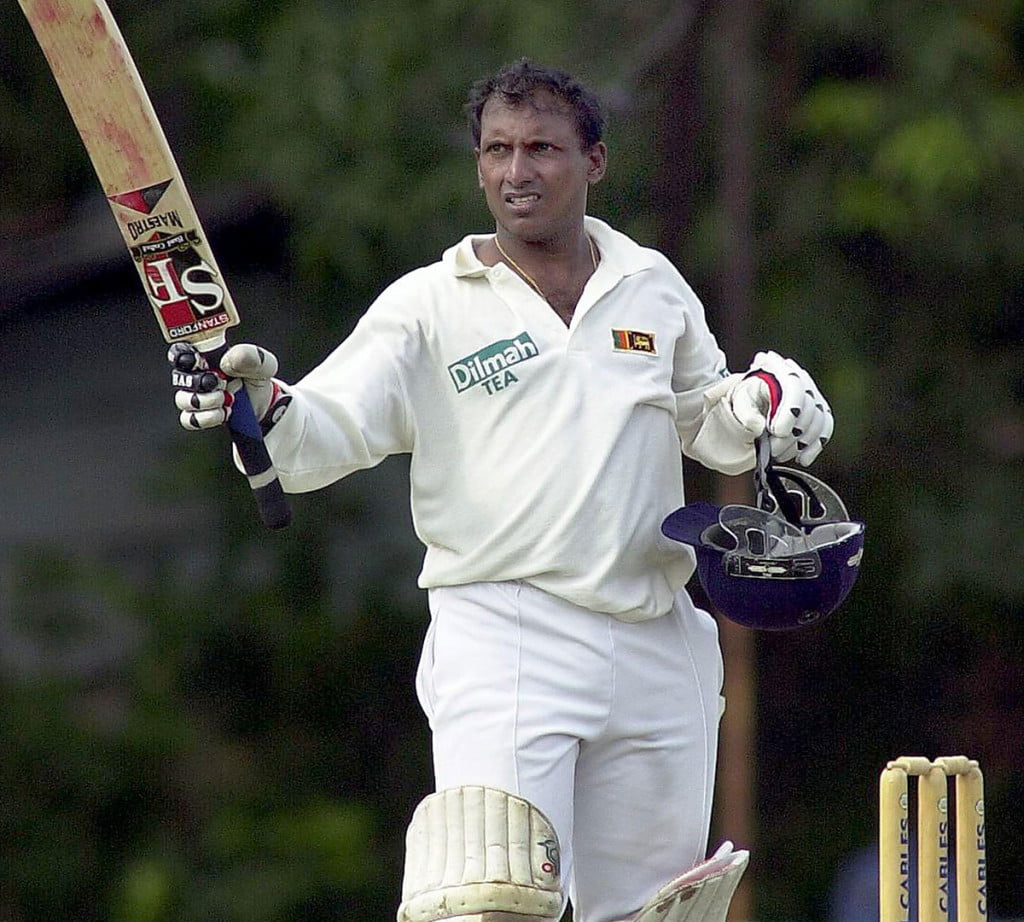 Aravinda De Silva
EARLY DAYS
Pinnaduwage Aravinda de Silva, was born in Colombo, the capital of Sri Lanka. He took big strides in the inter-school cricket. Standing at 5ft. 3 ½ inches, Aravinda had the most pleasing of balance and carried on producing bucket full of runs at junior levels. Drafted into the 1983-84 Sri Lanka U-19 squad he led them on the tour of Australia. Just to prove his pedigree, he hit 145 at Adelaide and 95 at Melbourne. Bursting with talent and confident at such a young age, he was an automatic choice for the 1984 England tour and made his Test debut at Lord's, few months short of his 19th birthday. His first major innings was just round the corner. A top-edge six over fine-leg 46 not out took Sri Lanka to the goal post, with 4 balls to spare, in a nervy finish, whilst chasing a target of 227 against Australia, in the 1984-85 World Series Cricket. A milestone in the country's history for it was their first-ever victory in an ODI, on Australian soil.
One could mistake Aravinda, wielding a sledge hammer for his unorthodox grip of the bat and thus could not be bracketed alongside the classical mould of batsmanship of say, Hanif Mohammed, Sunil Gavaskar or Sidath Wettimuny. A superb hand-eye co-ordination and natural timer of the ball, allowed him the freedom to play, both, away from his body and across the line of the ball. It simply made him, one of the most eye-catching batsmen of his era, particularly with his wide and productive range of horizontal strokes, on both sides of the wicket. In 1989-90 his innings of 167 (491 minutes, 361 balls, 17 fours and a six) at Brisbane was the first Test hundred by a Sri Lankan against Australia. Just over a year later, he produced another innings of outstanding merit: 267 against New Zealand which he dedicated to his sister, a resident of Wellington and followed it up with 96 and 123 in Auckland in the 1990-91 series, between the two countries.
Aravinda's captaincy tenure, did not bring much success to Sri Lanka, who was still well short of a effective wicket-taking bowling unit. His own formed dipped as Sri Lanka's tour of England (1991), Pakistan (1991-92) and the World Cup in Australia and New Zealand, all ended with disappointment. As a gentleman cricketer of the old school, he was not cut to co-op with the modern day pressures of captaincy. The home series against Australia (1992-93) marked the return of Arjuna Ranatunga, as captain of Sri Lanka and Aravinda, now with a permanent slot of No.4, was the most relieved man. The civil war in Sri Lanka kept international teams away from the island in the five-year period of 1987-92 resulting in Aravinda's first Test hundred at home – 148 (388 minutes, 297 balls, 17 fours and 2 sixes), to arrive almost a decade after his debut, against India at Colombo (PSS) in 1993-94. His 127 off 156 balls and bringing a Test hundred with a sixth for the third time, was a classy knock for both Wasim Akram and Waqar Younis, were pumped up and Sri Lanka's first innings total was a mere 226 at Colombo (PSS) in the 1994-95 series.
The fortunes of Sri Lankan team took a dramatic turn in 1995, kicking off with her first ever Test win overseas, against New Zealand in Napier. The appointment of Dave Whatmore as the coach of Sri Lankan team had an immediate impact for through due attention to training and fielding, in short period of time, it had a more professional look about its game plan. Aravinda, now 30 and with a spell at Kent in the English county cricket was setting off on the second phase of his career. The highlight, being his 112, against Lancashire, in the Benson and Hedges Cup final, at Lord's. A big match player, with an extraordinary ability to produce goods under pressure, not to mention his sense of occasion.
In October 1995, Sri Lanka beat Pakistan in their backyard, in both Test and ODI. It was Aravinda's painstaking 105 in 402 minutes at Faisalabad that allowed his team win the three-Test series, after a heavy defeat in the opening Test. He played a match winning hand with 50 off 35 balls in the island's first ever tournament victory, outside Sri Lanka, when they defeated West Indies by 50 runs in Champions Trophy in Sharjah. The success in the 1996 World Cup simply transformed the lives of Sri Lanka cricketers, including Aravinda. Now armed with sky-high confidence and newly-acquired self-belief, Sri Lankan players and coaches fancied their chances in limited-overs cricket, against all teams, more so in the sub-continental conditions.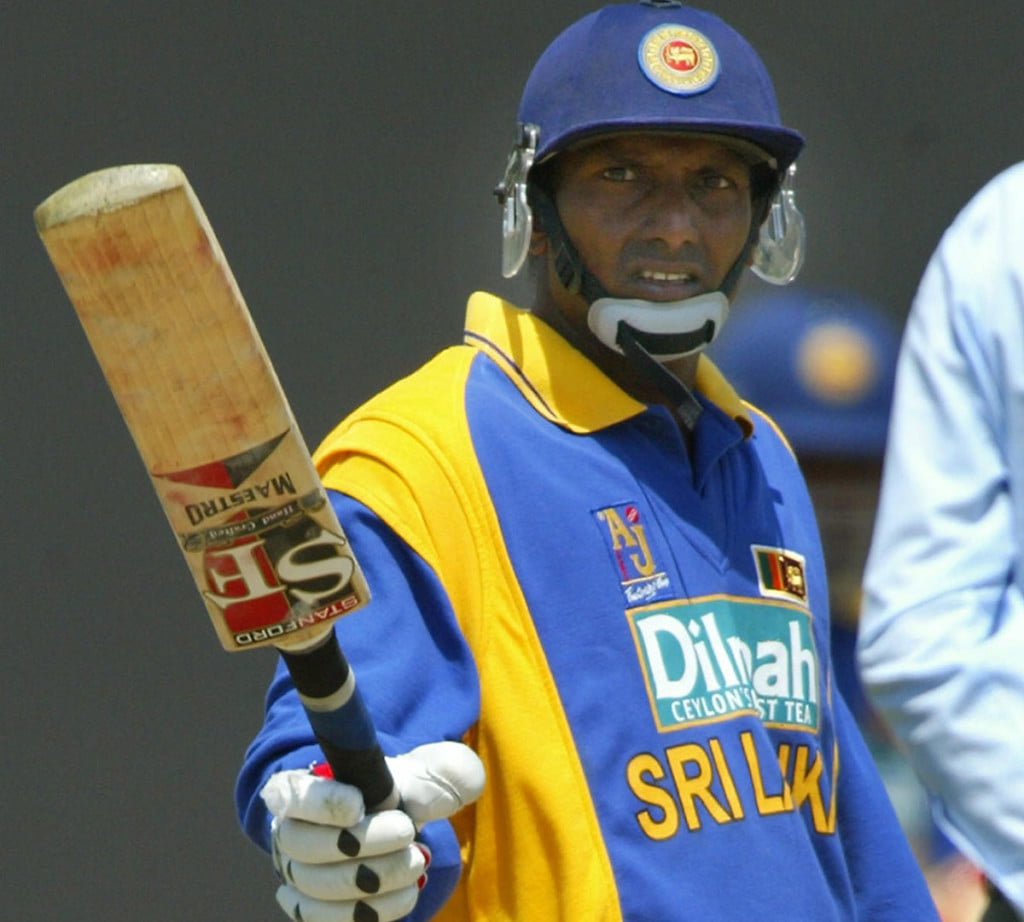 Aravinda De Silva
Success breeds success. In September 1996, Aravinda's 75 off 64 balls helped Sri Lanka to beat Australia at Colombo (RPS) in the final of Singer World Series. In April 1997, he scored a match-winning 87 not out against Pakistan in the final of the Singer-Akai at Sharjah, having already taken 134 off 131 balls with 11 fours and 4 sixes, after walking in at 11/2. Easily one of his best ODI against Wasim and Waqar. In the following month, Aravinda continued a run-a-ball 90, as Sri Lanka, raising the bar, regularly posted 300plus totals in its 50 overs innings to beat Pakistan at Mohali and Calcutta in the best-of-three Final and lift the Pepsi Independence Cup.
In July 1997, Sri Lanka beat India to win the Pepsi Asia Cup at Colombo (RPS). The Pakistani pair of Wasim and Waqar were once again on the receiving end when he produced 102 * in 90 balls at Lahore in November 1997, proving once again his skills as one of the best finishers in a run-chase, as Sri Lanka reached 281 with only 2 wickets down and 10 overs to spare. His unbeaten 213-run stand with Jayasuriya (134*) for the 3rd wicket at Lahore, spoiling Pakistan's party as the Wills Quadrangular Tournament was part of the 50 years of independence celebration.
In the two consecutive years 1996 and 1997, Aravinda scored 1188 runs @ 49.50 and 1212 @ 52.69, respectively, turning Sri Lanka as one of the most attractive batting side to watch. By cutting out extravagance and being more selective and focused, thanks to Dave Whatmore, he achieved consistency and more laurels for Sri Lanka with a career-best ODI, 145 in the 1996 World Cup – 145 (115balls. 15fours and 5 sixes) against Kenya at Kandy. Who can forget his belligerent but orthodox, 66 off 47 balls in the semi-final against India at Calcutta, after both Jayasuriya and Kaluwitharana had been dismissed in the first over of the match.
Based on their success, in August 1998, when they beat England in the final at Lord's to win the Emirates Triangular Tournament, Sri Lanka ought to have done much better than first-round exit, as defending champions, in the 1999 ICC World Cup in England. Aravinda signed-off his international career, after being run out in the semi-final defeat against Australia at Port Elizabeth in the ICC World Cup 2002-03.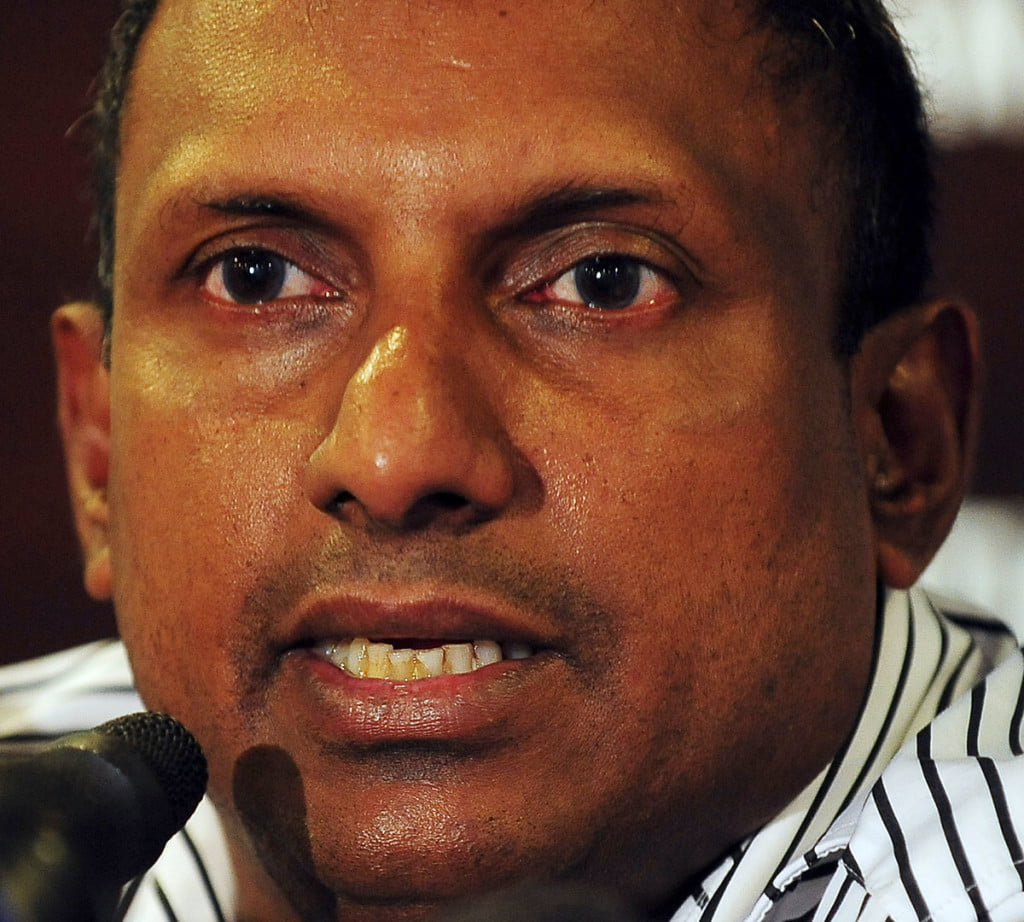 Aravinda De Silva
Ever since the 1985-86 series, Aravinda took a liking to Pakistan bowlers and often producing his best when needed most, whilst piling up an aggregate of 1475 runs in 21 Tests @ 42.14. Eight out of 9 times, he crossed 50, he carried on to reach three figures. In 1997, in the middle of a purple patch, he scored 1220 runs @ 76.25 with no less than 7 hundreds including three-in-three against Pakistan. A match-saving 168 at Colombo (RPS) was followed by 138not out and 103 not out at Colombo (SSC), making him the first batsman in history to score two unbeaten hundreds in a Test match.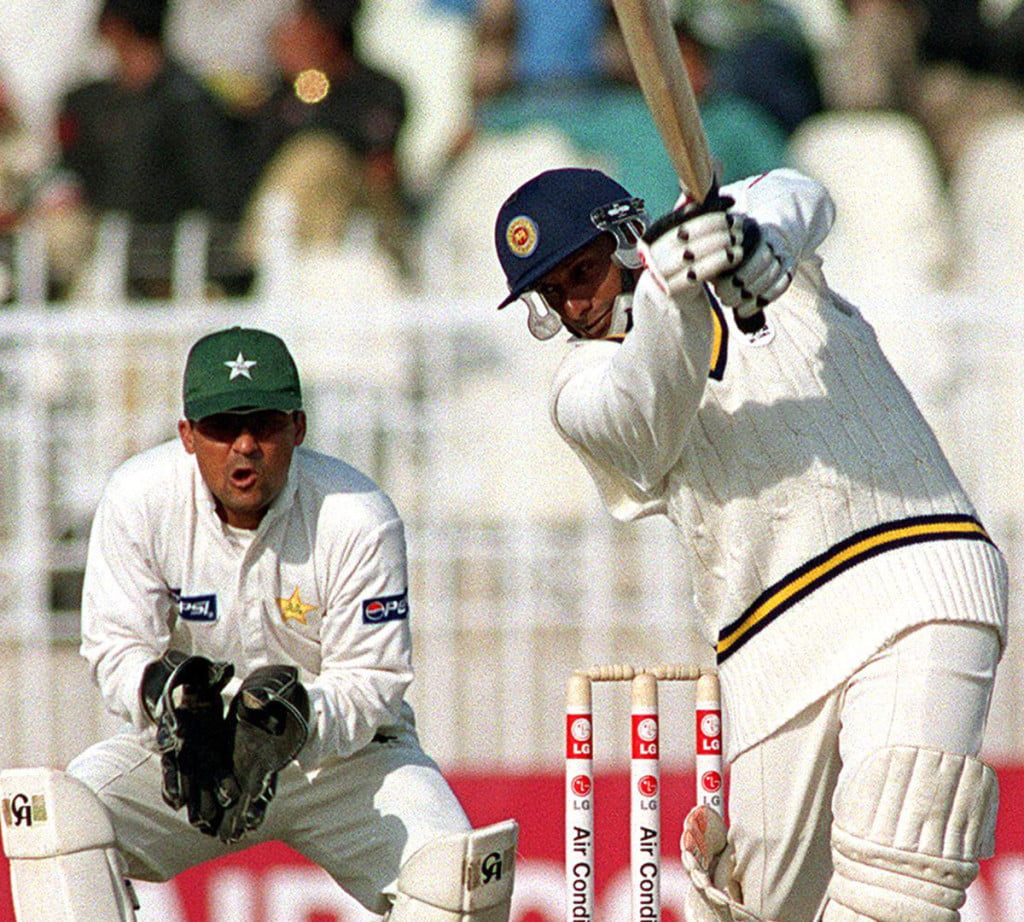 Aravinda De Silva
A close of study of Aravinda's best innings reveals a pattern of a watchful defence and once entrenched at the crease, unleashing a range of strokes. He mastered the art of manuvering the ball for ones and twos with an odd boundary and would only chose the aerial route after reaching three figures. One such innings that further enhanced Sri Lanka cricket and its future ties with England and Wales Cricket Board. Despite gaining full membership of the ICC and the Test status in 1981, Sri Lanka had been restricted to just one-off Test on four separate tours of England. The 1998 Test at The Oval proved a watershed moment for Sri Lanka as Muttiah Muralitharan's 16 wickets on a bone-dry wicket was supplemented by two breathtaking batting displays by Jayasuriya (213) and Aravinda (152), guiding their country to an historic 10-wicket win. It was ironic that Sri Lanka would chose The Oval and follow in the footsteps of its two Asian rivals, Pakistan (1954) and India (1971), who achieved their initial success against its colonial masters, at the same venue in London.
With all of his trademark strokes on display, particular cutting and hooking, Aravinda, signed off with 206 off just 234 balls, 28 fours and a six, against Bangladesh at Colombo (PSS) in July 2002. No one could deny him the rightful and hard-earned position of the greatest batsman produced by Sri Lanka, till that point in the country's history. Since then his country has produced two of the finest batsmen of the last 25 years – Mahela Jayawardene and Kumar Sangakkara – to join Aravinda as three of the master Sri Lankan batsmen of the elite group.
In just four decades, after stepping into the international arena at the 1975 Prudential World Cup, Sri Lankan names are very rightly being bracketed alongside the all-time batting greats of their two Asian rivals, India and Pakistan. The dedication and diligence of Sidath Wettimuny, Duleep Mendis, Roy Dias, Arjuna Ranatunga, Aravinda de Silva and Asanka Gurusinha, paved the way for far more expressive and assertive brand of batsmanship of Sanath Jayasuriya, Mahela Jayawardene and Kumar Sangakkara.
By the time Aravinda hung up his boots in 2003, he was by far the most prolific record-breaking batsman of Sri Lanka, in Tests, ODIs and first-class cricket. 13 years on and the picture has changed a bit. His Test aggregate of 6361 runs is the 4thin Sri Lanka, behind Sangakkara (12,400), Jayawardene (11,814) and Jayasuriya (6973) and his 20 Test hundreds have only been surpassed, by two of the modern day cricket's finest, Sangakkar (38) and Jayawardene (34). Aravinda's ODI aggregate of 9284 runs stand at 4th in Sri Lanka, behind Sangakkara (13,975), Jayasuriya (13364), Jayawardene (12,381) and Dilshan (10216).