KARACHI: The Misbah-led Pakistan cricket team has locked horns with the home side at the Lord's in the first Test match of the series. The home side has been enjoying overwhelming support of course however the visitors too have a significant support in their corner. The son of the late Pakistan coach Bob Woolmer is at the Lord's and cheering for the green caps. Dale Woolmer also wishes his favourite, Younis Khan to contribute significantly to the Pakistan's cause.  "I have been following the Pakistan team for long. I like their style of play and yes, Younis Khan is my favourite Pakistan player", Dale Woolmer said
"I have an emotional attachment with the Pakistan team. I would like to see Pakistan win with Younis Khan scoring a ton at least", said Woolmer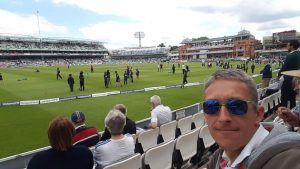 "He (Younis) got out in the first innings but I hope he will come good in the second innings", added Woolmer
Younis Khan scored 33 in the first innings before getting out to Stuart Broad
Woolmer also recalled the memories of his late father with the Pakistan cricket team, saying that he also spoke very highly of the talent in Pakistan.
"He told us a lot of good things about Pakistan cricket. Younis had a special relationship with my late father and they both acknowledged it from time to time", Woolmer added
Younis, recently spoke about the late Woolmer, on the eve of the 2015 World Cup match against Ireland, saying that he (Bob Woolmer) was like a father figure and the guy who would motivate him.
Pakistan's former coach Bob Woolmer died in March 2007 after the shocking defeat to Pakistan at the hands of Ireland in the first round of the world cup in the Caribbean in 2007.
The writer is a sports journalist in Pakistan & tweets @mak_asif