A dreaded figure for any batter. Getting dismissed one run short of the coveted three figures landmark is a fate everyone wants to avoid. Ask Shane Warne whose ugly hoick off Daniel Vettori was caught deep on the leg side to elude him of a test match hundred and making Warne the only person with 3000 plus test runs without having a test century. To rub it in, the replays showed that Daniel Vettori overstepped on that particular delivery. Those were the Pre-DRS days and Warne continues to live with a lifelong "what if". So near yet so far.
In 2431 Test matches spread over 140 plus years of Test matches, there has been only one Test match in which three batters suffered this heartbreaking fate of falling at the final hurdle. Not just one but three batters were dismissed on 99 and all of them, unlike Warne, were specialist batters of established credentials having gone past this mark multiple times in the past.
It was the last Test match of the 1972-73 season for both England and Pakistan. For England the Pakistan series came after a strenuous five Test tour of India where they lost 2-1 and for Pakistan it came after a hectic twin tour of Australia and New Zealand.
In Australia they were blanked 3-0 by an Australian side on the rise for greater glory under tenacious leadership of Ian Chappell and Pakistan hit back to win the following series against a weak Kiwis side rather comfortably.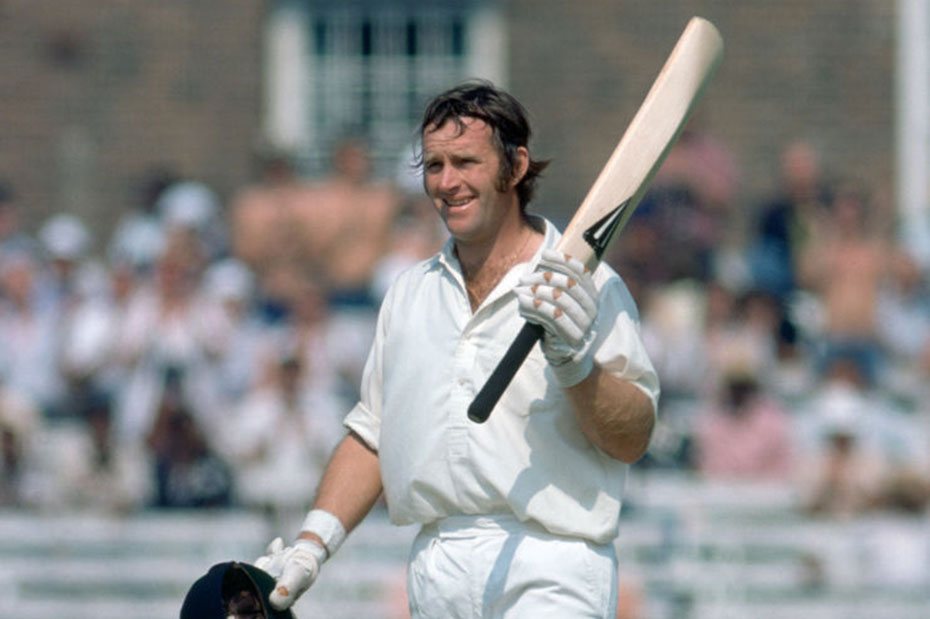 The opposing skippers Tony Lewis and Majid Khan were teammates at Welsh county Glamorgan and their appointments as national cricket captains came totally out of the blue. In fact Tony Lewis was uncapped thus far and made his Test match debut as a player and as a captain in the same match in India. Tony Lewis owed his elevation to the Test side and its captaincy due to withdrawal of many frontline players from the tour of the Sub-Continent. England's regular captain Richard Illingworth, opening batter Geoff Boycott, leading pace bowler John Snow and middle order stalwart John Edrich were all unavailable due to varying reasons.
Majid's appointment was even more baffling and unexpected as Intikhab Alam has led Pakistan to a victory over New Zealand in Pakistan's last test series and also lost the preceding one in Australia due to two inexplicable and horrifying batting collapses while chasing modest fourth innings totals at Melbourne and Sydney.
Moreover Asif Iqbal, Intikhab's deputy on that tour, would have been a natural successor if Intikhab was to be removed. However, Abdul Hafeez Kardar the BCCP (As PCB was known then) chief carried a reputation to make such controversial decisions unilaterally, mostly for non-cricketing reasons and to keep the player power in check. Majid got rewarded for a decent tour Down-Under with the bat and perhaps his ongoing equation with Glamorgan colleague Tony Lewis tilted the scales in his favor. Some part was also attributable though to Intikhab's loose man management which led to premature and distasteful early departures of senior duo Mohammad Ilyas and Saeed Ahmed from the Australian leg of tour.
Despite their success in New Zealand, the Pakistani team's confidence was pretty low and from day one of the Test series the tone was set for defensive batting and playing for a draw. This was despite the fact that Pakistan went into the series with their first choice seam and spin attack. The medium paced trio of Sarfraz Nawaz, Saleem Altaf and Asif Masood were complimented by the spin contingent comprising Intikhab Alam, Pervez Sajjad, Mohammad Nazir and all-rounders Mushtaq Mohammad and Wasim Raja.
In hindsight it is easier to say that they could have batted or bowled aggressively but the fear of losing a match and hence the series on Pakistani batting featherbeds was too much of a risk for the local side. For the tourists too after their narrow loss in India, a drawn series in Pakistan was not a bad bargain.
The Test series opened in Lahore with England's in-form opener Dennis Amiss rattling up a hundred and leading England's progress to a respectable 355 in a day and a half. Pakistanis batted with identical ease and riding on hundreds by Sadiq Mohammad and Asif Iqbal eked out a modest lead of 67 runs. Gaddafi Stadium wicket refused to change its character and England batted well into the fifth day and aided by half centuries from Lewis, Mike Dennis and Tony Greig crossed 300 again setting up Pakistan a target of 240 runs in close to 50 overs. Achievable indeed with the modern mindset of the game but almost half a century back such a chase was considered inconceivable.
England and Dennis Amiss both improved upon their Lahore batting performances in the second test match played at Hyderabad's Niaz Stadium. Batting first again Amiss reached 158 and guided England to a commanding first innings total of 487. Pakistan's reply was equally imposing. The two portly all-rounders Mushtaq Mohammad and Intikhab Alam who had shared eight English wickets between them went on to register individual hundreds as Pakistan once again managed a 82 runs advantage on first innings.
The Test took an unanticipated turn on fifth morning when English openers including the prolific Amiss went back into the hut with no runs on the board. Lewis, Fletcher and Roope followed with England still in the deficit and it raised hopes of an unlikely Pakistani victory. Tony Greig and Alan Knott had other ideas and they staged a rearguard action and posted a century partnership. Even when Greig was dismissed, Knott saw England through the final day without any further hiccups.
The venue for season's finale was Karachi's National Stadium, which was also the first Test match witnessed by this scribe at an age of 9 years. Majid finally won the toss and decided to bat first on another placid looking surface. England sprung a major surprise by dropping their senior most spinner Derek Underwood and replacing him with a relatively unknown Jack Birkenshaw.
Graham Roope also made way for Barry Wood who was slotted to open thus dropping Mike Dennis to his natural middle order position. Pakistan in contrast dropped two spinners Nazir and Pervez Sajjad from the line up and went in with one additional batter and a trio of medium pacers.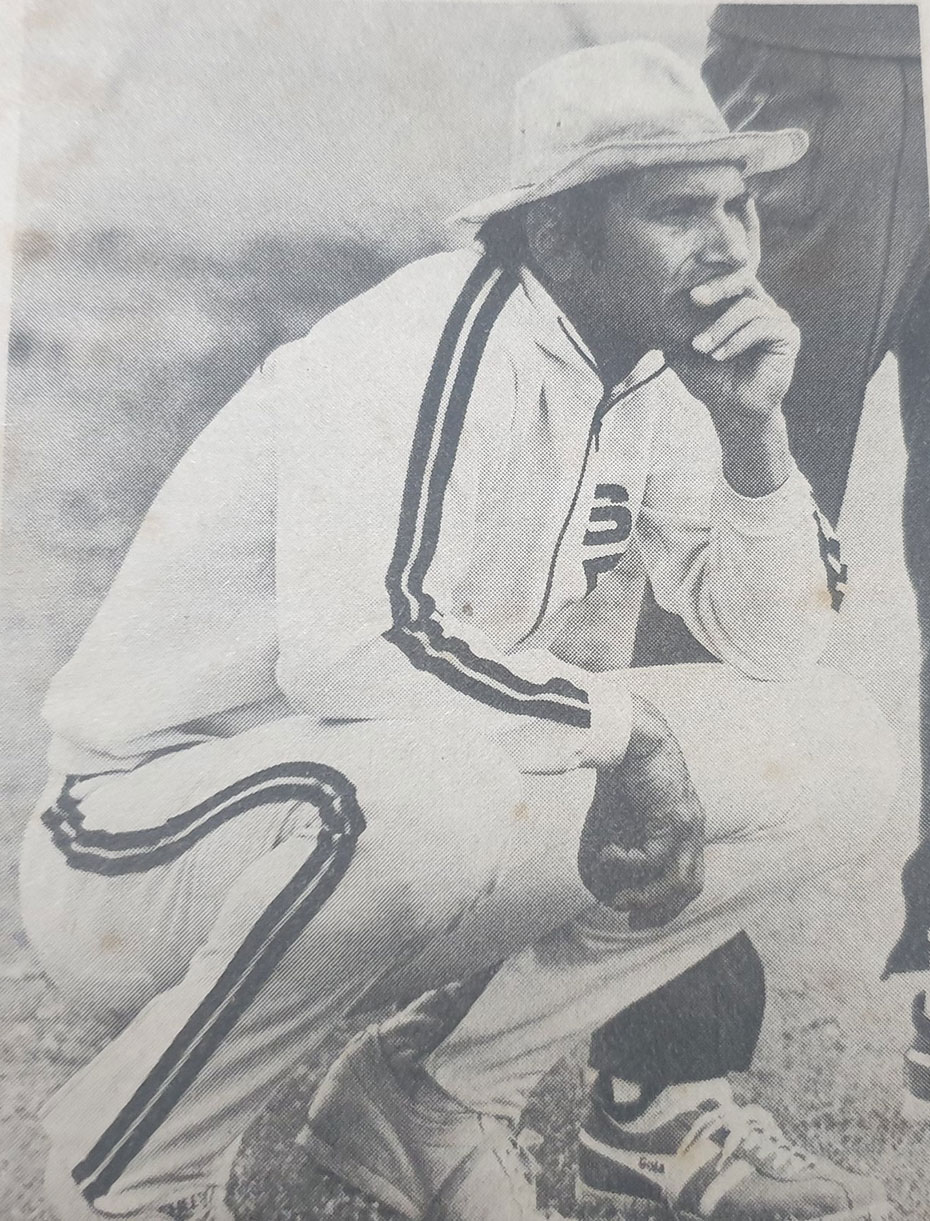 Pakistan batted with extreme caution at a snail's pace and barely crossed two hundred in a day's play while losing both the openers. Skipper Majid though was looking good for the first time in series and posted an unbeaten patiently accumulated fifty. Day two was March 25th, the same date when 19 years into the future Pakistan will win its first world event in the shape of 1992 World Cup. The same date in the year 1973 witnessed Pakistan walk into the record books with a rather unwanted piece of cricket record. Two batsmen were dismissed for 99 on the same day.
First to go was skipper Majid who was facing England's most incisive bowler on the tour Pat Pocock. It was a simple flighted off break which did not even turn too much and Majid just tapped into the waiting hands of Dennis Amiss at short leg. The pressure of the dreaded figure of 99 claiming its first victim in Karachi.
Asif Iqbal left early being dismissed by Pocock as well and much to the delight and surprise of crowd, the Hyderabad centurion Intikhab Alam was promoted above Zaheer Abbas in quest of some quick runs.
Mushtaq continued his good form and pace of the innings picked up after the arrival of Intikhab at the crease. When Mushtaq reached 99 Tony Lewis surrounded him with fielders close to the bat including the tall figure of Tony Grieg looming from silly mid-off, a position invented by Greig himself on the preceding tour to India.
Norman Gifford bowled a loopy delivery to which Mushtaq just tapped on the off side and set off for a non-existent run. Intikhab remained unmoved at the non-striker as the ball had hardly travelled any distance. In a flash Grieg picked the delivery and threw it back to Alan Knott who took off the bails with Mushtaq desperately tried to return to safety of the batting crease. Victim number two for the 99 jinx.
Pakistan declared late on the second afternoon but failed to make any breakthrough in the remaining overs. On day three England batted in the same sluggish manner as Pakistan and despite the early loss of Lancashire's Barry Wood, Amiss and Keith Fletcher kept occupying the crease. After batting patiently for more than two sessions Amiss too reached the feared number of 99. As he had already scored two hundreds in the series he was not expected to succumb to the pressure which Pakistan and the number 99 exerted.
Majid too surrounded Amiss with hordes of fielders and placed Pakistan's tallest option Sarfraz Nawaz at silly mid-off position. Intikhab bowled a conventional leg break and to the horror of all English supporters Amiss just pushed it straight into the hands of Sarfraz Nawaz. Something never heard of before had happened. It was freakish indeed. Not one but three batsmen losing out against the pressure of 99. As Amiss walked back dejectedly to the pavilion an undesirable record was created which remains untouched even 1700 Test matches later?
The match expectedly petered out into a draw but not before the left arm spin twins Gifford and Birkenshaw gave Pakistan a proper scare. Pakistan's unlikely batting savior was their wicket keeper Wasim Bari. Another highlight of the match was that two other batters, one from each side were dismissed in late eighties making it five persons to come so near and being deprived. They were the English skipper Tony Lewis who made 88 and Sadiq Mohammad who was dismissed for 89. The match and series both may have ended in a highly forgettable stalemate but it will always be referred to as the match when three premier batters fell victim to the curse of 99.