The ICC World Cup 2007 – Australia Romp to World Cup Hat-Trick
The 2007 ICC Cricket World Cup was the 9th edition of the Cricket World Cup tournament that took place in the WestIndies from 13 March to 28 April 2007. There were a total of 51 matches played, three fewer than at the 2003 World Cup (despite a field larger by two teams).
The 16 competing teams were initially divided into four groups, with the two best-performing teams from each group moving on to a "Super 8" format. From this, Australia, New Zealand, Sri Lanka, and South Africa won through to the semi-finals, with Australia defeating Sri Lanka in the final to win their third consecutive World Cup and their fourth overall.
Australia's unbeaten record in the tournament increased their total to 29 consecutive World Cup matches without a loss, a streak dating back to 23 May 1999, during the group stage of the 1999 World Cup. The tournament also saw upsets in the first round with tournament favourites India and Pakistan failing to make it past the group stage while Bangladesh, the lowest-ranked Test-playing nation, and Ireland, an associate (non-test playing) nation, made it to the Super 8s.
The field of sixteen teams, the largest ever for the Cricket World Cup, consists of all sixteen teams which currently hold One Day International status. This includes the ten full members of the ICC (which all have Test and permanent ODI status). The other six (associate) ODI nations are Kenya (which has ODI status until 2009) and five further teams which qualified via the 2005 ICC Trophy (gaining ODI status until 2009, in the process). These nations included Canada, Scotland, Netherlands and making their World Cup Debut Ireland and Bermuda.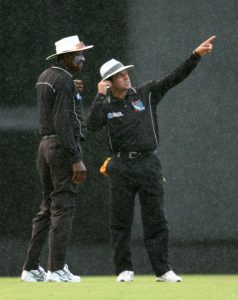 This was the first World Cup final to be a repeat – the sides previously met in the 1996 World Cup final, which Sri Lanka won. Australia had won every World Cup match against Sri Lanka apart from that loss. The match was Sri Lanka's second World Cup final appearance and Australia's sixth, their fourth in a row. Ricky Ponting won the toss and elected to bat. However, the start of play was delayed due to rain, and the match was reduced to 38 overs per side. Adam Gilchrist played an incredible innings of 149 – the highest for any batsman in a World Cup final – to give Australia an imposing total going in at the break.