Pakistan and Nepal Women Blind Cricket teams reached Faisalabad today. Upon their arrival University of Faisalabad gave them a warm reception.
Prof Dr. Muhammad Saeed, Rector University of Faisalabad, Mian Muhammad Hyder, Chairman Board of Governors, Ms. Zahida Maqbool Additional Registrar, Dr. Fatima Iqbal, School of Optometry University of Faisalabad and thousands of Students tenderly welcomed the Visually Impaired Cricket Teams of Pakistan and Nepal.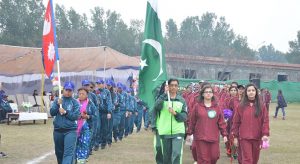 Both Captains officially inaugurated the Cricket Segment of Tufian Sports Festival.
The University administration much-admired the efforts of Syed Sultan Shah Chairman Pakistan Blind Cricket Council (PBCC) for the promotion of Cricket for the Blind girls in Pakistan and awarded him a shield. The hosts also awarded shield to Mr. Pawan Ghimrie Chairman Cricket Association of the Blind in Nepal.
Syed Sultan Shah, thanked the University administration for their warm welcome and was optimistic that the connection will further strengthen for the promotion of Sports.