If you have thought about the matter hard enough to have a favorite Mohammed brother – and let's face it, there are enough to choose from – then the chances are, particularly if you live in England, that it is Mushtaq. This busy, chubby, the multi-talented cricketer was always fun to watch, especially away from the the stress of Test cricket.
A pioneer among the Pakistani county cricketers of his generation, he was an outstanding performer for Northamptonshire for many years. A first-class record of over 31,000 runs at an average of 42 – only Zaheer Abbas, among Asian batsmen has scored more – and over 900 wickets at 24 apiece
with his leg-breaks and googles is an ample demonstration of his prowess, his versatility, and his longevity as a player.
His longevity as a Test cricketer owed something to the fact that he was famously and astonishingly young when he started – 15 years and 124 days old on his debut at Lahore against the West Indies in 1958-59. He had been only 13 years and 41 days old when he made his first-class debut. These recorded dates of birth are notoriously unreliable. The current holder of the Test record, also a Pakistani, Hasan Raza, is widely thought to be at least a bit older than the cricket almanacks suggest. In Mushtaq's case – and in Hanif's and Sadiq's for that matter – there is the fact of Partition to help explain any inaccuracies – their parents left home in a bit of a hurry.
Mushtaq's youthfulness as a debutant is scarcely more extraordinary than the duration of his Test career. He played his last Test match, against Australia, in March 1979, twenty years almost to the day after playing his first. Of course, they played a lot less in those days. Mushtaq was pretty much a regular from beginning to end, except for the brief period of World Series Cricket and he played in "only" 57 Tests.
The 20-year span, though, has rarely been approached by purely post-war players. Brian Close played for England remarkably between 1949 and 1976 but he was hardly a regular. Gary Sobers, Colin Cowdrey, and Imran Khan are Mushtaq's closest rivals. These days, you are doing well if you get a dozen years: Sir Alastair Cook crammed 161 Tests into the period between 2006 and 2018.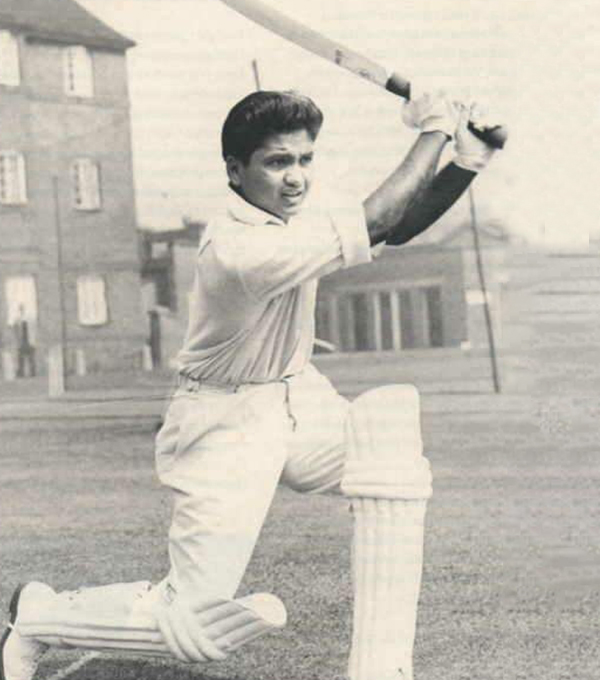 Mushtaq was also the youngest player to make a Test century, 101 against India at Delhi in 1960-61 when he was 17 years and 82 days old.
It has often been described as a match-saving innings although the cynic might ask how could a match be saved where the sole concern of both sides was not to lose?
In fact, this Test, the fourth, was probably the only one played by India and Pakistan between 1955 and 1978 which came close to not being drawn. In the end, Pakistan only narrowly avoided defeat, and Mushtaq's first innings hundred certainly contributed to that.
His next Test century was played in similarly dire circumstances. Pakistan's tour of England in 1962 was bitterly disappointing. They played a full tour of five Tests the first three of which were lost comprehensively. The fourth, at Trent Bridge, was drawn after England had made yet another big total: the veteran Fazal Mahmood, who had just flown in as a replacement, bowled 60 overs – 45 of them in a single day – for 130 runs.
Mushtaq batted at number three and scored 55 and, when Pakistan followed on 101 not out of 216 for six, both grittily determined efforts. At The Oval, where England also won, he made 43 and 82. He averaged 44 in the Tests and was the leading run-scorer on the tour. He was surely the youngest ever Wisden Cricketer of the Year.
That tour probably did Mushtaq a power of good. These were very different conditions from home, although he had played in England before, with the Pakistan Eaglets in 1958. This time, though he had Brian Statham and Fred Trueman to contend with. They were England's leading wicket-takers.
More importantly, though, Hanif had a poor series. The great opening batsman was troubled by a knee injury, and, although he scored over a thousand runs on the tour – coming second to Mushtaq in the averages – he could not get going at all in the Tests. Sadiq whose career coincided with Hanif's for just one Test, said that he often felt he was playing under Hanif's shadow.
One gets the same feeling about Shoaib, Hanif's very talented but slightly unfulfilled son. Mushtaq had his bowling to fall back on but it may be that his considerable success in England in 1962 enabled him to plough his own furrow.
Soon he was a full-time professional in England. While touring with the Pakistan Eaglets in 1963, he signed for Northamptonshire, which meant serving a two year qualifications period as an overseas player.
In his first season, 1966, he made 1000 runs at just under 24 and took 45 wickets at 18. Gradually he got used to the rigours and rhythms of the county season and became an outstanding county cricketer. As he had shown in the county matches in 1962, he may have lacked Hanif's technical soundness and composure, and balance at the crease but he could be a superb entertainer.
By the early 1970s, he was emerging as a leading batsman at both Test and county level. In Test cricket, Pakistan were one of the most talented batting sides in the world and Mushtaq was no longer being forced to play purely defensively.
At Edgbaston in 1971, he and Zaheer Abbas ground England into the dust on the first day of the series, finishing the day on 270 for one, having made 82 in the hour after tea: Mushtaq scored 100. He was very much a senior player on that tour and exerted a stabilizing influence in the batting order.
His most rewarding county season came in 1972 when he came fourth in the national batting averages, scoring 1949 runs at 59.96, with six hundreds. He and the redoubtable David Steele were always rescuing the innings. He also came twelfth in the bowling with 57 wickets at 19.82. Team-mates Bob Cottam and John Dye were among those above him in the bowling ranks and Bishan Bedi was not far behind.
Figures though, were not what people found interesting about "Mushy". What people liked about him was that he was busy and interested and always in the game, a lively close fielder to add to his other talents. He was a particularly busy batsman. As a bat-twiddler, he was in the Alec Stewart class.
In fact, that is not fair: Stewart was in the Mushtaq class. Slightly crouched at the crease with his backside jutting out, he was a brilliant attacking batsman, cutting and hooking pace bowlers in particular with relish. It was he who brought the reverse sweep, played usually against left-arm spinners, into the public domain. His chubby features and ready smile gave the impression, early on, that he was a rather jolly little chap. That was true but only up to a point. Essentially Mushtaq was a serious tough-minded professional cricketer.
His bowling was a very good second suit. Late in his career against New Zealand in 1978-79 when he had left the Packer circus, he bowled Pakistan to a comprehensive win in the first Test at Christchurch, taking four for 60 and five for 59. Were he playing today it is probable that he would be an outstanding all-rounder.
As a leg-spinner, he was accurate, relatively inexpensive and had decent variations. At the time he became captain of Pakistan only two current wrist-spinners, his predecessor as captain, Intikhab Alam, and the Indian Bhagwat Chandrasekhar, had taken more Test wickets than Mushtaq.
Surprisingly, though he is not among that group of Test cricketers, growing larger almost by the month, who have scored over 1000 runs and taken over 100 wickets; he finished with 79 wickets at just under 30 apiece. Leg spin, in the years between Richie Benaud and Abdul Qadir, was very much a minority interest. Also, he would almost certainly have got many more wickets if his career had not coincided with Intikhab's. As captain, Intikhab tended to over-bowl himself and sometimes seemed to forget Mushtaq was there.
Nonetheless, Mushtaq gave two particularly remarkable all-round performances in Test cricket. The first was against New Zealand at Dunedin in 1972-73. Pakistan won by an innings, the only decisive result in a three-match series. Their innings of 567 for six was built around a magnificent fourth-wicket partnership of 350 between Mushtaq (201) and Asif Iqbal (175). Mushtaq started slowly and carefully but by the end he and Asif were in rampant form against New Zealand's predominantly medium-paced attack.
The home-side's batsmen were routed by the Pakistani wrist-spinners. Intikhab and Mushtaq, totaling 156 and 185. In the first innings Intikhab took seven for 52 and Mushtaq two for 15. In the second, Mushtaq took five for 49 in 18 overs, and became the second Test player, after Denis Atkinson of the West Indies, to score a double century and take a five-wicket haul in the same Test.
The second was in the Caribbean in 1976-77, when Mushtaq was leading Pakistan on their first tour there since 1957-58. The series was a tough one for the Pakistani batsmen. Mushtaq himself only passed 20 twice in the first three Tests, as Andy Roberts and Colin Croft targeted the captain. West Indies were one-nil up as the teams moved to Port-of-Spain for the fourth Test. There, it was like a different game, played on a slow wicket that gave help to the spinners and had nothing in it for the fast men.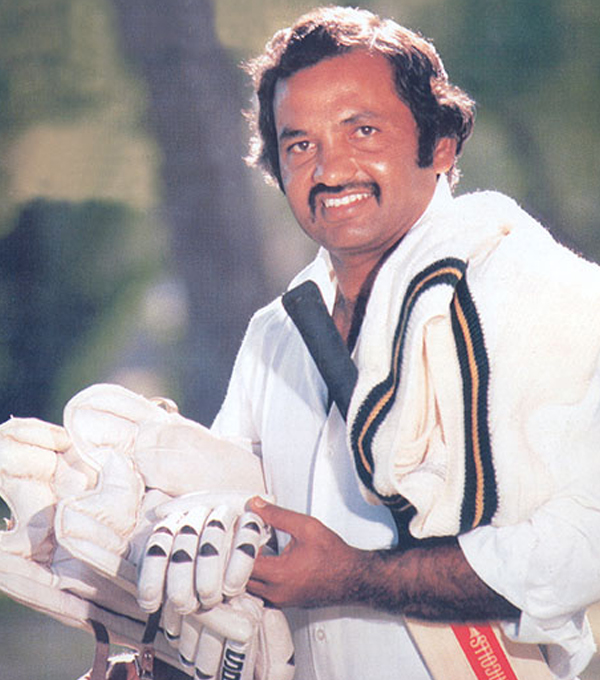 Clive Llyod won the toss, and doubtless sensing a psychological advantage that might outweigh the condition of the wicket, sent Pakistan in. The decision seemed to have been justified when Pakistan were 51 for three after 80 minutes. Then Mushtaq joined Majid Khan and the pair put on 109 as conditions eased. At the end of a rain-interrupted first day Pakistan were 225 for five with Mushtaq on 70 not out. Wasim Raja and Imran Khan fell early the next morning but Sarfraz Nawaz helped Mushtaq put on 68 for the eighth wicket. Pakistan made 348, Mushtaq scoring 121 in 370 minutes.
Roy Fredericks and Gordon Greenidge got off to a brisk start with an opening stand of 73 but after Imran had broken through with a couple of quick wickets the innings subsided spectacularly: 107 for five at close of play and 154 all out. Mushtaq gave a splendid display of controlled leg spin to take five for 28 in 10.5 overs. The West Indies fast bowlers were soon at the Pakistanis again.
The visitors were 95 for five, with the game in the balance. But Mushtaq and Raja, having the series of his life, put on 116 (Raja 70, Mushtaq 56) and there were more useful runs from Sarfraz and Imran. West Indies' eventual target was an academic one of 489. They closed the fourth day on 146 for four. Two of those wickets fell to Mushtaq, including the crucial one, that of Vivian Richards, stumped off a leg break.
Next morning, he dismissed Alvin Kallicharan in his first over, and although there was determined resistance from Deryck Murray and the tail, it was only a matter of time. Mushtaq finished with three for 69. The winning captain, he thus had a hundred, a fifty and eight wickets in the match.
It was a rude re-awakening at Kingston in the fifth Test, however. West Indies won by 140 runs and Mushtaq scored 24 and 17, twice dismissed by Joel Garner. The West Indies series came at the end of what had been a hectic 1976-77 season for Pakistan.
Mushtaq was appointed in place of Intikhab for the home series against New Zealand. Pakistan were far too good for the visitors, winning the series two-nil. All the batsmen prospered.
Mushtaq scored two centuries although he was bowled cheaply by the hostile Richard Hadlee in the first Test at Lahore.
Then, the Pakistanis were off to Australia. Intikhab's team had lost three-nil four years earlier.
This time it was one-all. Mushtaq led his team to their first Test win in Australia, at Sydney in the third Test. With the bat, though, he had a torrid time, scoring 77 runs in five completed innings: Dennis Lillee got him four times. Jeff Thomson – who only bowled in one innings in the series because of injury – got him once. He was manifestly uncomfortable against the short-pitched ball. There was more to come in the West Indies.
In his autobiography, written in the late 1980s, Imran was highly critical – it would hardly be an exaggeration to say disparaging – of Mushtaq. One loses count of the number of times he says Mushtaq was frightened of pace bowling, particularly in the West Indies series and during World Series Cricket, in which both Imran and Mushtaq played.
The judgment seems unduly harsh although it is undoubtedly true that by the end of his long career pace was causing problems as Lillee was able to show. Mushtaq's batting average was well over the benchmark figure of 40 when he took over as captain and he relished playing pace in his youth. He slipped down the order when he returned to lead Pakistan after the spell with Packer.
Imran was also curiously dismissive of Mushtaq's abilities as a captain; describing him as inflexible and defensive. Mushtaq's record was certainly as good as that of any Pakistani captain before Imran himself. He led his team to victories against New Zealand at home (the first series win at home for over a decade) and away, and against India at home – a highly significant result in the first series between the teams for almost two decades – and to two drawn series in Australia. The only defeat came in the Caribbean.
Javed Miandad, in contrast to Imran thought that Mushtaq was a brilliant and imaginative leader, and particularly admired the way he handled the side in the historic victory over India in the Karachi Test in November 1978. Mushtaq stepped aside from the leadership for the World Cup in 1979 in favour of Asif, while making it clear that he wanted to retain the job in Test matches. But when the side to tour Indian in 1979-80 was picked he was not even in it as a player.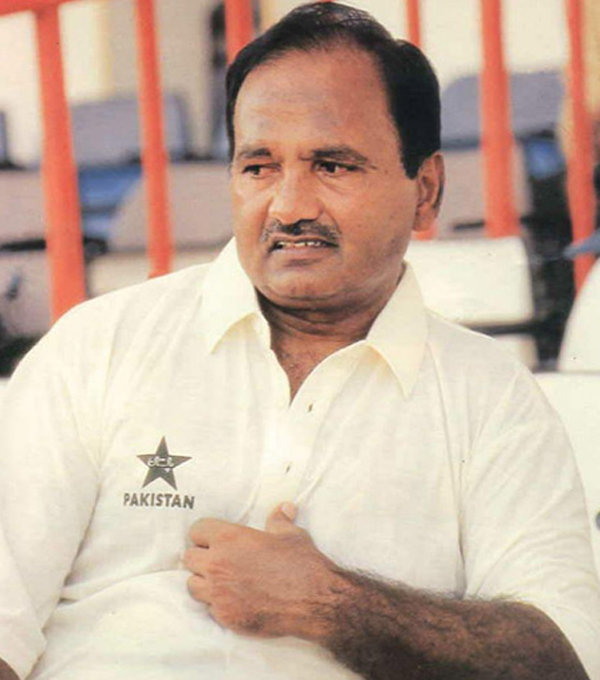 Mushtaq also had a brief spell in charge of Northamptonshire. He took over in August 1975 after a troubled year in which there had already been three captains. The move worked. The last month of the season was easily the best and, at Chelmsford, he shared a record fourth-wicket stand of 273 against Essex with a young batsman then averaging nine for the season, Wayne Larkins. The county finished thirteenth in the table, poor reward for all the talent at their disposal. He was captain for the whole of 1976 and the county had what was arguably their best season ever, coming second in the Championship and winning the Gillette Cup, their first over trophy.
In the Championship, they won nine games out of 20, two fewer than Middlesex but all by dint of bowling the opposition out twice. Mushtaq was eighth in the national batting averages making 1620 runs at an average of over 50. (Zaheer was top, Miandad fourth and Sadiq thirteenth). He also took 37 Championship wickets at 27.51.
Not that Mushtaq's captaincy was without its critics. There was consternation when he omitted Steele, still a cult figure after his success against Australia in 1975, from the team to play Hampshire in the Gillette Cup semi-final; Northants' target was a modest one of 217 and at one stage they were 142 for two. But Roy Virgin was run out by the brilliant cover fielder David Turner and they panicked unaccountably, only just scraping home in the end. Ken Turner, Northants' secretary-manager for many years, was seething.
The celebrations of 1976 did not last long. By July 1977 Turner was dismantling the side. Leading players including Virgin, Dye and Bedi were sacked and Mushtaq was relieved of the captaincy and left the club at the end of the season.
It was a bitter end, not so unusual in those days and understandable from the point of view of a small and far from wealthy club needing to build for the future. Wounds have been healed. Mushtaq has coached at the county's academy. He has also coached Pakistan. He remains devoted to the great game.
Note: Adapted from The Pakistani Masters