London: Pakistan captain Misbah-ul-Haq is confident Mohammad Amir can deal with all the emotion and hype surrounding the disgraced bowler's return to Test cricket at Lord's on Thursday.
This will be Amir's first Test since he nearly terminated his career through getting caught up in the 2010 spot-fixing scandal by deliberately bowling no-balls in that year's Lord's Test against England.
Amir, now 24, received a five-year ban from cricket and a jail sentence for his part in the affair, a sting operation organised by a tabloid newspaper, with new-ball partner Mohammad Asif and then captain Salman Butt receiving similar sporting and custodial punishments.
England captain Alastair Cook has speculated that Amir could face a hostile reception from the crowd at Lord's but Misbah backed the left-arm quick to let his cricket win back the affection of the public.
"His mood is good," said Misbah at Lord's on Wednesday.
"He's just focusing on what he has to do in the ground.
"He is really responding well to that and I hope it's a big opportunity for him, and that he comes on to the field and performs for Pakistan, to win the people again.
"At the moment there are no worries for us in terms of Mohammad Amir."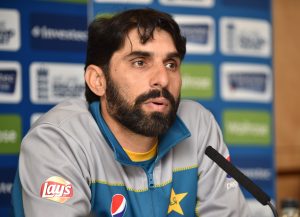 England will be without injured all-time leading wicket-taker James Anderson, with Jake Ball making his Test debut in place of the Lancashire swing specialist.
But England have shown they can succeed without Anderson before, although Misbah was in no doubt of his importance to Cook's team.
"It's an advantage if one of the main bowlers is missing," said the Pakistan captain, making his first Test tour of England at the advanced age of 42.
"But we know all their bowlers are really good in these conditions and we have to be up to the mark and ready for the challenge of the other bowlers too."
England have also made a change to their batting line-up, with Gary Ballance surprisingly recalled and Yorkshire team-mate Joe Root promoted to number three.
The England top order has looked vulnerable in recent times and Misbah said: "Sometimes when you have two or three batters struggling in the team, that could be an area you can exploit your opponents.
"But you need to focus on all 11 players and all of the batting line-up.
"England are really good in the lower middle order, they can hurt you, and we all have to focus on everybody."
Misbah added: "We will concentrate on our strengths and forget about who's playing and who's not.
"I think we feel ready, our preparation has been good and everyone is ready to go.
"England are playing well on home soil so it's a big challenge."
@AFP