Kumar Sangakkara, A man for all seasons
Early May was an unusually busy time for cricket. The Indian Premier League was of course in full flow. The English domestic season had got under way, with decent weather and interesting scores. Excitement was mounting about the men's World Cup, starting in June in England, with preliminary squads being selected. The one-year bans imposed on Australians Steve Smith and David Warner came to an end.

Yet the most positive and pleasing news for cricket in April 2019 had nothing to for with the actual playing of the game. It was the announcement by Anthony Wreford, outgoing President of cricket's most venerable, august and in many ways still influential institution, the Marylebone Cricket Club ("MCC"), of the name of his successor: the former Sri Lankan batsman, Kumar Sangakkara.

There are a number of things about this appointment which make it striking and worthy of genuine celebration wherever cricket is played.

First, it came only a matter of days after the shocking, tragic and traumatic terror attacks on Colombo and other places in Sri Lanka in which hundreds of innocent people, the vast majority of them Sri Lankan , were killed. The nature and scale of the attacks, in "Visit Sri Lanka Year" and the evident confusion at the very top of the government, has meant that tourism has not simply declined but effectively, for the short term, ceased to exist. If ever a country needed some good news, it was Sri Lanka.

MCC has always had a reputation for stuffiness and conservatism. In some ways this is unfair but "image" is a potent thing. Historically, the Presidency has been the preserve of the aristocracy. This changed gradually after World War Two, but even so the Duke of Edinburgh has been President twice. Remarkably – or maybe not – Sangakkara is the first non-Englishman (women couldn't even be members until relatively recently) to be named as President.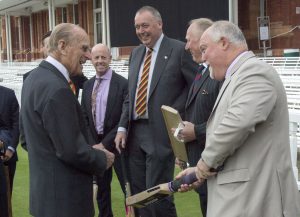 And, of course, Sangakkara is a great cricketer. You might have thought this was an essential qualification but you would be wrong. Mr. Wreford, for example, would be the first to admit that he was not a distinguished performer on the field of play. Lord Frederick Beauclerk, President in 1826, had been a fine cricketer in his day. In the early twentieth century Lord Hawke, of Yorkshire, and Lord Harris, of Kent, two hugely influential figures in the game, both served as President.

There was a sea change in 2004, when Tom Graveney, the former England, Gloucestershire and Worcestershire batsman, became the first former professional cricketer to be nominated as MCC President. He has been followed by Derek Underwood, Mike Gatting and Matthew Fleming.
Graveney scored over 40,000 runs and made over a hundred centuries in his first-class career. Underwood took almost 300 Test wickets. But there cannot be much doubt that Sangakkara is the greatest player to be nominated as MCC President.

One should not overdo the numbers but, in Sangakkara's case, it would be absurd to ignore them. With 12,305 runs, he is the fifth highest Test run – scorer of all time. Only Don Bradman, with twelve, has made more than his eleven Test double centuries (including one triple), and he made three other scores of 190 or more.

It is the average, though, which is the most revealing. Sangakkara's Test average of 58.04 puts him eighth in the list of batsmen who have played twenty five Tests or more and he is first among batsmen who have made at least eight thousand Test runs.

Javed Miandad is famous (if you like this sort of thing) for having averaged at least fifty throughout his career. Sangakkara has not quite managed that but of course for the first half dozen years he was keeping wicket as well. As at the end of February 2006, when he had played 53 Tests, he averaged 46.06.
In July of that year, in the first Test against South Africa at Colombo, he made 287 in Sri Lanka's only innings, putting on 624 for the third wicket with his great friend Mahela Jayewardene, the biggest partnership ever for any wicket in all first class cricket.
Sangakkara was not keeping wicket in that series, and rarely kept in Tests after that. Playing purely as a batsman he averaged 68.05, which is genuinely phenomenal. One need hardly add that he became a reliable and often brilliant slip fielder.

Twice he was chosen as Wisden's leading cricketer in the world, for 2011 and 2014. The first time, among other notable achievements, he made what was, rather surprisingly, his first Test century in England. At Southampton, standing in for injured captain Tillekeratne Dilshan (Sangakkara had stepped down as national captain himself after the World Cup defeat to India) he secured a draw with a second innings century.
At the time he said one of his dreams was to score a Test century at Lord's but that he would be 37 when Sri Lanka were next due to tour England, in 2014. He didn't need to worry: he was there at Lord's in June 2014. He scored that century, 147 in a thrilling draw. In the second and final game, at Headingley, he scored 79 and 55 in a stirring Sri Lankan win.
And it doesn't stop there. Sangakkara is the second highest scorer in One-Day Internationals, behind only Tendulkar. He also has more dismissals in One-Day Internationals than any other wicketkeeper. He scored four centuries in the World Cup in Australia and New Zealand in 2015, playing "traditional" but positive, authoritative and resourceful cricket. One suspects, though, that he derived more satisfaction from his performance in the World T20 competition in April 2014. Sri Lanka beat India in the final in Dhaka, Sangakkara seeing them home with 52 not out off 38 balls.


Sangakkara was also great to watch. Left-handers often seem to have that extra something special. But Sanga didn't have the exquisitely casual elegance of David Gower. Nor did he display the extravagant freedom and exuberant style of Brian Lara, so reminiscent sometimes of the greatest of all, Gary Sobers. Nor did you see the bullying muscularity of Graeme Smith or Matthew Hayden or the crab-like obduracy of Shivnarine Chanderpaul. What you saw was a master technician. He worked prodigiously hard, not to look good but to score runs. The looking good was the consequence of a craftsman's striving for perfection.

When he stopped playing international cricket he was not lost entirely to the game. He was a highly successful and influential overseas player for Surrey for two years, being an ideal role model for their many promising young players.
The role of MCC President is a purely honorific, almost symbolic one. The year ahead, in that role at least, is unlikely to give us much of a clue as on what path Sangakkara will ultimately follow. He may well not really know himself. He has done some TV commentary, very competently as one would expect.
In the past he would occasionally say that he would complete his law studies at the University of Colombo; as the years go by this seems increasingly improbable. In 2011 he memorably delivered the annual Cowdrey Spirit of Cricket lecture at Lord's; one cannot think of any current active sportsman being asked to perform such a function.
It is not impossible to imagine this highly intelligent, articulate, principled and determined man playing a role on a public stage in his beautiful and ill-starred homeland.