Like everything else, cricket has changed immeasurably in the last forty years. The international game has probably changed more than most sports. The development of new formats and the growth and increased recognition of the women's game are two instances. Again, though, as with most things that change, cricket has remained essentially the same. A spectator taken for the first time to a T20 International would not need to be told he was watching a cricket match.
The last four decades have seen the number of Test-playing countries increase (including the re-admittance of South Africa in 1992) from six to twelve. In the 1990s there were nine Test-playing countries, and in that decade each of those counties had its moments. There were also three Men's World Cups, each of them dramatic and unforgettable in its own way.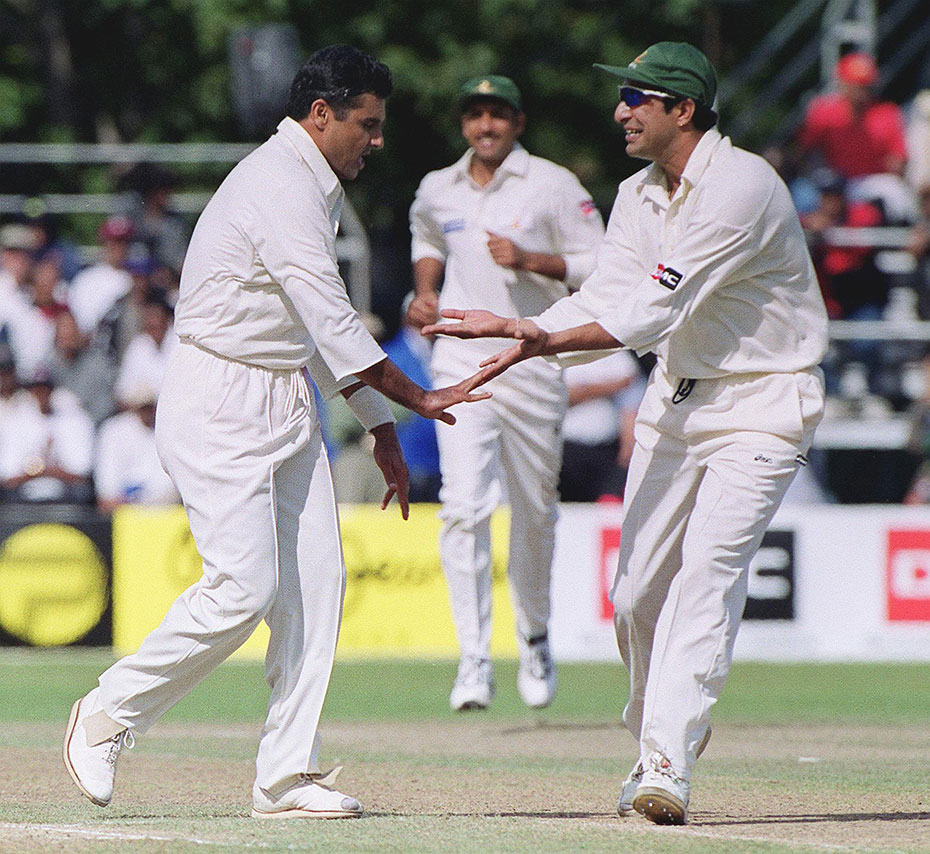 In the 1980s the West Indies were too dominant; in the 2000s the same was true of the Australians, apart from the wonderful 2005 Ashes. In the 201-s there was perhaps a lack of the highest quality. The 1990s, somehow, had it all.
The central event of the decade, as far as Test cricket was concerned, was the passing of the unofficial crown from West Indies to Australia. This occurred in the four-match series in the Caribbean in 1994-95.
This was a seismic event for Test cricket. West Indies had last lost a series in 1980, to New Zealand. Since then, they had won 20 series and drawn nine. They had not lost a home series since 1972-73. As recently as 1992-93 Richie Richardson's tourists had defeated Allan Border's Australians 2-1 at home. (West Indies had won the Adelaide Test by one run, the narrowest margin in Test history.) Australia now had a new captain, Mark Taylor. His first assignment had been an exceptionally challenging tour of Pakistan where the hosts won a three-match series one-nil.
Next came a home Ashes series, which Taylor's men won with familiar ease. But victory against the West Indies seemed far from guaranteed. For a start Australia's pace attack was severely affected by injury, their most experienced fast bowlers, Craig McDermott and Damien Fleming both missing all the Tests. They had a novice pace attack, of Paul Reiffel, Brendon Julian and Glenn McGrath. The team was in fact the ideal blend of youth and experience, a point emphasised by the fact that in the course of the series David Boon became the second Australian to play a hundred Tests, and became the country's second highest run scorer, overtaking Don Bradman and Greg Chappell in the process.
Australia won the first Test at Bridgetown in three days, West Indies' first three-day defeat for 30 years (Australia's coach, Bob Simpson, was the winning captain on that occasion).
Former Times correspondent and Wisden editor John Woodcock described the first session's play as one of the most thrilling he had seen in 60 years of cricket watching. In two hours' play before lunch, Julian and Reiffel reduced the home side to six for three before  Brian Lara and Carl Hooper took them to 116 without further loss. West Indies collapsed after Lara's dismissal – this was to become a pattern – and they were all out for 195. Lara's dismissal, incidentally, was the cause of considerable controversy.  He was given out to a low, tumbling catch by Steve Waugh which the home side, to put it mildly, were not convinced was clean. This undoubtedly contributed to the spiciness of the series. Australia batted solidly for 346, wicketkeeper Ian Healy top-scoring with 74. It was McGrath who did the damage in West Indies' second innings, taking his first five-wicket haul in Tests. Australia's target was only 39 and they won by ten wickets.
The second Test at St John's was a rain-affected draw. In the third, at Port-of-Spain, Australia were bowled out for 128 and 105, Curtly Ambrose and Courtney Walsh sharing 15 wickets. McGrath took six for 47 in West Indies' first innings of 136 but Australia simply didn't make enough runs: West Indies won by nine wickets. Only one batsman reached 50 in the match, Steve Waugh, who made 63 not out in Australia's first innings. It was during this innings that the famous encounter occurred between Waugh and Ambrose, with the latter having to be dragged away by Richardson. "It's Test cricket," said Waugh afterwards. "If you want an easy game, go play netball."
So, the teams went to Kingston all square for the fourth and final Test. This was another epic encounter made memorable by a magnificent fourth wicket stand of 231 in 57 overs by the Waugh twins, Steve and Mark. West Indies had a good start to the Test, Richardson winning the toss, for the fourth time and putting on 103 for the second wicket with Lara who made 65 of them. Lara was out to Shane Warne, for the first time in eight Tests. Once again, the later batting was uncertain and though Richardson made exactly 100, West Indies totalled only 265.
Although Australia lost Taylor, Michael Slater and Boon for 73, the Waugh brothers wasted little time in putting the hosts' batting into perspective. Mark, the stylist, made 126 and Steve, the ultimate pragmatist, 200; for each it was his eighth Test hundred. With Greg Blewett making 69, Australia reached 531. A demoralised West Indies were bowled out for 213, Reiffel and Warne each taking four wickets, and a humiliating innings victory sealing the fate of the series.
Australia were manifestly the better side, brilliant in the field, especially the cordon, superbly led by Taylor, with reliable batsmen and a varied and penetrative bowling attack. West Indies' four-pronged pace attack, so dominant under Clive Lloyd and Vivian Richards, seemed rather to have run out of steam, notwithstanding the continued effectiveness of Walsh and Ambrose.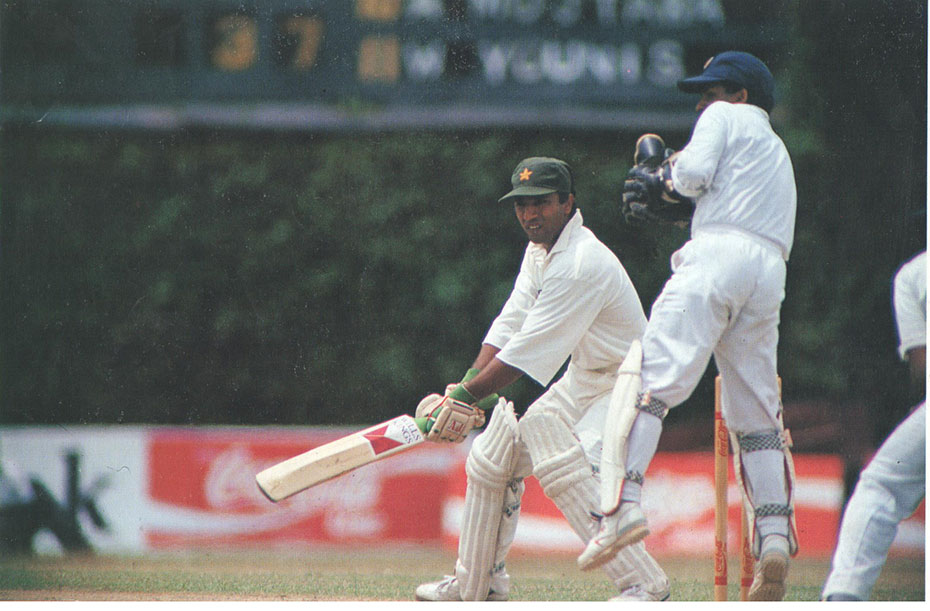 The two sides met twice more in the decade. Taylor's men won the 1996-97 home series 3-2. Gideon Haigh for one felt that West Indies were flattered by the result. It was a bowlers' series. Ambrose, Walsh – now captain – and Ian Bishop shared 58 wickets for the visitors.
Glenn McGrath took 26 for the home side. The big difference was spin.  Warne and Michael Bevan shared 37; Carl Hooper, West Indies closest approach to a front-line spinner, as Wisden put it, took three. Five Australian batsmen averaged over 40. For the visitors only Hooper and Shivnarine Chanderpaul averaged over 35.
Taylor and Lara both struggled with the bat, though Lara made a majestic century in the consolation victory in Sydney. Taylor averaged 17. This was the start of a period where his batting became a matter of concern. He remained, however, a brilliant captain, surely the best all round leader of a cricket team in modern time. He was not only a master tactician but remarkable in his ability to get the best out of the men playing under him. Bevan, often an under-achiever in Tests, averaged 55 with the bat and 17 with the ball.
A final comment about the West Indies in this series; according to Wisden, their fielding was "lamentable".
In 1998-99 Australia, now under the leadership of Steve Waugh, we're back in the Caribbean. The hosts were embroiled in a crisis. There was a long-running pay dispute and Lara, recently reappointed as captain, had led his charges to a 5-0 defeat in South Africa. But, as every current cricket observer knows, they are very difficult to beat at home.
That is not how it looked at the start. Australia won the first Test at Port-of-Spain by 312 runs, bowling West Indies out for 51 (McGrath five for 28, Jason Gillespie, four for 15), their lowest score in Tests.
Nobody could have expected what followed. West Indies won the second Test, in Kingston, by ten wickets. Australia batted first and made 256 ( Steve Waugh 100, Mark Waugh 67).West Indies ended the first day on 37 for four.
Next morning night-watchman Pedro Collins retired hurt and was replaced by Jimmy Adams, who joined Lara with the score on 57 for four. They batted together till early the following day, adding 322. Lara made a fabulous double century, batting for 469 minutes. Tony Cozier, the distinguished Barbadian commentator, said it was the most significant innings ever played by a West Indian. Adams made 94 and the total was 413. Australia mustered only 177 in their second innings.
Cozier's comment was, presumably, made before the third Test at Bridgetown, without doubt one of the greatest ever played. Australia made 490 in their first innings (Steve Waugh 199, Ricky Ponting 104) and dismissed West Indies for 329 (Sherwin Campbell 105).
Australia faltered against the eternally persistent Walsh in their second innings and managed only 146. A target of 308 still seemed formidable, especially when 77 for one became 105 for five. But Lara was still there and now he was joined by the redoubtable Adams. They took the score to 238 but then McGrath took three wickets in quick succession: 248 for eight. They got home with one wicket to spare, Lara finishing on 153 not out, an innings, according to Wisden, of "astonishing skill and daring". Steve Waugh, in his monumental memoir, called the match one of the greatest of all time, and said that it was Lara's "cool head and presence under pressure" that won the match.
It could not go on, of course – or could it? Australia won the fourth and final Test at St John's to square the series, but not before Lara had scored yet another century in the first innings.
I have dealt at some length with these two teams because together they encapsulate what was so special about Test cricket in the 90s. The names mentioned so far still resonate – Warne, McGrath, Taylor, Waugh, Ambrose, Lara; these were true giants. With Australia m it was the development of a superbly balanced, supremely led team. With the West Indies, for much of the decade, it was Lara. It is an exceptionally competitive field, but his genius, and his ability, in a generally under-powered batting side, to affect the result of a match, compels one to say that he was the outstanding Test batsman of the 1990s. In 1993-94, at St John's, against England, he overtook Gary Sobers' 365 to become the highest individual scorer in Test history. West Indies won the series 3-1. The return six-match series in England in 1995 was shared 2-2. Lara made three hundreds and averaged 85.
Current observers of the game will recall that in 2019, not one but two innings were played that were uncannily similar to Lara's astonishing display at Bridgetown in 1998-99: Kusal Perera's 153 not out against South Africa at Durban, and Ben Stokes' 135 not out against Australia at Headingley. Each innings was the pivotal factor in a thrilling one-wicket victory.   All three innings were wonderful displays of bravura and technical skill. You can't help feeling, certainly with Perera, but perhaps also even with Stokes, that there was an element of fluke. Nobody felt that about Lara's innings. It was astonishing; it was almost incredible; but it wasn't surprising.
By the end of the decade Australia were clearly unofficial Test champions; their win percentage ratio (54 victories in 108 Tests) was 50%. And by then they were also one-day World Cup champions. The twelfth Men's World Cup, held in England in 1999, was generally speaking, not one of the best, but Australia's progress to the final was very dramatic indeed. They took a while to warm up and they needed to win their final Super Six game, against South Africa at Headingley. This they did thanks largely to a composed century by Steve Waugh, who was famously dropped by Herschelle Gibbs, himself a centurion, on 56. Warne also made his first significant contribution, taking two for 33 in his ten overs.
The semi-final, against the same opponents at Edgbaston, arguably ranks with the epic final between England and New Zealand at Lord's in 2019, as the best of all World Cup games. What gave each game its special appeal was the fact that it was an even contest between bat and ball. The quality of cricket in 1999 was higher.
With both games it was the drama of the finale that was unforgettable, in 1999 the chaotic run out of Allan Donald with the scores level. Chasing a modest target of 213, South Africa needed nine off the last over, bowled by Fleming. Lance Klusener hit the first two balls for four. Game over? Not exactly. It's all in the mind. The match was a tie but Australia qualified.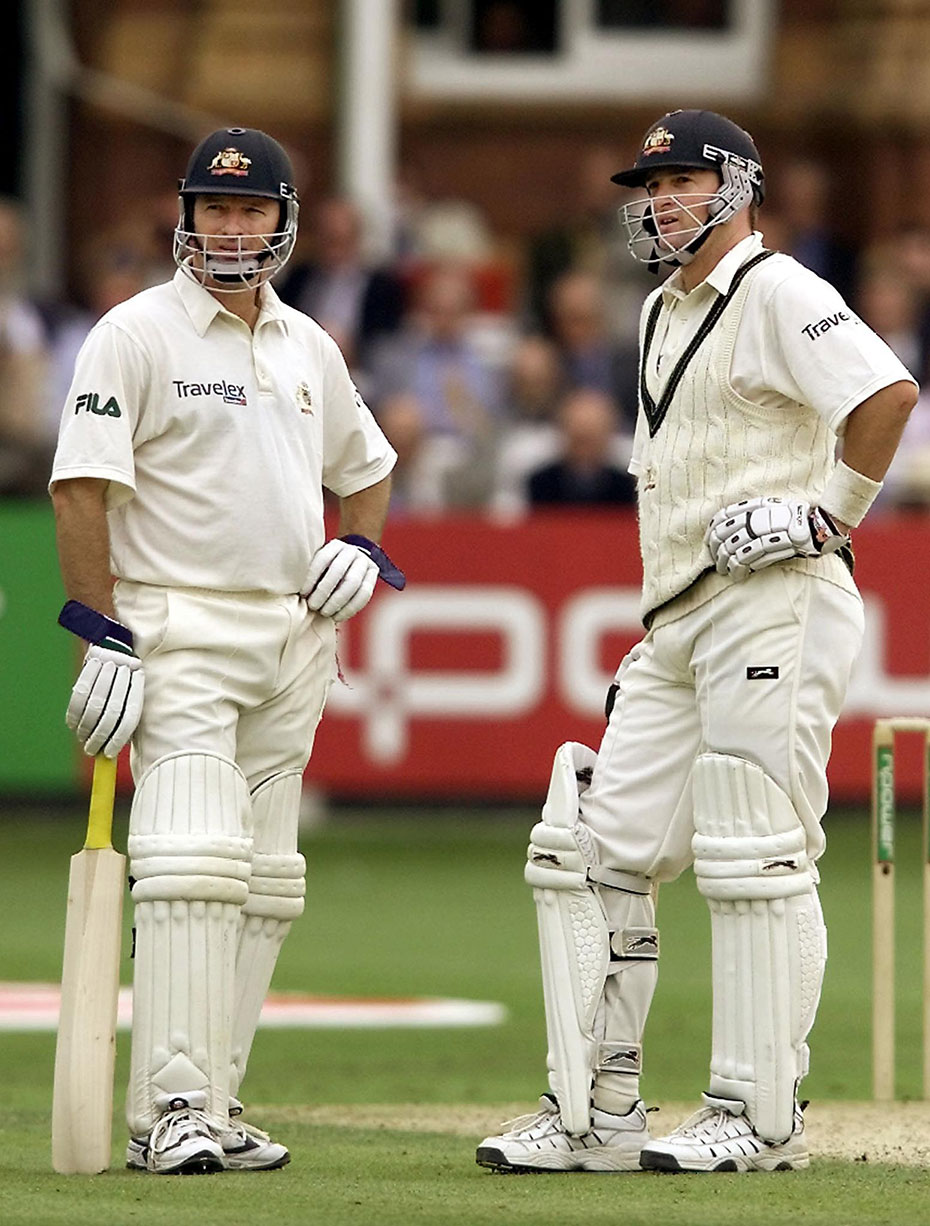 The final against Pakistan was a non-event, Pakistan's batsmen having no answer to Warne. He had been the difference between the two sides in the semi-final, when he took four for 29. Warne was like Lara, a genius who dominated the decade. Ever since he bowled Mike Gatting with the so-called ball of the century at Old Trafford in 1993, his first delivery in Ashes cricket, he had captured the popular imagination. When he bowled Gibbs with an almost absurd leg break at Edgbaston it was immediately compared to the Gatting ball . By the end of the decade his Test career was only eight years old but he had done enough to be voted one of Wisden's Five Cricketers of The Century.
There is a case for saying that the single most significant development in international cricket in the 1990s was the readmission of South Africa, after over twenty years in the apartheid wilderness. They almost caused an upset on their first outing, a one-off Test against West Indies at Bridgetown in April 1992. South Africa dominated the game for much of the time. On the final morning they needed 79 to win with eight wickets left. But they came up against Ambrose (four for 16) and Walsh (four for eight) at their formidable best. West Indies won by 52 runs.
After that South Africa settled down to be what one would expect – highly professional, superbly fit (Jonty Rhodes surely unchallenged as the greatest outfielder of the decade if not of all time), very difficult to beat, slightly unimaginative. Even Australia had to work hard to beat them. The two sides played four series in the decade: two were drawn and two won by Australia by the margin of a single game. There was a slightly workmanlike aspect to most of their top players. Few spectators' withers were likely to be wrung by Kepler Wessels or Gary Kirsten, or even Jacques Kallis, notwithstanding his formidable numbers. Their big personalities were the all-rounders Lance Klusener, Brian Macmillan and Shaun Pollock, and the exceptional pace bowler Donald.
That 1999 World Cup saw a typical Pakistan effort, glorious and inglorious in equal measure. On the latter front, the hapless performance in the final was the least of it. In the group phase they contrived to lose to Bangladesh, who were not yet a Test nation. Yet for much of the tournament they seemed invincible, not least in the semi-final at Old Trafford when they demolished New Zealand.
This reflected their Test performances through the decade. At their best they could beat anyone, including Australia in Pakistan in 1994-95, as we saw, Taylor's first assignment as captain. Taylor had his revenge when Australia returned in 1998-99, winning 1-0; in the drawn second Test at Peshawar Taylor himself made 334 not out.
Pakistan had some wonderful batsmen, none more palatable than the left-handed opener Saeed Anwar, elegant and, together with Virender Sehwag, the most exciting Test opener to watch in the last thirty years.  The great Javed Miandad was still around at the beginning of the decade and Inzamam ul Haq developed into a major figure. But the most significant contributors to the nation's Test success were the two peerless swing bowlers, left-armer Wasim Akram and right-armer Waqar Younis. Partners and rivals, they made batting a real challenge, especially with the old ball. They were the principal architects of Pakistan's successive series victories in England in 1992 and 1996.
But if you ask any Pakistani cricketer what the highlight of the 1990s was there will be only one answer: the 1992 World Cup, held in Australia and New Zealand. This was the first World Cup to feature coloured clothing, white balls and day-night matches. Pakistan started hopelessly, losing three of their first five games and being dismissed for 74 by England in a game that was abandoned. But then Imran Khan's "cornered tigers" suddenly came alive.
Opener Ramiz Raja scored two centuries; everybody seemed to come into form together. The final, against England at the MCG, was made unforgettable by the almost magical powers of Akram.
Their neighbours, India, had an enigmatic decade. They started slowly but were boosted by a rampant victory over Graham Gooch's England in 1992-93. They beat South Africa at home in 1996-97 but lost heavily away a few months later. As always with subcontinental sides they were  formidable at home. In successive seasons at home in 1996-97 (a one-off Test) and 1997-98 they even beat Australia. And twice in the decade (home and away in 1998-99) they did something they couldn't do now – they played a bilateral series against Pakistan. In Delhi, where India won by 212 runs, the leg-spinner Anil Kumble did something that had only been done once before: he took ten wickets in a Test innings.
For India, though, the big story wasn't usually about who won and who lost. That was often not what the millions of cricket fans cared about. What they cared about was one – one what….? What they cared about was a phenomenon called Sachin Tendulkar.
Tendulkar made his Test debut in November 1989 against Pakistan in Karachi. He made his first century against England at Old Trafford in 1990, when he was 17 – yes, it's not a misprint. Tendulkar was loved in England and Australia; he was probably even loved in Pakistan. It is hard for ordinary mortals to imagine what it was like to be Tendulkar in India. Virat Kohli has a harder time of it because he never gets a break and because of social media. But even he doesn't receive quite the level of adulation that Tendulkar did.
He was the complete batsman. Mike Brearley said that nobody else combined perfection of technique with the ability to improvise.
If one was to pick two episodes from his output in this decade, the first would be the partnership with Mohammed Azharuddin against South Africa at Cape Town in 1996-97. Coming together at 58 for 5 each of these wonderful batsmen scored a century in what D J Rutnagur called a golden partnership between two exceptional players.
The second was the home series against Australia in 1997-98. Tendulkar practised intensely in the nets before this series, which was Warne's first full series in India. India won 2-1, Tendulkar made 446 runs at an average of 111.50 and Warne took ten wickets at an average of 54. In the first innings of the first Test in Chennai, Warne had Tendulkar caught at slip by Taylor for four. Tendulkar's scores in the remainder of the series were 155 not out, 79, 177 and 31.
Lara had certain qualities that Tendulkar didn't have; so did Steve Waugh, his other greatest contemporary. But Tendulkar's magnetism transcended cricket in a way the other two couldn't .
Two final comments. Bradman, watching Tendulkar for the first time, said he reminded him of himself. And Simon Barnes, the influential Times writer, said that cricket had had three truly iconic figures: W G Grace, Don Bradman, and Sachin Tendulkar.
England had a strange decade. At one stage or another they lost to pretty well everyone. They played five Ashes series and lost them all and nobody seemed very surprised.   They even failed to beat Zimbabwe when they played two Tests there in 1996-97, despite coach David Lloyd's verdict that "we flippin' murdered 'em." But though England were famously bottom of the unofficial Test rankings after losing to New Zealand in 1999.
they were probably worse at the end of the 1980s; they are incontrovertibly worse now. England had some seriously good players and had some notable achievements.
They actually won the first Test of the 1997 Ashes at Edgbaston, with a century for Graham Thorpe and a double for Nasser Hussain. They lost three Tests in the Caribbean in 1993-94, but they won the fourth at Bridgetown, West Indies' second defeat there in 30 games; opener Alec Stewart making two centuries in the match.
In 1998, by which time Alec Stewart was captain, they won a highly competitive series against South Africa 2-1. On the final day of the dramatic fourth Test at Trent Bridge, which England won by eight wickets, there was what Wisden called a titanic battle between two giants of the modern game, express pace bowler Donald and opener and former captain Mike Atherton. Atherton finished 98 not out. In the previous series between the two sides, in 1995-96, Atherton, then captain, had marshalled one of Test cricket's greatest rearguards.
In the second Test at The Wanderers Hanse Cronje declared South Africa's second innings closed with a lead of 479 before lunch on the fourth day.  England had to bat out four overs and five sessions. They did it, finishing on 351 for five. Four wickets fell on the fourth day and things seemed hopeless then. Atherton, however, simply ground on, making 185 not out in 643 minutes.
As usual, England played more Tests than anyone else. As a result, they provided two of the decade's top five Test run-scorers: Stewart was first and Atherton fourth. Stewart averaged 40, Atherton 38. (Lara (7th) averaged 51, Steve Waugh (5th) 53 and Tendulkar ( 6th ) 58 ).
And at the beginning of the decade England had the best batsman in the world. Gooch made his Test debut in the Ashes series of 1975. By 1990 he was captain, and in the Lord's Test against India he made 333 in the first innings. He followed it up with 123 in the second, making a mathematically delicious 456: nobody has ever made more runs in a Test. (This was the game in which Kapil Dev saved the follow on by hitting Eddie Hemings for four successive straight sixes.)  The next year he did even better. Against West Indies at Headingley, in extremely challenging conditions and against an attack including Ambrose, Walsh, Patrick Patterson and Malcolm Marshall, Gooch carried his bat for 154 not out. The next highest score was 27; eight batsmen made single figures. Many astute judges have said it was the greatest Test innings ever played, certainly by a captain. England won the match and ultimately shared the series.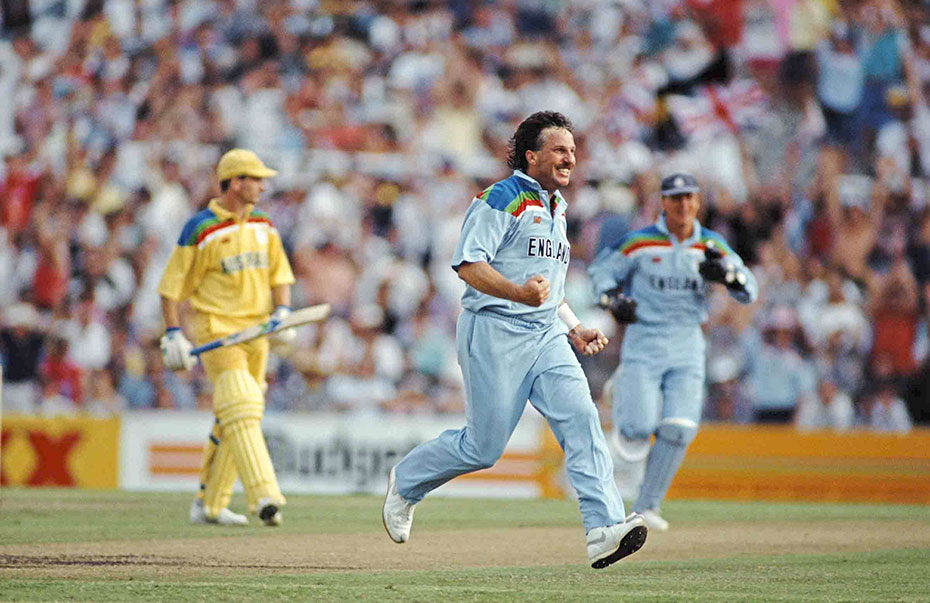 Sri Lanka came of age in the 1990s.They won Test matches, even the odd series, against New Zealand, Pakistan, West Indies and, of course, England. England would never play more than one match at a time against Sri Lanka. In the 1990s there were three such matches, and Sri Lanka won two of them. The last, at The Oval in 1998, was a remarkable game. Arjuna Ranatunga, their pugnacious and resourceful captain, won the toss and inserted England, who made 445. Sri Lanka responded with 791. Sanath Jayasuriya, the opener, made 213, with 33 fours and a six, and the dashing, scintillating Aravinda de Silva, arguably the greatest of all Sri Lankan batsmen, made 152. Second time around England were flummoxed by the master off-spinner, Muttiah Muralitharan, who took nine for 65 in 54.2 overs (thirteen for 220 in the match). Sri Lanka won by ten wickets.
A year earlier, against India in Colombo, Jayasuriya (340) and Roshan Mahanama (225) put on 576 for the second wicket. This was the highest ever partnership for any team for any wicket in Test cricket until surpassed by the 624 put on by Mahela Jayawardene (who made his debut in that Delhi game, scoring 66) and Kumar Sangakkara for the third wicket against South Africa, also in Colombo, in 2006.
Against Pakistan in Colombo in 1996-97, de Silva became the first batsman to score two unbeaten centuries in a Test.
For Sri Lanka, though, as with Pakistan, the greatest achievement of the decade was the 50-over World Cup, held in the sub-continent in 1996. Their stunning victory was as popular – except perhaps in Australia – as it was unexpected – at least before the tournament started – and deserved.
Sri Lanka, under Ranatunga's shrewd and purposeful leadership, revolutionised the way 50-over cricket was played. Of particular importance was the opening partnership of Jayasuriya and Romesh Kaluwitharana, who almost invariably got the innings off to a flying start. The fact that Kaluwitharana kept wicket and that both Jayasuriya and de Silva contributed with the ball meant that there was a perfect balance to the side. The final, in Lahore, against Australia, was adorned by a superb century from de Silva.
New Zealand had an underwhelming decade, their great days of the late 80s a distant memory. Their greatest player, Richard Hadlee, announced his retirement at the start of the 1990 series against England, and his knighthood was announced just before the Lord's Test. He appeared in the scorecard, rather oddly, as "Sir R Hadlee". Their other major star, Martin Crowe, carried on until the mid-90s. He scored a magnificent century at Lord's in 1994; what might he have achieved that day if he had been able to bat on two legs rather than one? Their win percentage ratio of 20.19 % was not misleading. New Zealand were trailblazers in the 1992 World Cup, Crowe leading them imaginatively, but that was pretty well the high point.  By 1999, when they won a series in England under a new captain, Stephen Fleming, there were signs of better things to come.
It was a struggle for Zimbabwe. They had some fine players, especially the Flower brothers, Andy and Grant, Heath Streak and Alistair Campbell. They really didn't play enough to get any sort of momentum. Andy Flower led them to their first Test victory against Salim Malik' s Pakistan in Harare in 1994-95. Zimbabwe won by an innings and 64 runs. Andy made a century, Grant a double, and Streak took nine wickets in the match.
The decade had its darker side. There was the huge embarrassment, for the hosts, West Indies of a Test being abandoned because of a wicket that was badly enough prepared to be positively dangerous. This was the first Test against England at Kingston in 1997-98; it lasted 61 balls before the umpires called a halt with England on 17 for three.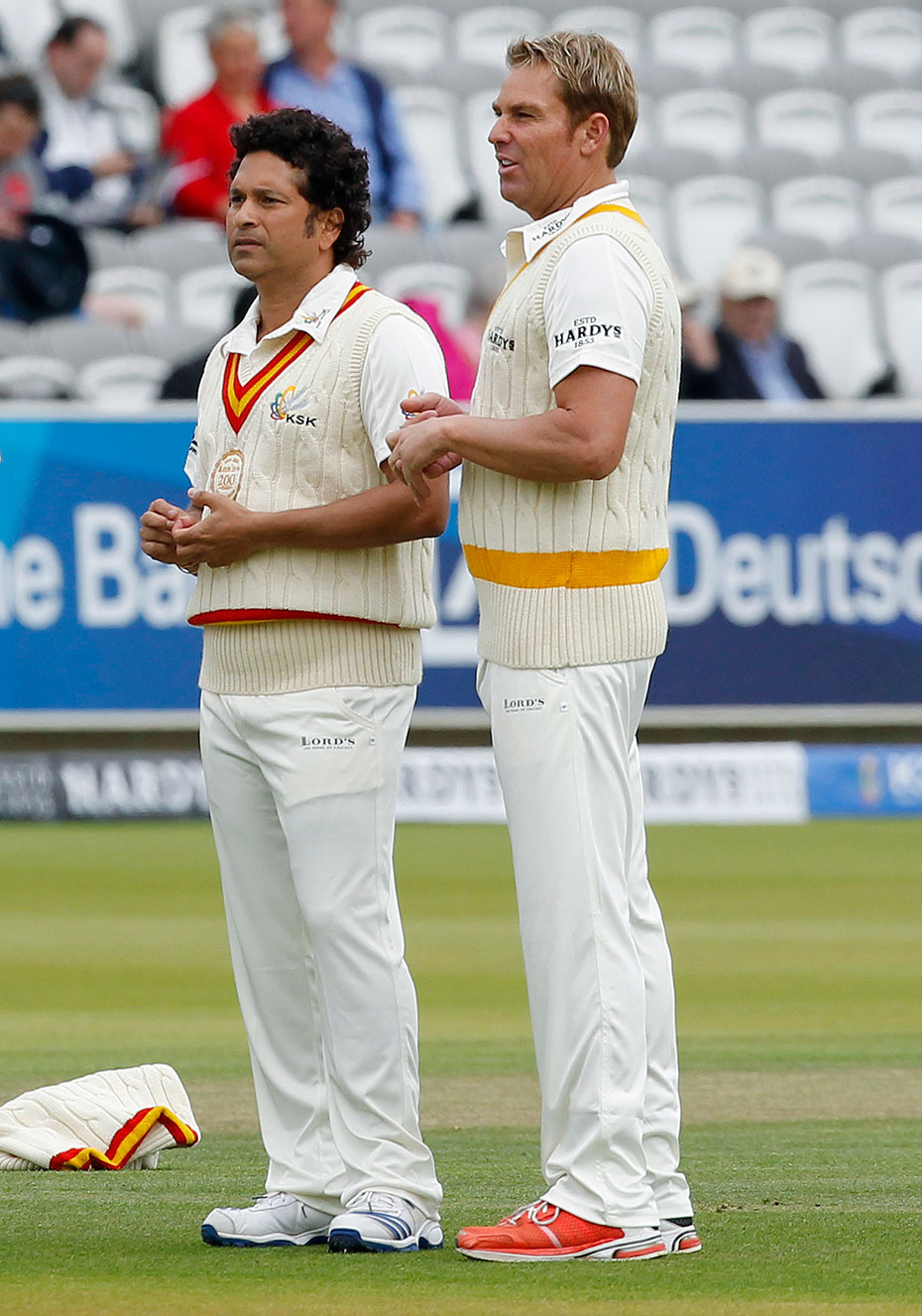 Much more serious was corruption, which struck at the heart of cricket in the 1990s. Gambling syndicates in the sub-continent, particularly India, were at the centre of match-fixing operations. The story is a complicated one and, of course, a continuing one. The difference now is that there is a highly professional Anti-Corruption Unit in place monitoring the world game. Back in the 1990s there was no such thing. Players from the poorer countries were, and remain, vulnerable. Three highly distinguished captains from the 1990s, received life bans for their part in match-fixing operations – Cronje, Azharuddin and Salim Malik.
But let's not end there. Wisden Cricket Monthly selected its Test team of the '90s. I agree with most of their selections, with two changes, Taylor (slightly reluctantly) for Stewart, and McGrath for Pollock. Here is my eleven.
Saeed Anwar, M A Taylor (c), B C Lara, S R Tendulkar, P A da Silva, S R Waugh, I A Healy (wk), Wasim Akram, S K Warne, C E L Ambrose, G D McGrath.