ICC World Cup 1999 – Run Out Mix-Up Helps The Aussies
Twelve teams competed in 1999, Scotland and Bangladesh replacing the Netherlands and the United Arab Emirates from 1996. From two initial groups of six, the top three went forward to the second stage, called the Super Six. Each team played three matches against the three teams from the opposite group, so that all six teams had then played each other once. The top four in the league table produced by these results provided the semi-finalists.
While most matches were played in England, two (involving Scotland) took place in Edinburgh, and one each in Cardiff, Dublin and Amstelveen in Holland.
In the opening match at Lord's, England beat the holders, Sri Lanka, who sent on to lose twice more in Group A and were eliminated at the earliest stage. South Africa, India and Zimbabwe led the group, with England (on net run rate) and Kenya also being eliminated. The surprise team was Zimbabwe who, after beating Kenya, beat India by three runs. India, chasing 253, lost their last three wickets to Henry Olonga in one over. In their last match Zimbabwe beat South Africa by 48 runs. Neil Johnson opened both batting and bowling for Zimbabwe, scoring 76 and taking three for 27.
India's batsmen provided the record-breaking in the group. Against Kenya, Sachin Tendulkar (140) and Rahul Dravid (104) put on 237 unbroken for the third wicket against Kenya, a record World Cup partnership which lasted only until India's next match, when Dravid again (145) and Sauray Ganguly (183) added 318 for the second wicket against Sri Lanka.
In Group B Australia, after beating Scotland, lost their next two matches, New Zealand beat them by five wickets, with Roger Twose getting 80 not out, after Geoff Allott had four Aussie wickets for 37. Then in a thrilling game at Headingley, Pakistan beat Australia by 10 runs. The Aussies, set 276, needed 13 in the last over, but skipper Wasim Akram grabbed at last two wickets Pakistan, Australia and New Zealand progressed. Bangladesh, who also beat Scotland, provided the shock of the tournament by beating Pakistan by 62 runs. A sell-out 7,000 crowd at Northampton went ballistic.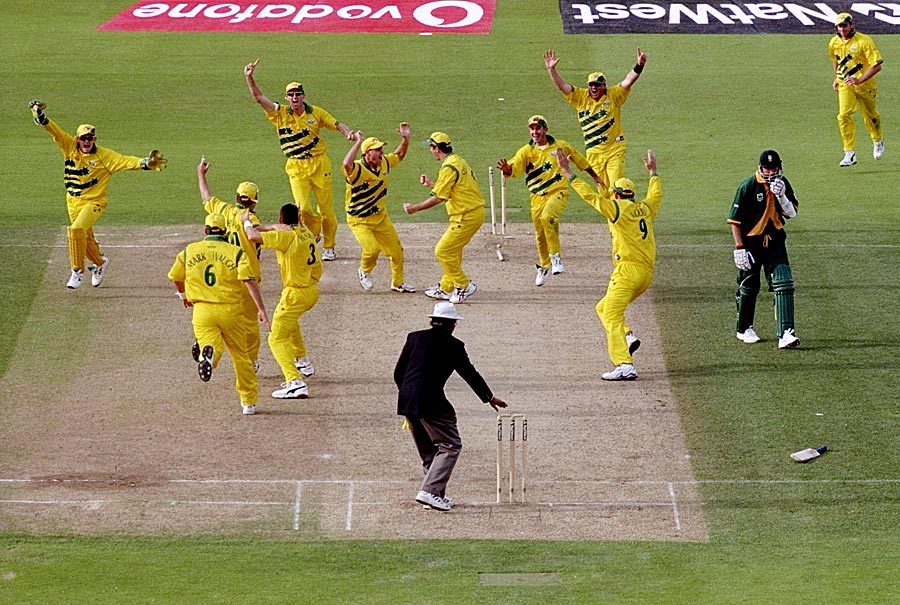 In the Super Six, Australia won all their three matches, but Zimbabwe caused momentary anxiety at Lord's.  Chasing 304, they stood at 153 for one after 28 overs, but couldn't maintain the pace, and ended at 259 for six. Neil Johnson scored 132 not out from 144 balls.
Pakistan were beaten by India and South Africa. South Africa were set 221 to win, and were 58 for five. But Lance Klusener, the batsman who most excited the World Cup audiences, cracked 46 off 41 balls to win it by three wickets with an over to spare.
New Zealand made 241 for seven in the first semi-final at a sold-out Old Trafford. Shoaib Akhtar  was the main destroyer, Pakistan began with a World Cup record opening stand of 194 between Saeed Anwar (113 not out) and Wajahatullah Wasti (94) and a 12-minutes pitch invasioin was all that delayed Pakistan thereafter.
At Edgbaston, another well-out, Australia made 213 (Shaun Pollock 5-36). With six down for 175 Klusener (31 not out) came in. He faced the last over from Fleming with nine wanted and the last pair together. He hit two fours and off the fourth ball charged down the pitch for the winning run after a push passed the bowler. He made his ground, but Allan Donald, his partner, was slow to respond, the ball was rolled back from bowler to keeper and Donald was run out halfway down the pitch. A great match was tied, but Australia went to the final on a better net run rate in the Super Six.
At Lord's 30,000 saw a disappointing final. Pakistan failed to perform and were out for 132 (Warne 4-33). Australia knocked off the runs in the 21st over for an eight-wicket win.