There was a sensible format for the fifth World Cup in Australia and New Zealand in 1992. With South Africa recently returned to the fold of international cricket and Zimbabwe joining the Test match countries for the first time, there were nine entrants who played each other on a league basis, the top four qualifying for the semi-finals and final.
The tournament was sold with the maximum amount of aggressive hype by Australian television, but the home country's expected easy ride to the knockout stages received a jolt in the first match, when joint hosts New Zealand beat them by 37 runs.
It was the start of a spectacular run by the New Zealanders who won, their first seven matches and lost only to Pakistan in their last, by which time they had long qualified for the semi-finals.
Apart from New Zealand, the only other team to march impressively on and clinch an early place in the semi-finals were England. A thrilling opening match with India was won by nine runs, and after six matches they had won five and drawn unluckily with Pakistan.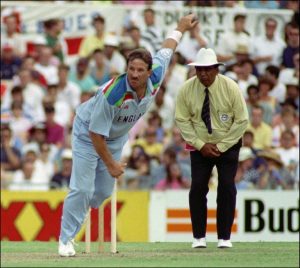 South Africa became the third team to book a semi-final place by beating India in their last match, but the fourth semi-final place rested on the matches on the last day of the league section.
Pakistan had to play New Zealand again in the semi-final in Auckland. New Zealand made an excellent 262 for seven, with Martin Crowe run out for 91, but Pakistan achieved the runs thanks to a patient 57 not out by Javed Miandad, who anchored the innings, and a spectacular knock by Man-of-the-Match Inzamam-ul-Haq, who came in at 140 for four and scored 60 in 37 balls.
In the other semi-final, South Africa put England in and bowled only 45 overs in their allotted time, from which England made 252 for six. With 10.10 p.m fixed for the end of the day-night match, South Africa had reached 231 for six with 13 balls remaining when a downpour stopped play. When the players returned, the umpires decreed there was time for only seven balls but, as under the rules the lowest-scoring over of England's innings was discarded, the target was not reduced. However, before play could begin, there was another stoppage, reducing the time allowed to only one ball. This time the target was reduced by one run to 21, and that was that.
Pakistan started slowly in the final, but scraped 249 for six. England batted disappointingly and were all out in the last over for 227, with Wasim Akram, who not only took three wickets but scored a vital 33 in 18 balls at the end of the Pakistan innings, becoming Man of the Match.